The local night market, or pasar malam, has been an integral part of our culture. Over the years, the night market has evolved according to the times but one thing remains constant – when we see a pasar malam being set up, we know we are in for a treat.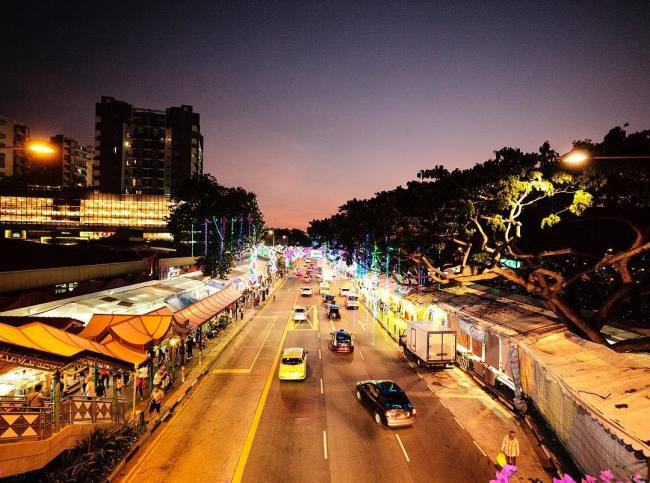 Credits: Instagram | @ghoonk
The next time you head over to that row of tarpaulin tents set up along the pedestrian walkway near your home, don't forget to try these pasar malam snacks!
Kueh Tutu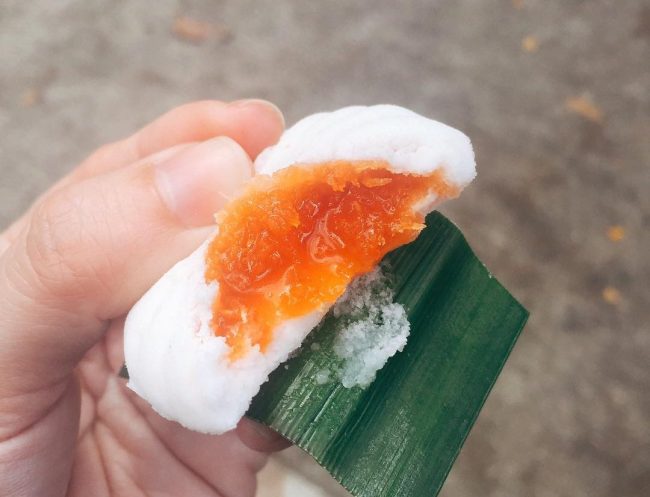 Credits: Instagram | @kohyl
This white fluffy pillow-looking kueh is made of steamed rice flour and typically filled with coconut or peanut. A more recent take on the tutu kueh is to fill them up with chocolate.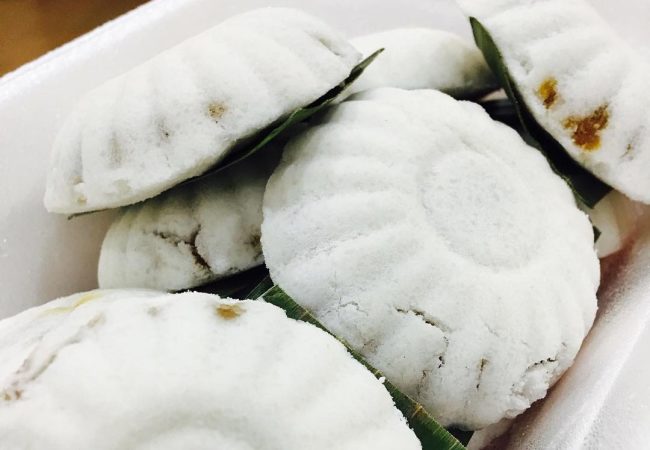 Credits: Instagram | @_gelacervantes
Ramly Burger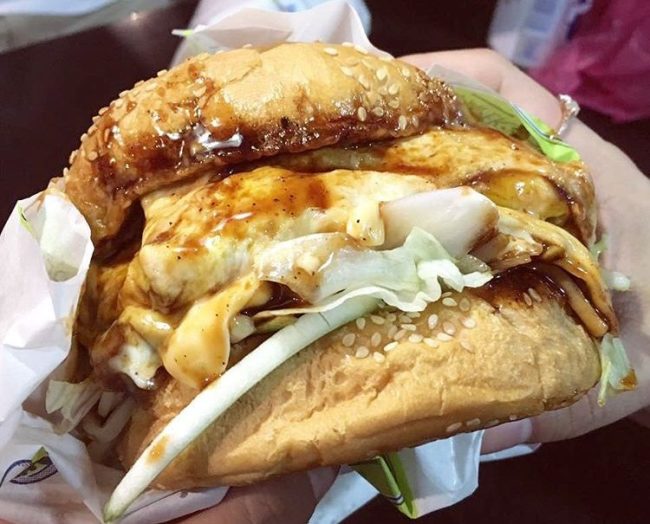 Credits: Instagram | @eelaiinee
Ramly burger is a Malaysian brand of burgers but we love it here in Singapore as well!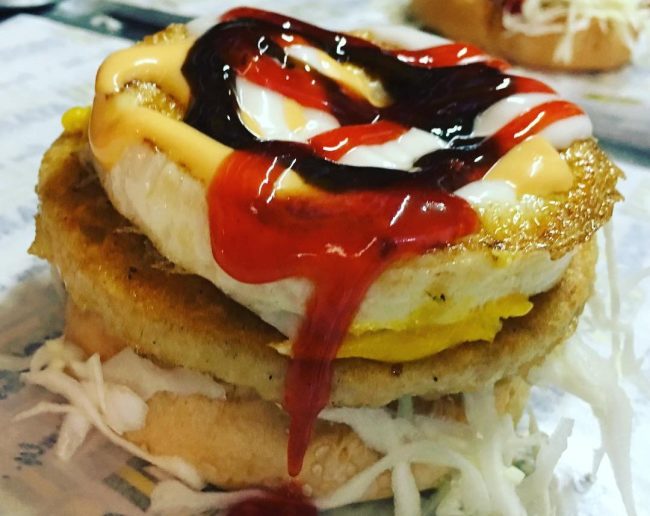 Credits: Instagram | @mgmerv
And what's not to love? From the multitude of sauces piled onto the burger to its soft, toasted buns, the Ramly burger is a must-have at every pasar malam outing!
Rolled Ice Cream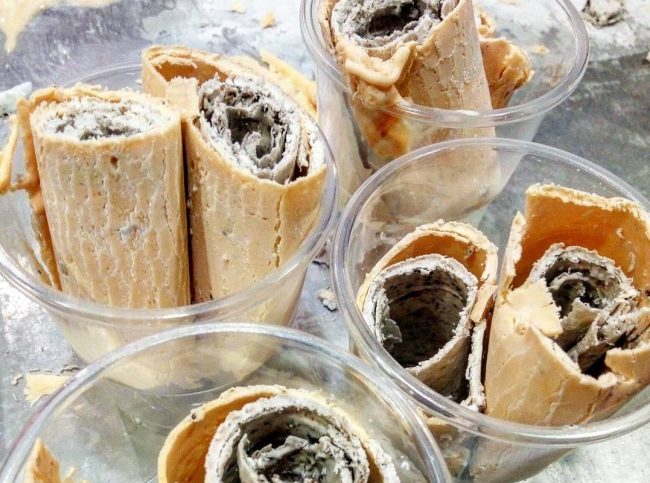 Credits: Instagram | @happyrollies
Pasar malams are constantly evolving to include more international dishes and the rolled ice cream is a great example of that! The rolled ice cream was made popular by videos of Thailand's street food, featuring skilfull vendors preparing these ice cream on a freezing plate.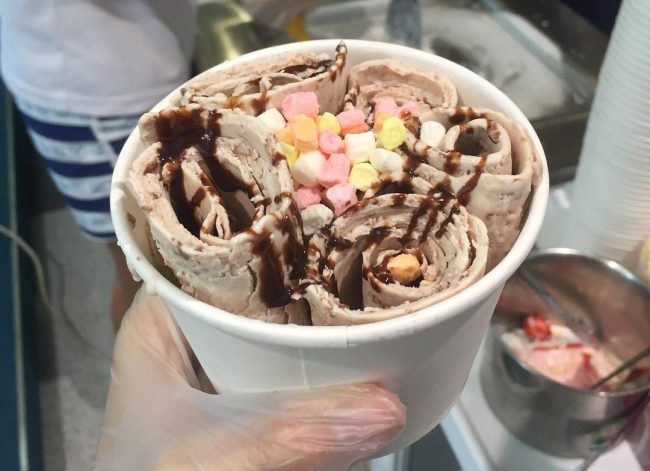 Credits: Instagram | @happyrollies
Intrigued by the video but not willing to travel all the way to Thailand just to try it? No fear – the rolled ice cream has found its way to our shores and stomachs, a must-try dessert at your nearest pasar malam.
Churros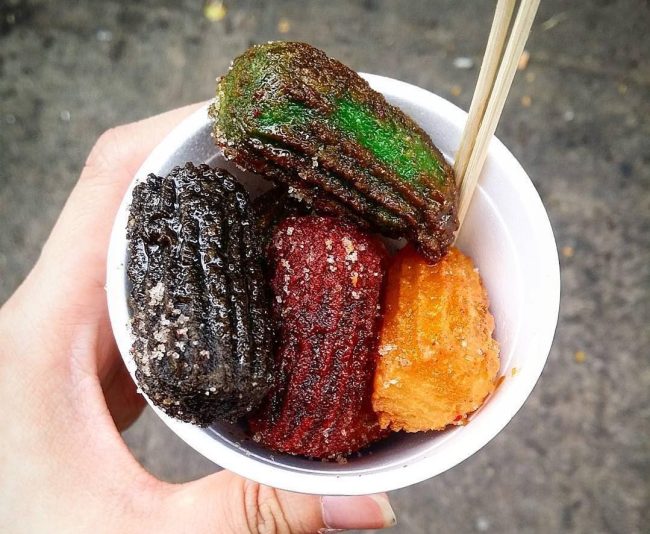 Credits: Instagram | @locolocosg (@bringjoyceebellbacktolife)
This Spanish snack may have been made popular at cafes and restaurants locally, but churros aren't just fancy European food only available for the rich.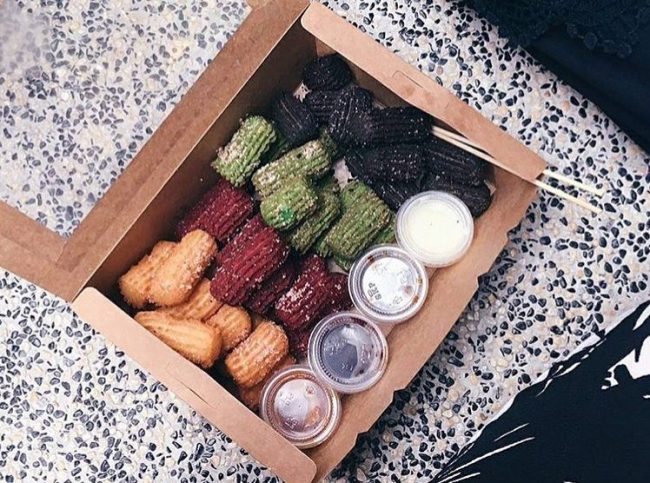 Credits: Instagram | @locolocosg (@luxaslast)
Why pay costly amounts for this yummy fried dough pastry when you can get them at an affordable price at your pasar malams. These chocolate- or sugar-coated snacks are a must-try for all of you with a sweet tooth.
Muah Chee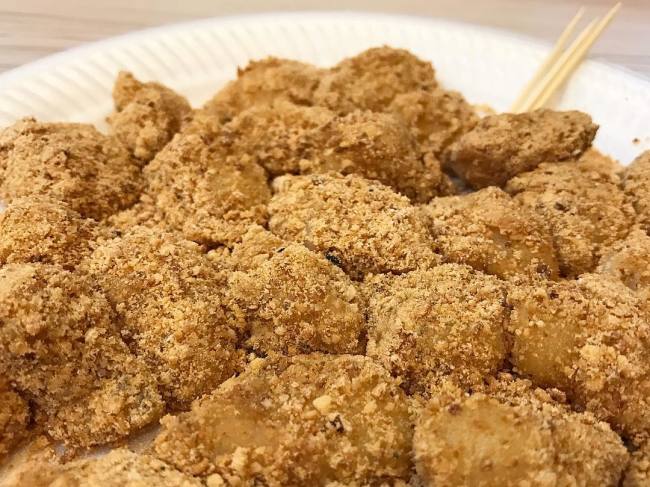 Credits: Instagram | @julicyy
Muah Chee is made from cooked sticky rice dough coated with grounded peanuts, sugar and sesame seeds. These little delights are similar to the tutu kueh, often found at pasar malams.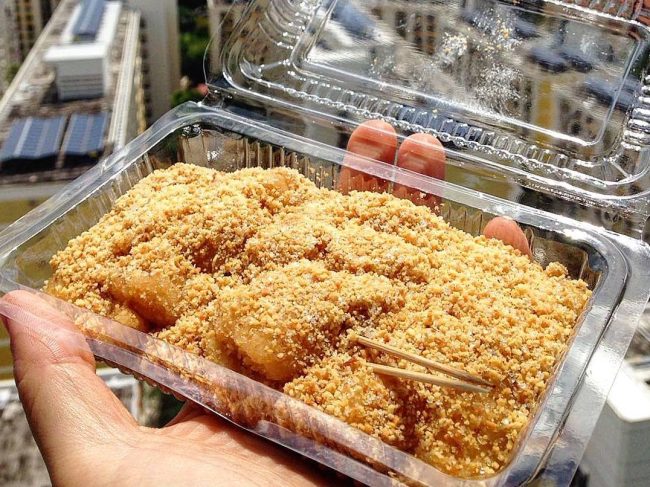 Credits: Instagram | @mrsjackiechan
Rainbow Bagels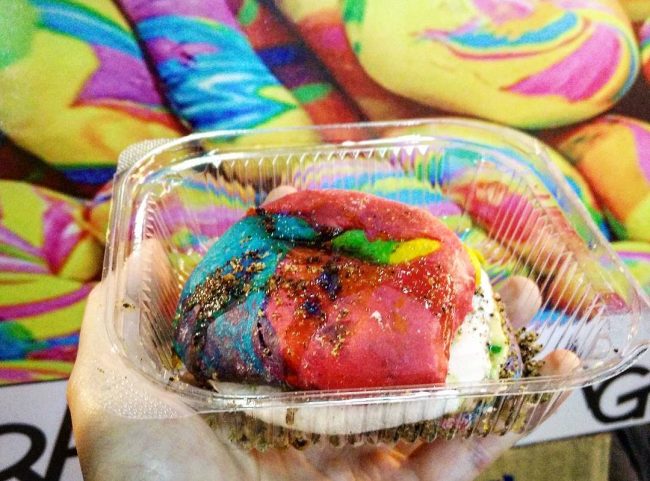 Credits: Instagram | @merrymaro
This entry caused quite a stir at the annual Hari Raya Night Market at Geylang Serai. And with good reason – it is definitely one to satisfy the sweet tooth in well, someone with a sweet tooth!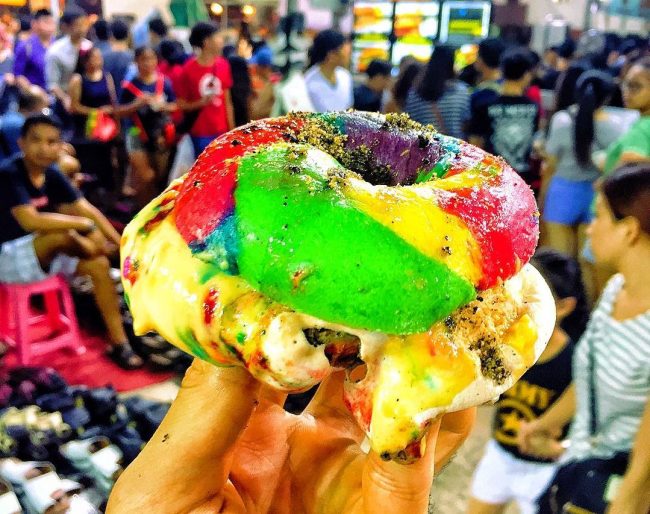 Credits: Instagram | @millarjordan
The crisp, lightly toasted bagel itself isn't all that sweet. It is what's slathered on and in between it that makes it drool-worthy – ice cream, jam and a generous drizzle of maple or chocolate syrup.
Watermelon Volcano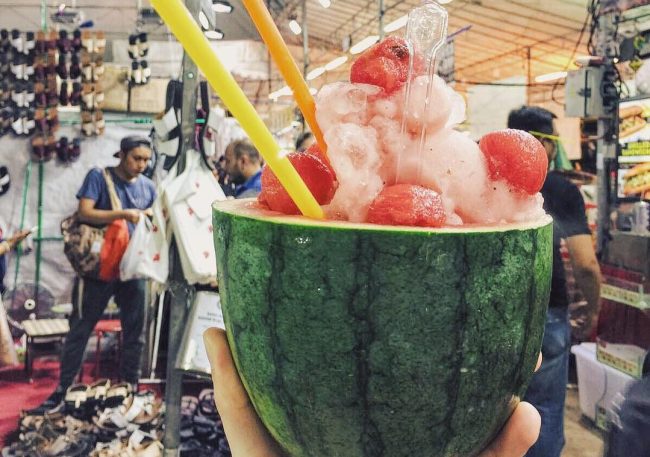 Credits: Instagram | @eunetking_123
Here is another entry that – if I can afford myself a pun – exploded into the scene. Heh. This rather odd looking concoction is basically crushed ice and balls made out of scooped watermelon drowned in a mixture of watermelon juice and condensed milk.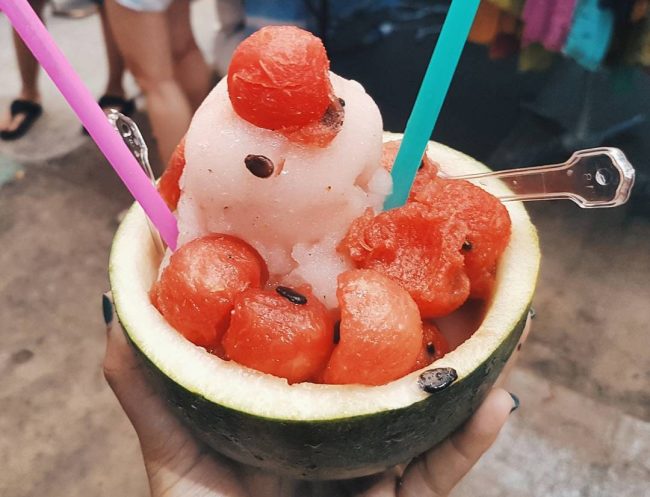 Credits: Instagram | @madeinthenutella
It is the ultimate in refreshment for hot and sunny Singapore.
Smores Dip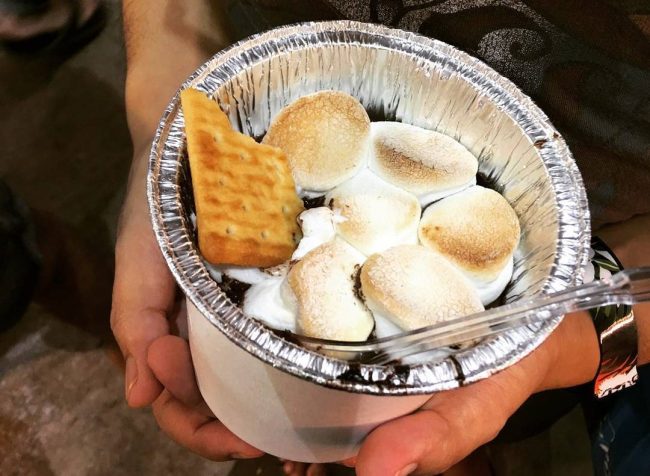 Credits: Instagram | @mparjo
Ahh, toasted marshmallows served with crackers made portable with the wonders of aluminum! What more can you ask for?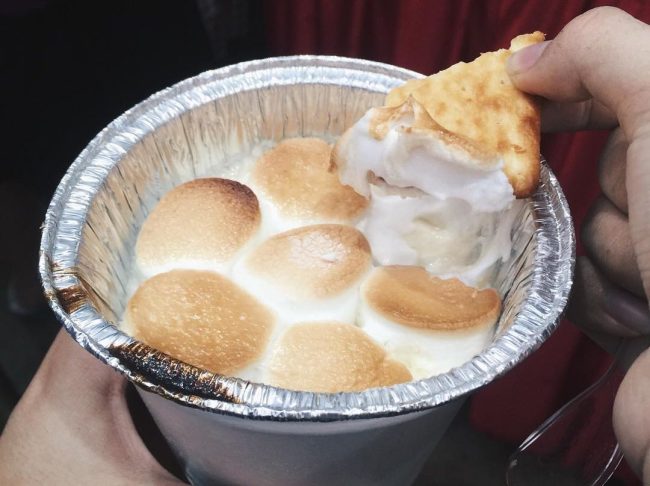 Credits: Instagram | @x1nyii
Who needs sticks and campfire when you can have it served to you in neat little aluminum bowls? Comes in three flavours – chocolate, white chocolate and cookies 'n cream.
Kebab Wrap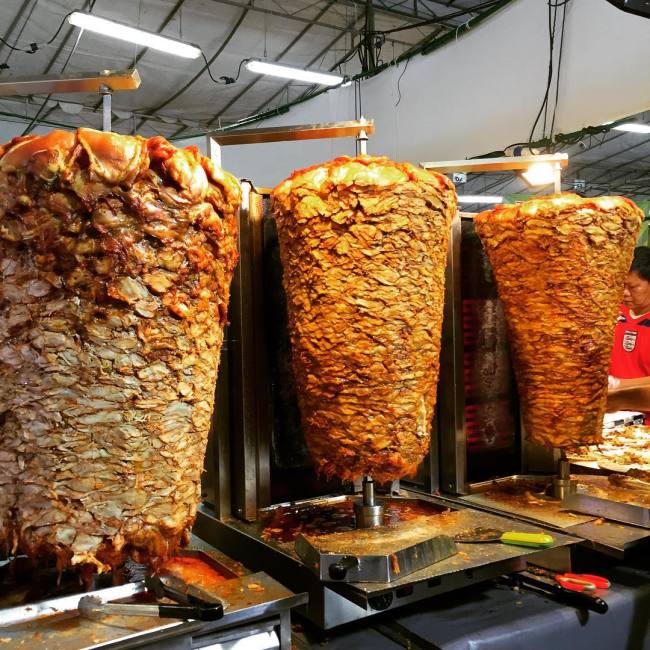 Credits: Instagram | @tammaralovestoshop
There's just something about a chunk of meat rotating about a grill that makes it look so appetising. Have this meat-filled snack in either its beef or lamb variation.
Herbal Eggs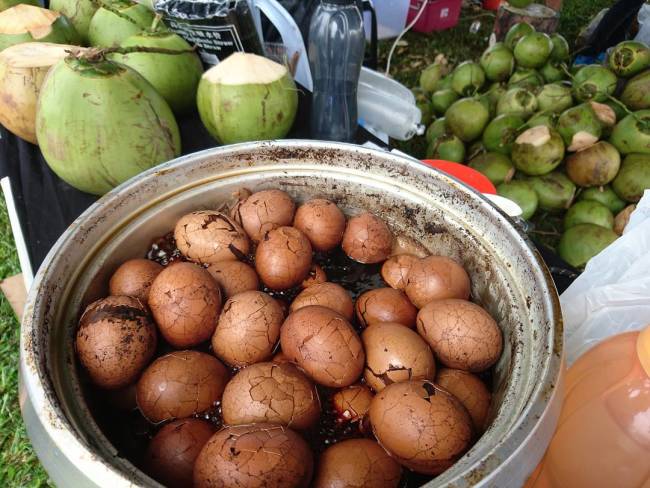 Credits: Instagram | @_kenneth_k
Flavour rich eggs soaked in herbs and tea leaves. This snack has been a part of the night market scene for a long time and we can't help but buy one each time we visit the pasar malam because it just smells so good!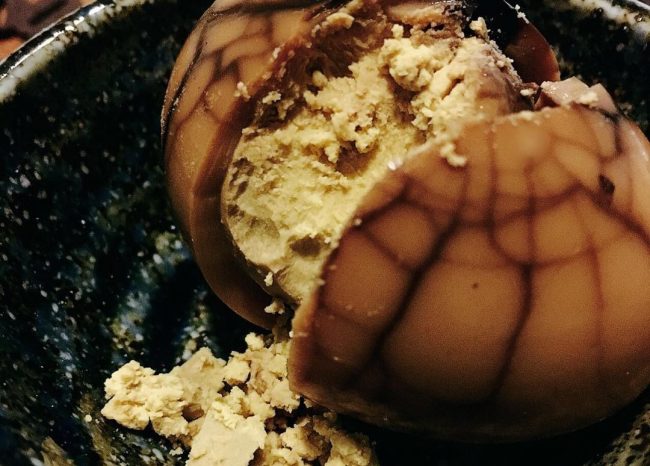 Credits: Instagram | @shioyee
Pasar malams have always been a part of growing up in Singapore. It is a place where we form memories with friends and family – enjoying snacks of all sorts, playing the funfair games and enjoying the sights and sounds of our heartlands – reminiscent of the old kampong spirit.
Always quarrel with your bae? Then you need to watch this video and learn this trick on how to resolve arguments without any compromise or apology (and also subscribe to Goody Feed YouTube channel):

ShopBack is Singapore's top cashback website. Get up to 30% Cashback when you shop online for fashion, holidays, electronics and more! Simply go to www.shopback.sg/blog

Latest posts by Shopback Singapore (Content Partner) (see all)