Before the emergence of family-friendly sitcom Rick & Morty, another devilishly funny cartoon was dominating television airwaves.
Adventure time.
This ludicrously sensible cartoon featured a wide array of humanitarian topics, and centred around a 12-year-old kid with his talking dog who fought formidable enemies like a squirrel called… Squirrel.
(And in case you're wondering., I was not being sarcastic at all)
Anyways, it seems that the quirky characters have somehow crossed realms into our world, and somehow ended up in the vicinity of McDonald's.
Seeing their chance, the fast food giant has urgently released a promotion:
From 9 Nov to 29 Nov 2017, McDonald's will be giving out a free Adventure Time toy with every purchased Happy Meal.
Don't these just look cute?
With 8 delectable designs to choose from (including everyone's favourite dysfunctional duo Jake and Finn), these chains are definitely an adventurous keep.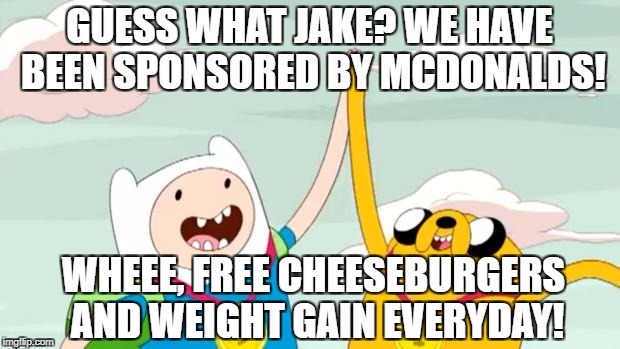 Even more reasons you should get a happy meal
I don't care what anyone says: everyone should be entitled to happy meals, including 80-year-old bufflords.
If anyone says otherwise, throw him/her behind bars for age discrimination.
I mean, have you seen these wonders?
While they aren't exactly filling, it makes one happy. And that's the point.
Add in Adventure Time goodies and they are practically the holy grail.
Terms & Conditions
Happy Meal® toys shown are for illustration purposes only.
Happy Meal toys are only available while stocks last.
McDonald's® reserves the right to replace Happy Meal toys on offer without prior notice.
All promotion dates are subject to change without prior notice.
Happy Meal toys are non-exchangeable.
Prices of Happy Meal may vary across different restaurants.
Designs include Finn, Jake, Princess Bubblegum, Ice King, BMO, Lady Rainicorn, Marceline, and Lumpy Space Princess
A new design will be available every Thursday, 11:00 a.m.
What are you waiting for?
Hello Kitty is so 2016.
Welcome to a whole new world of… Adventure Time!
Since you're here, why not watch a video about an NTU student who went all out to impress his crush, only to end up in…tragedy? Here, watch it and do remember to share it (and also subscribe to Goody Feed YouTube channel)!
This article was first published on goodyfeed.com
Read Also
Do you love writing? Do you want a platform to showcase your works? Goody Feed is looking for part-time writers to join the team! Click here to find out more!
Featured image: McDonald's

Just your average Singaporean guy who tends to write aimlessly, work out inefficiently and sleep soundlessly.