Life can be a pretty fickle-minded asshole at times. It throws curve balls at you for no reason whatsoever, makes you slog for the most minor things and secretly hopes that you will suffer, mope and die.
But sometimes, it can be a pretty cool dude too.
Take for example, this case.
A vendor who sells barbecue pork was prepping for the day in the early morning, when he was cruelly robbed.
Of his barbecue pork.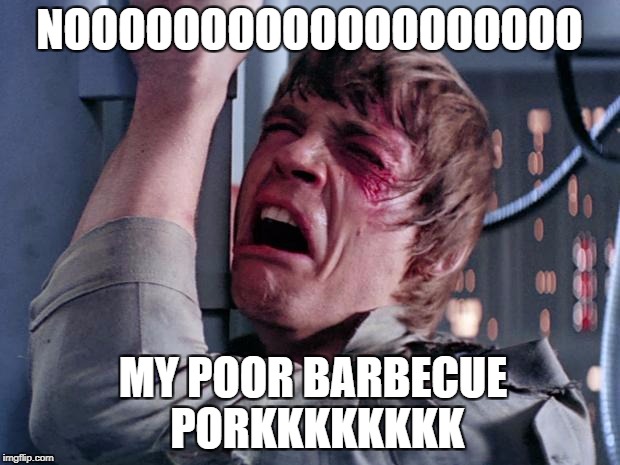 What exactly happened?
According to Sinchew, on 12 November, the hawker surnamed Li had woken up in the wee hours of the morning to go to his coffee shop stall in Yong Peng, Johor (it is not revealed whether it's the Yong Peng rest area that buses often stop).
It was about 4:00 a.m., and the coffee shop wasn't opened yet.
Just as he was busy prepping for the day, two cars suddenly drove up to the coffee shop. Two men swiftly alighted from the vehicles, with one of them holding a machete.
It doesn't take Albert Einstein to figure what they were trying to do there, but surprise, surprise, things took a rather… unconventional turn.
As the day's business had not started yet, Li didn't have much valuables on him. As a result, the robbers found nothing worthwhile to snatch, even after combing the entire area.
(Article continues below) Xing Xing is a 34-year-old Singaporean lady who decides to meet up with an online friend she found in Facebook. But it turns out that he's not what he seems to be: Prepare boxes of tissue and watch the saddest Singapore Facebook love story here:
(Since you're here, subscribe to our YouTube Channel for more informative videos lah)
That was when they decided enough is enough, and it's time to make a getaway.
However, it seems that they were not contented with escaping empty-handed. Just before they left, one of them abducted Li's prepared barbecue pork and fled.
Thankfully, Li was unhurt during the short 'robbery'. Additionally, the only loss he suffered was from the barbecue pork that cost less than RM100.
Life's not that bad
So yeah, Life's actually not as bad as you think it is. It does dish out some sweet karma once in a while.
Next time you find yourself with your back to the wall, don't curse and swear at Life.
Just think of the two robbers who had to wake up especially early just to get some barbecue pork.
It'll make your day way, way better.
Since you're here, why not watch a video about an NTU student who went all out to impress his crush, only to end up in…tragedy? Here, watch it and do remember to share it (and also subscribe to Goody Feed YouTube channel)!
This article was first published on goodyfeed.com
Read Also
Do you love writing? Do you want a platform to showcase your works? Goody Feed is looking for part-time writers to join the team! Click here to find out more!
Featured image: Sinchew / Small Town Woman
Read Also:
Goody Feed is looking for part-time writers and video editors! Our office is located at Bukit Batok and hours are flexible. Click here for more info about being a writer and here for more info about being a video editor!

Just your average Singaporean guy who tends to write aimlessly, work out inefficiently and sleep soundlessly.