One of the highlights of getting married would be your pre-wedding photo shoot, be it a simple portrait session or you can take this opportunity to tell your love story through the captured images.
It might sound daunting and awkward to be in front of the camera for hours with a photographer taking hundreds of photos of you and your partner. So, how do you pose for your wedding photographs to guarantee shots that you'll actually want to share with your guests, and display on your wedding day?
Firstly, you will need to do some research to equip yourselves with a little posing know-how. To begin with, you've got to know the poses and types of photographs that you like and save them down. Take some time-out prior to the shoot to practice your poses together in a mirror at home.
Secondly, be sure to communicate with your photographer. Let him/her know which angles work best for both of you, so that during the shoot he could capture the most flattering side of you.
Thirdly, the best photos are always taken when you're at your most confident and relaxed state. A good tip when smiling for the camera, would be to think of the happy memories that you both have been through. Don't have to be too nervous, just stay happy and let the poses flow naturally.
To get you geared up, Aiido team has selected 10 stress free couple poses to inspire you.
1) A Walk in the Park
This pose is great for warm ups at the start especially for outdoor sessions. To achieve this pose in a relax manner, forget about the photographer's presence, just be yourselves. Take a stroll hand in hand and chit chat while the photographer snaps this moment either from a distance or even from a higher angle.
Credits to Cepheus Chan Photography https://www.aiido.com/cepheus-chan-photography
2) The Forehead Kiss
It might seem awkward to kiss lips to lips right at the start of the shoot. This forehead kiss is such a sweet couple pose without the awkwardness and it just works perfect for all settings! To achieve a magical dreamy effect, do play with the natural light, especially during golden hour.
Credits to Stanstills Photography: https://www.aiido.com/stanstills-photography
3) Princess Carry
The groom can carry the bride in his arms, either by holding her hips or her legs, which really depends on the weight and height. Sweeping her off her feet, this pose can be really cute and spontaneous. We would recommend couples  to try this pose right at the start of the shoot, before the groom gets tired out.
Credits to Karafuru: https://www.aiido.com/karafuru
4) The PiggyBack
Engagement sessions may become boring if the couple is posed in static poses, so do include a variation such as the piggyback which symbolizes "I will carry you with me wherever I go". This pose is a great time to capture candid moments as the bride might worry if her groom can handle her weight, so the expressions will be very natural.
---
Goody Feed YouTube Channel
A 34YO "old-virgin" S'porean was desperately looking for a boyfriend and surprisingly, she really found one online. But the intentions of the man will make you cry. Prepare tissue paper to watch this video based on real events:
---
Credits to Flairfolio Photography: https://www.aiido.com/flairfolio-photography/
---
Advertisements
---
5) Swirl and Twirl
This classic dance move has to be caught at an opportune time where the groom swirls the bride. Put on your dancing feet and imagine you both are dancing in the middle of a grand ballroom party, this photo brings out the fun factor!
Credits to Fifteen Trees Photography: https://www.aiido.com/fifteen-trees-photography
---
Advertisements
---
6) Eyes on you
Your eyes are the window to your soul. Facing each other, gaze lovingingly at your partner. When you stare into each other, and for that moment you feel like that whole world is in your hands.
Credits to Knottin Visuals: https://www.aiido.com/knottin-visuals
7) The Embrace
---
Advertisements
---
Grooms, hug your bride and place your arms around her neck, let her feel protected and secure in your arms. Brides, we would recommend that you hold onto the bridal bouquet, while resting your wrist onto your hip bone with a 45-degree angle, so that your  body will look longer and leaner.
Credits to UnderTheStars Photography https://www.aiido.com/underthestars
8) Head on Shoulder
Most of the time, the bride is the main focus, but the groom is just as important! The main focus of this pose is on the groom and the groom gives a cool look for a mysterious aura while his bride looks at him lovingly. At the same time, this pose can showcase the bride's beautiful hairdo.
---
Advertisements
---
Credits to Aylwin Lek Photography: https://www.aiido.com/aylwin-lek-photography
9) The Vow
Holding hands while facing each other, just like how you would on your wedding day while reciting your vow. What we love most about this pose is that it is low key but full of emotions. This shot works best with a clean landscape, and both of you are the only ones in the picture. "It is just you and me against the world."  
---
Advertisements
---
Credits to Ool Photo: https://www.aiido.com/ool-photo
10) The Smooch
Not forgetting, the must have shot for every couple, THE KISS. Close your eyes and let the lips meet gently! It can't go wrong to kiss for a shot or two, whenever there is an appropriate moment.
Credits to De Reminisce Photography: https://www.aiido.com/de-reminisce-photography
---
Advertisements
---
Whether its for your engagement photos or anniversary celebrations, we hope this article has been helpful for you and provide you with some inspiration for your upcoming photoshoot.
Remember to practise some of your favourite poses together with your partner, before you both get in front of the camera and you'll feel a lot more confident.
All the best and we would be delighted to see those pictures! Do send us your pre-wedding photoshoot pictures to [email protected]  and you might be featured here next!
---
Advertisements
---
This Singapore love story set in the 90s shows you why you should never wait for tomorrow. Watch it without crying: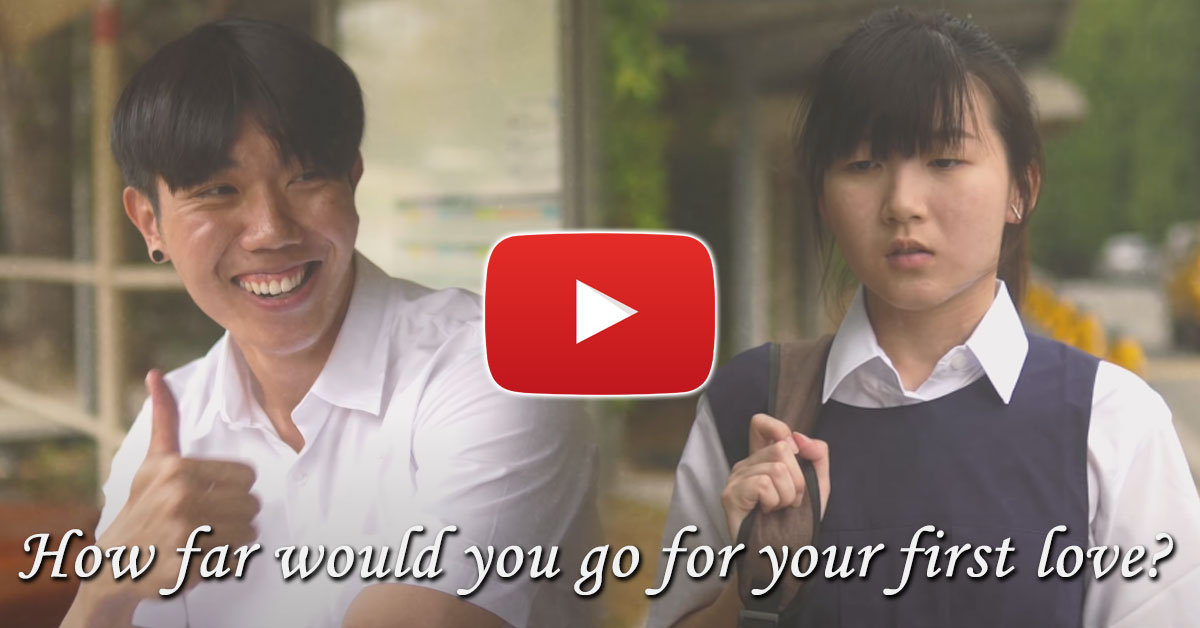 ---
Advertisements
---
Enjoyed this article because it's both informative and entertaining? If so, you should download the Goody Feed app so that you won't miss out on any articles, as there are app-exclusive contents as well! Also, join our Telegram channel if you use Telegram often!
Latest & Popular Articles You Must Not Miss:
---
Advertisements
---
---
Advertisements
---
Our Most Popular Videos You Must Not Miss:
---
Advertisements
---
This Singapore love story set in the 90s shows you why you should never wait for tomorrow. Watch it without crying: