Listen up Brides, wedding planning in Singapore can, in fact, be very stressful!
Your big day is just a month away and you're frantically making sure everything on your checklist has been completed. It's going to be one of the most exciting things you will ever do in your life, but it can also be very frustrating as well.
To tame that 'Wedding Planning' beast, we'll let you into the 11 wedding planning secrets you never knew, so that you can be fully prepared for some of the least expected surprises that may occur!
You May Cry A Lot!
While you're caught up with all the pre-wedding preparations together with your soon-to-be husband, your emotions are going to be running like a roller-coaster from highs to lows and everything in between. At one moment, you think that you're on top of things and at the next, everything seems to come crashing down in one big swoop.
When you're planning your wedding, remember to always carry some extra tissues with you. You don't know when the waterworks will start and they can explode when you least expect them to.
You may start crying over things like choosing the colour of flowers you want the bridesmaid to carry, or burst into tears when your mother tells you how proud she is of you when you're standing in front of her in your wedding dress.
There could be a hundred more other situations that could abruptly stir your emotions without you knowing, but don't fret, that's perfectly normal. Just be prepared for sudden crying outbursts that may occur at any time.
While you're at it, instead of trying to suppress your tears, let them flow. It's better to release your emotion and you'll often feel better after a good cry.
Importantly, talk to the Groom or your parents about how you feel because getting emotional support and encouragement from your loved ones go a long way while planning for your wedding.
You Need to Stay Positive
It's particularly tough because it's your first time. Many a times, you're like a lost lamb trying to find your right way. Things could screw up and don't turn out the way you expect them to.
A lot of negative emotions will try to take over and you need to use all of your strength to push them away. A positive attitude will get you a lot further than a negative one!  Address the challenges you meet with a healthy outlook and you'll find that things start to fall into place magically.
You'll Forget Something in Your Budget
As the planning stages carry on, you'll inevitably discover that you forgot something that you should have added to your budget. Whether it is a small expense or a large one, it will throw you off the financial railroad you are following.
If for example, you're looking for a nice wedding dress and found out that you have to pay $1,000 more to really afford a dress to impress, it's back to the drawing board as far as your budget goes.
The best way to handle this situation is to step back from it and get yourself collected once again. Once you have overcome the panic stages of discovering additional expenses, carry yourself forward and rethink your budget sensibly.
If you are just starting out with your planning, the best thing to do is to add a 5% – 10% financial safety buffer to your wedding budget. This way, when unexpected expenses do turn up, you'll be prepared to take them on.
Don't Expect It to Be Easy
Don't ever assume that planning your wedding is going to be easy. Make sure you allocate a substantial amount of time to get everything covered so that you don't run into any time-related or unforeseen situations.
Even if you're planning to hold a casual wedding, don't expect the planning and preparations to be any easier than that of an elaborate one.
No matter if you are planning to serve expensive Caviar as hors d'oeuvres or just providing a salad appetiser, you'll need to spend the same amount of efforts towards a successful perfect wedding day.
Each has their own set of confusions to overcome.
Everyone Has Their Own Opinion
No matter what you do, expect to be told that you're doing something wrong at some point during your wedding planning. Everyone has their own opinions and would in one way or another exert their influence on you of what they think. This holds true especially if your families are getting involved.
---
Goody Feed YouTube Channel
A 34YO "old-virgin" S'porean was desperately looking for a boyfriend and surprisingly, she really found one online. But the intentions of the man will make you cry. Prepare tissue paper to watch this video based on real events:
---
What should you do to handle this? It's tough but whenever possible, just do your best to compromise and strike a balance. Always talk things out amicably with those having differing views, especially with family members. Keeping your cool and staying level-headed is important.
On the other hand, it's YOUR wedding and both you and your hubby should have the final say if things do get out of hand. You can't please everyone all the time and if you try to do so, it will just leave you frustrated and upset.
---
Advertisements
---
Remember Not To Argue
It's natural for you and your soon-to-be spouse to have a few altercations during the planning stages. This usually happens over disagreements on things such as expenses, guests list or wedding rituals. You need to keep things as light and happy as possible and avoid arguing about the small things.
There's a larger picture happening here and it involves you planning for the happiest day of your life. Keep that in mind, stay focused on your goals and avoid any combat situations whenever possible. Most of them are just stress-related incidents that will dissipate over time.
Let The Groom Participate Too
At the beginning of your wedding plans, it's perfectly normal for the groom to say that he doesn't want to have any part of it, and is willing to leave the decision-making up to the bride and the rest of the family.
As the wedding planning continues, though, he may start to get interested and want to have some input on things.
He may see that you are thinking of walking down the aisle with a bouquet of white roses, and may say that he would prefer to see you carrying red roses instead. You look up at him in surprise and wonder what is going on!
---
Advertisements
---
The best way to handle such a scenario is to give him some specific tasks to do and allow him to contribute to some of the planning himself. By giving you his suggestions, he is letting you know that he is interested in the wedding (even though he first said he wasn't!) and you need to acknowledge this.
Ask him questions and allow him to have some input about this special day. Take it as a good sign that he too is interested in planning the wedding together as a couple!
Keep a Smile on Your Face
During the preparations, you may find yourself frowning too much too often. In fact, you could be having sleepless nights, worrying about almost everything about your wedding details or itinerary. If this happens, you may be displaying signs of a "Bridezilla". Don't let this happen to you!
Take time off to exercise regularly or participate in non-intensive physical activities such as Yoga or Cycling that helps you take your mind away from the stress. Research has proven that sweat-inducing activities can reduce symptoms of depression as effectively as antidepressants.
Whatever happens, remember to keep a smile on your face as much as possible. When you're physically smiling it's harder to succumb to a bad mood or an upset.
---
Advertisements
---
Don't Talk About It All The Time
If you start talking about your wedding and you see that your friends have glazed eyes and are staring into space, don't take it personally. It just means that you are talking about the wedding too much and the conversation is getting boring.
Your friends and family may be too polite to let you know that they don't want to hear any more about the DJ you're hiring and the cake you've ordered. If you find that you're falling into this, put your wedding plan discussions on hold for a bit.
Wait for your friends or family members to ask you questions about your wedding. This is a very special day for you that you're planning but other people around you do have their own lives that they are leading and have other things to talk about as well.
Keep Your Wedding Plans Real
There may be times when you've crossed over the line and start to fantasise a fairy tale marriage. There's no need to freak out when this happens. It's perfectly normal. Every bride wants a special wedding day to be remembered and talked about 3-months down the road.
When you feel that things are getting a little too unreal and reality is in a faraway place, call a close friend and tell her what you're thinking. Your friend should be able to help you get grounded again and back on track with your planning.
---
Advertisements
---
Don't Give Up Easily
How many times do you think you're going to say "I give up!" during your wedding planning process? Probably a lot! While it's okay to say that you're giving up, you'll never want to really seriously consider losing focus.
You're human and you do suffer from burn out. There's nothing wrong in feeling this way.
When you feel that you've reached a point where everything seems like it's too much, schedule a small break away from it. Get away with your partner and give yourselves some room for intimate moments together. Get recharged!
It's okay to take a break from things as long as you know that you'll get back on track and really see things through to the end. Remember, you're getting married to each other and no matter what happens, love and enjoy every moment of it.
---
Advertisements
---
This Singapore love story set in the 90s shows you why you should never wait for tomorrow. Watch it without crying: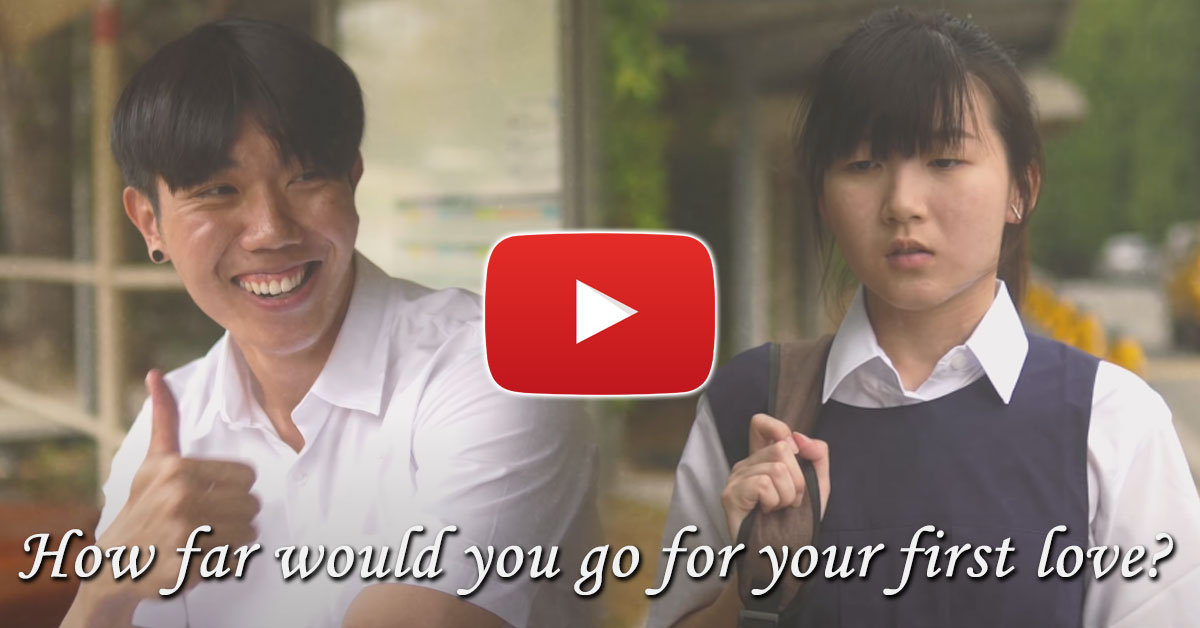 ---
Advertisements
---
Enjoyed this article because it's both informative and entertaining? If so, you should download the Goody Feed app so that you won't miss out on any articles, as there are app-exclusive contents as well! Also, join our Telegram channel if you use Telegram often!
Latest & Popular Articles You Must Not Miss:
---
Advertisements
---
---
Advertisements
---
Our Most Popular Videos You Must Not Miss:
---
Advertisements
---
This Singapore love story set in the 90s shows you why you should never wait for tomorrow. Watch it without crying: