You know where all the best ghost stories come from?
Taxi drivers.
Having to drive when others are sleeping, most of them have encountered some creepy passengers…who might not, you know, be humans (get it?).
Here're some of the spookier stories that we've found online.
Do you dare to read them all?
Kiliney Road Missing Passenger
A taxi driver was driving along Kiliney Road at around 3:00 a.m. when he was flagged down by a passenger requesting to go to the Japanese Cemetery.
At first he thought the excess earwax in his ears had blocked his hearing, so he asked again. The answer was the same. "The Japanese cemetery," the passenger said in a frothy tone, as if he was gurgling water at the back of his throat.
Why the hell would anyone go to the cemetery at three in the morning was anyone's guess, and the taxi driver was in truth starting to have delusions about kicking the passenger out there and then.
But he didn't – swallowing his fear; he drove all the way in silence and reached the entrance of the cemetery. "Alright, the fare is…" he began to say as he looked back. He trailed off; there was nobody in the backseat.
All there was were dirt, leaves and wet mud.
Prank? True? Or just CSB?
What Happens When You're a Buaya Driver
Taxi driver Robert (fictional name) was making a detour along old Choa Chu Kang road at about 12:00 a.m. when someone flagged him down. The passenger, a pretty lady decked out in white and red, entered, but for some reason didn't say anything.
"Eh chio bu, where you wanna go?" he asked. Silence; she didn't say a word. "Eh don't waste my time. I want to go home and sleep already."
Again, she didn't say a word. By then Robert was getting pretty pissed, and barked, "You don't have mouth to talk sibo? Then point can?"
This seemed to garner a reaction; the lady started to point towards the road on the right.
"Seriously, must ask fiercely then will answer," Robert muttered as he drove towards the pointed direction. Throughout the journey he would look in the mirror to see where she wanted to go, and throughout the journey she never said a word. The taxi had been driving a while when Robert noticed that they were entering this lonely road with trees on both sides, and he was having second thoughts.
"Eh, you sure you want to go here?" he asked as he started to look at the mirror. "It's dangerous, you know." The lady just continued pointing. "You sure?" he asked again, this time facing the real person.
Except there was none – the backseat was empty. He looked back in the mirror again, and the lady was there. "Haha, funny ah…" he started to furrow his eyebrows, and suddenly he felt the taxi's tires running over something. He was not think straight by then, and just absent-mindedly stepped out of the taxi for a look.
A woman in white was squished under his tires, lying in a pool of blood. And at that time a violent gust of wind started to blow. He blinked, then got back on to the taxi and drove off as fast as he could. Throughout the journey he never looked once at the mirror.
Now, if this is true, it's one heck of a story for campfire, no?
Yet another Bedok Ghastly Encounter
A taxi driver was driving slowly around the outskirts of Bedok, looking for passengers to take. Yet somehow nobody seemed to want to take his taxi – even the desperate-looking ones that looked like they needed a taxi instantly or will die ignored his vehicle.
"Really?" he muttered as he drove for a U-turn. "My taxi got virus is it?"
---
Advertisements
---
"Don't have, but got ghost."
"Ghost…? Ha I will only believe in them when I see one. Bullshit…"
He froze at the wheel, and slowly looked at the mirror. An old man was grinning at him. "You… when you get in one ah?" he asked, right hand reaching for the seat door.
"Just now lo, when you weren't looking," the old man continued grinning. The driver opened the door and bolted out of there, and right that instant the taxi started moving off. He squinted, and could see nobody in the vehicle.
"Who the hell was that…" he mumbled, before looking up. There seemed to be someone screaming. "What's…" he started before going silent. The taxi had driven straight into a tree trunk at the side.
---
Advertisements
---
Now, this is a little chim, but if you understood the story…it's that perfect one to sian a girl in a chalet.
Always bored during your commute to and fro work or school? Here's the best solution: download our app for new articles, Facebook videos and YouTube videos that are updated daily…and most importantly, exclusive contents that are only available in our app! It's your perfect companion for your daily commute!
This Singapore love story set in the 90s shows you why you should never wait for tomorrow. Watch it without crying: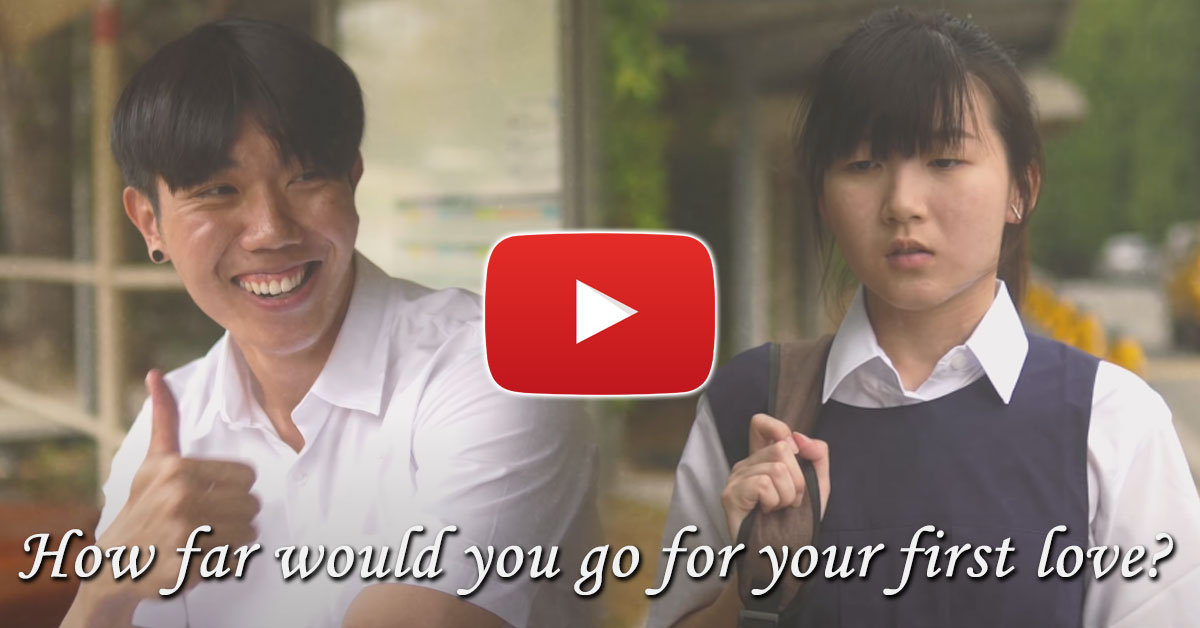 ---
Advertisements
---
Enjoyed this article because it's both informative and entertaining? If so, you should download the Goody Feed app so that you won't miss out on any articles, as there are app-exclusive contents as well! Also, join our Telegram channel if you use Telegram often!
Latest & Popular Articles You Must Not Miss:
---
Advertisements
---
---
Advertisements
---
Our Most Popular Videos You Must Not Miss:
---
Advertisements
---
This Singapore love story set in the 90s shows you why you should never wait for tomorrow. Watch it without crying: