WhatsApp serves primarily one function: to communicate. As a young adult who grows up with the Internet, I cannot fathom how life is like...
There are so many people who do this that they could set up a mini cult. Here are some of the things all people...
With such an efficient transport system, you'll find people from all walks of life gathering in (and be transported by) our public transport, namely...
KTV seems to be one of the most "IN" thing in Singapore. Well, do you know that KTV is one the best form of...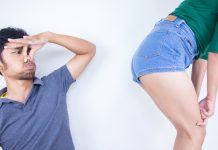 We all know this is a sensitive issue, and no one has bothered to take even the slightest effort to read more about this. Well,...
Drinking is a social statement to some that they've reached the legal age to be responsible for many things, and that includes facing the...
Running out of ideas on what clothes to buy for CNY? Bored of wearing the same T-shirt every day? Or you just want something playful? This...
The ang bao rate cards for Chinese wedding is everywhere; even if you don't know what the rate is currently and you have no...
If you want to know how popular selfie is, read this: the prime ministers of Singapore and Malaysia have taken a selfie together before....
Chinese New Year is a joyous time of getting together with friends and family. Almost everyone would associate this festive season with family bonding...