BMT

-

search results

If you're not happy with the results, please do another search
So, you are enlisting, and you've been selected for one of the three organizations you can serve your 2-years NS liability in, the SAF,...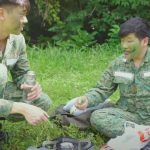 I still remember clearly the day that I first stepped into Pulau Tekong: I knew once I was there, I'd lose many things, from...
The first Ah Boys to Men was great, and second was even better, and the third was funny and cool but lacked that "oh,...
Arh, the west of Singapore. We absolutely love it because our office is located in the west, and almost 80% of us in the...
In a previous article, we have highlighted the difference between National Service in Malaysia and Singapore. Today, I will like to write about the...
Clearance of leave at the very end So you're a guy who likes to take leave every week or so? Well, what if I tell...
I'm sure that many of us has nostalgic memories of our days as NSFs and one large part of our NSF experience will definitely...
The 24km route march is the graduating route march that all physically fit recruits has to go through before they can pass out from...
Yes, it is undeniable that Singapore is burgeoning at its seams right now with the amount of people staying here right now. On weekends,...
Yes, our Mass Rapid Transport (MRT) trains are ranked among the top few trains operating in the world today and they are known for...