Telegram is gaining popularity as the top messenger app amongst Singaporeans. Aside from the awesome stickers, what we love most about it are the channels and bots created by Singaporeans and designed to make our lives easier!
Be updated with the latest promo codes, bus timings, train breakdowns and even the daily life of our Prime Minister!
Here are some of our favourite Telegram channels and bots that you should join.
You can also download our adorable HappyBag & Friends sticker pack!
1. Prime Minister Lee Hsien Loong
Prime Minister Lee Hsien Loong is already one of the top politicians to follow on Facebook and Instagram. Still remember the owl in the office debacle?
Of course, PM Lee has taken advantage of technology to connect with Singaporeans through the Telegram messenger app as well. This official Telegram channel is managed by the Prime Minister's Office and provides updates, a few personal anecdotes and even some awesome stickers.
Join here: https://t.me/leehsienloong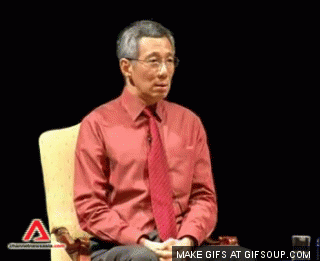 2. SG MRT Updates
The MRT is the most convenient way to get around Singapore but it also has its down moments – delays, signalling faults, flooding, collisions and lightning strikes… This channel makes sure you're updated with all of those delays in real time! Know if you should wait at home, plan an alternate route or if you might be late for an exam!
Join here: https://t.me/sgmrt
(Article continues below) Xing Xing is a 34-year-old Singaporean lady who decides to meet up with an online friend she found in Facebook. But it turns out that he's not what he seems to be: Prepare boxes of tissue and watch the saddest Singapore Facebook love story here:
(Since you're here, subscribe to our YouTube Channel for more informative videos lah)
3. Bus Time Bot (SG)
Other than MRTs, the second most popular mode of transportation is the bus. Just send your location and you will be alerted on timings for SBS, SMRT and even NTU and NUS buses! Talk about convenience!
Join here: https://t.me/bus_time_bot
4. [SG ]Uber/Grab/Taxi Promos
On days that you're just plain lazy or you're going somewhere in a hurry, you might want to take an Uber or Grab. Instead of having to Google for the latest promo and discount codes, just load your Telegram app and have the discount codes delivered right to you!
It's great way to save moolah and it's just a click away!
Join here: https://t.me/sgcabpromos
5. GetMedia Bot
Don't you just hate transferring from one app to another when you're downloading music? We do! That's why this bot has been useful for us whenever we want to download sounds or videos from SoundCloud, Youtube or Facebook. We can get the file in a jiffy without leaving the chat box!
There's even a new feature that allows you to download Instagram stories.
Join here: https://t.me/getmedia
6. [Bonus] Pokémon Go: SGPokemap – IV 90+
Are you still playing Pokémon Go? This entry shouldn't be too much of a surprise to you then!
Die-hard Pokemon Go addicts will find this channel a godsend. It shares locations of rare Pokemon with IV 90+ so you can go forth to be the very best, that on one ever was!
Join here: https://t.me/SGPokemapIV90
What other Telegram channels and bots do you think every Singaporean should have? Drop them in the comments below!
---
Always bored during your commute to and fro work or school? Here's the best solution: download our app for new articles, Facebook videos and YouTube videos that are updated daily…and most importantly, exclusive contents that are only available in our app! It's your perfect companion for your daily commute!
Read Also:
Goody Feed is looking for part-time writers and video editors! Our office is located at Bukit Batok and hours are flexible. Click here for more info about being a writer and here for more info about being a video editor!