Now who doesn't love a good briyani. I am going to assume that if you are reading this, you love it as much as I do.
And if your mom cooks briyani, I'm pretty sure you know that there is no better feeling than coming home and realising you get to eat homemade briyani (for the next few days if your mom is anything like mine and cooks to feed an army).
And I think my mom makes some pretty QUALITY briyani, btw.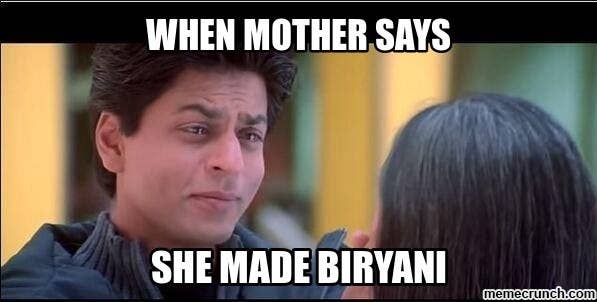 So yes, that's me when she says she's made briyani, and I'm sure a lot of you can relate.
But, let's be honest. Homemade briyani is usually a once in a blue moon kind of deal which is why it's a pretty huge freaking deal when it happens.
But that's why God gave us restaurants to go get our briyani hankerings met!
So for all my #briyanibuddies out there, I feel you and here I am to give you 10 of the best places in Singapore to satisfy all your briyani cravings!
1. Karu's Indian Banana Leaf Restaurant
This is my ride or die Indian restaurant in Singapore. Being Indian myself, I have eaten tons of Indian food, briyani being one of them and I'll tell you, if I had to pick my second favourite briyani (first is obviously my mom's right), this would be it.
So a couple of things you should know about getting briyani at Karu's.
The rice, poppadoms, veggie sides and fish/chicken curry are all free flow.
(Article continues below) Xing Xing is a 34-year-old Singaporean lady who decides to meet up with an online friend she found in Facebook. But it turns out that he's not what he seems to be: Prepare boxes of tissue and watch the saddest Singapore Facebook love story here:
(Since you're here, subscribe to our YouTube Channel for more informative videos lah)
Yep, you heard me right!
This is one of the few Indian restaurants left that still keep their costs low while providing the amazing freeflow service that we all love and look forward to.
Their briyani rice is always steaming and delicious. Their fish curry is the perfect spicy accompaniment to the rice and extra dishes you get.
Their best briyani type would probably be the masala chicken briyani – the masala is thick and spicy, and the chicken is packed with flavour.
That being said, their mutton and sambal fish briyani is also pretty darn good!
The food is affordable and incredibly tasty, full of familiar spices and flavour.
Karu's gives you an extremely filling experience while being very friendly to your wallet, so I guarantee that you will leave ten times fuller and ten times happier!
Address: 05-01 Sime Darby Centre, 896 Dunearn Road, 589472
Opening Hours: 10:30am to 10:30pm Daily (Closed on Monday)
2. Samy's Curry
This is one of the oldest and most established Indian restaurants in Singapore, with extremely loyal customers and a huge fan base.
And it isn't really hard to imagine why.
Like Karu's, Samy's Curry provides you with free-flow rice, veggies, curry and poppadums (although it is harder to wave them down during peak periods).
The rice is milder but still tastes really good, and the veggie accompaniments are delicious in their own right.
Again, the masala chicken briyani is the most ordered briyani type here, with the masala coming in red and packed with flavour and spices!
The mutton briyani is also really good, and they are generous with the amount of mutton you get per serving!
Other things that you should order to accompany your briyani would be Chicken 65, Masala Crab, Fish Roe, Squid, and their refreshing homemade lime juice to wash all the spices down with!
Address: 25 Dempsey Road, 249670.
Opening Hours: Mondays to Sundays for lunchtime from 11 AM to 3 PM; dinnertime from 6 PM to 10 PM – closed on Tuesdays
3. Gurkha's Palace
Many people are aware of the briyani powerhouses, but did you know that tucked away behind all these big names is Gurkha's Palace, serving up some amazing Nepalese food?
If you have never had Nepalese food, definitely check this place out because it serves some of the best briyani in Singapore.
That being said, don't expect this briyani to be like the usual you see every day because Nepal does briyani slightly different.
Served up in little copper pots (please don't be deterred by the size of the pot btw, it's actually a big portion), the briyani is extremely fragrant and mild, with smooth, buttery undertones.
The chicken briyani can be a little dry, so we recommend going for the mutton here! Each portion comes with a hard-boiled egg.
They also have a wide array of north Indian side dishes to go with the briyani.
We recommend the aloo gobi, crispy ladies finger, palak paneer for a rich, creamy twist, and the butter chicken gravy!
Just be cautioned, the prices here are steeper than most Indian restaurants, but you are also paying for the relaxing, peaceful and beautiful ambience the restaurant offers.
Address: 51 Chander Rd, 219548.
Opening Hours: Mondays to Saturdays for lunchtime from 11 AM – 3 PM; dinnertime from 6 PM to 10 PM. Open on Sundays from 11 AM to 10 PM
4. Banana Leaf Apolo
Banana Leaf Apolo is a household name when it comes to briyani.
It's that one that almost everyone has heard of, and the majority have visited. And that's part of the reason why it is included in this list.
When you think of really good briyani, usually it is something that tastes familiar to you, something you have grown up eating, probably.
And Banana Leaf Apolo will be that place for many Singaporeans.
The food is good, particularly the chicken briyani, and their various other chicken sides like chicken tandoori and chicken 65 are extremely tasty.
The fish head curry is also a pretty good bet! Tangy and creamy and spicy, it is a lovely accompaniment to every meal!
You can't really go wrong with this place – the briyani will always taste comforting and familiar which will make for a very satisfying briyani experience, despite the climbing prices.
Address: 54 Race Course Rd, Singapore 218564.
Opening Hours: 11 AM to 10:30 PM (Daily)
5. Gayatri Restaurant
Gayatri restaurant is also one of the more established Indian food places in Singapore that people visit for the briyani.

Now many people debate as to which briyani here is the best, but it does seem that the crowd favourites would be their mutton briyani and their prawn briyani.
Personally, I am not a big fan of mutton in general, but even I will admit that the mutton gravy is very tasty and the spices really shine through.
The prawn briyani is my favourite and it is very flavourful, with the masala complementing the seafood taste of the prawns perfectly!
The portions are slightly bigger than other similar restaurants along that stretch so you can rest assured you are getting your money's worth here.
Don't forget to order some raita to neutralise the spice explosion that will be going on in your tummy!
Address: 122 Race Course Road #01-01, 218583.
Opening Hours: 11 AM to 10:30 PM (Daily)
6. Omar Shariff
Omar Shariff is one of those places where you feel as though every plate of briyani was cooked individually to perfection.
The briyani rice here looks very simple and paler than the usual, but boy are looks deceiving!
Just eating the rice will render you speechless because I guarantee you would have judged the rice wrongly based on how it looks.
The rice is packed with so much of flavour, you can just keep eating it on its own.
The best briyani here would be the one paired with tandoori fish.
Each fish slice is a hand-cut from a filet making it very meaty, and the tandoori spice blend is absolutely perfect.
It does have a bit of heat to it, which the clean, light and refreshing mint sauce accompaniments help to balance!
Where: 805 Bukit Timah Road, #01-02 Sixth Avenue Center, 279883.
Opening Hours: weekdays for lunchtime from 11 AM to 2:30 PM; dinnertime from 6 PM to 10:30 PM – weekends from 11 AM to 10:30 PM
MAKANAN BOLLYWOOD RESTAURANT
Most people who work near Peninsula Plaza know one of its best-kept secrets!The briyani store at the basement!Seriously, this is so good if my family caters briyani, this is where we cater from!
The best briyani here is the mutton and chicken, hands down.
And it's not for the fainthearted either. Or anyone trying to watch their weight.
The briyani here is hearty, fatty, meaty and absolutely downright delicious.
The dish comes with a side of vegetables which provide a refreshing break to the strong spices of the briyani!
Address: 5 Coleman Street, B1-06, Peninsula Shopping Centre, 179805.
Opening Hours: 11AM to 11PM)
Shami Banana Leaf
Shami Banana Leaf has outlets in certain Food Republic foodcourts as well, but the restaurant on Sembawang Road has more menu options.This is one of those classic places that have been around for a long time and people that frequent it are usually loyal customers.
The briyani here is best paired with the masala chicken. The chicken has so much of richness in its masala gravy and it is full of flavour and spices.
The rice is also tasty enough to eat on its own.
The portions here are huge, which makes for a delicious and filling meal that is worth the price!
Just watch out for the food coma that will hit afterwards!
Address: 349 Sembawang Rd, 758356
Opening Hours: 10AM to 10PM (Daily)
Riverwalk Tandoor
Riverwalk Tandoor at the Clarke Quay area specialises in North Indian cuisine, and serves up buttery and mild north-indian briyani!While it is true that the food here isn't downright incredible, what makes this place very worth a visit is that they have buffets every single day on top of their regular ala carte menu options!And the dinner buffet is very affordable!
Most of the dishes here are mild, which means that people who don't like spicy food are free to eat everything!
Even though the food is mild, it still has a ton of flavour, is very satisfying, and the various dishes accompany each other well.
The ambience is relaxed, making this the perfect spot to have dinner out with friends, colleagues or to bring clients to!
Address: 20 Upper Circular Rd, #B1-38 The Riverwalk, 058416
Opening Hours: Lunchtime from 11:30AM to 2:30PM; dinnertime from 6:30PM to 10:30PM)
Zaffron Kitchen
Zaffron Kitchen is a very aesthetically appealing restaurant, boasting hipster decorations and very instagram-worthy indoor seating.
And the food served up here is also of the North-Indian variety!
This restaurant has won a few awards, so you know the food is bound to be good!
We had the tandoori platter and the crayfish briyani, and boy were they excellent.
And I highly recommend both!
The crafish briyani is unique, and extremely tasty.
The tandoori platter was the perfect accompaniment to the mild briyani, as they packed a ton of spice and flavour!
The briyani is yummy and mild, but it is not complete without the tandoori platter.
They were the perfect combination of flavour and spice!
Zaffron kitchen is priced on the steeper side, but its ambience makes it perfect for date night, or an intimate get together with friends and family!
Address: #01-20 Westgate, 3 Gateway Drive, 608532.
Opening Hours: Mondays to Thursdays, lunchtime from 11:30AM to 3PM; dinnertime from 5PM to 9:30PM & Fridays to Sundays from 11:30AM to 11PM
And there you have it! 10 places in Singapore to get all your Briyani cravings fixed!
Comment #briyanibuddies if you made it all the way to the end.
Because if you love briyani, we are buddies for life.
Read Also:
Goody Feed is looking for part-time writers and video editors! Our office is located at Bukit Batok and hours are flexible. Click here for more info about being a writer and here for more info about being a video editor!