Robinsons.
Home to some of the world's most-renowned international brands, Robinsons is a go-to for shopaholics in Singapore.
With everything from luxury cosmetics and trendy apparel to kids' toys and home appliances, one can go to Robinsons for a simple t-shirt and come out two hours later with fifteen shopping bags.
Sadly, the retail company announced it would be closing its last two stores in Singapore, meaning it would be exiting the physical retail scene after 162 years in the game.
If you're saddened by the news, follow me as I take a trip down the streets of history, back to where it all began.
1. It Was Founded in 1858 By an Australian Jailkeeper & an English Merchant
In 1857, Philip Robinson, an English merchant, arrived in Singapore from Melbourne, Australia to work as a bookkeeper with Cursetjee and Company.
The following year, Robinson partnered with James Gaborian Spicer, a former keeper at the Singapore jail, and established a new firm called Spicer & Robinson.
Two years later, Spicer pulled out of the partnership, and so Robinson brought in a new business partner, George Rappa, and continued the business under the name Robinson and Company.
2. It Opened Its First Store at Raffles Place
According to NLB, Robinson and his partner opened their first store, a family warehouse at No. 9 & 10 Commercial Square, which is now known as Raffles Place.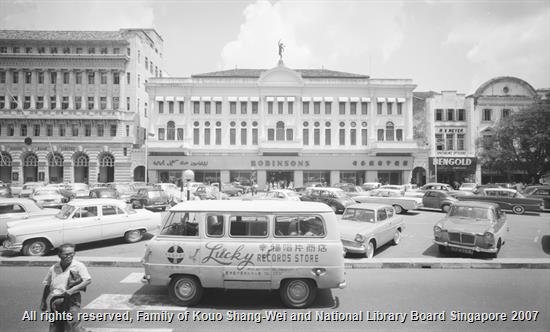 Over the next few years, the store would move to North Bridge Road and Coleman Street, before returning to its original location in Raffles Place.
It soon became the preferred store for European expatriates in Singapore, according to ST.
3. It First Sold Groceries & Hats
Now, if a friend told you they were going to Robinsons to buy some tomatoes, you'd likely run away from them and question your friendship.
But this was a perfectly acceptable thing to say back in 1859.
See, when the family warehouse was first opened, it sold foodstuffs such as teas, rice, sugars, oatmeal, biscuits, crackers, cheese, preserved meats, and also hats.
Think of it as an NTUC FairPrice but without the air-conditioning, Nutella, and SafeEntry.
---
Advertisements
---
Over the next few years, it expanded to dressmaking as well.
4. It Was Bombed Twice By The Japanese, But Opened The Next Day
On 8 Dec, 1941, Japanese bombs struck Robinsons' store at Raffles Place.
Typically, when your store is bombed, it'd take quite a while to recover and resume operations.
But the store's owners were a resilient bunch, and opened it the very next day. 
Two months later, on 13 Feb, 1942, the store was bombed yet again, two days before the Japanese Occupation began.
5. It Closed For Three Years During the Japanese Occupation 
The firm had to close during the Japanese Occupation, from 1942 to 1945.
---
Advertisements
---
In the final days of war, Robinsons' stores were looted, but fortunately, the company's $5,000 worth of silver and other valuables could not be retrieved.
It reopened in 1946, when the Japanese surrendered and the British returned.
6. It Was The First Air-Conditioned Store In The Far East
In 1941, Robinsons, which was then run by Stamford Raffles Robinson after his father had passed away, moved to larger premises at Raffles Chambers on the opposite side of Raffles Place.
The opening of the store provided a whole new retail experience for shoppers, with its hairdressing salons, vast array of merchandise, leather goods, confectionery, and silverware.
---
Advertisements
---
Most importantly, though, it was air-conditioned. 
And this mattered back in 1940s Singapore, when air-conditioners weren't exactly easy to come by.
In fact, in 1955, Robinsons became the first department store in the Far East to be fully air-conditioned (The Far East refers to the Russian Far East, and Eastern and Southeastern Asia).
7. Its Raffles Places Store Was Destroyed By a Fire in 1972 That Killed Nine People
It wasn't smooth sailing after the British returned, however.
On 21 Nov, 1972, a fire broke out in the department store at Raffles Place, laying waste to $21 million worth of property, according to ST.
---
Advertisements
---
Nine people who were trapped in the blaze died.
The following month, Robinsons opened another store at the Specialists' Centre on Orchard Road where it remained for 11 years.
8. It Opened a $40 Million Outlet At The Hereen in 2013
In 1983, Robinson's main store opened at Centrepoint, where it remained for 31 years until its closure in May 2014.
It had three other stores, the most notable of which was its flagship store at The Hereen.
In 2013, Robinsons opened a brand new S$40 million outlet at 260 Orchard Road, The Hereen.
---
Advertisements
---
The mega outlet spanned five floors and a basement, and included more luxury brands and elegant interior in a bid to attract a high-end market.
9. It Was Sold For $600 Million in 2008
In 2008, Robinsons sold its retail operations to the Al-Futtaim Group, which is based in the United Arab Emirates.
The group bought 88% of the shares of Robinsons & Co. at S$7.20 per share.
The chain tried to go upmarket under its new owners with a stylish new store at The Shoppes at Marina Bay Sands in 2011, but was unsuccessful and closed just two years later.
In 2017, Robinsons expanded to the Middle East with a store at Dubai Festival City in Dubai, and opened a store at Kingdom Centre in Riyadh, Saudi Arabia the following year.
---
Advertisements
---
10. It's Been Forced to Shutter Its Last Two Stores Because of Covid-19
In May, Robinsons announced that it would be closing its JEM store, which opened in 2013.
And just five months later, the retail chain announced it would be shuttering its last two stores in the country, meaning it would exit Singapore's physical retail scene after 162 years of service.
Today (30 Oct 2020), the retailer said it would be liquidating its remaining department stores at The Heeren and Raffles City Shopping Centre, due to the store's "inability to continue operations due to weak demand at department stores".
A shift to online shopping over the years has greatly impacted the store's sales, but it was the Covid-19 pandemic that put the nail in their coffin.
As Danny Lim, Robinsons' senior general manager explained to ST: 
---
Advertisements
---
"We regret this outcome today. Despite recent challenges in the industry, the Robinsons team continued to pursue the success of the brand. However, the changing consumer landscape makes it difficult for us to succeed over the long term and the Covid-19 pandemic has further exacerbated our challenges.
"We have enjoyed success over the years, and it has been an honour for Robinsons to serve the Singapore market. I am grateful for the dedication of our team, and for the support shown by our customers over the years," he said.
Yes, after 162 years of serving customers, Robinsons, like many businesses during the Covid-19 pandemic, has been forced to bid us adieu.