---
Advertisements

---
Hello Kitty is well-loved all over the world, and you can see the cute little feline popping up almost everywhere and on everything. Fans can happily purchase almost anything that has been branded by the little mouth-less kitty. In fact sometimes, you think that you may be seeing her in just too many places or things, some which may be a little out of place.
Hello Kitty Hospital
Did you know that the adorable cat has her very own theme hospital? If you didn't, well, now you do. Situated in Yuanlin, Taiwan, the Hao Sheng Hospital is a maternity hospital that offers labor and postpartum care for mothers and newborns. Wanting to set themselves apart from competitors, the hospital's director has obtained authorization from Sanrio to use the brand. Almost everything is baby pink and covered with details of the famous cat herself, down to the staffs' uniforms.
Hello Kitty Amusement Park
It comes as no surprise that the famous feline will have her own amusement park. Located in Zhejiang, Anji, be prepared to drown in a sea of pink and kawaiiness should you have the chance to visit this attraction. Costing an estimated 215 million USD to build, this place is certainly one of the cutest places in China and will open just in time for her 40th birthday.
Hello Kitty Restaurant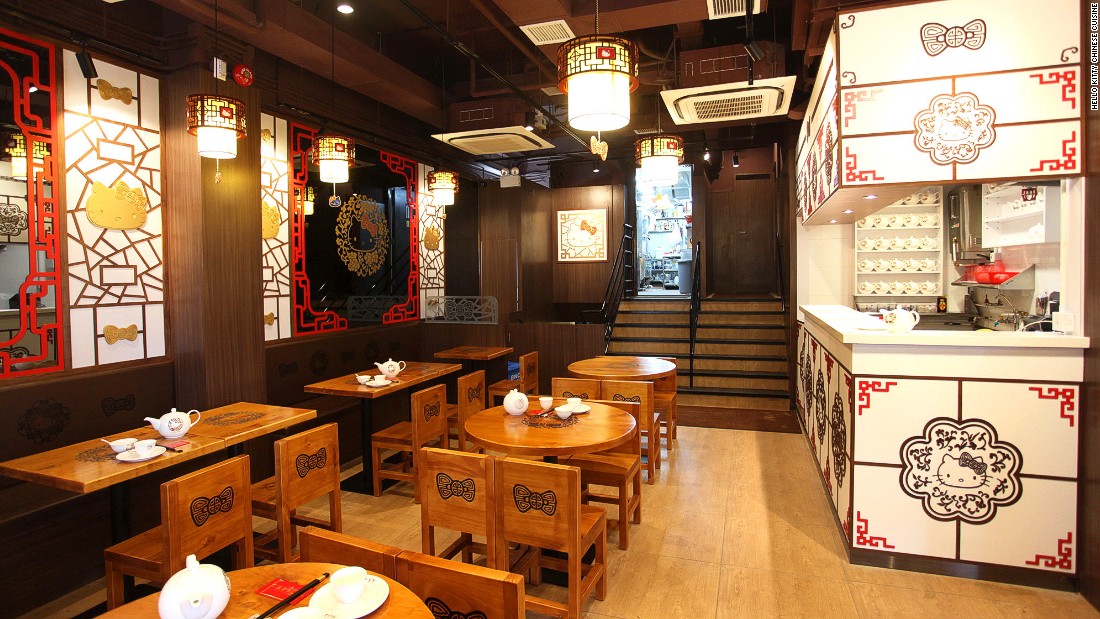 Hello Kitty cafes are nothing new but a brand new Hello Kitty Restaurant which has opened in Hong Kong, Canton Road, has dozens of new dishes to offer to the fans. The dishes will all somehow incorporate some element of the famous kitty in it, expect a long queue at this restaurant. Fans of Hello Kitty will be delighted to know that every inch of this restaurant will be covered with Hello Kitty elements.
Hello Kitty Planes
---
Advertisements

---
EVA Air's Hello Kitty covered planes are no stranger to the flight industry. Recently, the Taiwanese airline has reached another milestone, where they sent the Hello Kitty plane to a new continent. Plying the Taipei – Los Angeles route, it looks like there's no stopping the jet-setting kitty.
Hello Kitty Sewing Machine
Maybe you are an accomplished seamstress and you are also a big Hello Kitty fan. What better way to show that than to use a Hello Kitty sewing machine right? While it does look cute and girly, is it really necessary if there are so many other types of sewing machines out there?
Hello Kitty License Plate Screws
I'm sure we have all seen one of those Hello Kitty cars completely decked out in Hello Kitty merchandise, from steering wheel covers to the Hello Kitty emblazoned everywhere on the exteriors. But did you know that you can also buy tiny screws that have the face of Hello Kitty on it, just in case your love for the little bobcat is not noticeable enough?
Hello Kitty Toaster
This toaster actually allows you to eat toast that has the imprint of her face on it. While serving the purpose of always ensuring your breakfast is Instagram-worthy, you can get more functional toasters that have way more use.
---
Advertisements

---
Hello Kitty Guns
Did you know that there are guns that have been customized with your favorite feline? Ranging from handguns to AK-47s, you can now be girly and cute while protecting yourself from danger.
Hello Kitty Swarovski
If you love sparkly things and Hello Kitty, this is the trinket for you. While it isn't as ridiculous as the other things on this list, the price that Swarovski is asking for it is. Be prepared to drop a cool 3,200 USD for it if you want this item.
---
Advertisements

---
Hello Kitty Sanitary Pads
We get that the main target market for Hello Kitty is females, but to actually use sanitary pads emblazoned with Hello Kitty on it for that time of the month seems to be a little too overboard. If nothing else, at least you will have the joy of admiring the product before you use it. Whatever the reason, this just shows how far-reaching Hello Kitty's influence is on normal, everyday items, even adult ones.
This article was first published on goodyfeed.com

Here's why a 4-day workweek might finally really be possible in Singapore soon:
Read Also: