---
Advertisements

---
The wave of rainbow food is happening all across the world, with outrageously coloured products finding their way into menus and shelves. Even Singapore has not been spared, with a rainbow cream-cheese bagel being hyped about at the recent Geylang Serai Ramadan Bazaar. What was once used just to make modestly coloured desserts are now being used to create insanely and outrageous food that catches the eye and causes you to go 'Is that even edible?' Maybe you're disgusted by the trend, maybe you're interested. Nevertheless, here's 10 rainbow food that could either make you hungry or lose your appetite.
1.Rainbow Grilled Cheese
The cheese part of this toast from Epicurious Cafe is rainbow-colored and in case you might feel a little worried about eating mushy, gooey cheese that is coloured with chemicals, fret not, the colours are achieved from natural foods such as beetroot and spinach. Recommended if you want to look as though you're eating a unicorn squashed between two slices of bread.
2.Rainbow Sushi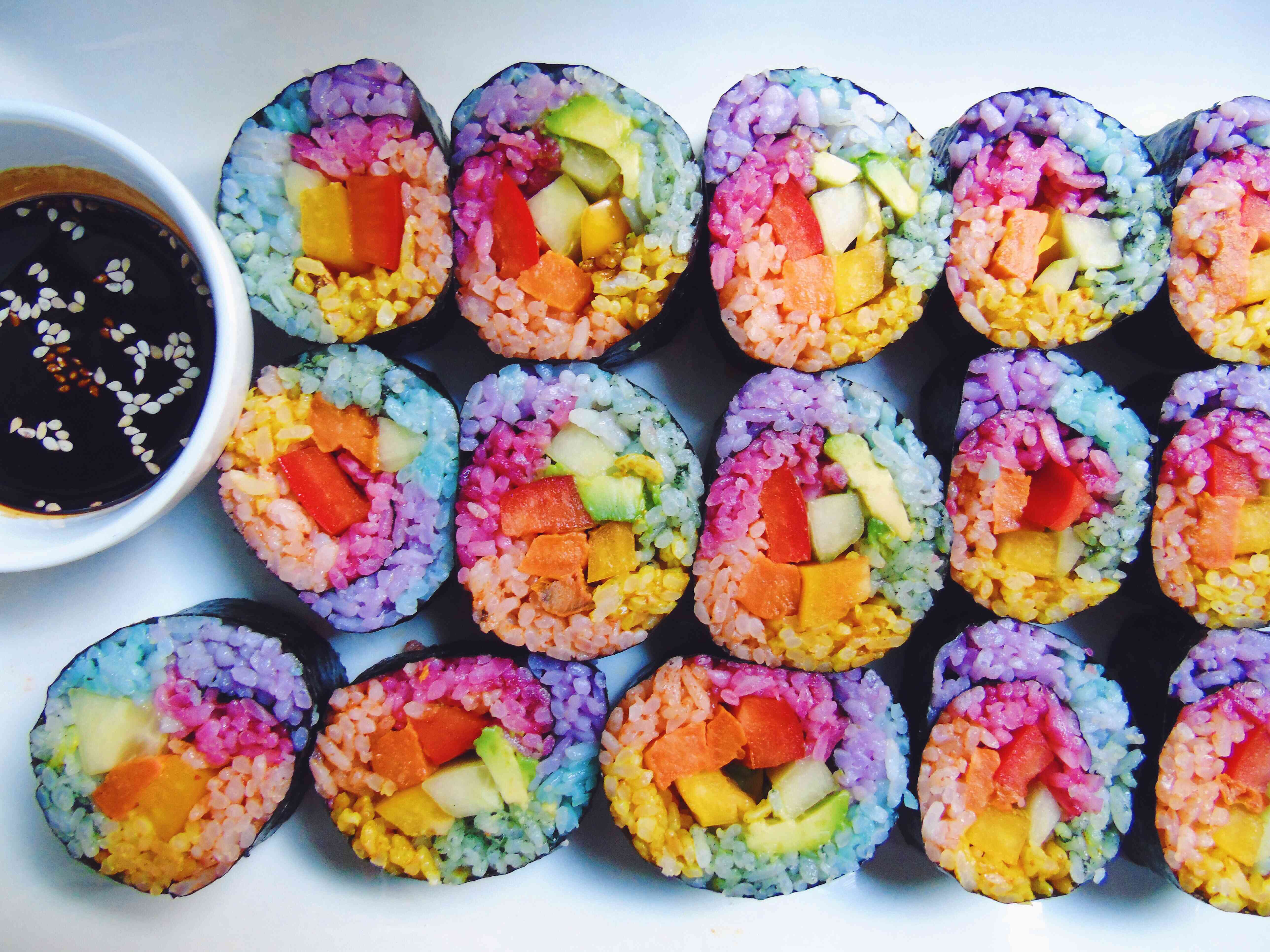 Ok, there's something wrong about colouring our favourite Asian staple, rice, with food colouring. We remember it as steamy, fluffy, white comforting goodness and when you start to add multiple colours to it, it almost seems sacrilegious.
3.Rainbow Coffee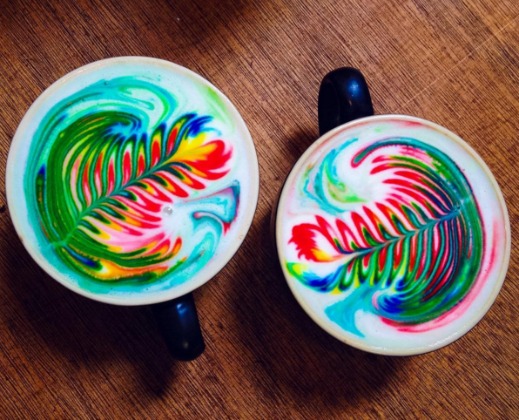 Well technically the coffee isn't rainbow, but the foam on top is. You know that beautiful latte art that you get at higher end coffee shops? Yup, they come in rainbow too and it doesn't look as unappealing as other rainbow food does, for some reason.
4.Rainbow Pasta
This kinda looks like something you would make out of playdoh when you were a kid: plasticky and fake. Seriously, what's with the trend of making savory food rainbow? It does not seem so bad in the cake because sweets are magical and fantastic but to put it on pasta is going to put some people off.
5. Rainbow Burger
A thick, juicy, high-quality patty sandwiched between…two rainbow buns…? Yes rainbows are creative and nice to look at but there is a limit, guys…
6. Rainbow Milkshake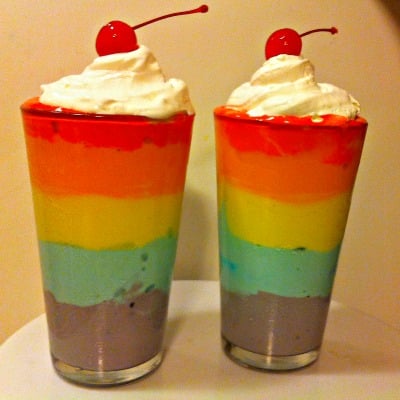 Ok this might not seem too bad and it actually looks pretty aesthetically appealing but if you think about it, you're drinking food colouring and it's not that disgusting when it's been baked into cakes and stuff but if you're consuming it in LIQUID FORM when it's in a milkshake…hmmm.
7. Rainbow Mac and Cheese
Just…a plate of pasta and cheese in an unnatural colour. I know mac and cheese might have become a little boring but adding food colouring to it probably isn't the best way since it looks pretty fake instead of interesting and appealing.
8. Rainbow Marshmallows
Marshmallows are already pretty gelat and disgusting to some people and adding bright, fake colours might not help its case. I mean, I don't mind marshmallows but food colouring in it might make it seem much too plastically and weird to eat.
9. Rainbow Lasagna
Once again, CHEESE AND RAINBOW COLOURING DO NOT GO because cheese is already a mushy and slightly gross texture (don't get me wrong, it tastes great) and some people really don't want to feel like they're eating food colouring mixed with a soggy mess.
10.Rainbow Kueh Lapis
Yup, look away from the traditional, lovely, warm brown kueh lapis that you remember from every Chinese New Year, and feast your eyes on the new rainbow kueh lapis. I really don't know what to say about it but hey, it has the colour red and red is an auspicious colour, right?
---
Advertisements

---
This article was first published on goodyfeed.com

Here's why a 4-day workweek might finally really be possible in Singapore soon:
Read Also: