---
Advertisements

---
Last Updated on 2022-09-11 , 11:53 am
We all want our homes to look nice. And there's no lie, condos just have that aesthetic we all like. Which is probably why they cost an arm and a leg to buy.
Us common folk can either BTO or buy resale HDBs. But that doesn't mean that we can't have our homes looking awesome too.
After all, after a long day's work, you just wanna go back to somewhere you feel comfortable and cosy – not an eyesore.
But see, HDBs don't have to be eyesores. You can get that 'condo aesthetic' in an HDB too. And it won't cost you all your life savings either.
So just follow our 10 tips and you're sure to get your plain ol' standard HDB flat to exude some sexy luxury condo vibes.
1. Colour Scheme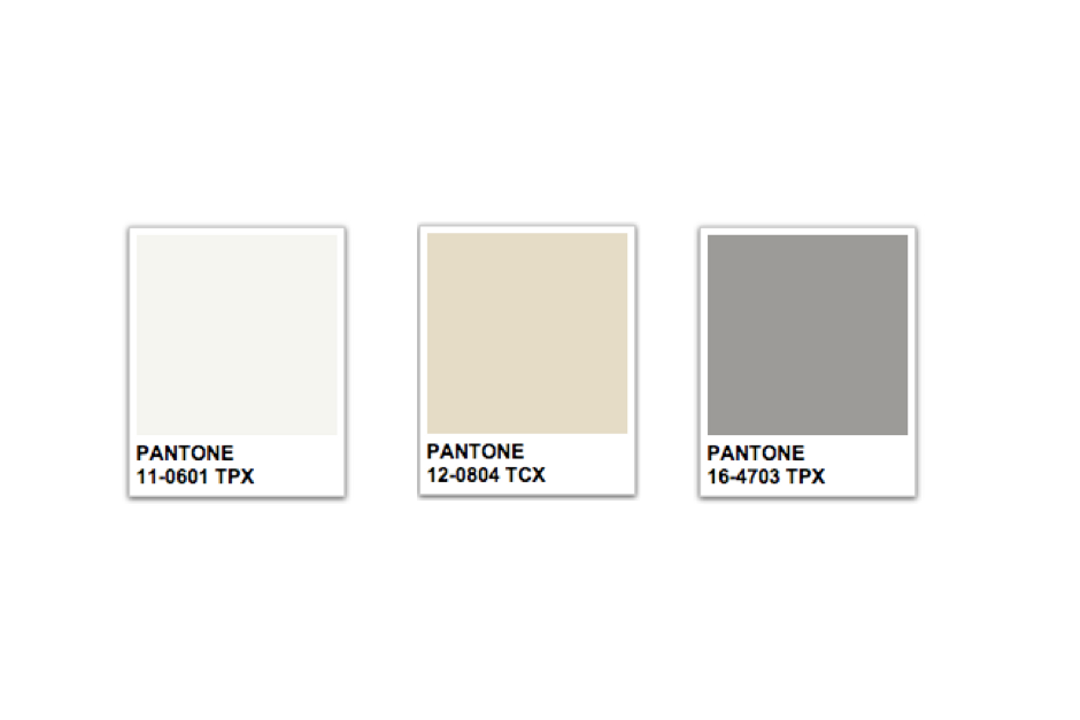 One of the easiest ways to get your house looking swanky is to have a colour scheme. A common mistake people make when decorating their houses is to buy whatever catches their eye in the store instead of planning ahead.
No, I'm not talking about the kind of planning that involves making a list of all the things you need to buy to furnish your home.
I'm talking about deciding on a colour scheme and ensuring that every piece of furniture you buy suits the colour scheme.
For example, if you choose a very clean, neutral colour scheme, you'll buy a light grey couch, pair it with a beige ottoman, a white shelving unit, etc.
All these things need to be planned in advance so you don't end up buying things you regret, and you actually invest into the overall aesthetic and ambience of your home.
---
Advertisements

---
2. Industrial Touches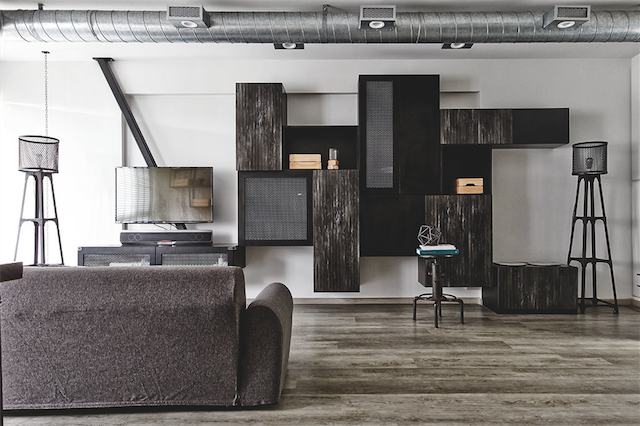 So this is another easy way to update your home so that it gives off that luxurious vibe. The industrial decor has really been picking up lately in Singapore's interior decor scene.
And it is not difficult to see why.
Just adding a few industrial-themed pieces into your home is guaranteed to elevate its aesthetic.
And when you think of industrial decor, don't only think about buying those cool lights or tables or decor pieces.
Think about updating what you already have with a metallic finish. So if you've got a nice lamp at home, update it by spray painting it a nice bronze-gold.
You can even spray paint your exposed piping – one of the coolest ways to get your home looking trendy in no time at all.
3. Feature Wall (or Wallpaper)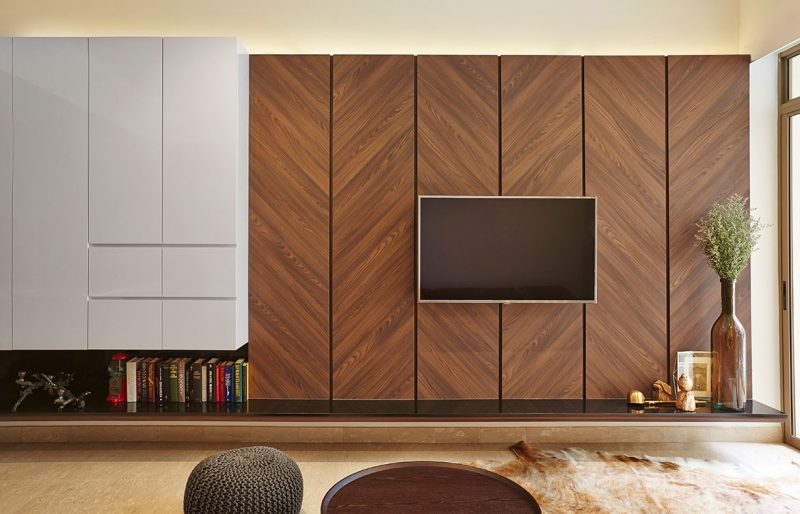 Another easy way to update your home will be to have a feature wall.
It may sound scary but it's really not. In every room, simply pick a wall that you want to feature or highlight.
And make it stand out from the rest of the room by using different materials. For example, you could have a plant wall in the living room, a brick wall in the bedroom, and you can even use a nice wallpaper for one wall in the bathroom.
It adds character to your home. And it makes it look different and interesting as a whole.
---
Advertisements

---
By highlighting one key area of a room, you are adding a touch of luxury and uniqueness to your home.
4. Minimalism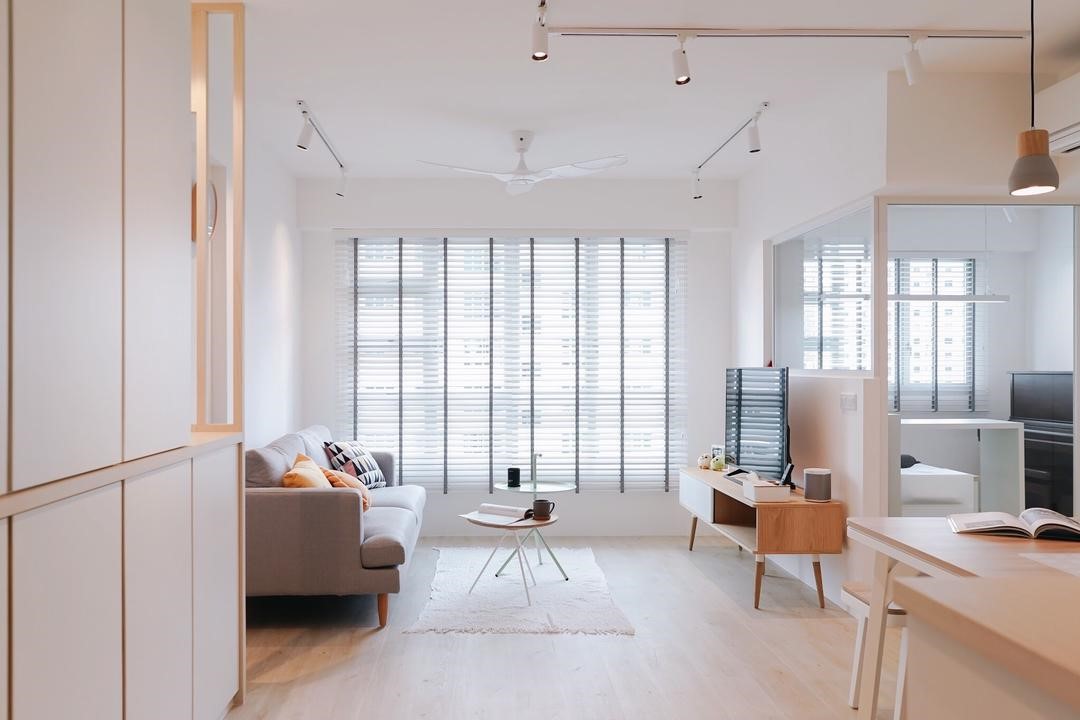 This is another theme that has really picked up in Singapore.
After all, after a long and hard day at work, it can be quite unhealthy to go back to a messy and cluttered living space.
When you get home, you would want to feel like you can just breathe. 
You know what I mean? And most condos follow the theme of minimalism which gives it that aesthetic that's very different from HDBs.
They are built to be sleek, have clean lines, hidden wiring and so on. But having that minimalist theme in your own home doesn't have to cost you.
---
Advertisements

---
Simply declutter your home and keep or buy furniture that is sleek and structured. Multi-functional furniture will also be very beneficial.
Stick to neutrals and whites when it comes to colour to make the house look bigger and cleaner.
That will get your regular HDB having that minimalist condo vibes most of us are attracted to.
5. Flooring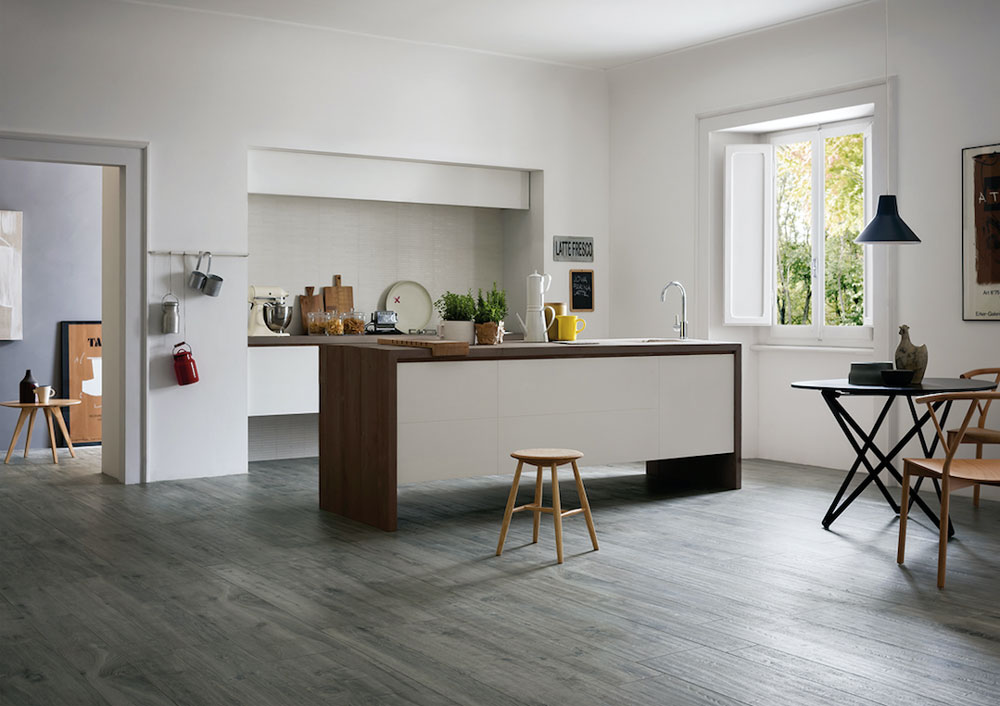 Okay, this might be a bit pricier to do, but it is still cheaper than actually buying a condo.
Flooring is everything. It's one of the key things that separate the sexy condo from the plain-jane HDB.
---
Advertisements

---
Pick sleek, modern tiles for the bathroom and kitchen, and hardwood floors for the living room and bedroom areas.
If you can afford it, skip laminating the floors with wood and go for real hardwood floors because laminates can end up looking a bit cheap if not done right.
You'll be surprised at just how updated, modern and sleek your HDB flat ends up looking just by revamping the flooring.
6. Lighting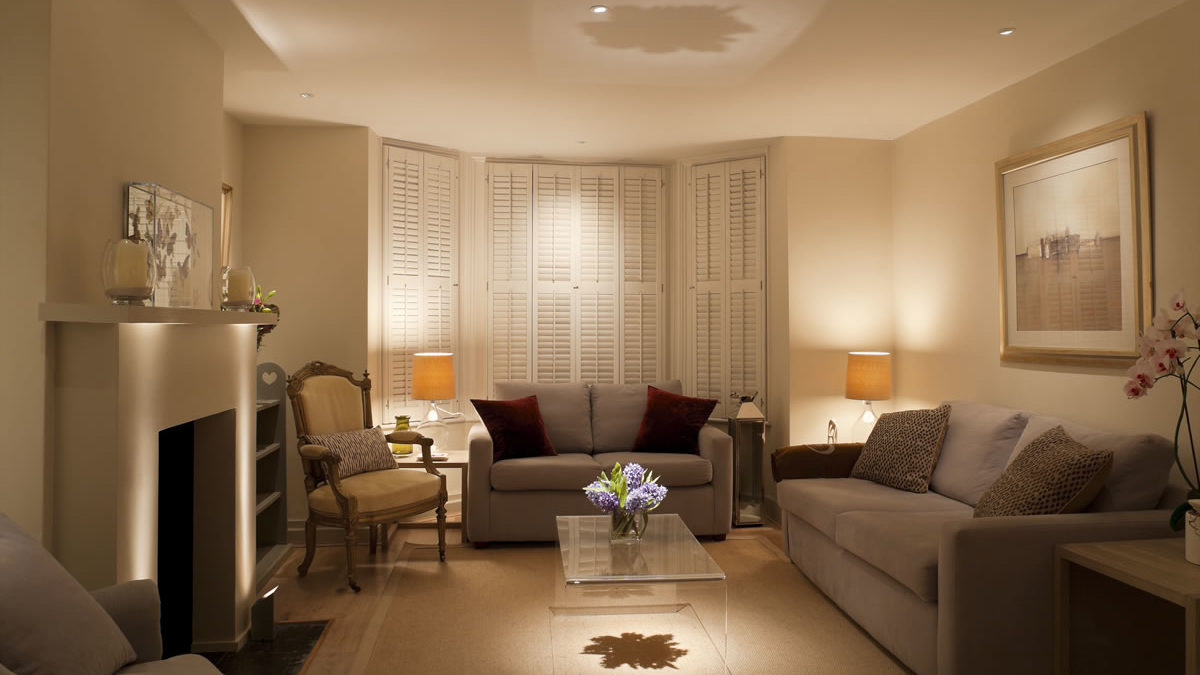 Another big way to get your HDB flat looking high-SES without paying too much for it would be to change up the lighting.
Choose warm lighting over white lights for that cosy ambience. Install lights that are built into the ceiling, instead of ones that jut out.
Opt for things like under-cabinet lighting or over-mirror lighting. Basically, the more hidden your light source, the more expensive your home looks.
Invest in key pieces like industrial chandeliers and Moroccan lamps to add a touch of uniqueness and luxury to your home. Of course, please have a theme that you're following.
Mixing and matching themes can end up making your entire home look messy and chaotic.
---
Advertisements

---
You need that flow.
7. Open Concept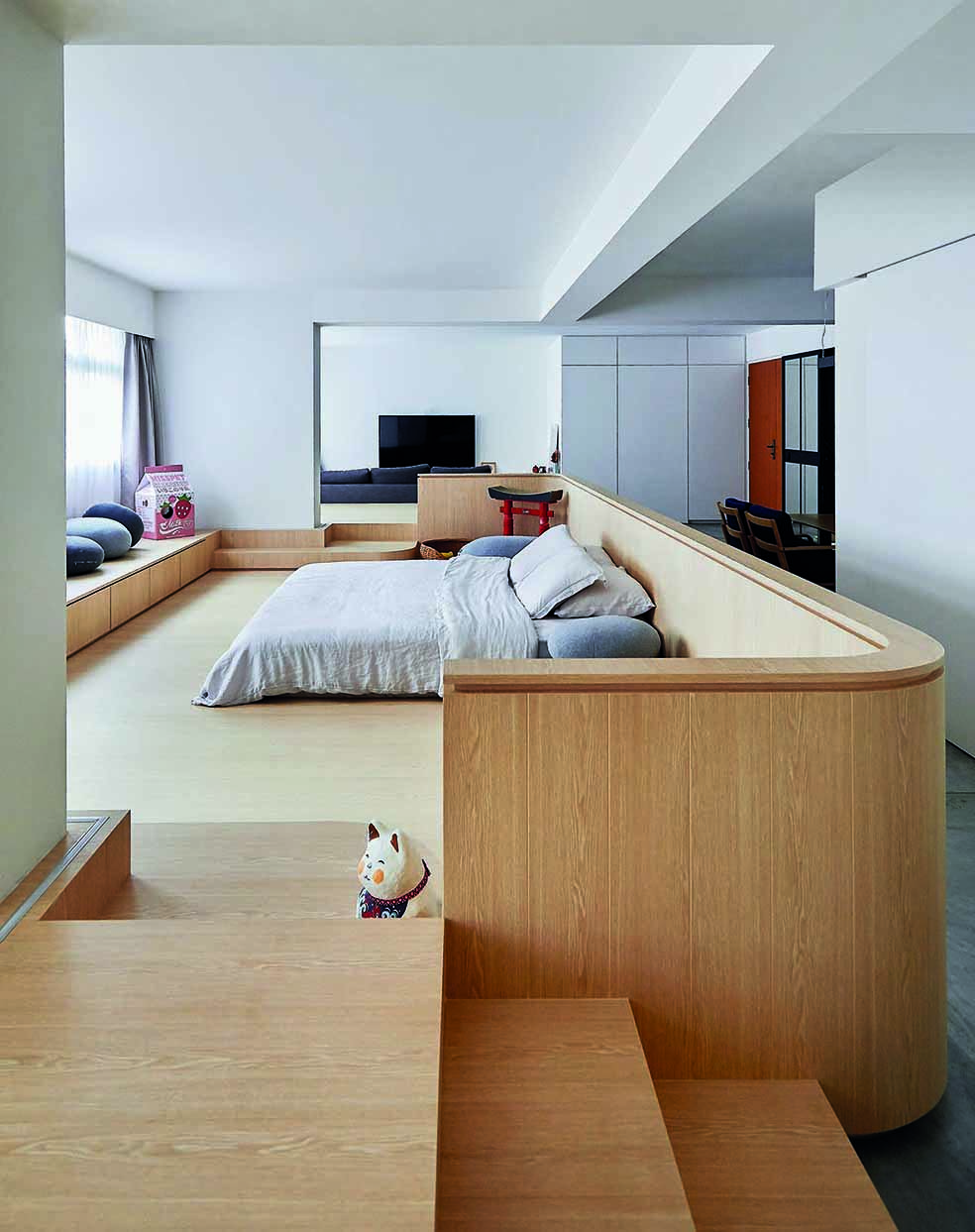 This open-concept idea is another thing that is all the rage in Singapore. If you decide to renovate your home to have an open concept living space, it can be a bit pricey.
But it's a worth-it investment to get your home looking modern and updated and high-SES, so just make sure you don't waste money and hire a good, reputable contractor straight of the bat.
Open concepts are what most modern condos have. It's sexy, it's sleek and it opens up the entire living space, making your home look bigger than it really is.
If you are on the fence about doing this, I will 100% guarantee that you will love it. Just talk to a reputable contractor about what you want and what you envision for your home and exactly how 'open' you want your living space to be.
8. Wood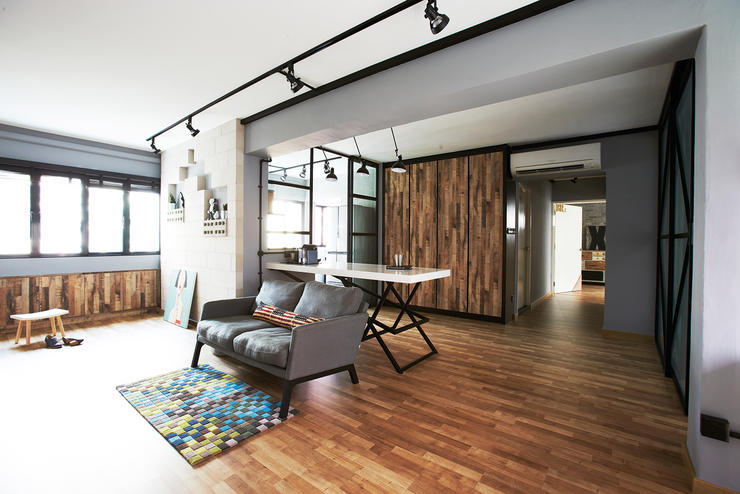 This is another easy and more affordable way to get your HDB spruced up.
Buying beautiful wooden pieces like a wooden dining table, or side table, or TV cabinet, and even bathroom shelving can give your home a luxurious touch.
Real wooden furniture can be pricey, but they last a long, long time so they really are going to be investment pieces.
And wood is sexy. You see it used in luxurious resorts and homes all the time, so add a touch of wood to your own home and see your HDB go from zero to hero!
9. Bathroom Update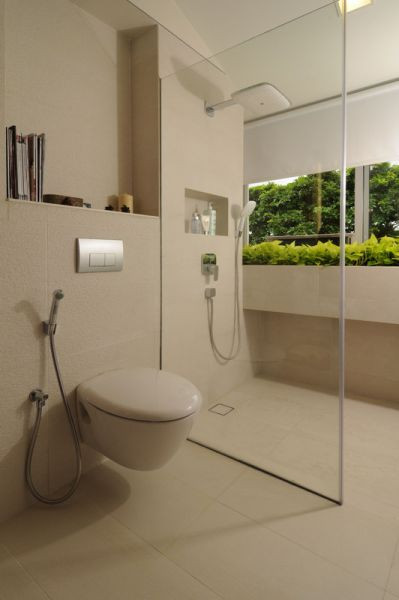 One thing I personally don't like about HDBs, compared to condominiums, are the bathrooms.
HDB bathrooms tend not to be very aesthetic and are very utilitarian and practical. But bathrooms can be quite the sanctuary if you know how to update it.
A big way (if you have room) would be to retile your bathroom and add in a bathtub. This is the quickest (albeit pricier) way to get it looking extremely aesthetically pleasing.
Changing up the shelving, lighting, and/or flooring, and replacing and upgrading toilet units are all different smaller ways you can update your humble HDB bathroom.
You can also fill your bathroom with soft light for that extra luxurious feel, and follow a minimalist bathroom theme if you have a small one.
10. Glass Partitions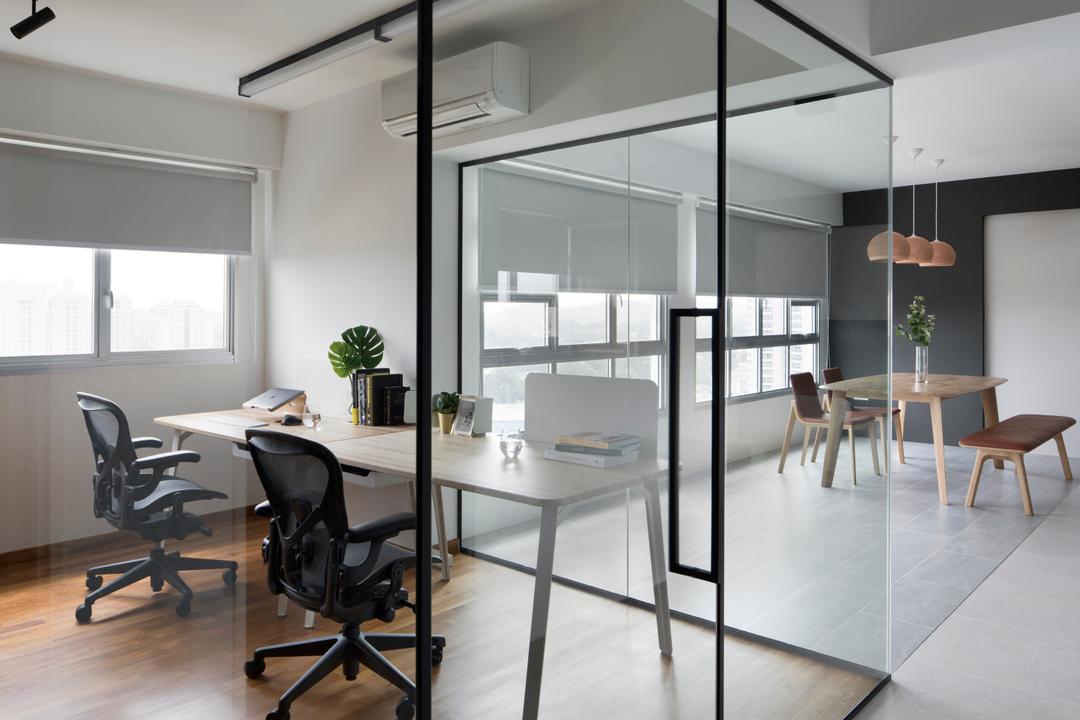 This is one of the ways you can dramatically change up your HDB flat, and get it looking as sexy as a condo, if not sexier.
Say goodbye to thick concrete walls dividing up your space and instead, following the open concept theme, embrace dividing up your home using glass partitions.
They will make your house look really luxurious and expensive, and also make it look bigger than it actually is.
The glass partitions will also make your house look more modern and give it a very art-deco vibe which is extremely trendy at the moment.
Glass partitions will really do so much for your home and the space you have to work with, so again, find a reliable and reputable contractor that will make your visions come to life!
You will find it hard to believe you're in an HDB flat once they're done!
And there you have it, 10 nifty tips and tricks to get your humble HDB flat looking bomb af and even sexier than a condo in Singapore. 
Plus point: you don't have to sell your liver (and kidneys) to actually buy a condo. Unless you high-SES. Then you probably don't even need this article anyway.
Now, if you're planning to get a BTO soon, do watch this video to the end before making any application:
Featured Image: Home & Decor Singapore + The Design Ministry

Your parents are wrong: MSG (Monosodium Glutamate) is good for you (sort of). Here's the truth:
Read Also: