We're now smack-dab in the middle of Chinese New Year.
And if you're someone who's determined not to let your weight loss goals control you during this period, I've got something that'll spice up your week ahead.
A lot of "somethings", actually.
From KFC cyber deals to a massive beauty and skincare sale, free NTUC vouchers and more, here are the 10 best deals happening this week kiasu Singaporeans cannot miss.
Or you're not a true-blue kiasu person.
KFC Cyber Deals Back Again With Up To 45% OFF Pancakes & Zinger Stacker
Missed out on KFC's previous cyber deals and beating yourself up for it? You can stop now because once again, they're releasing finger-lickin' good cyber deals for you.
From now until 23 Feb 2021, you can enjoy:
Zinger Stacker
Pancakes platter
5-Piece Hot and Crispy Tenders
For just S$3.95.

And if you're ordering for a large party (no more than 8 people, yeah?), you'll get free delivery with a minimum spend of S$35.
Take note that the Zinger stacker and Pancakes platter are only available for dine-in or takeaways.
For the terms and conditions, and to order, you can visit their website here.
20% OFF Storewide At Watsons With S$38 Spend
Looking to stock up on cosmetics, skincare and other daily necessities?
Watsons is where you need to be.
From 14 to 16 Feb 2021, make your way down to any Watsons outlet stock up and enjoy 20% OFF storewide with a minimum spend of S$38.
---
Advertisements
---
The best part? The deal is valid both online and in their physical outlets, so no matter whether you want to stay home and shop, or browse through the aisle, you can do so.
From beauty products to vitamins, skincare, bath, hair and oral products, you can find it all here, and more.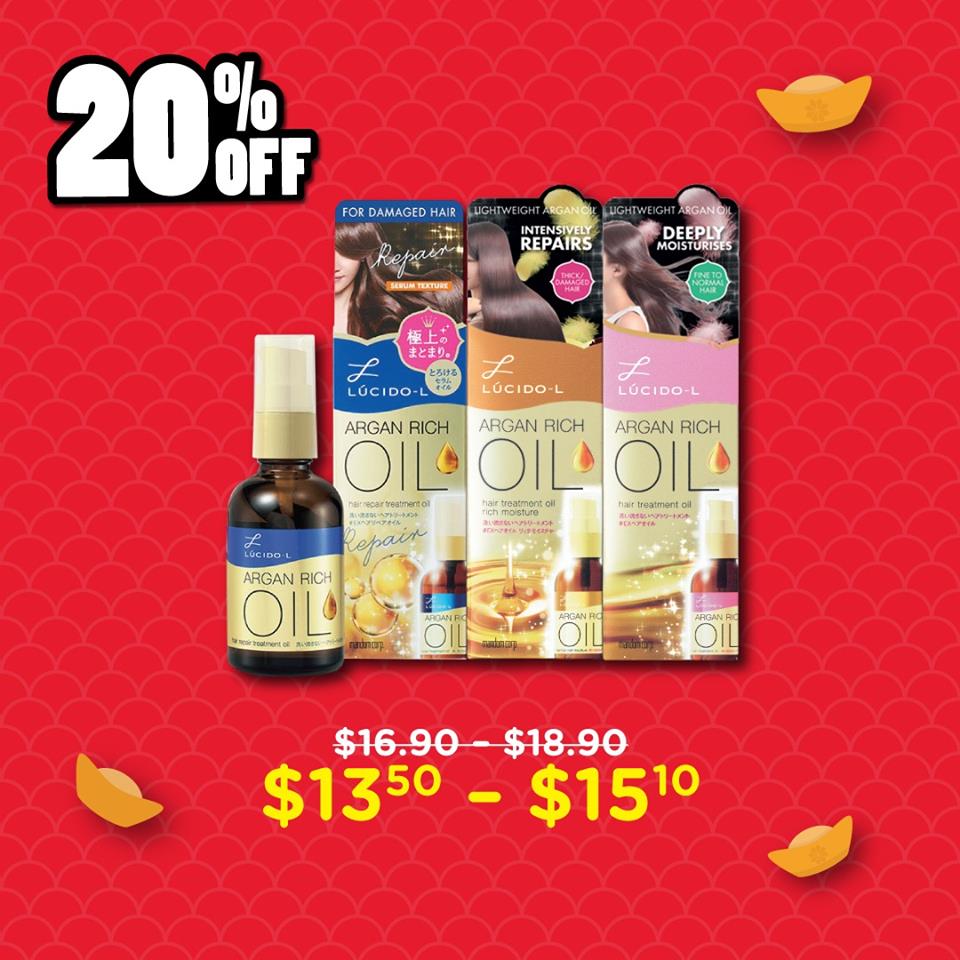 Click here to find the entire catalogue of products on sale right now.
1-For-1 Ice Cream At Movenpick Ice Cream Until Apr 2021
With Singapore inching its way back to the hot and humid weather we're all familiar with, ice cream is a treat that we're craving for once again.
Well, if you happen to be meandering within VivoCity, Somerset or Suntec City anytime from now until Apr 2021, I've got an ice-cream deal just for you: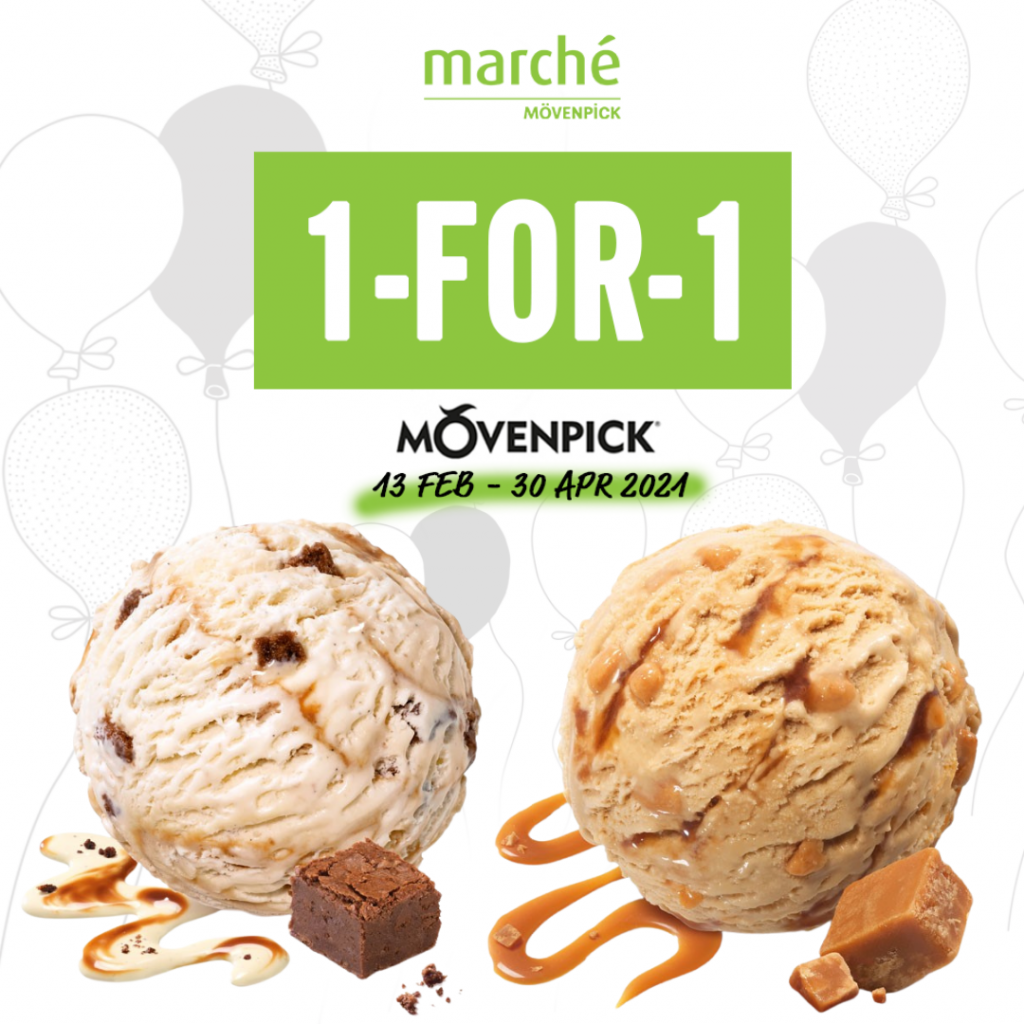 To redeem the deal, all you have to do is to like and follow their Facebook page, flash this post, and enjoy.
There are different flavours specified for different time periods, so make sure to check the list below before making your way down:
---
Advertisements
---
13 – 21 FEB: Panna Cotta
22 – 28 FEB: Coconut
1 – 7 MAR: Caramelita
8 – 14 MAR: Pistachio
15 – 21 MAR: Tiramisu
22 – 31 MAR: Vanilla Brownie
1 – 30 APR: Strawberry
The deal is valid all day, every day, and there is no minimum spend required.
So if all you want is the 1-for-1 deal, by all means, go ahead.
You can read the T&Cs here.
50% OFF All Pizzas At Movenpick Marche (Raffles Place & JEM)
Since we're on the topic of Movenpick Marche, have you heard about their pizza promotion yet?
Yes, we're talking about their Monday and Tuesday pizza promotion.
---
Advertisements
---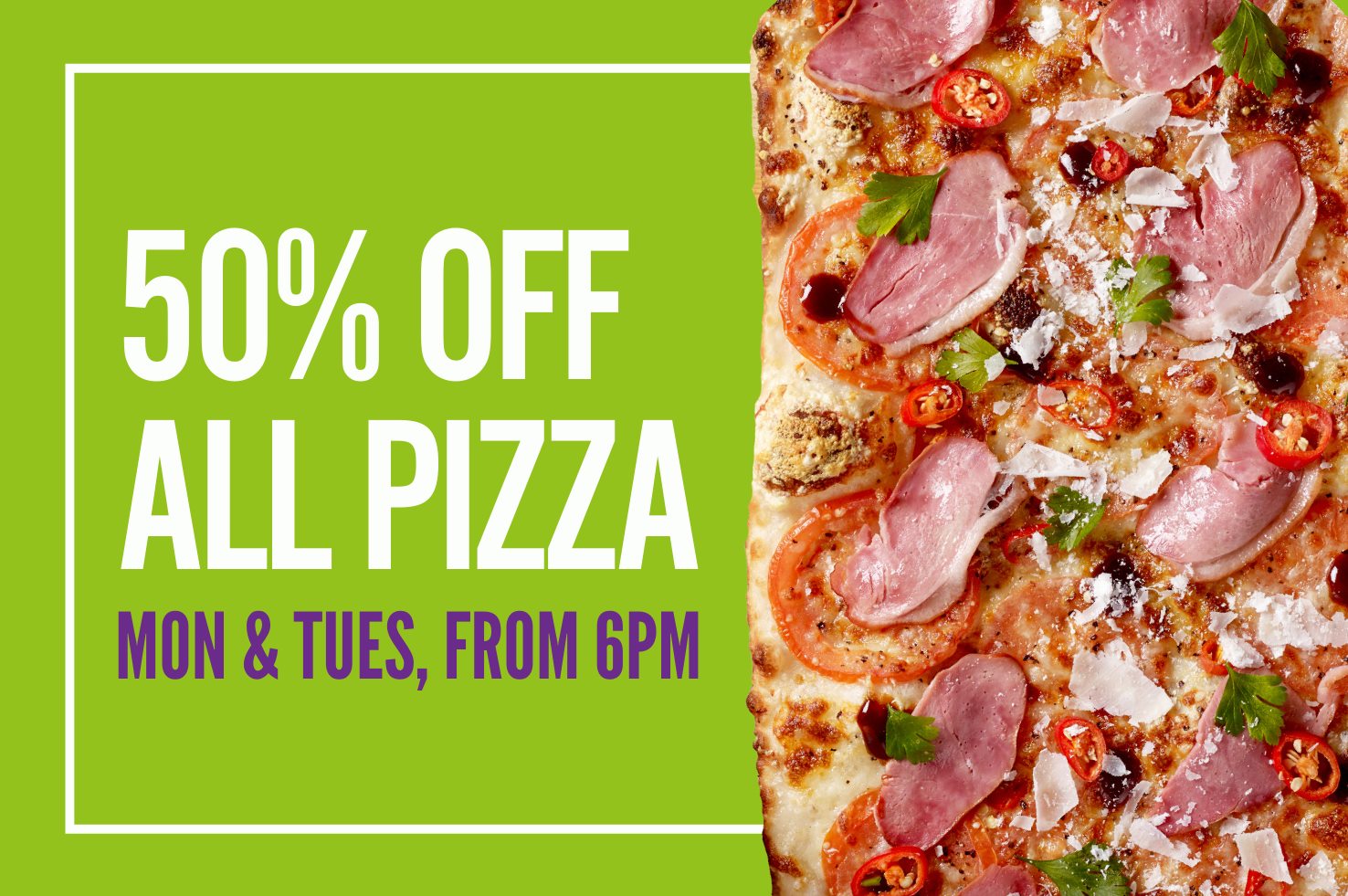 On Mondays and Tuesdays, after 6pm, you can enjoy 50% OFF gourmet pizzas from Marché Mövenpick Singapore Bar & Bistro outlets located at Raffles City and JEM.
If that doesn't tempt you into giving up your New Year's resolution, here's a sneak peek at their gourmet pizzas: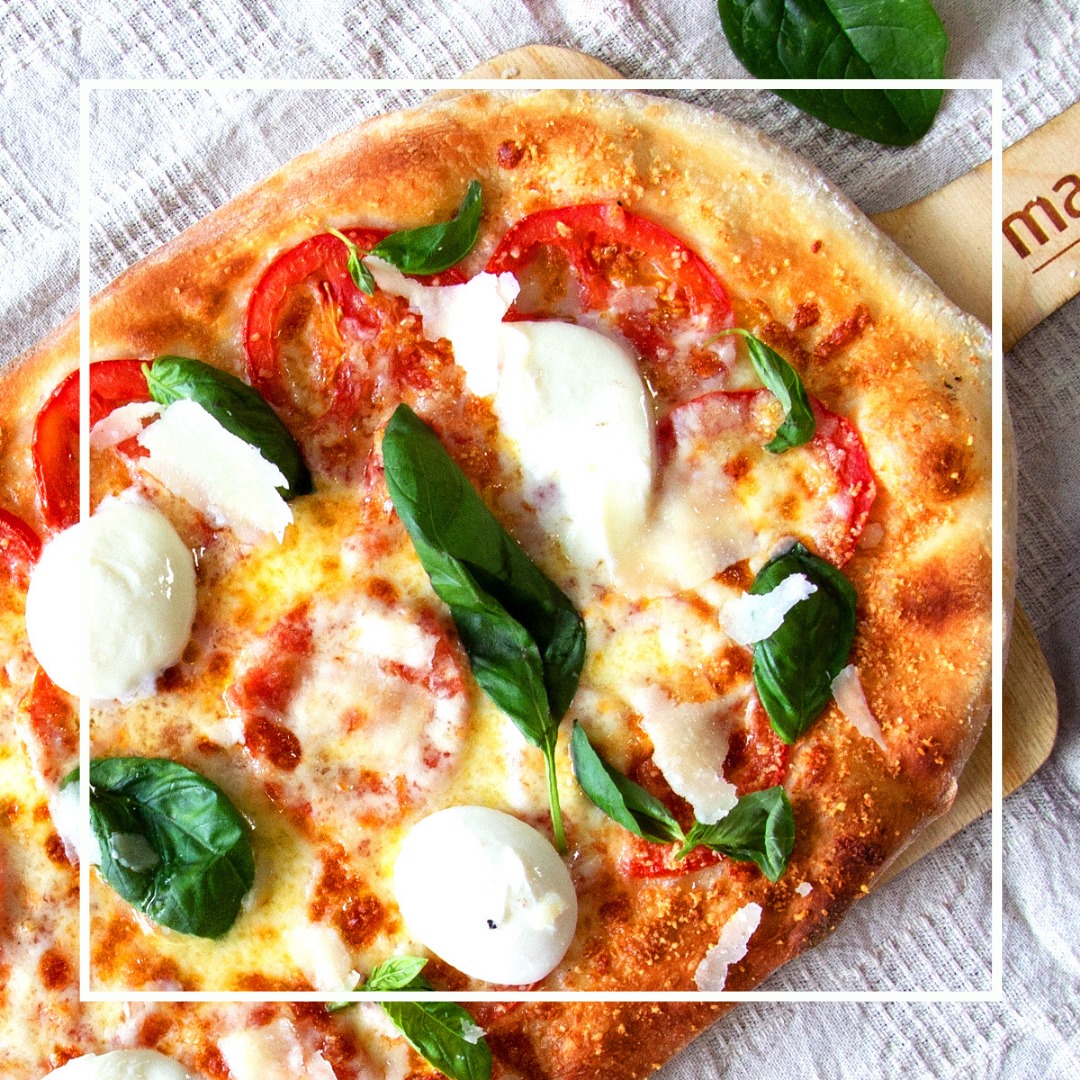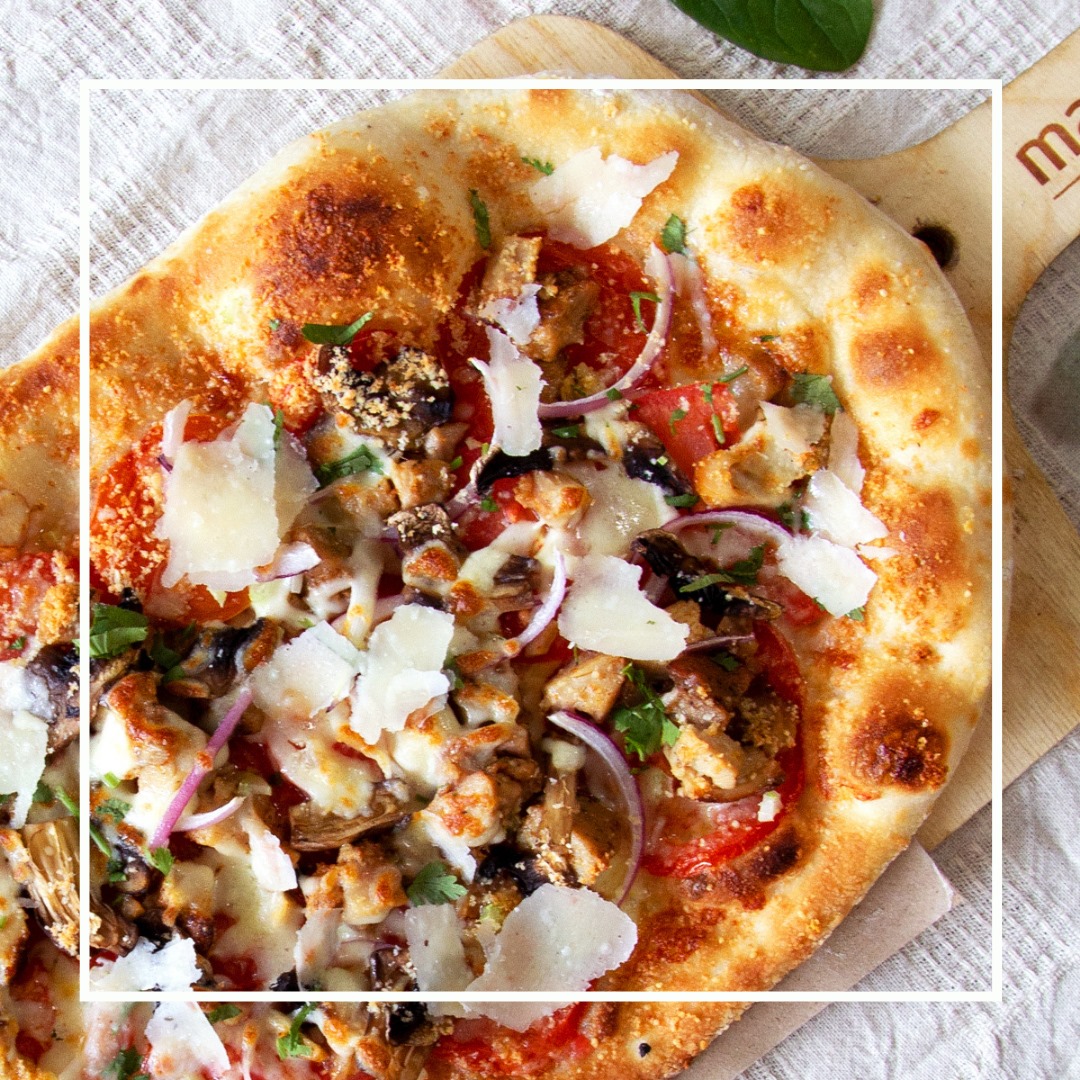 ---
Advertisements
---
As mentioned, the promotion is valid for all pizzas from the JEM and Raffles City outlets and it's available in-store only (for dine-in or takeaway).
The best part? No minimum spending is required so if all you want is cheap pizzas, you can do that.
$1.50/mug Asahi Beer in Lavender Restaurant Till 28 Feb
If you've always dreamt of a day where you can get a mug of beer here as cheap as the ones you had in Phuket, I've got two words for you.
Wish granted.
For the price of one iced coffee at a mid-range coffeeshop, you can get yourself a mug of Asahi Beer at Nekuta on Lavender Street.
---
Advertisements
---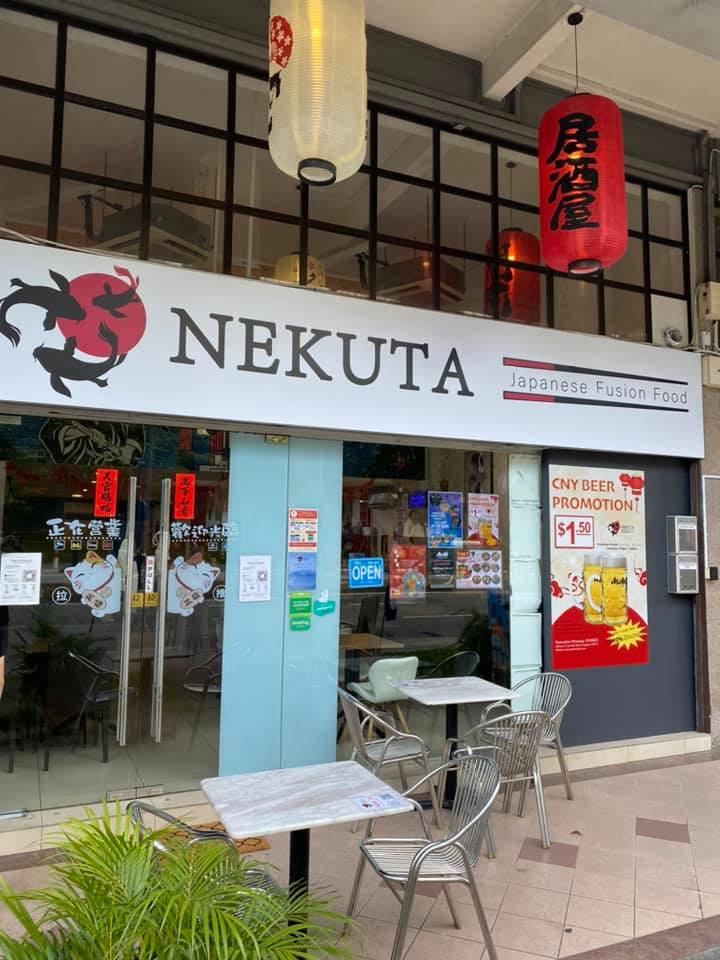 On 1 Feb 2021, Nekuta announced the comeback of their $1.50 per mug of Asahi Beer promotion.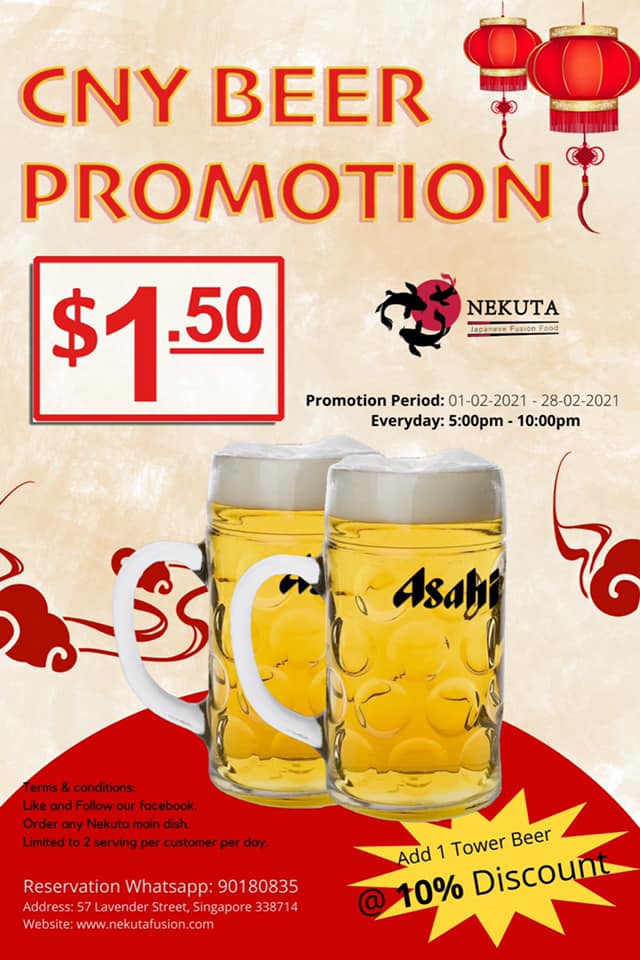 The promotion will last for the entire month of February (1-28 Feb 2021) from 5 to 10pm daily.
To redeem this, you'll have to like and follow their Facebook page and order any of their main dishes.
---
Advertisements
---
Each customer is limited to two servings per day, so if you're a fan of slowly nursing your beer while chatting with friends, this might just be the deal for you.
In fact, if 2 mugs of beers aren't enough, you can choose to add on a tower of beer at 10% off.
Make sure to make a reservation before you go down, because judging by the response in the office, everyone's probably going to gun for the promotion now.
You can make your reservation by sending a WhatsApp message to 9018 0835.
Free S$5 NTUC Voucher For Singtel Users
Are you a Singtel postpaid customer? Because if you are, I've got great news for you: you can get a free S$5 NTUC Voucher for doing what you've always been doing: walking.
---
Advertisements
---
To redeem the voucher, simply activate StepUp on your My Singtel app and synchronise 2,500 steps.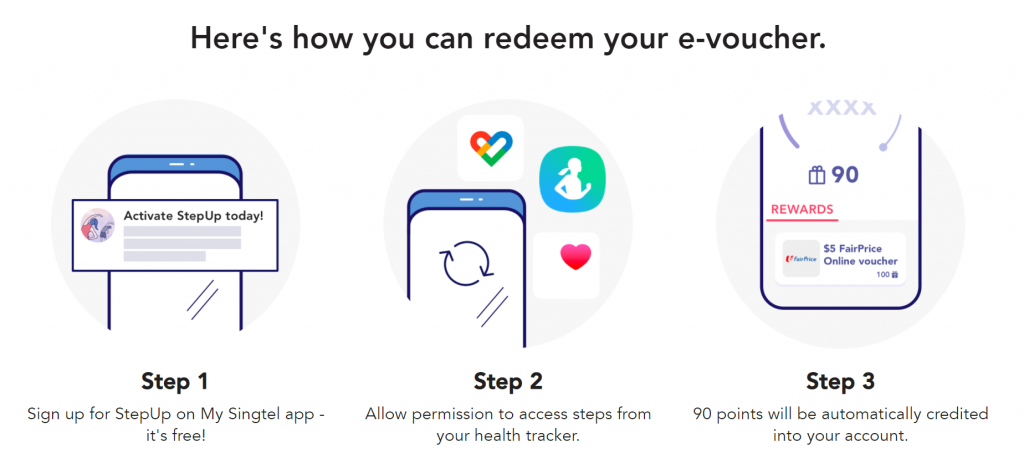 Just take note that it's for new users only, and by that, I mean people who haven't activated StepUp before.
The promotion is valid until 28 Feb 2021 and redemption is limited to one per customer.
The voucher is valid until 1 Feb 2022 and is only valid for use on Fairprice online or the Fairprice Mobile App upon login for home delivery only.
---
Advertisements
---
For more T&Cs, you can read here.
If you find the free voucher underwhelming, don't give up on StepUp by Singtel because they have other competitions ongoing.
Competitions that might just give you a Galaxy Z Fold2 5G or an Apple Watch, iPad Air and Pencil 2, for free.
1-For-1 Movie Tickets At Cathay Cineplexes For Singtel Customers
Another deal exclusive to Singtel customers.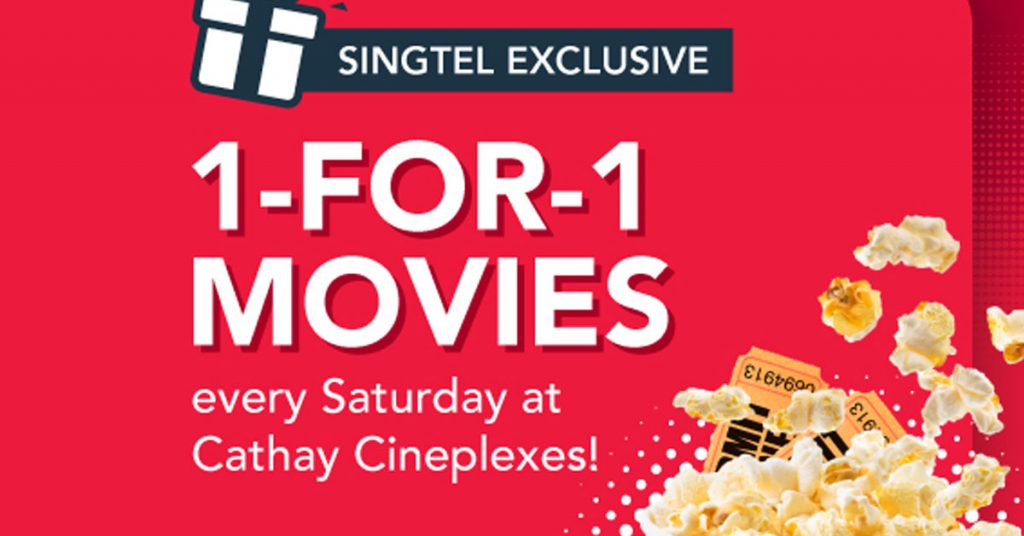 ---
Advertisements
---
Starting from 6 Feb 2021, Singtel clients can take advantage of 1-for-1 movie promos. This applies to every single Cathay Cineplex in the country.
Well, make sure your My Singtel app is up and running properly on your smartphone. Show the barcode at the Cathay's ticketing counter, and you'd be able to get a free Standard Ticket when you purchase a Standard Ticket.
As this applies to the first 500 Singtel Postpaid customers for that particular Saturday, you'll need to hurry if you want it!
For the full terms and conditions, you can read more here.
Delicious Jollibee Meals From S$8
When it comes to fast food, Jollibee's one place that comes to mind, especially for their delicious nasi lemak, fried chicken and spaghetti.
---
Advertisements
---
Now, here's one more reason to love the fast-food chain: discounts. Lots and lots of discounts.
For the Ox-picious new year, Jollibee is releasing 3 eCoupons, in partnership with Coca Cola, for you.
To redeem, simply follow Jollibee's Instagram and Facebook and flash the Huat eDeal to the cashier upon purchase: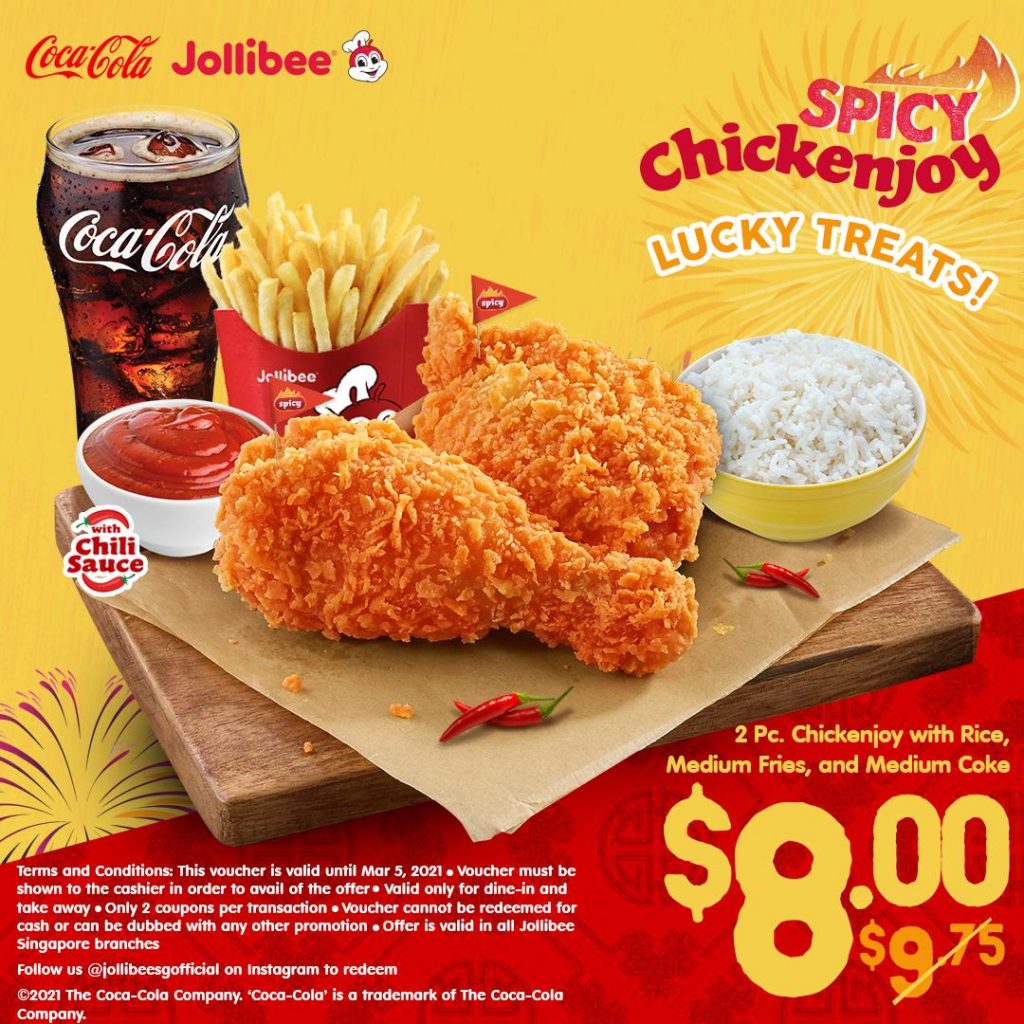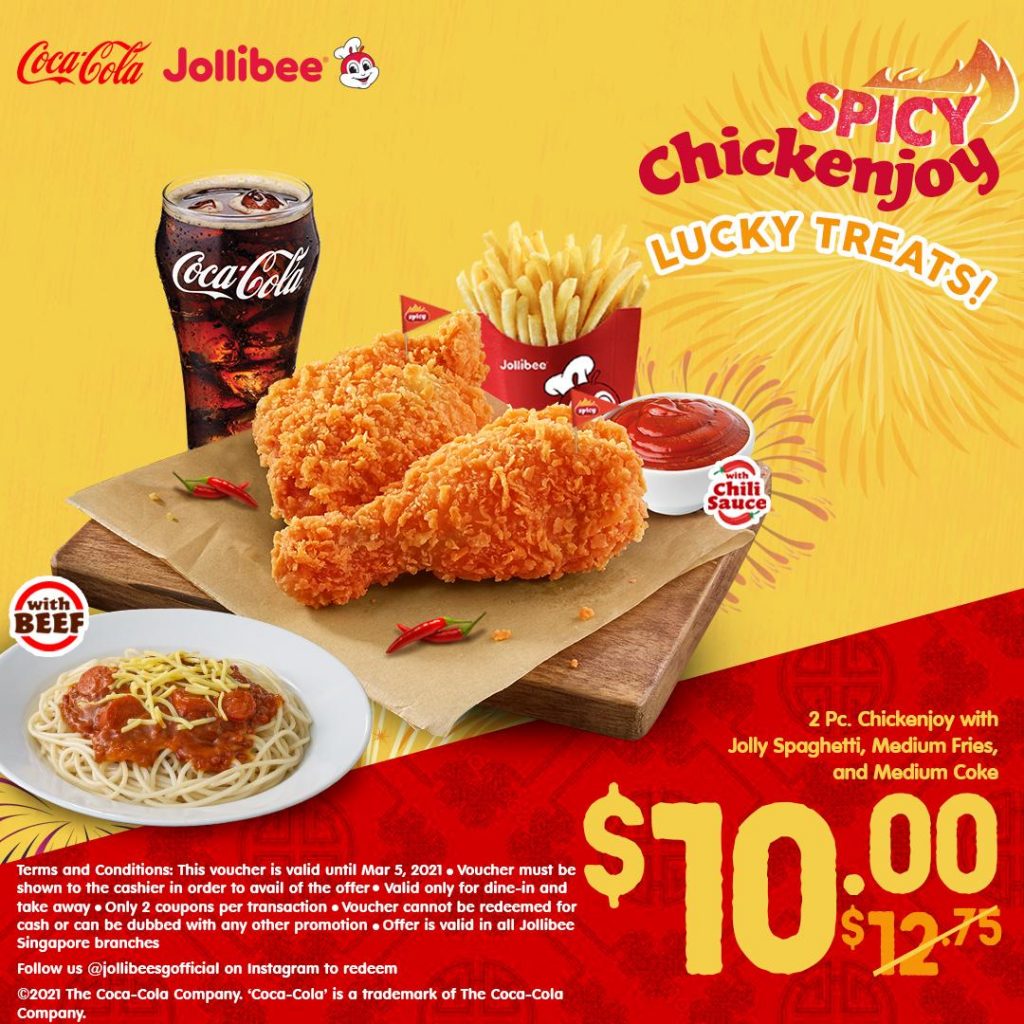 ---
Advertisements
---
There's even a buddy deal for those with friends: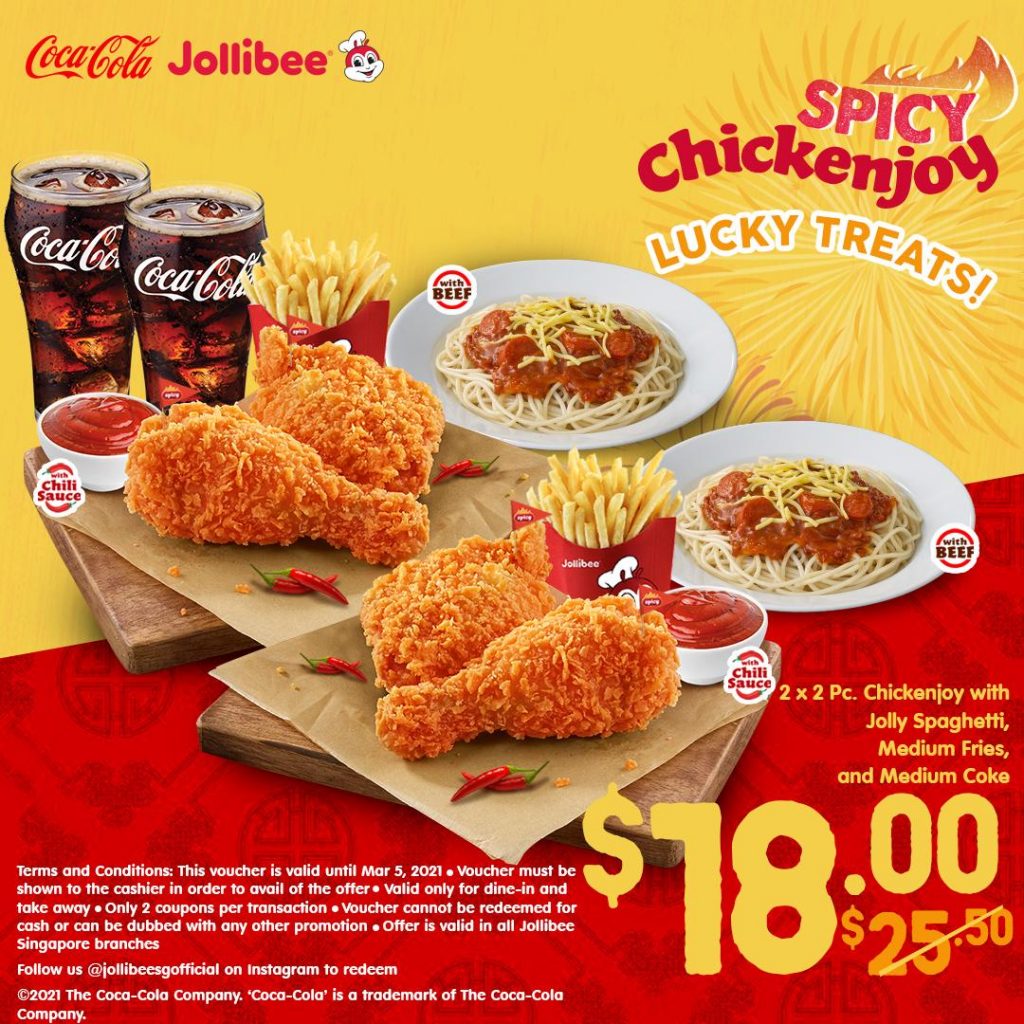 The promotion is valid until 5 Mar 2021 for dine-in and takeaway at all Singapore Jollibee outlets.
Just take note that you're limited to two redemptions per transaction, eh?
You can read more here.
10% Discounts For PAssion Card Members At Singapore Discovery Centre
For some, the idea of a fun and relaxing day is to Netflix your hours away, and for others, it involves an adrenaline-pumping, first-person shooting game.
If you belong to the latter, I've got great news for you.
From now until 31 Dec 2021, PAssion Card members can enjoy 10% off Singapore Discovery Centre's activities, including:
Black Lake Facility Escape Room
Black Lake Laser Battlefield Laser Tag
Crossfire Paintball
XD Theatre Ride
For those who are unaware, the Black Lake facilities are the latest additions to the Singapore Discovery Centre geared to amp up your heart rate and adrenaline.
The Black Lake Facility has 13 rooms, 4 chapters and one secret all within a next-frontier multi-disciplinary complex.

Be prepared to channel your inner Sherlock Holmes as you look for hidden doors, crawl through tight places and more.
And if you want a shootout with different modes of games, including aliens and more, the Black Lake Laser Battlefield's where you need to be at:
You can find out more here.
$1 Swensen's Ice Cream Scoop For SAFRA Members
With Singapore getting warmer once again (finally), here's a treat that'll cool you right down.
If you're a SAFRA member, I've got great news for you.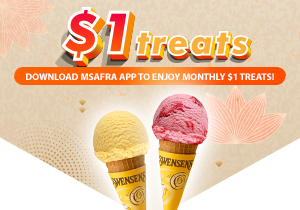 SAFRA has been running their S$1 monthly app-exclusive treats for some time now.
And from 1 Feb to 31 Mar 2021, SAFRA members can redeem a Swensen's ice cream scoop at just S$1.
To redeem, you have to go to the e-voucher tab on your mSAFRA app and scan the QR code or input a 4-digit code upon ordering/payment.
Click here to read the terms and conditions.
This promo is available at all Swensen's outlets.
Click here to find your nearest Swensen's.
Feature Image: Facebook (Marché Mövenpick Singapore / Nekutā Fusion Food – Singapore)
Like writing? Goody Feed is looking for writers! Click here for more info!