---
Advertisements

---
It's 31 May 2021, and you're either mere hours away from your paycheck or have already collected it.
In other words, it's time to party.
However, it's still pandemic season around here, and it's a situation that does not exactly warrant thoughtless spending. So, the only party you can have is a safe distancing party.
But hey, life is not all that bad. It's also about fun, entertainment and most importantly: Goody Feed's 10 Best-est Deals series.
So before you start crying over your savings and hard-to-control spending urges, please browse through our latest issue first.
You may just find deals good enough to help you end May with a bang.
1. Dian Xiao Er $88 Value Set for 4 (U.P. $183.30) till 13 June 2021
For those unaware, Dian Xiao Er dishes up sumptuous Chinese classics such as Herbal Roast Duck and Pan-Fried Cod Fish for the general public's consumption.
The cost, however, may leave more to be desired.
Thankfully, it seems that the eatery chain has relieved some of the financial pressure with their latest deal: a takeaway set that costs just $88.
From now till 13 June 2021, feast on all these at a whopping 50% discount:
Pan-Fried Cod Fish in Superior Soy Sauce
Herbal Roast Duck
Soup of the Day
Pork Belly with Salted Fish
Tofu with Minced Meat & Pickled Vegetables
Assorted Mushrooms with Broccoli
Superior Steamed Rice
Dessert
And according to several happy testimonies, they actually do look that good in reality. Here's one such happy customer for exemplification purposes: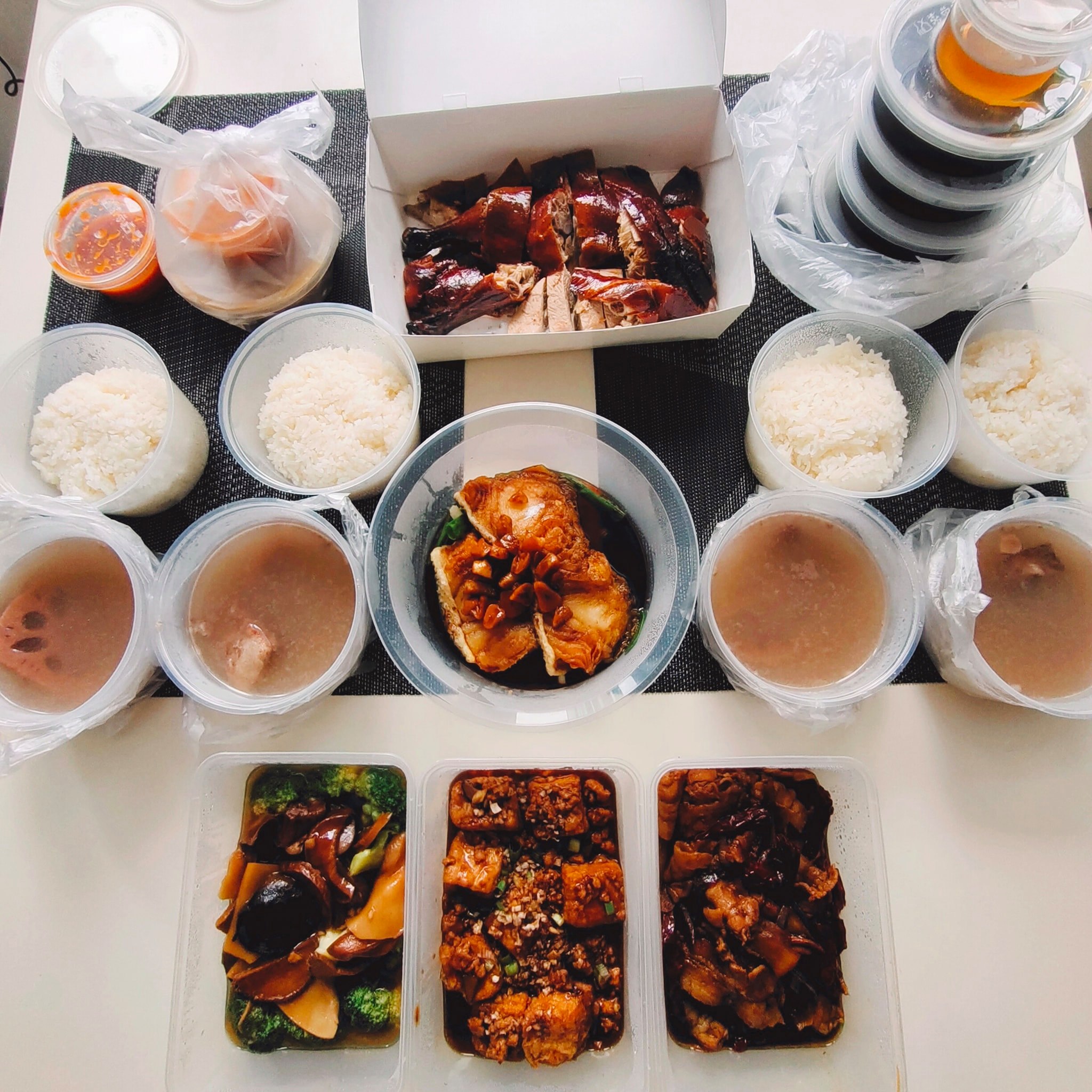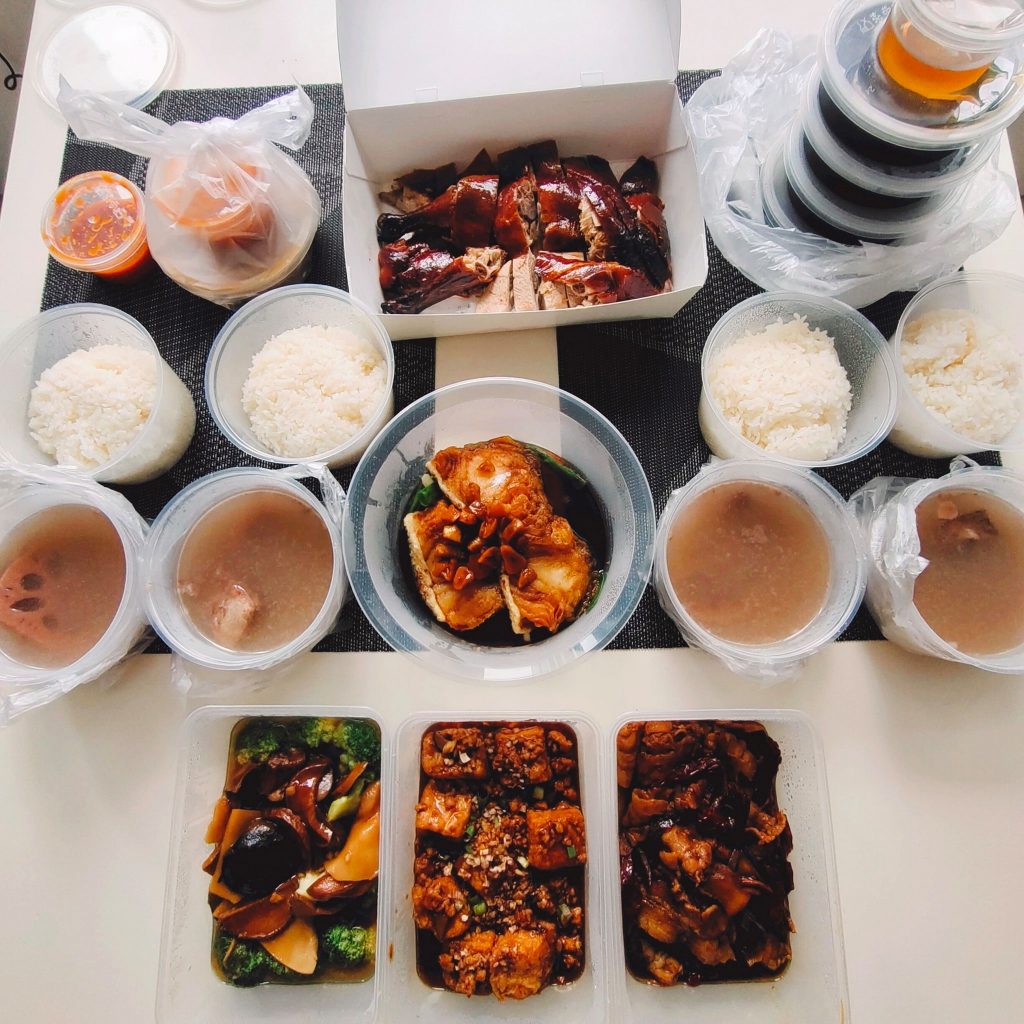 The terms and conditions are:
Prices are inclusive of GST and already discounted; no further discounts will be granted
Items in the set are non-exchangeable nor replaceable
This promotion is available for takeaway, delivery and self-pickup.
Promotional period: Till 13 June 2021
Locations: Click here to find your nearest Dian Xiao Er outlet
2. BeautyFresh Online Warehouse Sale Up To 70% Off
These may be tumultuous times, but beauty is always important.
After all, what better time to get that lockdown glow-up than Phase 2 (Heightened Alert)?
As such, you may be stoked to know that online beauty site BeautyFresh will be introducing a summer online sale till 2 June 2021!
Apparently, there will be deals of up to 70% off your favourite brands, with participating merchants such as Armani, Coach, Calvin Klein, Gucci, SK-II and many more! Just check out their promotional banner below:


To hop on the beauty bandwagon, simply shop online on BeautyFresh's website until 2 June 2021, 11:59 pm.
---
Advertisements

---
Promotional period: Till 2 June 2021
3. Awesome Discounts at Texas Chicken
Feeling particularly cranky this Monday morning and in need of some crispy fried chicken pieces?
You can now satiate your hunger with more than affordable deals over at Texas Chicken.
From now till 31 July 2021, feast on three irresistible deals at all Texas Chicken outlets, with up to 70% discount and more!
And to redeem, simply screenshot and flash the images to the respective counter staff!
---
Advertisements

---
Deals have never been so finger-lickin good—oh wait, wrong fried chicken place. But you get my drift.
Do note that terms and conditions apply.
Promotional period: Till 31 Jul 2021
Locations:
Click
here
to find your nearest Texas Chicken outlet
4. CHICHA San Chen Bubble Tea At Just $1
It appears that Taiwanese bubble tea chain CHICHA San Chen has done the bubble tea community (which is practically the whole of Singapore) a great service with its latest deal.
From now till 13 July 2021, swing by CHICHA San Chen's AMK Hub or Jurong Point outlet to redeem any bubble tea order for just $1!
---
Advertisements

---
To redeem, simply purchase a M Mall voucher via their app.
It should be noted that the voucher is also applicable for Share Tea's Jurong Point outlet and MuYoo+'s Jurong Point outlet.
Promotional period: Till 13 July 2021
Locations:
CHICHA San Chen Ang Mo Kio Hub: 53 Ang Mo Kio Ave 3, #B1-65A/65B, Singapore 569933 (11:00am–10:00pm)
CHICHA San Chen Jurong Point: 1 Jurong West Central 2,#03-32/33, Singapore 648886 (11:00am–10:00pm)
Sharetea Jurong Point: 63 Jurong West Central 3, #03-53, Singapore 648886 (11:00am–10:00pm, Mon–Fri)
MuYoo+ Jurong Point: 1 Jurong West Central 2, #01-K8/9, Singapore 648886 (10:00am–10:00pm)
5. McDonald's DC Superhero Happy Meal Toys
Okay so maybe this isn't exactly a conventional deal, in the sense that it doesn't really make your wallet lighter.
But even still, we felt fit to include it because firstly, it's a free toy and secondly, it's DC.
From now till 23 June 2021, get a DC superhero doll with every Happy Meal purchase!
Designs will be switched every Thursday, 11:00 am. You can check the superhero line-up down below:
---
Advertisements

---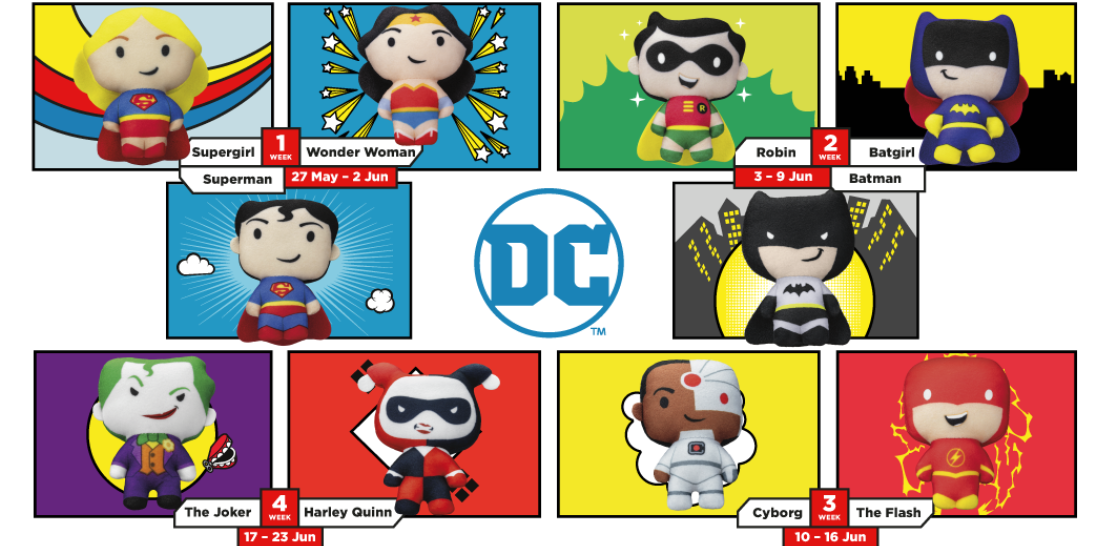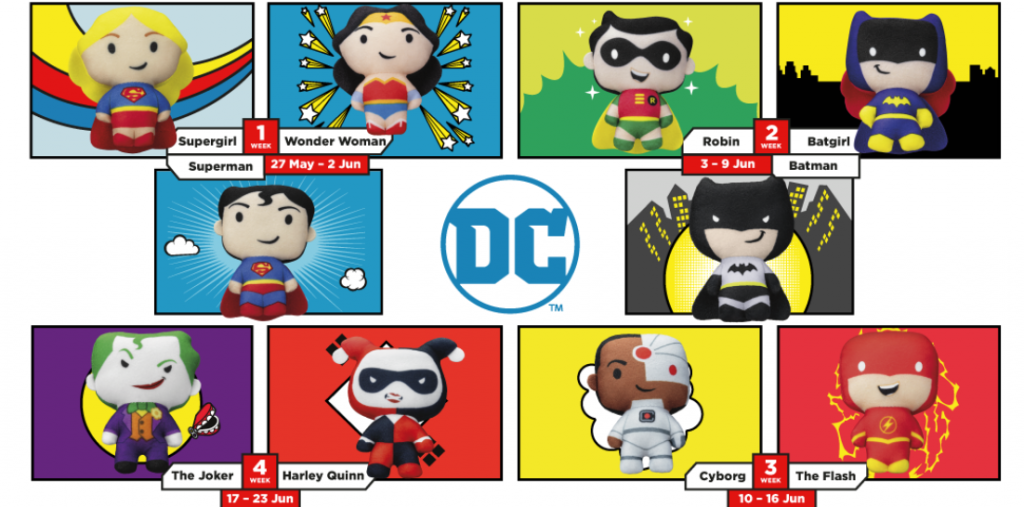 Promotional period: Until 23 June 2021
Locations: Click here to find your nearest McDonald's outlet
6. Walking on Sunshine 1-For-1 Kroffle
A huge fan of croissants and waffles?
Well, here's a deal you wouldn't want to pass up on.
According to Walking on Sunshine, they have released a 1-for-1 promotional offer for their newest creation: a kroffle.
Essentially the love child of a croissant and a waffle, their signature is said to be "prepared by a professional Korean chef by pressing fresh croissant dough in a waffle pan", "so you get the delicate buttery flavor of a croissant and the fun texture of a waffle". So, you'll get the best of both worlds!
The Kroffle supposedly comes in eight flavours too, so that's a pretty wide selection for you to choose from whether you're craving something sweet or savoury. It is available in: Bacon Mash Potatoes, Lime Avocado, Garlic-Cream Cheese, Honey Mustard-Cream Cheese, Cinnamon, Chocolate, Mix-Berry, and Corn Cheese!
Promotional period: Till 13 Jun 2021 (available from 9:30am until 8:30pm daily)
Location: #03-07 Orchard Central, 181 Orchard Rd, Singapore 238896
7. Siam Kitchen & Bangkok Jam 50% Off Family Set Menu
Amidst these tumultuous times, family dinners at home have arguably become more prevalent than before, seeing how a good chunk of the local population is once again confined to working from home.
And that surely prompts the all-important question: how do you procure both flavour and affordability for a feast that can feed the entire family?

Well, you don't have to look further than Siam Kitchen and Bangkok Jam's latest deal.
From now till 13 June 2021, get a whopping 50% off their family set menu.
To redeem, simply use the code <CETREATS> upon checkout.
Do take note, however, that the deal is only available for pick-up and delivery.
Promotional period: Till 13 June 2021
Locations: Click here to find your nearest Siam Kitchen outlet, and here for your nearest Bangkok Jam outlet
8. MADLYGOOD 1-For-1 Waffles
What's better than a delicious waffle that looks like it just stepped out of Heaven's Door?
A high-quality waffle that's going for just half the original price!
According to dessert cafe Madlygood, they will be implementing 1-for-1 deals for all their waffle flavours.
Pick and choose any two flavours from a plethora of options and pay for only one!
View this post on Instagram
Do take note that it's for a limited time only (but also note that there's no specified end date), so you're best advised to head down soon!
This deal is applicable every Monday to Thursday, from 12:30pm to 6:00pm.
Location: #03-12 JCube, 2 Jurong East Central 1, Singapore 609731
9. Domino's Hari Raya Promo
After an entire month of grueling fasting, our Muslim friends definitely deserve a great feast for all their efforts.
And honestly, what better indulgence is there than Domino's Hari Raya Feast, a stellar combination of plentiful, affordable and most importantly, utmost luxury?
According to Telegram group SG Kiasu Foodies, their Raya Feast will be going at just $66, down from the usual price of $114.30. Touted to serve 6 to 8 pax, the set includes:
1 Large Pizza
1 Regular Pizza
1 Tasty Twosome (Original)
1 Tasty Twosome (Tom Yam)
1 Banana Kaya (9″)
Promotional period: Till 14 June 2021
Locations: Click here to find your nearest Domino's outlet
10. foodpanda 1-For-1 Birthday Deals
We may be slightly late to foodpanda's birthday party, but you know what they say: better late than never.
According to Telegram group SG Kiasu Foodies, foodpanda has released a plethora of 1-For-1 Birthday deals!
From now to 27 May 2021, feast on a selection of affordable treats including Mr Bean's rice bowl sets, Popeyes' 5 Pcs Tenders meal, and KFC's Cheesy Fries.
Do take note that the deals are only available for pick-up and delivery.
Promotional period: Till 27 May 2021
Feature Image: Facebook (Walking On Sunshine at Orchard Central) / BeautyFresh / McDonald's Singapore