---
Advertisements

---
Kampong Glam might bring back memories of boring field trips during school days, or give the impression of a boring tourist spot with nothing to do. However, it is actually full of delightful little secrets and hidden gems! Here are nine of them that will make a trip down to it worthwhile.
Street Art
We might think that street art only belongs in the alleys of other countries, where people always take hipster photos of, but did you know that the alley walls of Kampong Glam actually have some incredible works of art on them? Their stunning aesthetic and vibrance makes it hard to miss, so do check them out next time you go and I'm sure you'll be captivated and not want to leave.
Stateland Cafe
Back when red velvet was a craze, you might have seen gorgeous photos of this cafe's red velvet waffles drizzled with cream cheese glaze around Instagram. Although the craze has died down and perhaps this place forgotten, the food is still as good and if you're perhaps bored of traditional cafe fare and plain brown waffles, pop by here for a good fix!
Al' Frank Cookies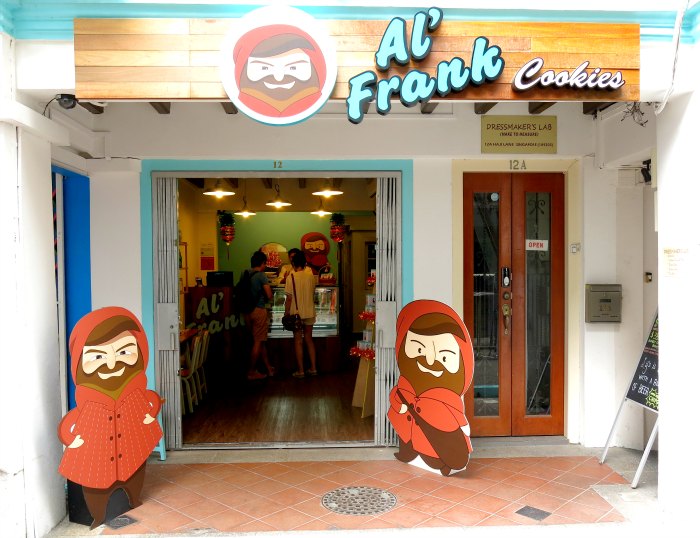 Warning though, these cookies are not for those who are unwilling to splurge because they are significantly more expensive that what we would normally pay for cookies, but it might be worth it since the moment you walk down Haji Lane once you smell how inviting they are. Furthermore, they're freshly-baked and gluten free. What's not to love?
Oliva Italian Restaurant
Yup, an Italian restaurant in a place called Kampong Glam might seem a little weird to some, but this is the definite place to go if you wish to eat affordable Italian fare. We know that Italian food elsewhere is usually pretty expensive and sometimes might not be worth the price, but the food here is fantastic and reasonable and worth every cent.
Scene Shang
Probably not for those who aren't willing to splurge close to a thousand on a sofa-chair, but this homeware store stocks uniquely-designed products that are influenced by Asian heritage and are lovely to look at and browse, as long as you don't look at the price tag.
Supermama
If you're into quirky products inspired by Singapore culture and traditions, then Supermama is the right store for you. Many of their things will certainly send a nostalgia wave through you as you recognize the designs and patterns of your childhood. For a trip down memory lane, come here.
The General Store
Streetwear and trendy products that will make strangers look at you twice when you're walking out in public seem to be the new in thing, and the products that this store has to offer will certainly help you up your coolness factor. From retro sunglasses to cool watches and funny cards, this place will have what it takes to make a statement.
Shop Wonderland
If you're a sucker for beautifully decorated places, this place will be absolute heaven for you because of its breathtakingly gorgeous interior, and it totally looks like it belongs in some dreamy neighbourhood in Paris or something. Seriously, this place is just beautiful beyond words and the food looks amazing too.
Blu Jaz Cafe

Like the name suggests, it's a jazz cafe and those of you who love jazz or are curious about it should probably give this cafe a visit, since it has fabulous ambience with a supposed Bohemian atmosphere. The food and drinks here are also good, which makes it a completely worth-it package and the best place to spend some of your boring nights.
This article was first published on goodyfeed.com
---
Advertisements

---

Here's why a 4-day workweek might finally really be possible in Singapore soon:
Read Also: