---
Advertisements

---
Last Updated on 2023-06-08 , 9:55 am
If you drive often, you're probably aware of one prominent change along the Pan-Island Expressway (PIE) in Singapore that was implemented recently.
That's right; I'm talking about the relocation of Exit 26A from the right to the left of the PIE.
As Singapore's only expressway exit located on the right of the expressway, the original Exit 26A was recently closed for good on 28 May this year.
It was also replaced by an exit on the left side of PIE on the same day.
When the relocation of Exit 26A was first announced, the Land Transport Authority (LTA) also mentioned that signs would be put up to alert motorists of the change in Exit 26A's location.
But while it seems like most people have gotten the memo by now and have been able to locate the exit easily, others are still driving with muscle memory.
Like this one driver who crashed into another car after haphazardly cutting across four lanes just to get to the new Exit 26A.
In a video uploaded on SG Road Vigilante – SG RV's social media channels on Sunday (4 June), a car was captured on dashboard cameras after trying to get to Exit 26A while still being on the rightmost lane of the PIE.
In a hurried attempt to get to the exit, the vehicle's driver decided to cut through four lanes towards the left and crashed into another car in the process.
---
Advertisements

---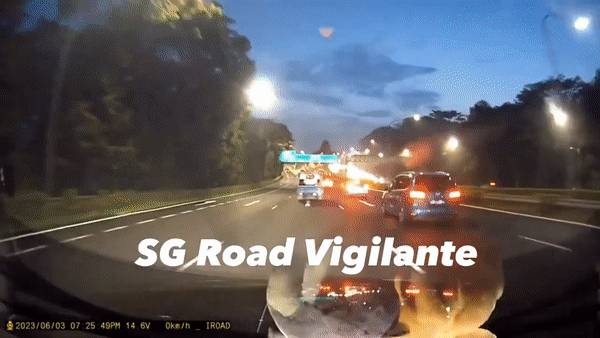 Well, that's definitely a reminder to everyone to check if there are cars around you before switching lanes.
In the end, both cars ended up at the exit, which I suppose is technically where the driver who swerved their car had intended to go.
But at what cost…?
SG RV also mentioned in the video caption that the incident took place at around 7.25 pm on Saturday (3 June).
Which means that at the time of the accident, the signs that LTA put up had already been there for quite a few days.
Join our Telegram channel for more entertaining and informative articles at https://t.me/goodyfeedsg or download the Goody Feed app here: https://goodyfeed.com/app/
Car That Got Crashed Into is Apparently a ComfortDelGro Taxi
In the caption of the video uploaded to SG RV's YouTube channel, SG RV wrote, "video [is] for claim purpose for comfort taxi driver [who clearly] is not at fault", revealing that the car that got crashed into is a taxi from ComfortDelGro.
Although the dashboard camera footage is rather blurry, a light can be seen on the roof of the car, further suggesting the possibility that the 'victim car' is indeed a taxi.

Here's a rather unexpected timeline of the $2.8 billion money laundering case in Singapore as revealed by Minister Josephine Teo during a parliament sitting on 3 October 2023:
Read Also: