---
Advertisements

---
While travelling overseas might seem like an enjoyable experience for most people, that's unfortunately not the case for others.
And one traveller who experienced the latter is Ms Angie Chong, a 22-year-old lady from Malaysia who flew to Chiang Mai alone for work purposes.
She had initially told her loved ones that she was going to Chiang Mai to purchase items for her sales company.
This was even though her mother advised her not to do so due to concerns over her safety.
Since then, she has been reported missing by her mother.
Initially Went Missing on 1 June
When speaking to China News on 2 June, her mother explained that her daughter is usually very active on WhatsApp and will promptly read or respond to text messages despite her busy schedule.
Her mother, identified as Ms Chee Choy Wen, added that she started to panic after seeing that her daughter's last seen status on WhatsApp was around 10 pm on 1 June.
She also revealed that Ms Chong flew to Chiang Mai on 29 May against her mother's wishes and claimed that someone from her company would be there to meet her.
After noting her daughter's absence from WhatsApp, Ms Chee put out a post requesting for people to provide her with any information they might have of her daughter if they had any.
Mother Received News that She Was in Myanmar
Upon seeing the post, a netizen came forth to comment that he had come across Ms Chong (or at least, her photo) on a dating application and had even 'matched' with her.
According to that netizen, Ms Chong's geographical location on her account was listed as Myanmar.
---
Advertisements

---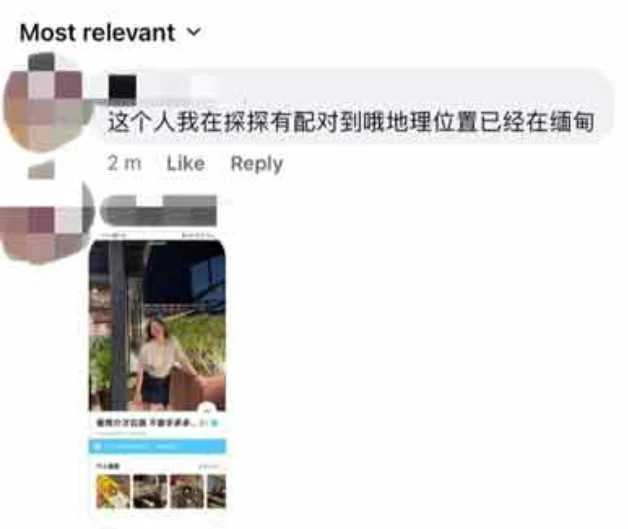 The netizen also provided a screenshot of Ms Chong's profile as proof.
Ms Chee reported this in a separate China News report and expressed how she was extremely concerned as crime syndicates are prevalent in Myanmar.
For the unaware, these crime syndicates try to entice victims by getting them to invest in fake investments and travel to Cambodia.
Afterwards, they will be captured by the scammers and forced to work for them.
Apart from that, other netizens also helped to chip in by providing additional information, such as photos of the hotel that Ms Chong had stayed at in Thailand.
Ms Chong Apparently Left the Hotel Willingly
After the incident became news in both Malaysia and Thailand, Ms Chong lodged a police report in Malaysia.
Similarly, the police in Thailand started investigating the issue.
The Closed-Circuit Television (CCTV) footage of Ms Chong leaving her hotel in Chiang Rai was revealed on a news programme in Thailand on Monday (5 June).
Apparently, she had travelled from Chiang Mai to Chiang Rai before her disappearance.
---
Advertisements

---
According to the clips shown, Ms Chong was seated in the lobby and looked like she was waiting for someone while using her phone.
After a while, a lady appeared. Ms Chong and the lady chatted while walking towards Ms Chong's luggage.
The lady then helped Ms Chong carry her luggage before the pair exited the hotel together.
Based on the footage, it seemed like Ms Chong was not forced or coerced into leaving the hotel with the lady.
Since then, it has been reported that authorities in Thailand have begun searching for Ms Chong.
The agencies involved in the search include Thailand's immigration and tourist police.
---
Advertisements

---
Apart from that, the Thai police have also gotten in touch with the authorities in Myanmar to try and retrieve the CCTV footage near the border between Thailand and Myanmar in order to check if Ms Chong did indeed cross the border.
Newest Update: Missing Lady Posted Video Saying "She's Very Safe", Asked People Not to Find the Driver
More recently, Ms Chong herself surfaced on the Internet in a video claiming that she's 'very safe'.
The video, which was reposted by the 爱旅客- Traverller Facebook page on Tuesday (6 June), included Ms Chong claiming that she was currently working there.
She did not specify her location.
Apart from that, she kept reiterating that she was very safe and healthy.
---
Advertisements

---
However, the constant repetition of those words and her uncomfortable facial expressions in front of the camera made other netizens suspicious.
A netizen also noted that according to the reflection in Ms Chong's glasses, it seemed like she was forced to read a script placed in front of her.
Ms Chong also requested that the police stop trying to find the driver who drove her to her current location.
According to her, the driver "does not know anything" about the issue.
Another video of her talking about the same points and emphasising that she "did not get beaten" before laughing awkwardly has also been posted on social media.
Ms Chong's Family Has Flown Over to Thailand to Try and Find Her
In the most recent update by 爱旅客- Traverller, it was revealed that Ms Chong's family decided to fly to Thailand to try and solve the mystery of her disappearance.
In the post, it was revealed that the Chiang Mai Tourist police sat down with Ms Chong's family, which included 51-year-old Ms Chee and her son (i.e. Ms Chong's older brother) on Tuesday (6 June) at 4.30 pm.
---
Advertisements

---
They assisted with investigations at the Chiang Mai International Airport.
Four of Ms Chong's colleagues from Malaysia were also there.
Join our Telegram channel for more entertaining and informative articles at https://t.me/goodyfeedsg or download the Goody Feed app here: https://goodyfeed.com/app/
Based on the post, Ms Chee told the officials that her daughter had flown to Thailand just like any other tourist.
The post then claimed that a man drove Ms Chong to the Mae Sai district in Chiang Rai after she got off the plane at Chiang Mai.
Afterwards, a lady brought her across the border to Cambodia from her hotel in Chiang Rai.
The police have apparently brought in both the man and woman for questioning, where it was allegedly confirmed that they were just 'contractors' whose services were employed.
The post concluded by saying that Ms Chong's family members are planning to travel to Mae Sai in an attempt to find her.

Here's a rather unexpected timeline of the $2.8 billion money laundering case in Singapore as revealed by Minister Josephine Teo during a parliament sitting on 3 October 2023:
Read Also: