You know those height limits you see on carpark entrances and overhead bridges?
I used to think, seriously? What kind of vehicle could be 4.5m tall? Even Yao Ming or double-decker buses aren't that tall.
Well, now I know that those signs aren't there for show.
Trailer Crashes Against Flyover Due to Exceeding Height Limit
A 45-year-old driver learnt this the hard way yesterday (18 Jan) when the trailer he was driving collided against the AYE flyover he attempted to drive under.
Due to the massive amount of goods the vehicle was carrying, it piled up to the point that it exceeded the 4.5m height limit.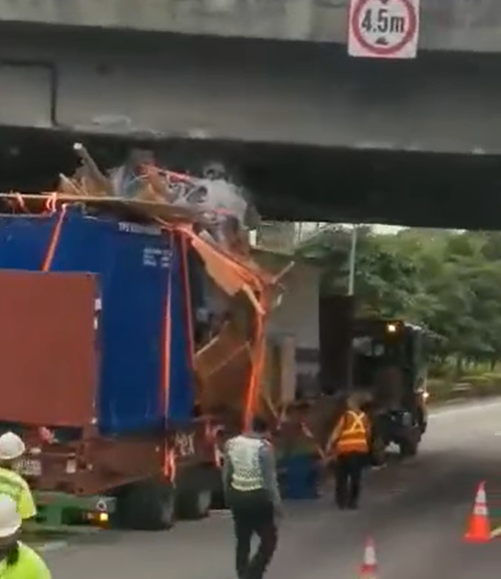 The top of the pile of goods then crashed against the bottom of the flyover, causing the section of the road towards the MCE to be closed off, which resulted in a massive traffic jam that lasted for hours.
One Injured and Driver Arrested
The 45-year-old driver was then arrested for collision of a heavy motor vehicle into a public structure and for "driving a heavy motor vehicle with height exceeding 4.5m without an escort".
There was also one person who suffered minor injuries, but did not want to be taken to the hospital.
After the accident, LTA reported that they had carried out inspections of the flyover and reported that "its structural integrity is not compromised and the flyover remains safe for use".
So, what is the lesson here?
Yes, all signs are there for a reason. And don't pile stuff on your vehicle until it exceeds 4.5m.
You can watch a video of the aftermath here.
Featured Image: Facebook (ROADS.sg)