Uncles and aunties would know Barbie Hsu as Shancai, the female lead in the hit Taiwanese drama Meteor Garden back in 2001, when some of you weren't even born yet.
The imaginary girlfriend of all uncles married Chinese businessman Wang Xiaofei in 2010 and has two children. Since 2021, she has retired from acting but is still in showbiz, appearing in several variety shows.
Yesterday, the 44-year-old dropped a bombshell: she told Apple Daily that she was in the midst of divorcing.
That caused everyone to Google her: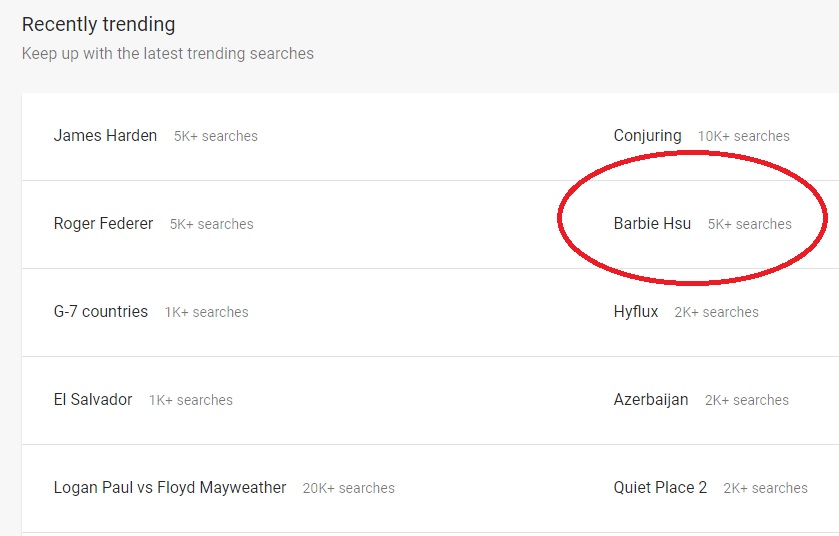 Prior to this shocking news, her husband has made the news after he openly criticised how Taiwan has handled COVID-19.
But it turned out that it could've been just a lovers' spat.
Barbie Hsu's Mum & Manager Said She Not Divorcing Despite Her Telling Reporters That She's Filed for a Divorce
Soon after the announcement, reporters immediately approached Wang for comments, and guess what?
He didn't know of the divorce.
Well.
He then posted on Weibo, saying that he "was really worried about my family so I said some things that were not very nice. It's easy to get agitated during this pandemic period and I hope my family will be safe and sound."
Other than that, Hsu's mother has also responded and provided some explanation for Hsu's words. She said, "Barbie just said some words of anger. What divorce is she speaking about? I will calm her down. Barbie and Xiaofei both care deeply about their children and I will tell them both to bear with it for the moment."
She didn't say what quarrel could've caused such a reaction from Hsu, but did revealed that Wang had told Hsu and their two children to head to China to take the COVID-19 vaccine, but Hsu had decided to stay put in Taiwan instead.
Hsu's manager also chimed in, saying, "They just had a fight. Which couple doesn't fight? It's not a big deal."
Well, at least we now know the culprit: It's, once again, COVID-19.
Or could it?
Rumours Mill About Barbie Hsu's Marriage
There are, however, unverified sources saying that Hsu has been contemplating divorce since last year, and it's not because of a third party.
---
Advertisements
---
Instead, Hsu felt that her values and principles are too different from Wang's, she felt that they were not spending enough time living together and Wang often openly criticised Taiwan on Weibo.
Wang came from a wealthy family, with him being known as one of the four most popular sons of wealthy entrepreneurs in Beijing. Currently, he's based in China while Hsu lives in Taiwan.
Two months ago, he hogged the headlines after he streamed himself chatting with a female stranger in Douyin (China's version of TikTok) in a drunk state. He then apologised to the public on Weibo for his actions, saying that he could've been in quarantine for too long and therefore went for a drink.
Featured Image: Instagram (@barbiehsu_das)
---
Goody Feed might be getting a second lawyer's letter due to this video. Here's why: