Days are getting hotter and hotter, as the layer of beautiful, glowing sweat that graces your skin the second you wave goodbye to air conditioning would surely testify.
Want to scream at the broiler weather? Want to challenge the CEO of ExxonMobil to honourable hand-to-hand combat?
Well, instead of I scream, try some ice cream instead.
1. Birds of Paradise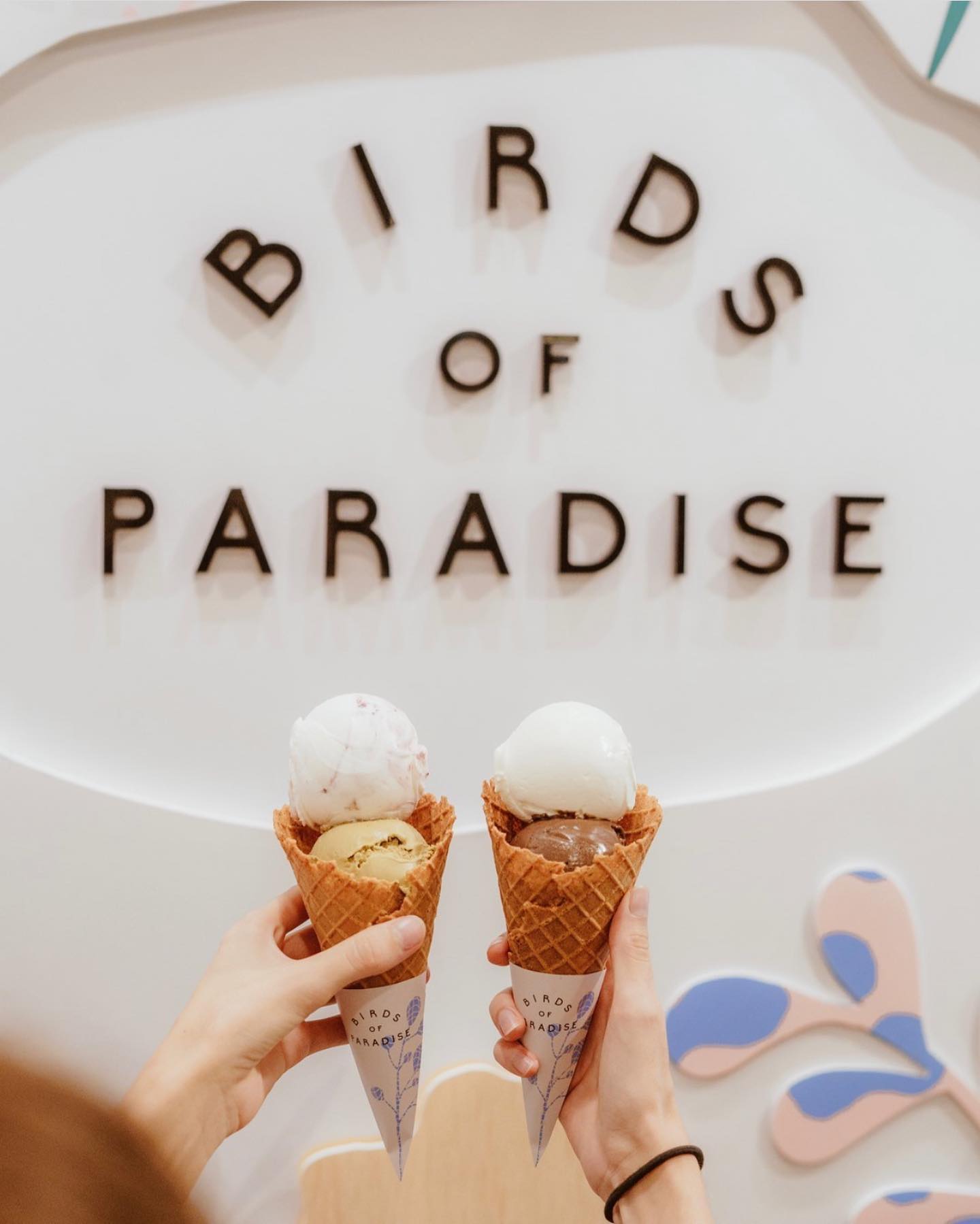 Let's face it: you've probably seen this place on someone's Instagram story. 
Named after the resplendent bird from Papua New Guinea, Birds of Paradise promises a tasting experience no less spectacular. 
It has even made its way to the Plate MICHELIN list: a collection of restaurants and cafes recommended by the hallowed Michelin Guide.
Birds of Paradise rose to its renown with a collection of delicately botanical flavours such as Strawberry Basil and Lychee Raspberry. They are all freshly made on-site made with natural ingredients that colour the gelatos in a beautiful pastel.
The scoops (S$4.70 for a single scoop, and S$7.70 for a double) are refreshing and creamy, crafted for the right amount of sweetness without becoming too heavy like most ice cream. Try them with Bird of Paradise's unique Thyme-infused Cone for an extra S$1.
Birds of Paradise: multiple locations including Tanjong Katong and Jewel Changi Airport
2. Apiary
If creative flavours are not your thing, check out Apiary on Neil Road.
Tucked along a row of quaint shophouses, this elegant ice cream parlour adorned with minimalist wood panelling specialises in simple flavours such as Vanilla Bean and 73% Dark Chocolate. The more adventurous can also dive into selections like Bailey's & Brownie or Ferrero Rocher. 
Our choice would be their famous Blue Milk, whose mixture of sea salt and milk create a balanced, refreshing taste that doesn't go too hard on your palate. Blue pea flowers added to the blend give the ice cream a pastel blue that makes it a feast for the eye as much as it is a treat for the mouth.
Prices start at a friendly $3.90 a scoop, or $4.90 to have it with a cone. Oh, and they recently opened a new branch in Ang Mo Kio—no more 40-minute commutes to the CBD if you want to try them out!
Apiary: multiple locations including Neil Road and Jubilee Square
3. Denzy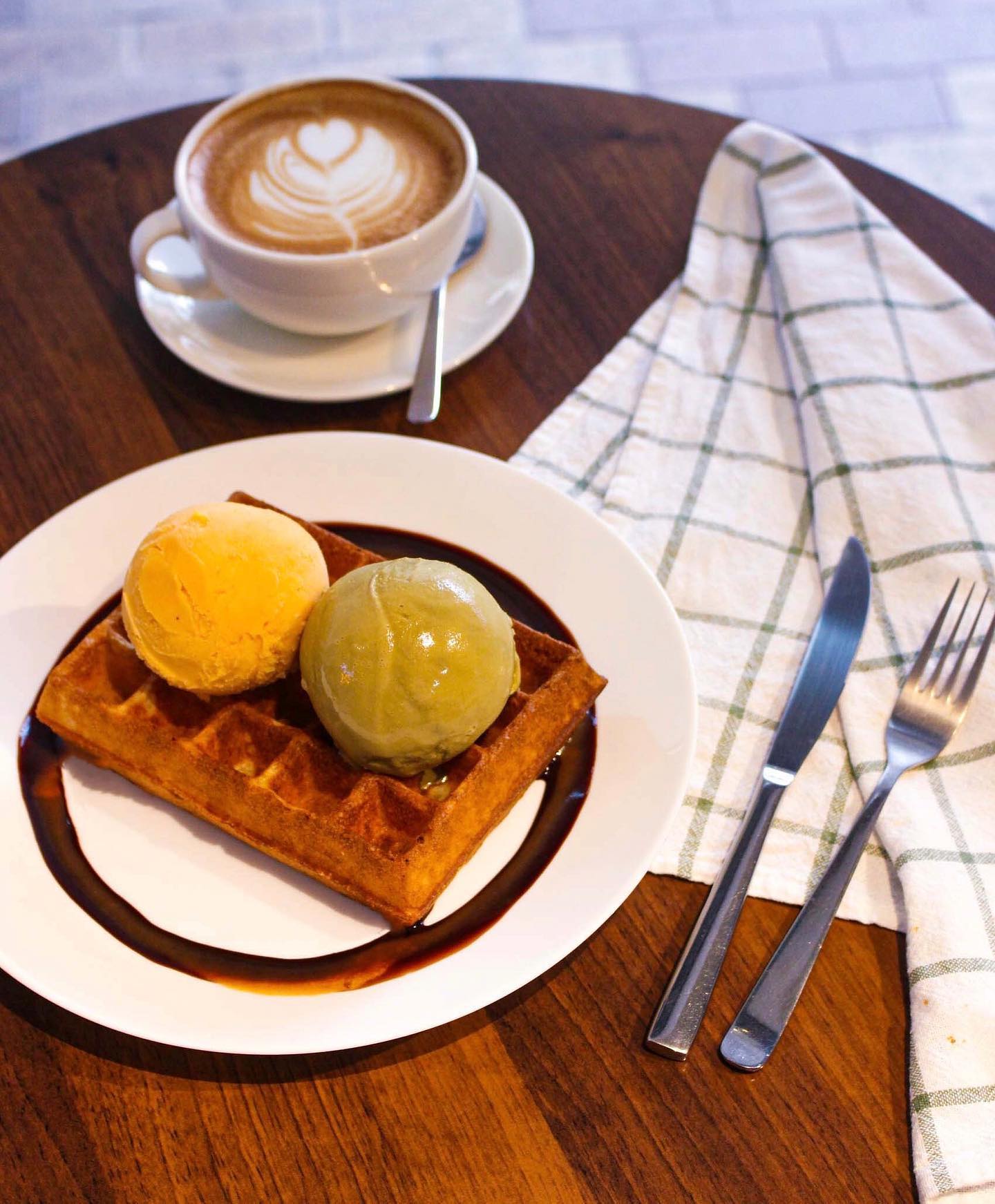 Sick and tired of the obnoxious engine noise and long queues while waiting for your bus? Well, now you can sweeten your wait with a scoop (for S$3.60) of Denzy's Gelato, located right next to Bishan Bus Interchange.
Founded by owner Damien Yau, who studied culinary arts in Italy and dived head-first into the gelato business "before he got too old", Denzy promises an authentic, painstakingly handcrafted ice cream experience. The nut pastes used, for example, are ground in-store for 10 hours. 
---
Advertisements
---
In fact, the gelateria won "Singapore's Best Gelato" award at the 2019 Singapore Gelato Championship—which is quite something, although chances are that you've never heard of the competition. Me neither.
Flavours are constantly on rotation, though one thing in common is their creativity. We bet you've never tried Brown Butter Spiced Honey before—or what about Ruby Chocolate & Raspberries?
Denzy: 506 Bishan Street 11, #01-404. Open daily 12pm-10pm
4. Kind Kones
The more environment-savvy among us would realise the irony of ice cream. We crave ice cream because the world is getting warmer, but ice cream uses cow milk whose production exacerbates global warming, which means we're gonna need more ice cream…
It's almost like sweet edible air conditioning.
Fortunately, Kind Kones is here to break the loop. Behind the cheekily alliterative name is a boutique shop that prides itself on making all-natural vegan ice cream, free from dairy, egg, and artificial additives.
---
Advertisements
---
Before you cringe at the idea of ice cream without cream, be assured it doesn't compromise on taste or appearance. Its 20-odd flavours are made from a blend of different nut milk—coconut, cashew, and almond—that give the ice cream an excellently creamy texture no less decadent than the conventional. 
Even without artificial colourings, their signature Blue Planet flavour remains a great option for the 'Gram, naturally coloured blue with butterfly pea flowers and infused with chunks of matcha cake. It looks like the Earth in a scoop!
Kind Kones: Forum the Shopping Mall, 583 Orchard Road, B1-27. Open daily 10am-10pm
5. The Humble Scoop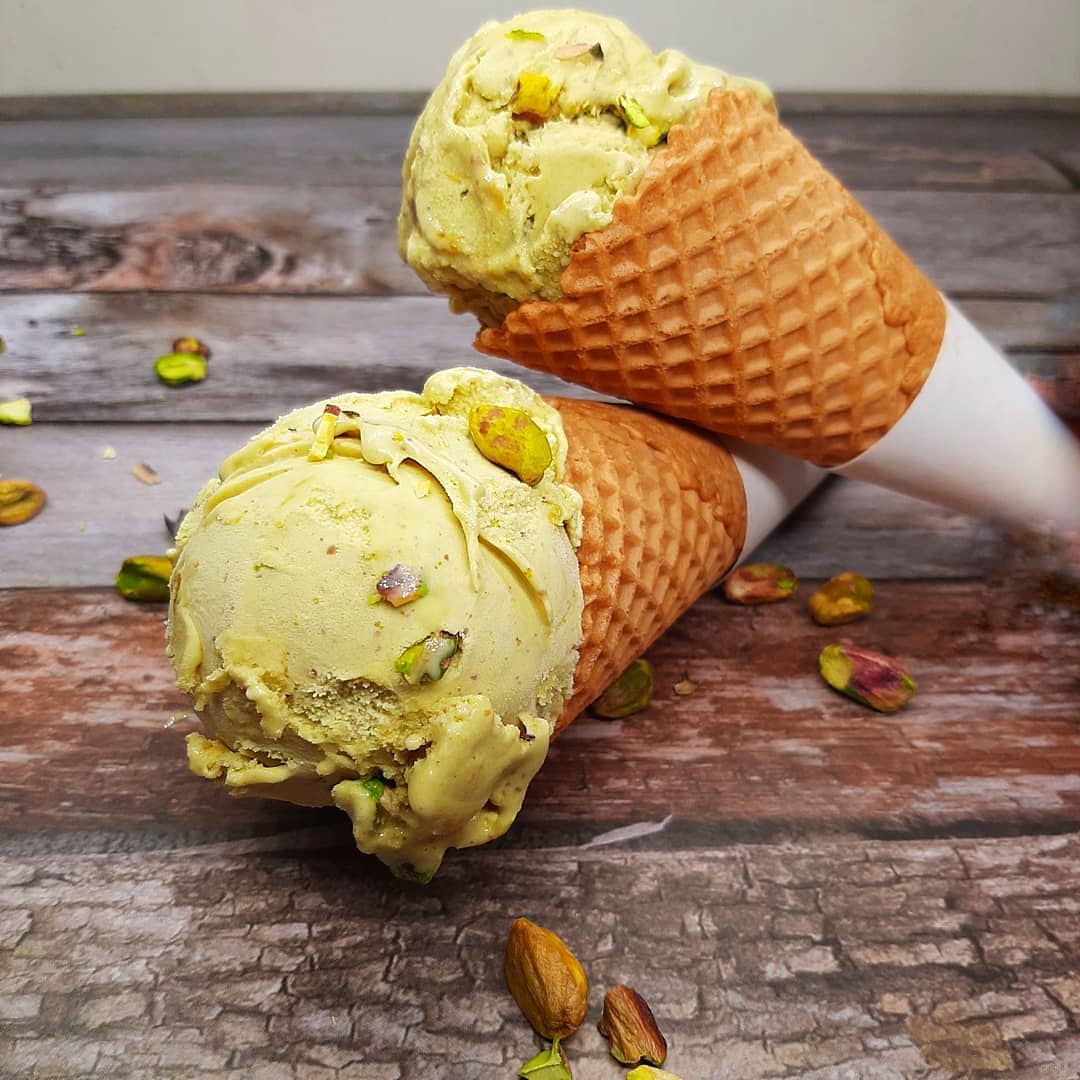 If you are yearning for some nostalgic, local flavours, this is the place to go. Hidden in the basement of Katong Shopping Centre, this humble creamery is full of eye-catching, locally inspired ice cream varieties. 
Formerly a cabin attendant with Singapore Airlines, owner Yvonne decided to take the leap into the ice cream business instead and sought to carefully design the different flavours by herself. 
---
Advertisements
---
Highlights include Orh-Bee-Good, a Pulut Hitam flavour mixed with black glutinous rice, and In-Kueh-Dible, a blend of salted coconut and gula melaka that tastes like creamy chendol. 
There's even an ice cream rendition of the hot-weather favourite sugarcane juice, in the form of the Sugarcane with Lemon sorbet that's fragrant and smooth much like the drink.
Pair your ice cream (S$3.90 per scoop) with a fluffy waffle for another S$4.
The Humble Scoop: Katong Shopping Centre, 865 Mountbatten Road, B1-92. Opens from 12pm-8.30pm on weekdays, and 12pm-9.30pm on weekends. Closed on Mondays.
6. Creamier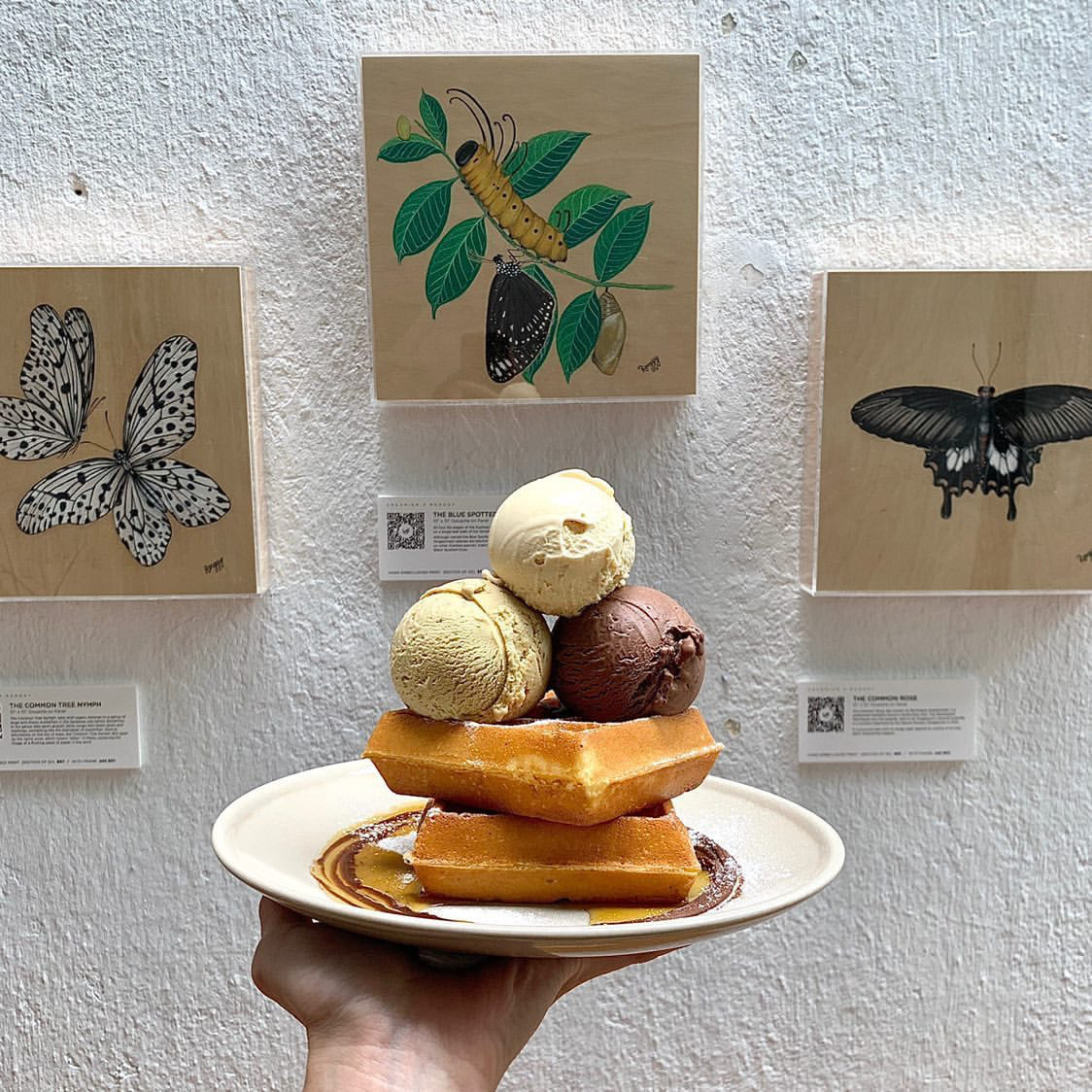 Tried our previous selections, but found out the ice cream wasn't creamy enough? There's always Creamier. 
---
Advertisements
---
Anyway, this is a local parlour born and bred in Toa Payoh that specialises in handmade ice cream and locally roasted coffee. In fact, they tried relocating from Toa Payoh once—only to end up right opposite their original site.
Their flavours rotate based on the seasons of the year, or rather the supposed seasons since it's always summer in Singapore anyway. Prices start at an affordable $3 for one scoop and $5 for two.
Spring specials include Watermelon with Soju, made with fresh and ripe watermelons to cool you down and a shot of soju to hype you up. There's an option to remove the alcohol and enjoy some pure watermelon goodness instead if that's your thing.
Creamier Handcrafted Ice Cream and Coffee: multiple locations including Toa Payoh Lorong 1 and Yong Siak Street.
7. The Dancing Elephant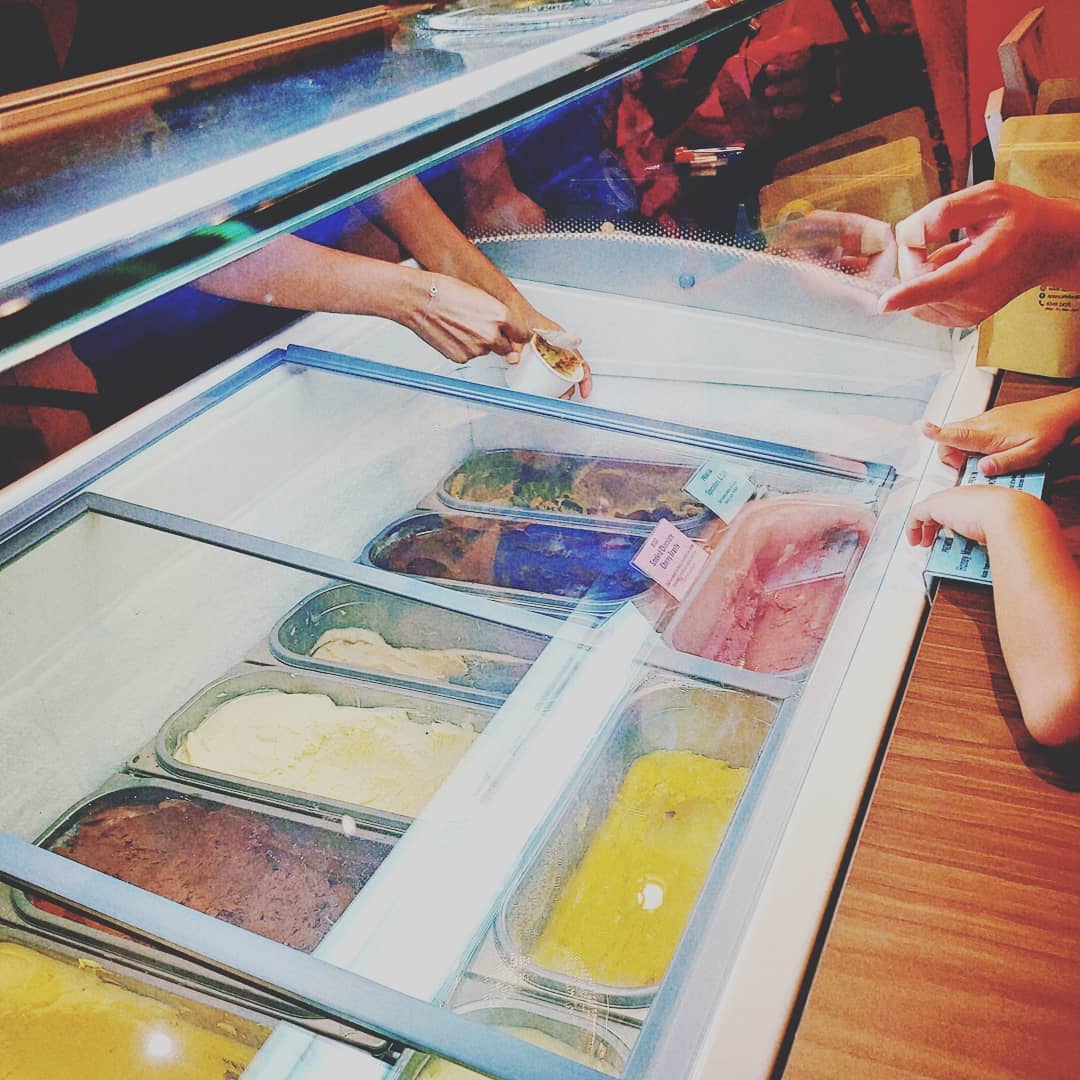 One's an ex-Central Narcotics Bureau officer, and another used to be a secondary school teacher. One could argue both of them have seen the worst of humanity.
---
Advertisements
---
Maybe that's why the couple, Greg Gallistan and Lin Zhi An, decided to pick up a more wholesome occupation by making ice cream here in Zhongshan Mall instead.
Featuring an adorable hand-drawn signboard of an elephant in a tutu, the Dancing Elephant specialises in "international flavours" as a tribute to the couple's love for travel. 
Each of these, as 8days reveals, is handmade with meticulousness and discretion: even if one of the ingredients isn't available from a specific supplier, the whole flavour will be scrapped and replaced with something else.
Of their current flavours, we recommend the Mao Shan Wang for a creamy taste of the custard-like, sweet fruit, or the Earl Grey for its classic, citrusy tea notes. Prices go from S$3.85 to S$5.50 per scoop. 
They provide in-house delivery, too, perfect for surprising your sick friend domiciled at home.
---
Advertisements
---
The Dancing Elephant Ice Cream: Zhongshan Mall, 20 Ah Hood Road, 01-12. Open daily from 12pm to 10pm.
8. Emma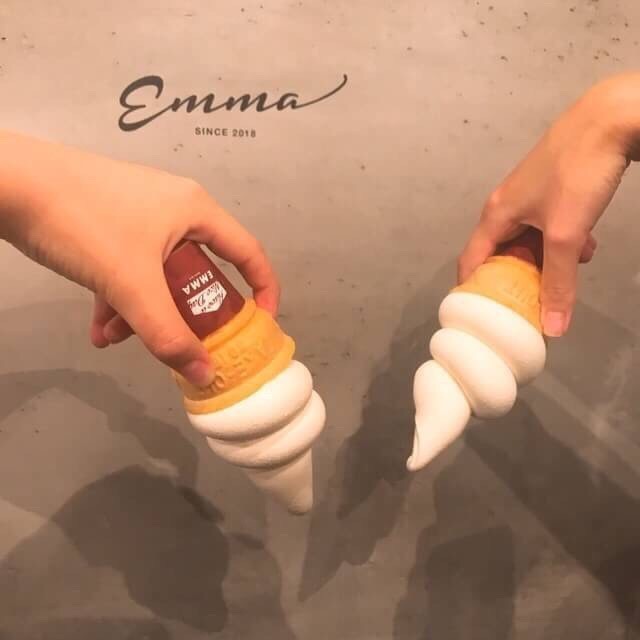 This popular ice cream cafe in Japan has chosen Singapore to be its first overseas venture, serving up quality soft serve and drinks. 
Their ice cream cones, made with rich Japanese milk, are made with such firmness and density that they are said to be "gravity-defying"—which means that they stay intact upside down.
Maybe don't try it though, since the soft serves don't come cheap at S$5.30 per cone. Plus, it is always better to savour the smooth, creamy goodness full of milky fragrance the moment the cone's in your hands, rather than wasting time and letting it melt in the heat.
EMMA Softserve Ice Cream: multiple locations including 100AM Mall and Plaza Singapura
---
Advertisements
---
9. The Daily Scoop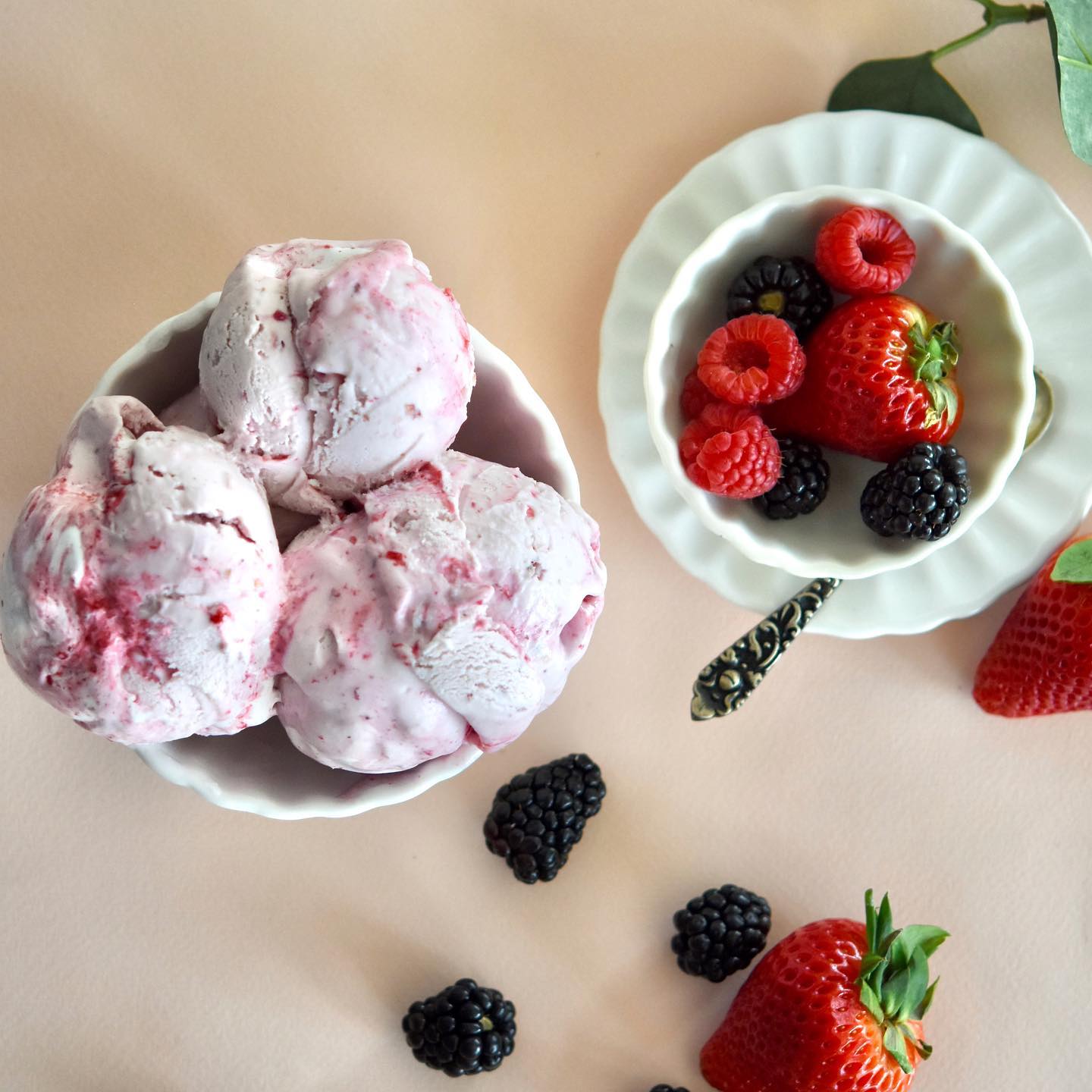 All of the above are too ulu? Fret not, The Daily Scoop is here. 
Beginning in 2004 as a small cafe in Sunset Way, the Daily Scoop has branched out since, opening five branches all over the island from Clementi to Sembawang. 
The ice cream here is freshly made daily in each of the cafes, as TheBestSingapore explains, and if you are lucky, you might just see a tantalising batch being made in front of your very eyes.
Fan favourites include Lychee Martini, a fruity mix of fresh lychee juice and potent vodka, and Maple Crisp, a rich, sophisticated blend of maple syrup and crispy almond pralines. Prices start at S$3.50 for one scoop and S$5 for two.
Oh, don't miss out on their warm waffles (S$5) either, so warm and chewy they are worth a visit on their own.
---
Advertisements
---
The Daily Scoop Ice Cream Cafe: Multiple locations including Clementi, Holland Village, Sembawang, and Bedok Reservoir
10. Merely Ice Cream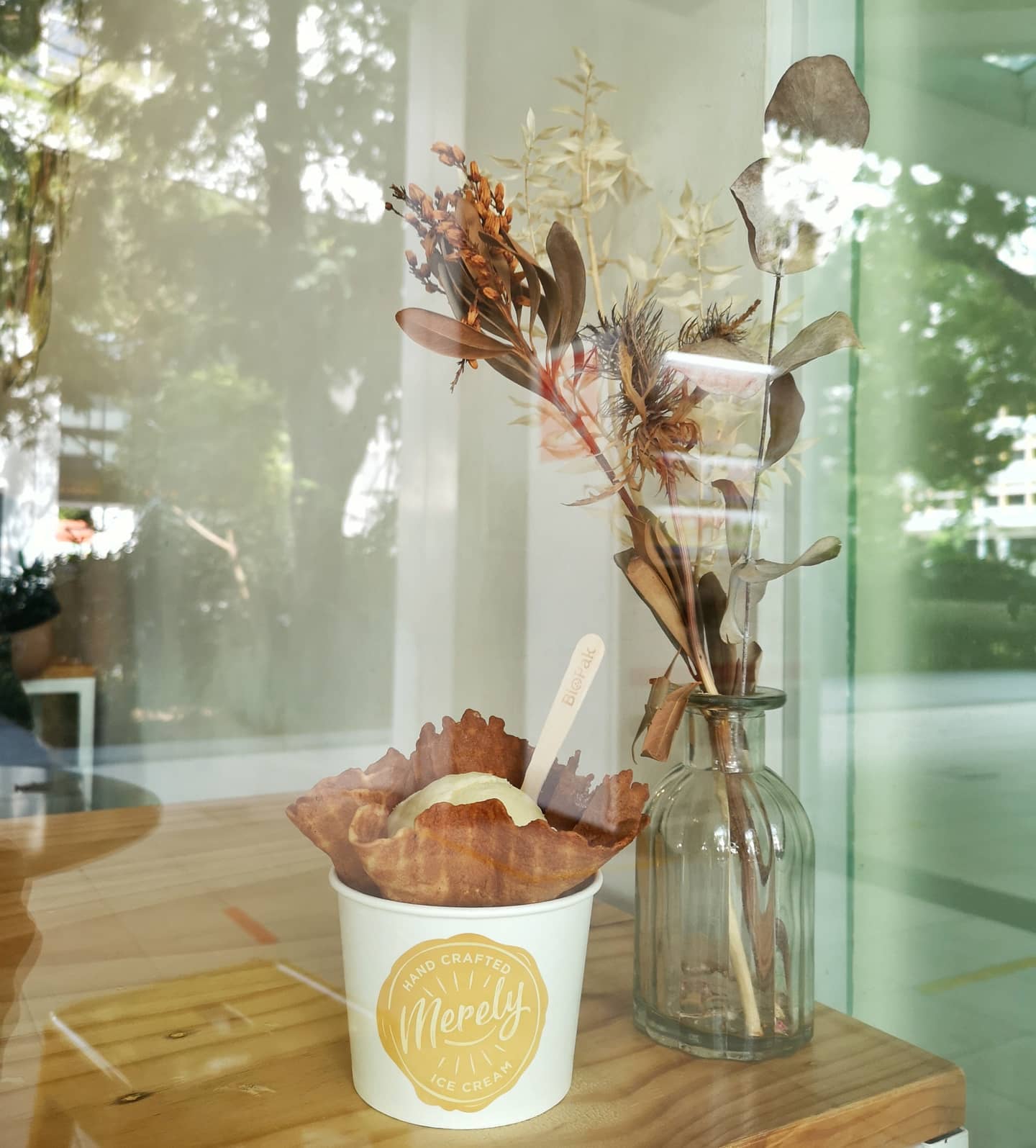 Merely ice cream is no mere ice cream. 
This ice cream parlour was founded with the ambition to showcase what merely common ingredients can do, and its cult following has certainly proven its success. (One review declares it the best ice cream in Tampines).
Customers can enjoy its icy goodness (S$3.30 for a single scoop) in a cozy shop adorned with colourful murals. A must-try is their classic chocolate, made from a premium Valrhona cocoa powder that lends the ice cream a rich but not overpowering taste of cocoa.
Merely Ice Cream: multiple locations including Sunshine Plaza and Our Tampines Hub
---
Advertisements
---
Featured Image: Facebook (Kind Kones Singapore/The Humble Scoop)
---
A new virus has been identified in China, and it's infected 35 people. Would it be the next COVID-19? Watch this and you'd know: