You'd never have imagined that in 2021, you'll still be interested in books instead of, say, e-books or apps like Goody Feed.
But we are, and it's all because of the owner of BooksActually and his sexcapades in his own business, which you can read all about here.
So, without further ado, here are 10 facts about BooksActually, the local bookstore that everyone is talking about now.
1. An Independent Singapore Bookstore
According to the BooksActually website, it is an independent Singapore bookstore started back in 2005.
It was founded by Kenny Leck and Karen Wai back on 8 Oct 2005, and they held group book fairs at the National University of Singapore (NUS) to gain publicity. The official opening of the bookstore, however, was on 29 Nov 2005.
The bookstore specialises in Fiction and Literature, including "Poetry, Essays, Literary Journals, alongside obscure, critical works and antique/rare editions".
Of course, they're also popular for selling locally published books.
2. What The Name Means
You've got to admit; BooksActually is a really catchy name.
As for where the inspiration comes from, it's apparently from the bookstore's original tagline: "Books actually worth buying".
3. How It Was Found
So, the story goes that BooksActually was born at Borders; Owner Kenny Leck thought of the idea when he was working as an inventory specialist at Borders.
While working there, he met Rachel Chee, later a minority shareholder with BooksActually, and later met Karen Wai, the co-founder of the bookstore, through a mutual friend.
All of them agreed that there was a need for a niche bookstore selling titles that are unavailable at major bookstores here in Singapore.
He had initially wanted it to be solely online but was convinced by Wai's aspirations to make it offline.
4. Tough Times
BooksActually was first located on Telok Ayer Street and during its early years, survived mainly on friends' recommendations.
Sales were low and the pair went through tough times, with Leck's parents passing away during this period.
However, what the shop did not make in sales, was made up with accolades.
---
Advertisements
---
In 2007, BooksActually was included in The Straits Times power list and branded as a "locus for the local arts community"
The shop was eventually moved around a few times due to rising rents and the owner wanting the space back, before eventually settling down at its last location in 2011.
The bookstore went on to create its own publishing arm, Math Paper Press, and stationery brand, Birds & Co.
5. An Iconic Pillar of S'pore's Literary Community
For the past 16 years, BooksActually made itself into one of the iconic pillars of Singapore's literary community.
BooksActually is also known (and beloved) for its cats and the championing of local writers and hosts several events on its premises.
This includes book launches, readings and exhibitions where writers can gather to read out their writings, reading and signing sessions, and more.
---
Advertisements
---
It served as the 2018 Singapore Writing Festival (SWF)'s official bookstore and is closely affiliated with well-known literary groups such as the SingLit Station.
Leck also served as the co-chair for the #BuySingLit movement before he stepped down in 2019.
6. Published Big Names
While Math Paper Press calls itself a small publisher, it has published several big-name authors in Singapore.
This includes Singapore Literature Prize-winning poets Joshua Ip and Cyril Wong and Alvin Pang's What Gives Us Our Names.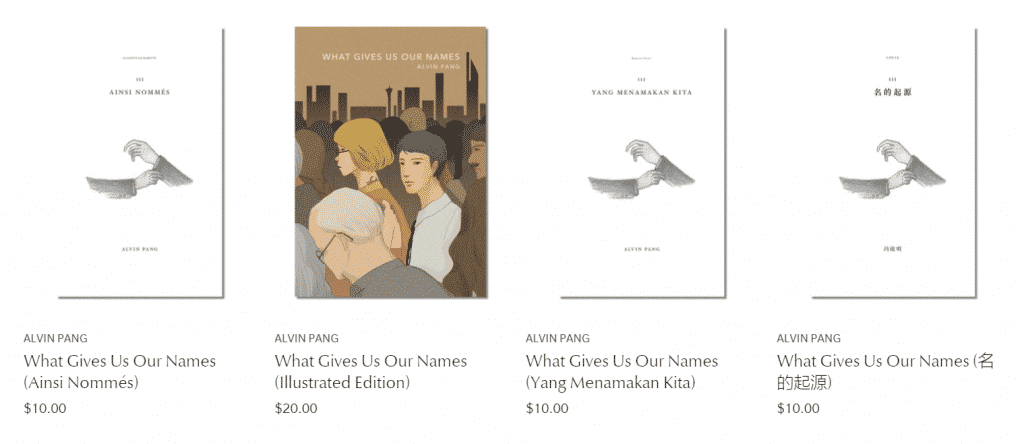 As of the time of writing, there are 189 books on sale in the Math Paper Press section on BooksActually online store. 
---
Advertisements
---
7. From Offline To Online
BooksActually owner, Kenny Leck had a dream for BooksActually to own a permanent space, and even tried to raise funds for it by selling…erm, bricks.
Like, literally, bricks.
Unfortunately, COVID-19 hit and on 13 Sep 2020, the local bookshop announced the permanent closure of its physical store.
Instead, they will be operating solely online, delivering books to your doorstep.
They said that they would, however, continue to hold their iconic events and pop-up stores.
---
Advertisements
---
8. COVID-19 Boosted Their Online Store
When news about BooksActually's physical store closure broke out on the internet, owner Kenny Leck was keen to inform fans and supporters that this isn't the end of the bookshop's dreams.
They've merely shifted into a new medium.
As for why they've decided to take this step, it's because COVID-19 gave BooksActually its "Online Sea Legs".
After operating as an online bookstore for six months, he felt that it was time to make BooksActually fully online after witnessing the online store doing better than the physical one by up to 20%.
9. Not The First Discrepancy
Remember when we wrote above about Leck's dream to make a permanent storefront for BooksActually and his fund-raising attempt?
---
Advertisements
---
Well, apparently, this didn't go right with everyone and cartoonist Sonny Liew once raised questions about it in 2018.
He took to Facebook to question the transparency of the attempt but was reportedly met with responses describing BooksActually as a business that faces "a lot of challenges", and that people will continue to "support and donate" no matter how the funds are being used.
10. What's Next
So is that the end of BooksActually? Maybe not.
If you've been keeping up with social media, you'd know that Kenny Leck has stepped forward to publicly address the speculations.
He claims that he's left the running of BooksActually to his team of employees.
---
Advertisements
---
He will also be ceding "full legal ownership and directorship of BooksActually Pte Ltd to the current team, who will be the new owners."
While literary groups and even the National Art Council (NAC) of Singapore has disavowed all ties with this once-glorious bookstore, some have expressed their willingness to work together with BooksActually once again after the promised changes take place.
This includes the changing of ownership as well as the drafting of SOPs in the workplace.
So, yes, BooksActually might just go on, just not under the direct leadership of its original founder.
Although no one knows who the new owners are.
---
Advertisements
---
Read Also:
Feature Image: Facebook (BooksActually & Kaplan Singapore)
---
A new virus has been identified in China, and it's infected 35 people. Would it be the next COVID-19? Watch this and you'd know: