---
Advertisements

---
Photos of a purported 12-year-old boy who reportedly stole a bus belonging to private bus operator A&S Transit have circulated on Instagram and Facebook. 
He reportedly stole the vehicle to go on a joyride, surprising some netizens and causing others to be upset at the recklessness of his behaviour.
According to reports, the boy drove the bus for five hours in the morning, travelling approximately 100km across Tampines, Bedok, Pasir Ris, and Punggol before ultimately leaving the vehicle and crashing it.
Joyride Started in Tampines
View this post on Instagram
On 12 April 2023, a local account specialising in transit-related news reposted information regarding the incident to Instagram. 
The boy allegedly trespassed onto two A&S Transit buses parked at Tampines Avenue 9 before stealing one and attempting to drive it away. CCTV cameras recorded his actions, and eyewitnesses notified the bus operator, who contacted the police.
The boy reportedly travelled to five different locations, driving at speeds of over 100km/h and consuming a quarter of the diesel fuel in the vehicle. It is difficult to imagine how this 12-year-old boy avoided injuring anyone during this period.
To put this into perspective, the boy was illegally operating a large vehicle at speeds equivalent to a cheetah's maximum running speed and half a skydiver's freefall speed.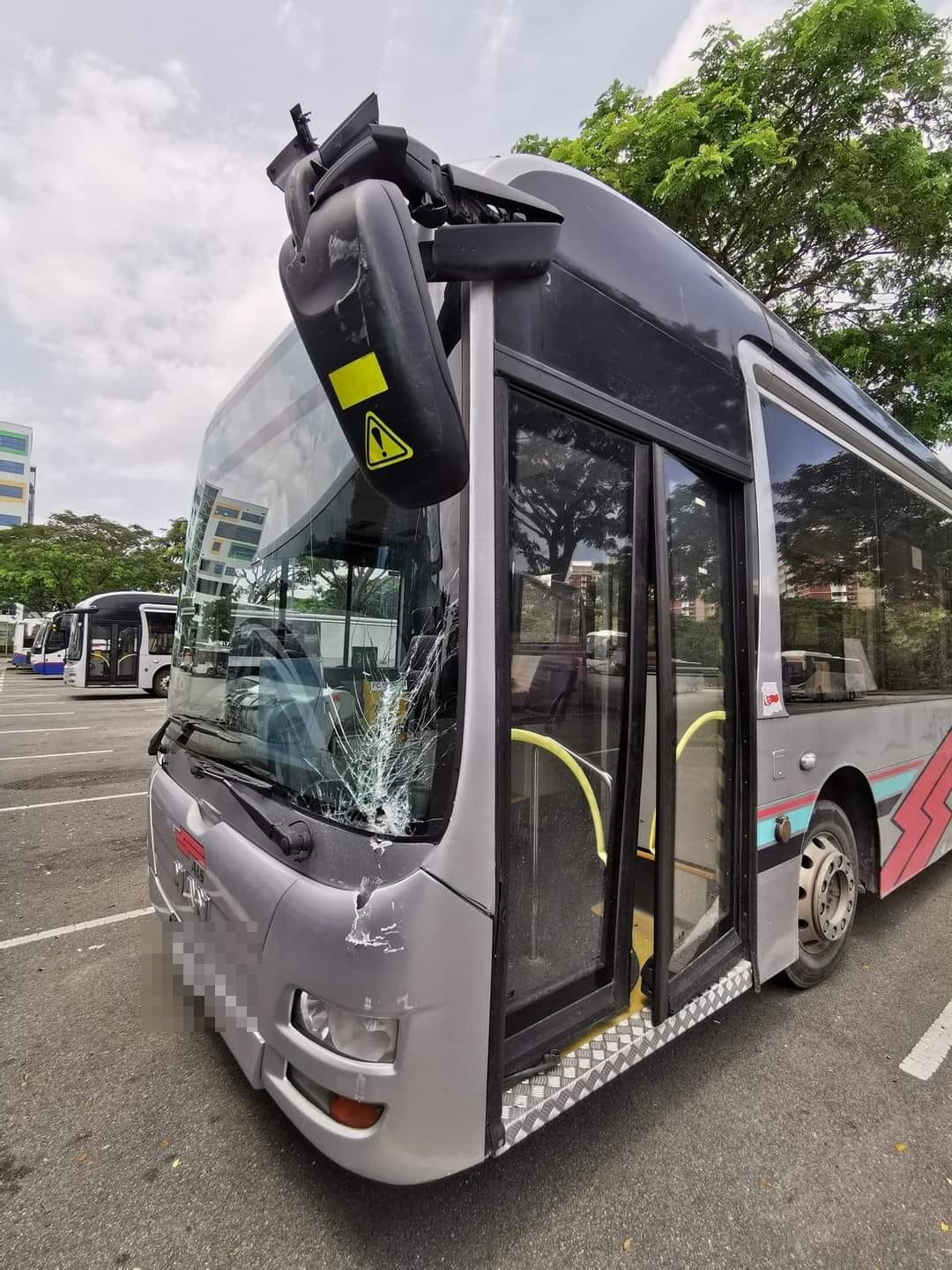 The user claimed that the police pursued the boy, and he eventually crashed the bus, causing significant damage. He then abandoned the vehicle in a bay before getting apprehended by the officers.
Not His First Attempt
It has been reported that the boy may have attempted to hijack other A&S Transit buses earlier that night, suggesting that this was not his first attempt.
On 12 April 2023 at 12:04 pm, the police were notified of a motor vehicle theft case along Tampines Avenue 10 and have since confirmed the incident.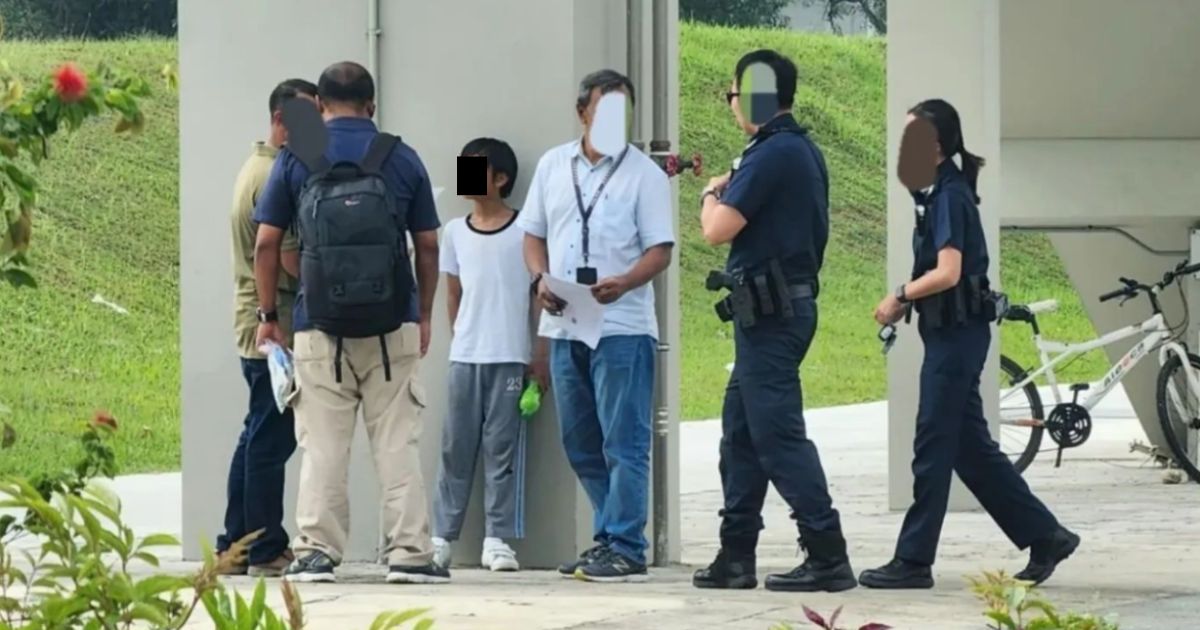 Photos of the boy surrounded by the police have surfaced, and one netizen noted that he appeared to have a sheepish smile. The lack of remorse shown by the boy angered the netizen, who finds it hard to believe that he could still smile after committing such an act.
The netizen proclaimed that the boy seemed to disregard the safety of others and the potential damage that he could have caused.
It has been reported that the boy is currently cooperating with the police as they conduct their investigations.
Possible Motivations Towards Reckless Behaviour 
While this case is already unusual, it is even more bizarre to discover that a similar incident took place on 7 August 2022, where an 8-year-old crashed into a Lexus after his parents left him in their BMW car. 
As the investigation into the current case involving the boy is still ongoing, it is unclear what could have motivated and influenced him to commit the act. 
However, according to an article by ParentCircle, a popular online parenting portal in India, where illegal driving among youths is commonplace, parental influence may play a significant role.
The article emphasises that parents should be mindful not to encourage a careless attitude towards driving. Instead, they should set a good example for their children by adhering to safe driving practices such as wearing helmets and seatbelts, obeying traffic rules, and avoiding speeding.
The Association for Psychological Science also warns against a casual attitude towards driving, as it requires several cognitive skills, such as executive functioning, visual processing, information processing, and memory.
Since younger individuals, such as the 12-year-old boy, may not have developed these skills fully, they are more likely to make errors while operating the complex machinery of a vehicle, which can pose a significant risk to the safety of others.
Possible Consequences for the Boy's Actions
Although the boy did not cause harm during his five-hour joyride, it is essential to acknowledge that if he weren't a minor, his list of offences, such as driving without a valid license, reckless driving, and motor vehicle theft, would prove to have harsher consequences on him.
The minimum age to obtain a Qualified Driving License (QDL) in Singapore is 18 years old, and those found guilty of driving without a valid license could face a fine of up to $10,000, imprisonment of up to three years, or both.
---
Advertisements

---
Moreover, for first-time offenders of reckless or dangerous driving, the penalty includes imprisonment of up to 12 months, a fine of up to $5,000, or both. Individuals who commit theft in the dwelling or theft of a motor vehicle in Singapore may face imprisonment of up to seven years, a fine, and a driving ban, if applicable.
The authorities would try the boy in the Youth Courts of Singapore if apprehended or summoned to court for his offences. The Youth Courts have specific regulations to safeguard young offenders, such as not labelling them as "criminals." 
Instead of "sentences," youths found guilty will be subject to "dispositional orders" and will not be exposed to adult criminals from arrest to trial. Due to his young age, the boy may receive a lighter punishment than the usual sentencing standard applied to adults.

Fresh grads, you don't need any experience to earn up to $4,200 with this "secret":
Read Also: