In our everyday life, we will sometimes come across these men in blue.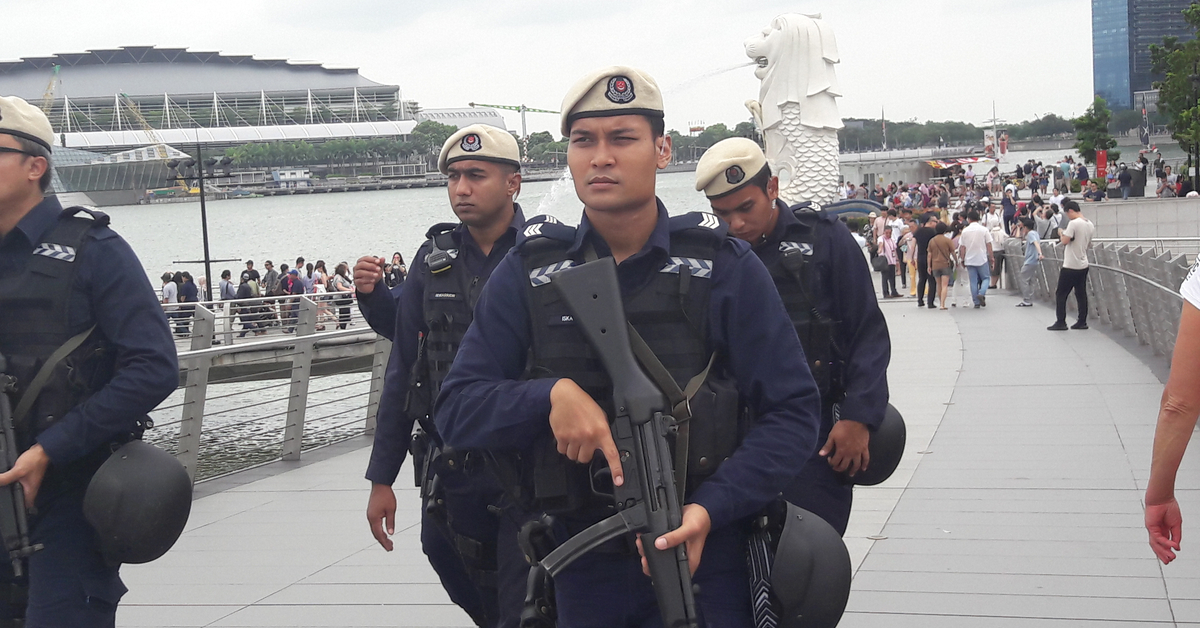 And while we may be taught to respect them, we don't actually need to be scared of them when they're around.
Ever had a situation where they checked your IC at an arcade? They probably knew you did nothing wrong but are just doing their jobs.
At least it means you look young.
Just don't panic and do something dumb like bribe your way out of it.
PHV Driver Tried to Bribe Cop
On 20 Nov, a 47-year-old man was sentenced to four weeks of prison.
Nicholas Low Ooi Leng, who worked as a private-hire driver, apparently tried to bribe a police officer.
However, he wasn't charged with any other crimes.
Bribing a police officer could have landed Low five years in jail, fined up to S$100,000 or both.
So what made him do it anyway?
Woken Up While Drunk
This is, both hilariously and sadly, a real scenario.
Low was celebrating his friend's birthday at Avry Club downtown on 8 April 2018.
He got massively drunk after consuming two bottles of wine and a few glasses of whiskey, the latter offered by the floor manager.
Low remembered Avry closing at 6am and heading over to Promenade MRT.
He fell asleep while waiting for the first train, which was due to come at 6.30am, before being woken up at 6.50am by four police officers.
---
Advertisements
---
They asked if Low was ok and got a thumbs-up from him in response.
Deputy Public Prosecutor (DPP) Charis Low also said that he was aware of his surroundings.
The Bribing
Eventually, one of the officers asked for the man's IC.
Low, thinking he was getting caught for public nuisance, took out around S$39.80 to try and bribe the officer out of punishment or to give some leniency.
Guess he wasn't sober enough to realise that it was a bad idea, particularly in Singapore.
But as we already know, that didn't work, and the officer told him to keep the money.
Low's lawyers said that he was very intoxicated and disoriented by that time.
In fact, a medical report revealed that at 3.19pm that day, his blood alcohol concentration was 99mg/100ml.
This is way higher than the legal limit to drive, which is of 80mg/100ml.
---
Advertisements
---
All of this to avoid a crime he didn't do but ended up doing something else anyway.
Other Major Bribery Cases
Bribery is a dishonest act but even in this case, some may still chalk it up to Low being drunk.
However, in another more recent incident, the accused was certainly fully sober.
Earlier on 24 Oct, a 43-year-old Singaporean company director tried to bribe a Malaysia customs officer.
He entered Malaysia under the Reciprocal Green Lane arrangement, which allowed him to stay up to 14 days but had to be quarantined on arrival.
---
Advertisements
---
The man tried to bribe his way out of quarantine with around S$33 but got detained instead.
He was eventually fined around S$3270 and jailed for two weeks.
Featured Image: TheCorgi / Shutterstock.com
Like writing? Goody Feed is looking for writers! Click here for more info!