Imagine this – it's a nice, random day in November, and you're casually walking around Orchard Road when you suddenly hear a familiar tune erupting from stores around you.
A tune that you'd know anywhere – as soon as the opening notes of "All I Want For Christmas" hits you, you realise that Christmas is approaching faster than you think.
And you haven't actually prepared anything for it, nor bought any gifts for anyone.
Well, before the dread starts to sink in, fret not for we've got you and your Christmas plans covered – all in one place.
We're all familiar with CapitaLand and their wide variety of shopping malls – but did you know they actually have an app where you can access services while also earning rebates that will help your wallet?
Called CapitaStar, it's Singapore's leading lifestyle and shopping rewards app where you can discover the smarter way to shop and be rewarded with STAR$® for your everyday spend across CapitaLand Malls, eCapitaMall and Capita3Eats.
What can you do with the STAR$®, I hear you asking.
You can get to offset your purchases with these STAR$® or even exchange them for eCapitaVouchers on the CapitaStar app.
And this is when this article will come in handy.
Shop For Gifts Online
It's probably the hardest thing ever to decide what Christmas gifts to get for your loved ones – what they liked last year may not be what they like this year, either.
Nothing's worse than making the trip down to malls to shop for gifts and winding up not finding anything at the end of the day.
Well, now you can browse through shops online first before deciding on items you want to pick up at physical stores, or vice versa, with the eCapitaMall.
Most merchants on the online mall have physical outlets in CapitaLand's malls, making it easier for you to alternate between these flexible methods of shopping.
Now you can take your own sweet time browsing for gifts you're sure will be perfect.
Order Christmas Feasts Online
You're probably wondering how you and your family are going to enjoy a nice Christmas feast together while still adhering to social distancing rules.
Hopefully by then, we'll be allowed to dine in in groups of more than two – but in case we can't, there's always the option of ordering takeaway.
It's a lesser known fact that CapitaLand has their own food delivery system called Capita3Eats, where one can order food for takeaway or delivery from F&B establishments in CapitaLand Malls through Capita3Eats.
So you'll still be able to enjoy a scrumptious dinner at home – the Christmas spirit is what truly counts in the end, right?
Collect Molly My Childhood Series Character Stamps
And perhaps the most attractive part of it all, something Singaporeans can never resist – earning points to get discounts.
Just like Squid Game, CapitaStar is holding 1 Million STAR$® (worth $1,000 eCapitaVoucher) above our heads in a giant gold piggy – with the same premise of being the final winner of a game to earn them.
All one has to do is download the CapitaStar app in order to collect Molly My Childhood Series Character Stamps from 11 November to 31 December 2021, and ten lucky winners who collect all seven stamps will win the grand prize.
In addition, the first 100 members who collect all 7 Molly Character Stamps will receive an exclusive set of Molly Merchandise!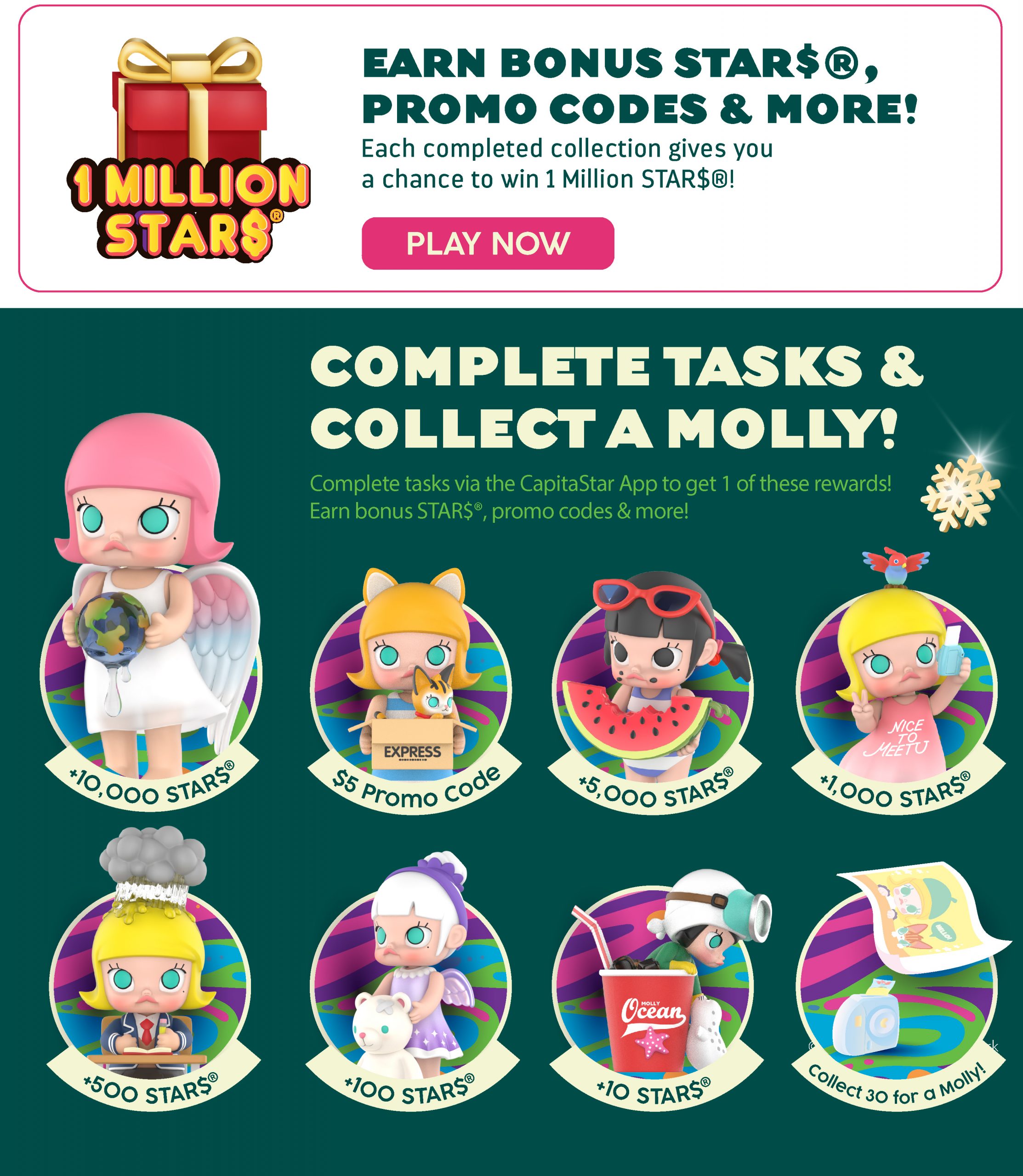 How cute are they?
It's rather simple, too, for you can just complete tasks on the app such as ordering $20 worth of food on Capita3Eats daily, or purchasing eCapitaVouchers in order to earn those stamps.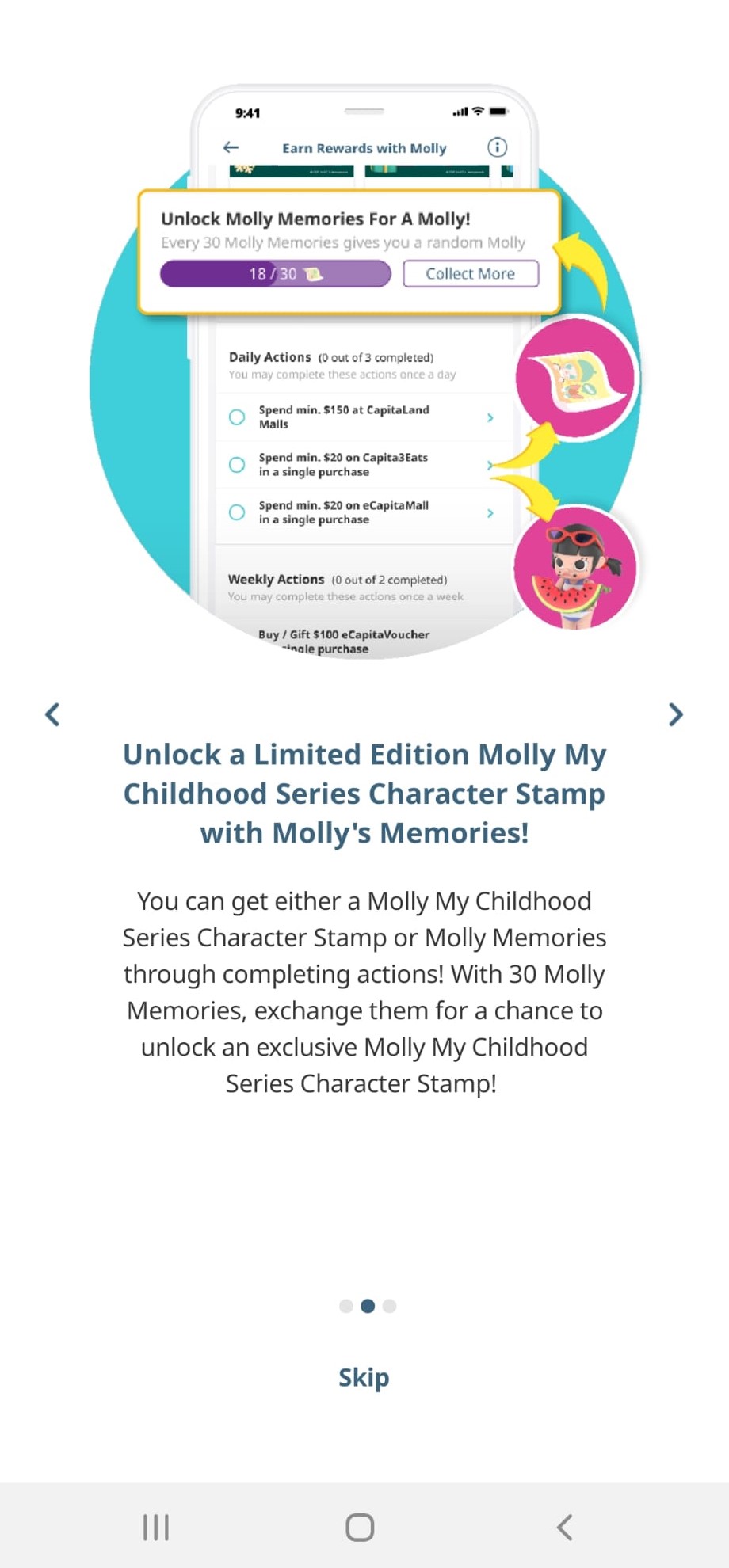 One can also enjoy rewards such as free STAR$®, which can be exchanged for eCapitaVouchers!
STAR$® can also be collected by spending at CapitaLand malls, including simply shopping online with eCapitaMall and Capita3Eats.
On top of that, new users of the app will also receive a free $5 eCapitaVoucher upon downloading the app and entering the promo code CSTAR2021 – while one can earn up to $150 of eCapitaVouchers for referring friends.
Well, if money's only going to be going out of our wallets this Christmas, why not try to win something out of it too, huh?
This article was first published on Goody Feed and written in collaboration with CapitaStar.