Christmas without alcohol is like a coffee shop at night without two uncles fighting: strange and unsettling. 
Though we've done enough drinking in 2020 for the next decade, Christmas always presents an opportunity to indulge in both food and alcohol without drawing too many looks from your friends and family, as they're usually drinking too.
But unlike talk, alcohol isn't exactly cheap.
Why else would BYOB be a thing?
Well, if you want to add a little drunken fun to your Christmas party but are scared to even check your bank account, I might have something you'll be interested in.
Don't Say Bojio: Corona Beer at Less Than $1.50 Per Bottle in Online Warehouse Sale
It's time to splurge, as Cellarbration is having its annual alcohol warehouse sale!

With a vast array of wine, beer, spirits, and whiskies on offer, you'll be spoiled for choice.
But let's start with everyone's favourite: beer. 
While wine and whiskies have their place, there's nothing like a cold, refreshing beer to wash down your Christmas meal with.
And Cellarbration has a host of beers to choose from.
The best deal of their annual warehouse sale has to be the clearance sale for bottles of Corona Extra.
Believe it or not, Cellarbration is selling a case of the Mexican-made beer for just $35.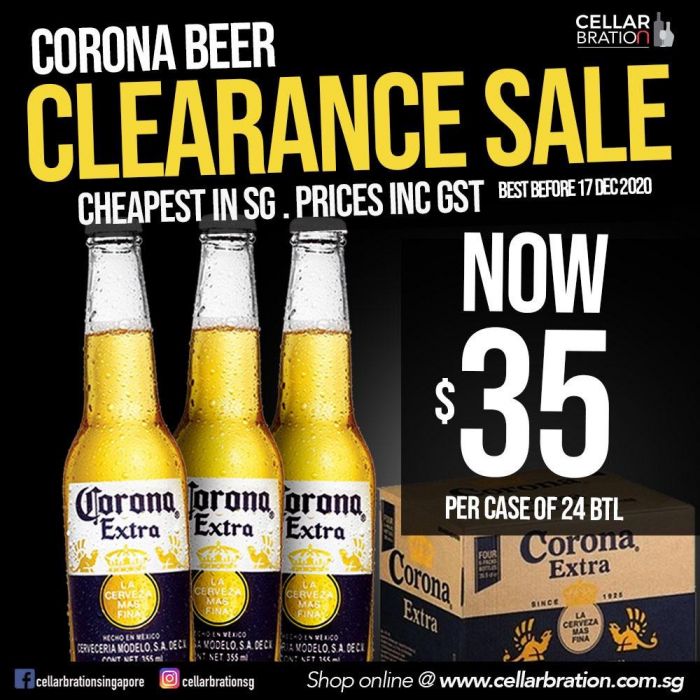 Each case has 24 bottles, meaning each bottle will cost around $1.45. 
Have you ever bought a bottle of beer for just $1.45?
---
Advertisements
---
Reader: I have, actuall-
Not from a guy on the street.
Reader: Oh, then no.
The Corona promo will only be available until 15 Dec, however, so you should probably order a case before it's too late!
The best-before date for the bottles of Corona is listed as 17 Dec, but it's safe to drink beer well past the best before date.
The only thing that might deteriorate is its flavour. Just store it in a cool, dark place, to avoid skunking.
Drive-through for Beer
If you're only purchasing beer from the warehouse, you could go down with your car as the warehouse has its own drive-through for beer.
Simply drive through the tentage area, tell the staff your order, and let them load the beer into your car.
Once you pay for your purchase, you're free to drink your bottles of beer (after you reach home of course. Don't drink and drive).
---
Advertisements
---
Up to 60% Discount On Other Alcoholic Drinks
As part of their warehouse sale, Cellarbration will be offering discounts of up to 60% on over 800 alcoholic beverages, including wine, spirits, whiskies, and more beer.
Here are some notable entries on the list:
Budweiser (48 bottles x 355ml): $118 (U.P. S$180)
Hoegaarden Rosee (24 bottles x 250ml): S$39 (U.P. S$72)
Wolf Blass Black Label 43rd Cabernet Shiraz Malbec: S$82 (U.P. S$153)
Monkey Shoulder: S$86 (U.P. S$135)
Glenfiddich Reserve Cask: S$86 (U.P. S$155)
Absolut Blue Vodka (1-litre): S$59 (U.P. S$129)
They're also offering Christmas bundles, including a 2-bottle Bailey's set for $64, and two bottles of Johnnie Walker Red Label for $79.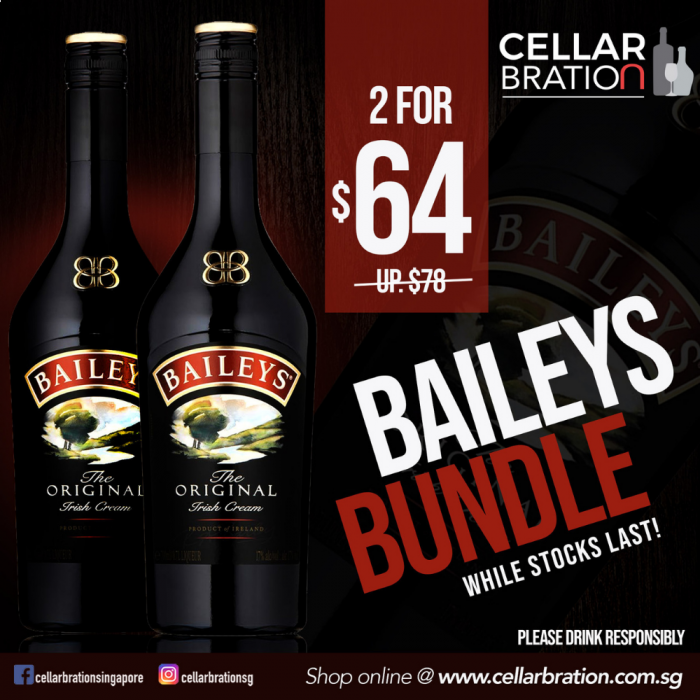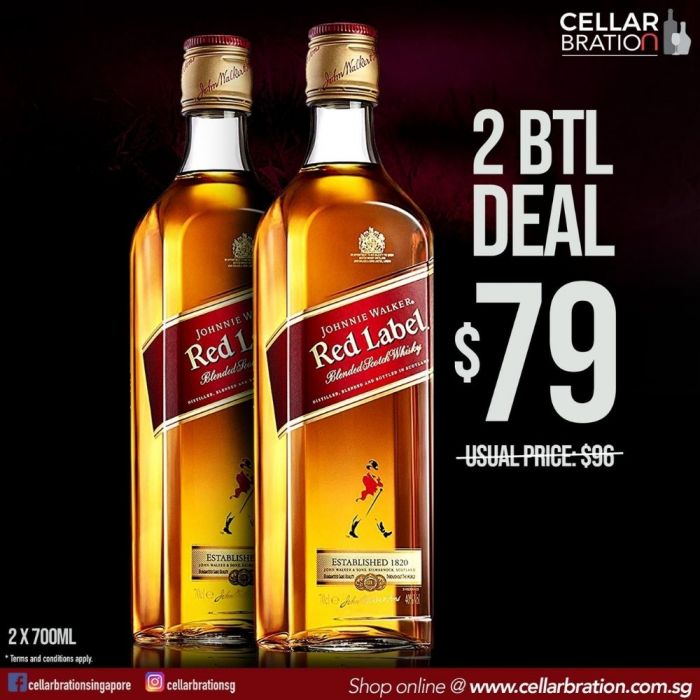 ---
Advertisements
---
You can head to Cellarbration's website to scour their entire catalogue of beverages and purchase your drink of choice.
You could also visit one of their four outlets across the country if you'd like to have a browse:
Plaza Singapura – 68 Orchard Rd, #B2-63, S238839
Opening Hours: 11am – 9pm, daily
Public Holiday Hours: 11am – 9pm
Ubi Showroom – 361 Ubi Road 3 ,#01-00, S408664
Opening Hours: 10:30am – 7:30pm Daily.
*Saturday & Sunday Hours: 10:30am – 6:30pm.
*Closed on Public Holidays.
The Seletar Mall –  33 Sengkang West Avenue #01-48, S797653
Opening Hours: 10am – 8pm Daily.
*Public Holiday Hours: 10am – 8pm.
Marina Square Shopping Mall – 6 Raffles Boulevard Marina Square, #03-216A, S039594Opening Hours: 11am – 9pm Daily.
*Public Holiday Hours: 11am – 9pm
If you're planning to order a truckload of alcohol, you'd be happy to know that Cellarbration is also offering free delivery for purchases over $99!
Aside from the Corona deal, the other discounts and promotions will be on offer until 31 Dec, so get yours before stocks run out!
Featured Image: Cellarbration
---
Advertisements
---
Like writing? Goody Feed is looking for writers! Click here for more info!