---
Advertisements

---
Lest you're unaware, Changi Airport has been pretty happening of late.
One may, for instance, recall the all-new digital waterfall at Terminal 2 that went viral on the net.
And then there's the RSAF emergency landing that occurred just days ago, on 14 November 2023.
And it does not end there. Apparently, Jewel is getting an "upgrade":
And it's in none other than an all-too-familiar Italian plumber style.
Jewel Changi Airport Transforms
Welcome to Jewel Changi Airport, a destination where you strive to hop on pipes and feast on glowing stars.
Or at least, that's what the new super feature "promises".
As the year-end holiday season approaches, Jewel Changi Airport has launched an all-new event centred around arguably the most popular Nintendo character of all time:
Mario.
That's right; from now till 1 January 2023, there will be Mario-affiliated photo spots, meet-and-greet sessions, and limited-time merchandise for fans of the video game franchise.
Pipe Around the World at Jewel
Titled "Pipe Around the World at Jewel", the holiday extravaganza promises just that: lots of pipes.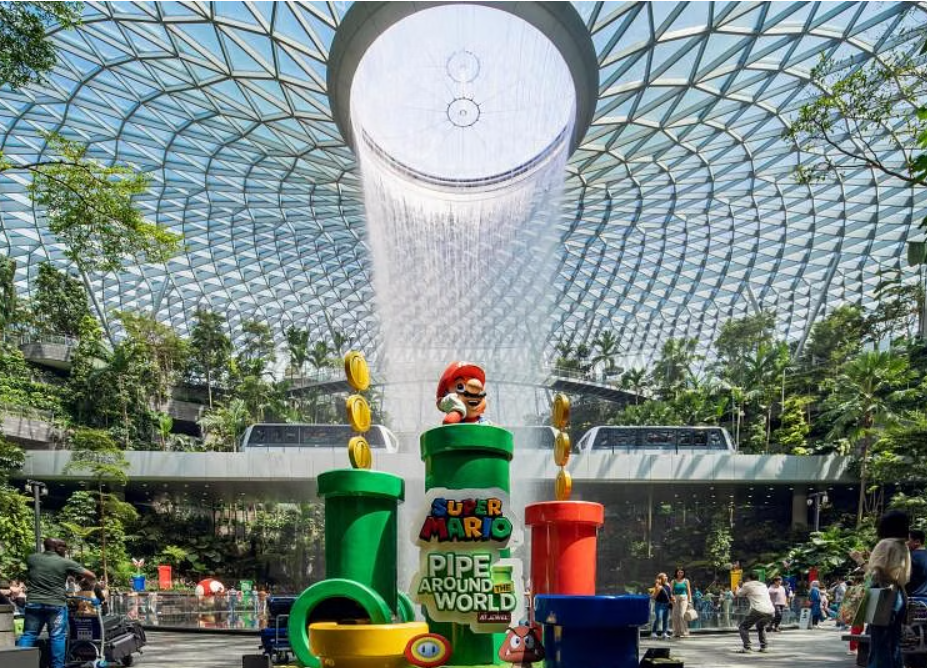 Indeed, some 56 pipes, inspired by the original video game designs, will reportedly be spread throughout Jewel.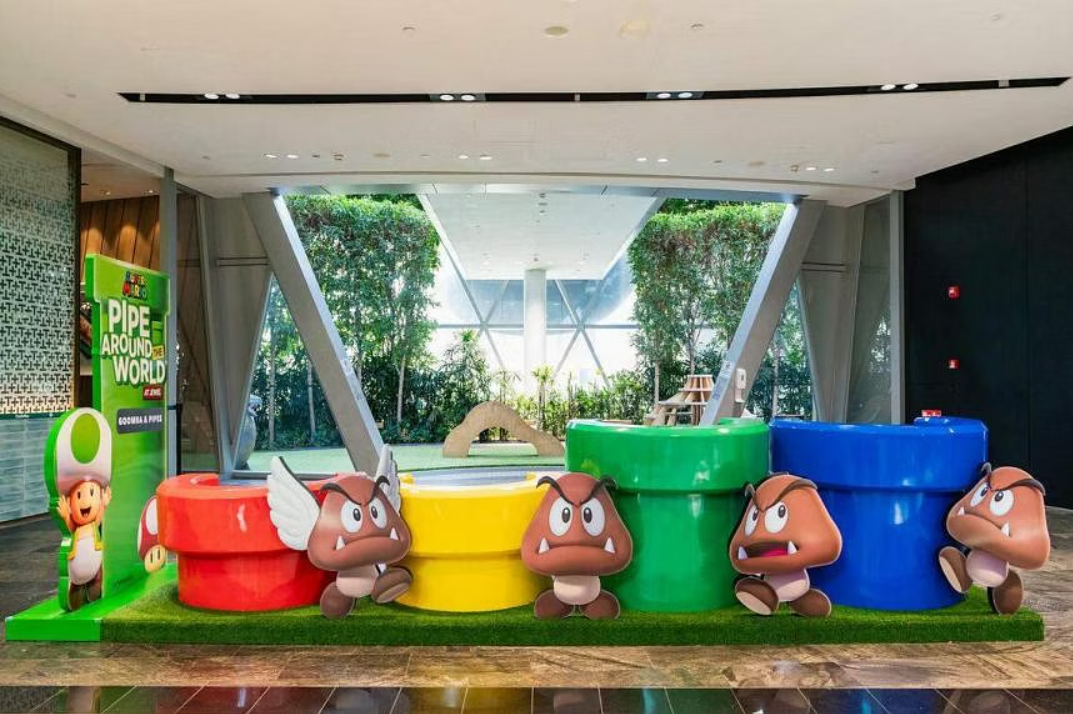 And then there's Shiseido Forest Valley, which boasts photo spots of much-loved characters and items.
Meanwhile, the South Gateway Garden, which is situated on the mall's second level, will feature exclusive meet-and-greets from 17 to 19 November 2023.
Taking place three times a day at 12 pm, 2 pm and 4 pm, the public will be able to interact with the two titular characters of the franchise: Mario and Luigi.
Specially curated merchandise will also be made available. These include the likes of a 2-in-1 cushion and neck pillow, a travel organiser, a canvas bag and a travel pouch.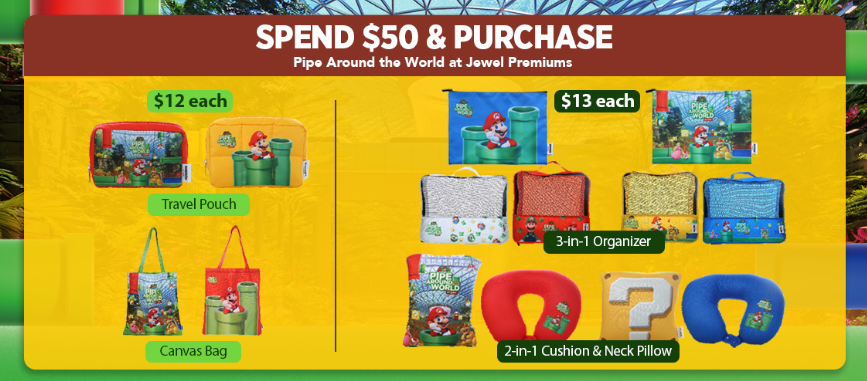 It should be noted that the Nintendo pop-up store, which opens from 17 November to 1 January 2024, will feature Super Mario-themed crockery and other Nintendo-related apparel.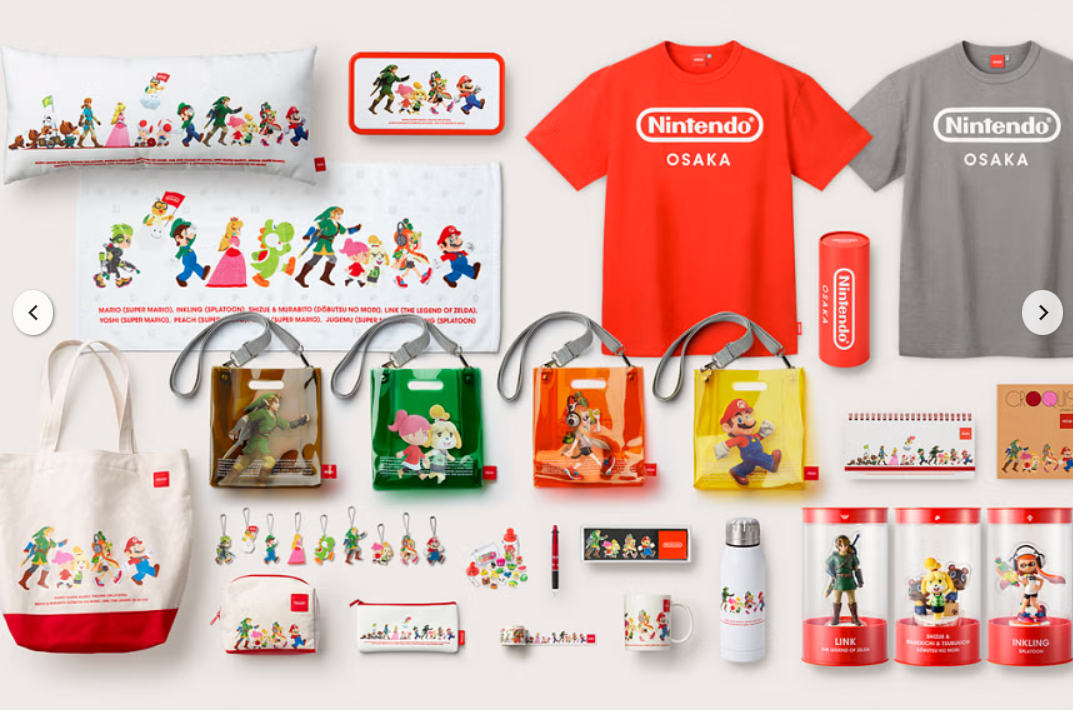 Happening
As we prepare to embrace the festive season, here are other offerings you can expect from Jewel Changi Airport.
For starters, a 16-m tall Christmas tree will be situated near the main entrance of Shiseido Forest Valley.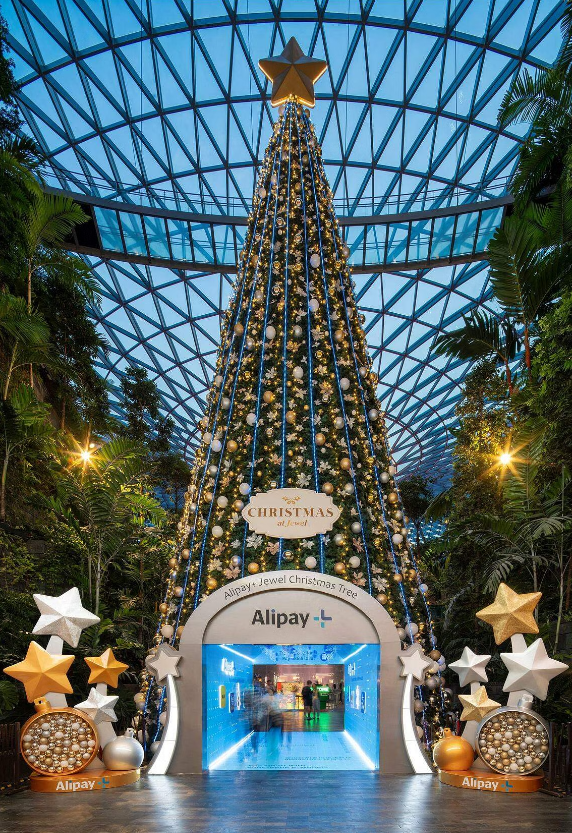 This will be a perfect spectacle before you spam all those Super Mario photos.
Apart from Shiseido Forest Valley, you can also expect to see various Christmas highlights and experience magical snowfall at Canopy Park.
---
Advertisements

---
Soak in the festivities with their fairy lights and lighted arches.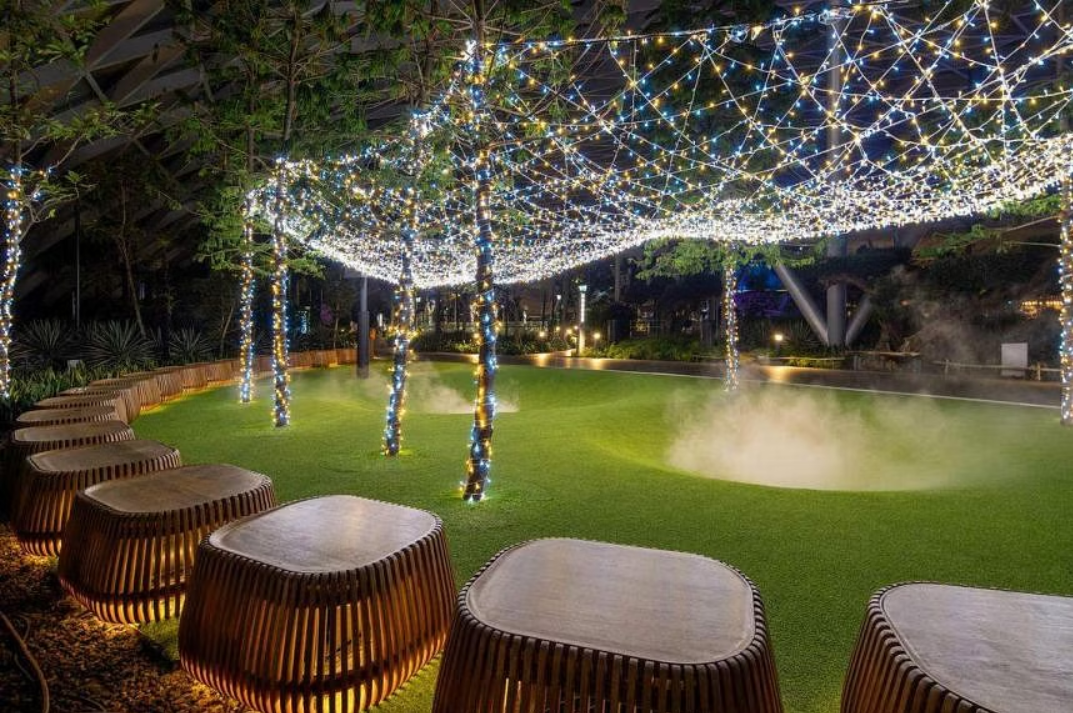 There will also be a Christmas-themed light show at the HSBC Rain Vortex, with festive melodies set to play every evening at 7:30 pm, 8:30 pm and 9:30 pm.
An extra show will also be available at 10:30 pm from Friday to Sunday.
A concert will be taking place on 23 December 2023 as well. Local artistes such as Benjamin Kheng and Annette Lee are set to grace the stage, with the handbell ensemble Ministry of Bellz also appearing.
Singapore-based voice-over artist Naomi Yeo will host the show.
Prices are set at S$36.
---
Advertisements

---
Terminal 2
And if you've yet to check out the newly revamped Terminal 2, here's a sneak peek of what to expect over there.
For starters, it will be way more prominent than before, with an extra 21,000 sq m of space.
There's also the much-discussed Wonderfall, which sits 14 m tall and 17 m wide. Gawk at its timeless display as your ears soak in beautiful instrumentals composed by Jean-Michel Blais.
In addition, there's an immersive garden, a gourmet garden, Funko pop, and a robot bartender from Italy called Toni.
Also, curious folks can check out the Candy Carnival, a Changi Festive Village special that promises exciting games and rides.
---
Advertisements

---

Fresh grads, you don't need any experience to earn up to $4,200 with this "secret":
Read Also: