---
Advertisements

---
While most of us can probably relate to going back to our alma maters to visit our teachers during Teachers' Day, it's probably not every day when someone asks you if you're the teacher or if your teacher's the teacher.
But this happened to former Superhost winner Charlyn Lim, who decided to surprise her former Junior College (JC) teacher who has since become the principal of Kuo Chuan Presbyterian Primary School.
Lim, 44, decided to appear unannounced at the school over 25 years to surprise her teacher, Mrs Yee. The pair also recreated a photo of the two of them that was taken in 1995, and Lim later posted about this unique experience on her Instagram account.
View this post on Instagram
Netizens Can't Tell Who's the Teacher
However, after images of the duo's cheery reunion were posted, many commenters were left puzzled at one question: Which one of them was the teacher?
Many netizens were left amazed at how Lim and Mrs Yee looked around the same age, and Lim herself also wrote in her caption that her former teacher "hasn't aged a day".
For comparison, here are the two photos that were taken in 1995 and this year respectively: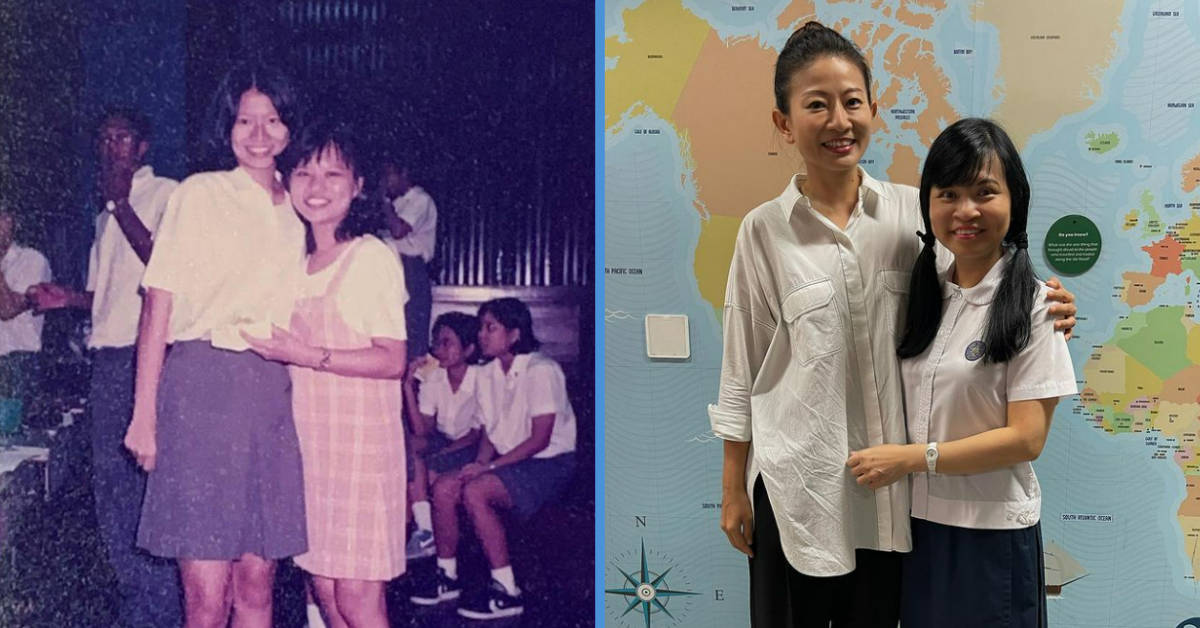 And for those who are still confused, Lim's the taller one on the left, while Mrs Yee is the lady on the right of both photos.
Many commenters praised Mrs Yee's youthful looks, with many of them saying that Mrs Yee still looked like a student herself.
Many Commenters Were Taught by Mrs Yee in the Past
And apart from the comments about her looks, there were also commenters who revealed that they were taught by Mrs Yee in the past and left comments of gratitude towards her.
An alumnus of Yishun Primary School recalled how she was a "very sweet person" who would constantly check in on how students were doing in school, especially for the Primary 6 students who were preparing for their Primary School Leaving Examinations (PSLE).
"I really like her so much and will never forget her," the commenter added.
A former student who was taught by Mrs Yee in Yishun Junior College said that Mrs Yee was "the best Math teacher" that she had ever had.
"She is so strict yet so patient with us all. I mean yes, ALL her students, and made sure we're able to realise our best potential," the netizen wrote.
Received 30-Year Long Service Award this Year
In the caption of her Instagram post, Lim also talked about how Mrs Yee was awarded a Long Service Award this year to mark her 30th year as an educator.
"She went from being a Math teacher in Yishun Junior College to Vice Principal in Northbrooks Secondary School, a Principal in Yishun Primary School and now in Kuo Chuan Presbyterian Primary School," Lim shared.
Join our Telegram channel for more entertaining and informative articles at https://t.me/goodyfeedsg or download the Goody Feed app here: https://goodyfeed.com/app/
Teacher Dressed Up as Student to Perform
And if you're wondering why Mrs Yee was clad in a set of school uniform and had pigtails, it was actually for a performance that she put up with the vice principals of her school.
Lim, who surprised her right before she went on stage to perform a song that she penned the lyrics for, filmed Mrs Yee's reaction to seeing her as well.
She also attached a photo of Mrs Yee performing on stage.
Read Also:
Featured Image: Instagram (@charlyn_mummy)

Fresh grads, you don't need any experience to earn up to $4,200 with this "secret":
Read Also: