---
Advertisements

---
What did you do to escape last month's sweltering heat in Singapore?
Most of us probably resorted to blasting our air-conditioners or stocking up on ice-cold drinks. Perhaps you used the weather as an excuse to treat yourself to an ice cream or bubble tea.
However, we now have a new idea of how to beat the heat. Or should we say, a man from Guangdong, China, did.
Young Man from Guangdong, China, Spotted Sitting in Fridge and Using Phone
On Wednesday (31 May), a man from Guangdong, China, found himself famous overnight after a clip of him sitting in a fridge and using his phone went viral on Weibo and Xiaohongshu.
I guess you could say he was bing-chilling. 
In the eight-second video, one can observe the young man using his phone while seated on a small pink stool in a fridge. The fridge appeared to be for storing beverages.
The Housing & Development Board (HDB) should take notes now—this is the new concept house to bring to life Josephine Teo's idea of a "small space".
The man then looks up and pushes the fridge door slightly open using his leg, looking pretty chill the entire time.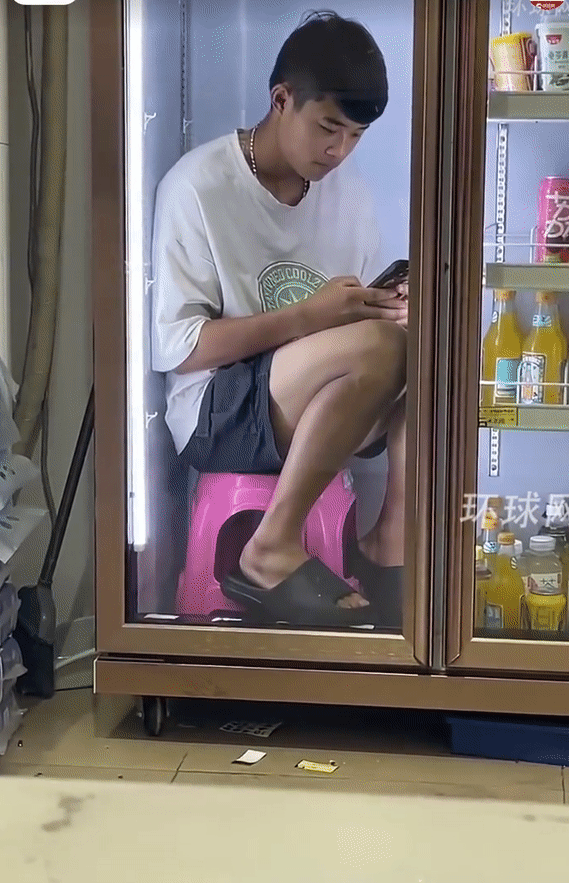 We have so many questions now. Is the surrounding area not air-conditioned? How cold is it in the fridge? Is the man up for sale like the drinks shelved beside him?
It is also unclear if the man works at the store where the fridge is. If he does, we hope his boss or manager didn't see this viral video.
Neighbours of the Sun: Temperatures in Guangdong, China, Forecasted to Remain Around 37°C in the First Few Days of June
Presumably, the man was hiding in the fridge due to the hot weather in Guangdong, China.
---
Advertisements

---
According to Guangdong Weather's Weibo post, on the day the clip was filmed, temperatures in Zhongshan reached up to 37.9°C, with many other cities in Guangdong recording temperatures higher than 37°C.
Join our Telegram channel for more entertaining and informative articles at https://t.me/goodyfeedsg or follow us on Twitter : https://twitter.com/goodyfeed
Literally, too hot to handle.
The Guangdong Meteorological Bureau also forecasted that the hot weather in Guangdong was here to stay awhile. This means temperatures up to 37°C for the first few days of June.
However, after this heat spell passes, residents in Guangdong can expect frequent rainfall and thunderstorms. Perhaps next week, we'll see the young man in the viral video sitting in an industrial oven.
Residents in Guangdong were also advised to keep themselves cool by using ice packs or drinking cooling beverages such as chilled watermelon juice or hawthorn iced tea.
We're guessing the man in the fridge didn't get the memo.

Here's a rather unexpected timeline of the $2.8 billion money laundering case in Singapore as revealed by Minister Josephine Teo during a parliament sitting on 3 October 2023:
Read Also: