---
Advertisements

---
Korean singer and celebrity Choi Sung-bong was found dead in his home on 20 June.
His cause of death is an apparent suicide, and he left behind a harrowing message for fans on his YouTube channel.
In the note, he mentioned his feelings of repent regarding an incident a few years' back where he faked having four types of cancer. 
Found Dead In His Home
Cho Sung-bong, 33, was found dead by police in his home in Yeoksam-dong on the morning of 20 June, at 9.41 am.
According to police, the cause of death is likely a suicide due to the situation at his place of death, as well as a message he left on his YouTube channel a day before he was found.
The message, written in Korean, was left behind in the "community" section of his YouTube page.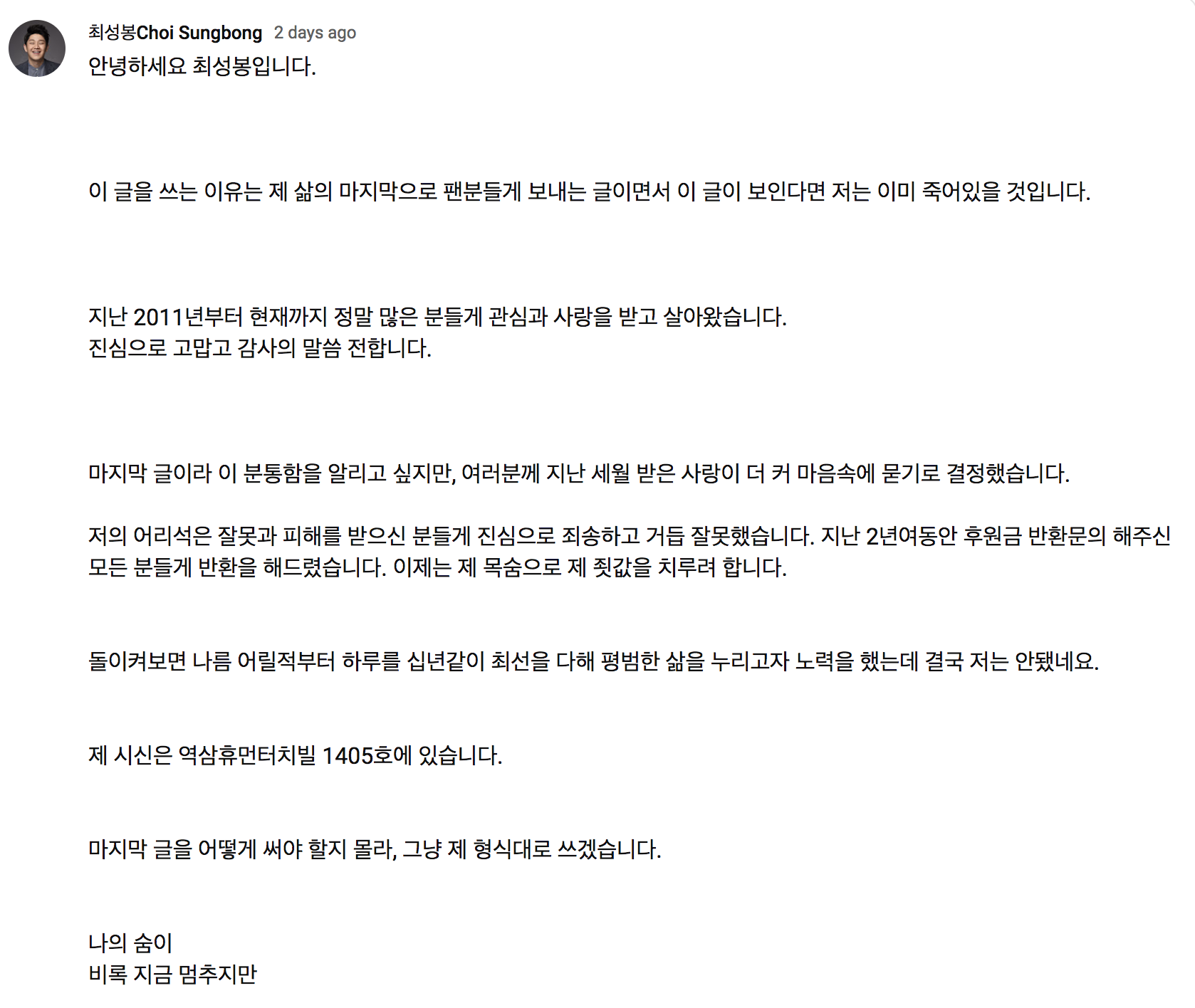 In the note, he expressed his apologies to his fans, particularly for an incident in 2021 where he claimed that he had four types of cancer, to receive money from his fans.
At the start of the message, he bluntly stated the purpose of the note. A rough translation reads: "Hello, this is Choi Sang Bong. The reason I am writing this is to send a letter to my fans for the last time in my life. If you can see this, it means I am already dead." 
Right after, he launched into an apology for his "foolishness", alluding to the cancer incident.
He expressed that he had already paid back all the donations given to him.
"Now, I want to repay my sins with my life," he wrote. 
He informed the public of where to find his body in his note, and the apologies continued, where he apologised to all the fans that had helped him.
"I'm sorry. I think I've endured this long enough. Please forget me," he said, wishing for happiness for his fans.
He also said that he did not have regrets, and ended his message with a simple "goodbye".
Who Was He?
Choi Sung-bong shot to fame initially after his stint on the talent show Korea's Got Talent.
The then-22-year-old finished second on the show in 2011, and his performance impressed judges and netizens alike.
Reportedly, he was impoverished in his childhood, and was abandoned at an orphanage when he was only three years old.
He ran away from the facility some time later, and lived in the red-light district, taking music lessons for free from a mentor.
When he graduated high school, he enrolled in university but was allegedly unable to complete his undergraduate degree due to his financial situation.
In January 2021, Choi claimed that he was suffering from stage 3 colorectal cancer, prostate cancer, thyroid cancer and hyperthyroidism. 
He received financial support from fans for his treatment, and their donations allowed him to release an album.
---
Advertisements

---
In October of the same year, however, Choi admitted that this was fake, and he did not actually have cancer.
He admitted to having depression in his apology, stating that he suffered from "recurrent depressive disorder' and post-traumatic stress disorder (PTSD). 
The incident understandably sparked the outrage of fans.
Not The First Time
Sudden deaths in the Korean entertainment industry are, sadly, becoming commonplace.
Earlier this year, ASTRO's Moonbin died to an apparent suicide, and was found dead in his apartment as well.
He was 25 then.
---
Advertisements

---
27-year-old Kim Jong-hyun, a member of the group SHINee, died in his apartment of carbon monoxide poisoning.
He left behind a suicide note as well, detailing the pain and depression he suffered from prior to taking his own life.