---
Advertisements

---
The Workers' Party (WP), the largest opposition party in Parliament, has been in the news for various things.
One big hoo-ha was the Raeesah Khan saga, where she admitted to lying in Parliament and resigned from the WP.
On 1 June 2023, former WP Non-Constituency MP (NCMP) Daniel Goh announced his expulsion from the party.
According to him, he was fired via registered mail.
Daniel Goh Fired from Workers' Party via Registered Mail
Associate Professor Daniel Goh announced the news via a Facebook post published on the night of 1 June 2023.

Attached to the post was a picture of a letter from the WP dated 26 May.
While most of its contents are censored, one line isn't.
This particular line confirms his expulsion from the party.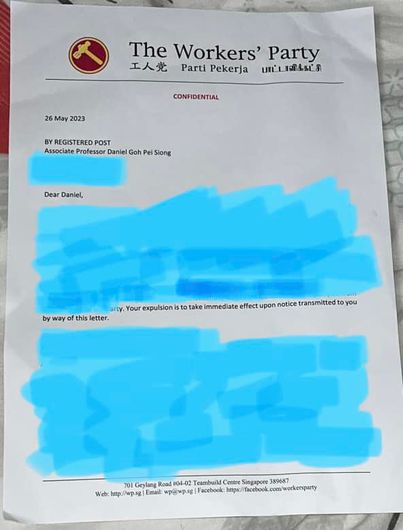 The sentence reads, "Your expulsion is to take immediate effect upon notice transmitted to you by way of this letter."
While dismissing someone from a job via registered mail is frowned upon, Prof Goh seems okay with the news.
He wrote, "My retirement from politics is complete."
---
Advertisements

---
He was on a work trip video-calling home when he caught wind of the letter.
His older son had been excited about the letter and asked to open it.
Prof Goh wrote that his son "exclaimed with some amusement" as he told him the news.
Upon hearing the news, Prof Goh was more focused on how satisfied he was that his son understood the letter.
Prof Goh wrote, "Since the Central Executive Committee requested nicely that I not disclose the correspondence due to information about the 'inner workings' of the party, I won't."
He added, "Though ironically, that is the very reason given for the expulsion. Such is the closed loop in the lack of accountability."
Prof Goh said he would continue serving Singapore through his work at the National University of Singapore (NUS).
Currently, he is the associate provost of undergraduate education at NUS and teaches at the Department of Sociology and Anthropology.
Several media outlets have contacted the WP for comment.
However, the party has declined to comment on the situation. 
---
Advertisements

---
Why was Daniel Goh Expelled from the Workers' Party?
In September 2022, Prof Goh announced that the WP had convened a disciplinary committee to look at his Facebook posts questioning their leadership regarding handling the Raeesah Khan saga.

The committee alleged that he had revealed the inner workings of the WP and allowed the party's political opponents to gain insight into how the party operates.
They also alleged that Prof Goh's Facebook posts had "cast a cloud over the character of the leadership of the WP".
He declined the interview.
He announced that he had not been involved with the WP since stepping down from his duties in 2020 and felt that the Facebook posts were based on information released to the public.
He clarified that the party only provided more information following the posts.
---
Advertisements

---
He said he had asked those questions as a "concerned citizen" and "a party member who believes that public accountability and integrity are non-negotiable values".
Prof Goh also urged the party to be transparent with the public regarding any disciplinary sanctions imposed on him.
He also challenged the WP's words, " I do not understand what is meant by 'cast a cloud over the character of the leadership of the WP'.
"It seems to suggest that my questions, rather than the leaders' thoughts and responses, had caused people to lose their trust in the WP leaders."
Daniel Goh's Facebook Posts
Remember the Raeesah Khan saga?
---
Advertisements

---
In August 2021, she told a lie in Parliament.
The lie was related to a sexual assault case.
She admitted to the lie three months after telling it.
She then resigned from the WP and as an MP for Sengkang Group Representation Constituency in the same month.
Prof Goh had some thoughts regarding the saga.
Notably, he had previously stepped down from his party posts before the 2020 general election due to health reasons.
In a Facebook post dating back to 3 November 2021, Prof Goh wrote, "This week's Raeesah Khan debacle has affected me badly. It has shaken my trust in the party, to which I gave almost ten good years to help build up and to which I still belong as a cadre member."

He urged the WP Central Executive Committee (CEC) disciplinary panel to "not throw her under the bus".
---
Advertisements

---
He also stated, "The leadership must take some responsibility for allowing this transgression to happen and persist over several months."
He added, "I hope the disciplinary panel made up of the top three leaders will recognise their responsibility IN this matter and accountability to the public ON this matter."
He felt that Ms Khan should not have resigned and needed to "take responsibility for this grave transgression", feeling that resigning was the easy way out.
He wrote, "I believe she should serve out her elected term going 100% into serving communities, families and individuals QUIETLY, no social media posting or posturing, so that the focus is on those she served and not herself."
Daniel Goh Not Surprised by Workers' Party Expulsion
Prof Goh told The Straits Times he was not shocked by the expulsion.
He said, "I won't say I'm happy; it is more a sense of relief, a closure to a very disappointing experience."
When asked why he had not resigned earlier, he said, "It is my responsibility to stay with the party I have contributed to for so many years to build up."
Prof Goh stated that he does not intend to join other political parties.
In a previous interview with The Straits Times in September 2022, when it was first announced that the WP had convened a disciplinary committee to look at his Facebook posts, Prof Goh said he had no intention of resigning.
Daniel Goh's History with the Worker's Party
During the 2011 general election, Prof Goh began volunteering with the WP.
He joined as a party member in 2013 and contested in East Coast GRC during the 2015 General Election.
He served as an NCMP between 2016 and 2020.
At one point, he was even regarded as a possible successor to former WP chief Low Thia Khiang,
However, Prof Goh had publicly ruled himself out of the running.
Join our Telegram channel for more entertaining and informative articles at https://t.me/goodyfeedsg or follow us on Twitter : https://twitter.com/goodyfeed
In Other Political News
Singapore may be experiencing some political changes soon.
On 29 May 2023, President Halimah Yacob announced that she would not be running for president again.
Her term expires on 13 September 2023.
On 1 June 2023, it was announced that four opposition parties have decided to form an alliance to contest at the next General Election.
The next General Election must be held by 2025.
Called People's Alliance, the four parties include Peoples Voice, Reform Party, People's Power Party and Democratic Progressive Party.
According to the leader of Peoples Voice, lawyer and politician Lim Tean, discussions to form an alliance have been underway since January 2023.
Notably, the most recent attempt to forge an alliance of opposition parties occurred in 2018.
Seven parties came together for a meeting regarding this matter, but the alliance ultimately did not happen. 
Mr Lim said that the four parties have already taken steps to register Peoples Alliance with the Registry of Societies and that its official launch will be held after the registration is approved.

Your parents are wrong: MSG (Monosodium Glutamate) is good for you (sort of). Here's the truth:
Read Also: