---
Advertisements

---
There are some images that you just can't shake off your mind once you've seen them, like the grumpy cat from 10 years ago, how disappointed your mom looked when you brought home a 34/100 score for your mother tongue exam, and a shirtless Elon Musk with a ribcage oddly shaped enough to house tesla engines.
This time, Musk is making headlines for his personal matters (again).
In an article published by the Wall Street Journal (WSJ), an alleged affair between Musk and Sergey Brin's then wife, Nicole Shanahan had caused the tech billionaires' longstanding friendship to come to an end.
According to them, the affair had led the Google Co-founder to order his advisors to sell all his personal investments under Musk's companies in the recent months following.
The illicit affair supposedly took place in early December last year in Miami, WSJ stated. Their divorce was filed by Brin early this year in January, just a few weeks after, with him citing "irreconcilable differences" as the reason.
According to WSJ, Musk had already attempted to apologise to Brin at a party earlier this year, but though the Google co-founder acknowledged this apology, he still wasn't on speaking terms with the electric carmaker.
Musk has Since Responded
However, Musk has come out on Twitter today in a bid to clear his name, stating that these allegations were "Total BS".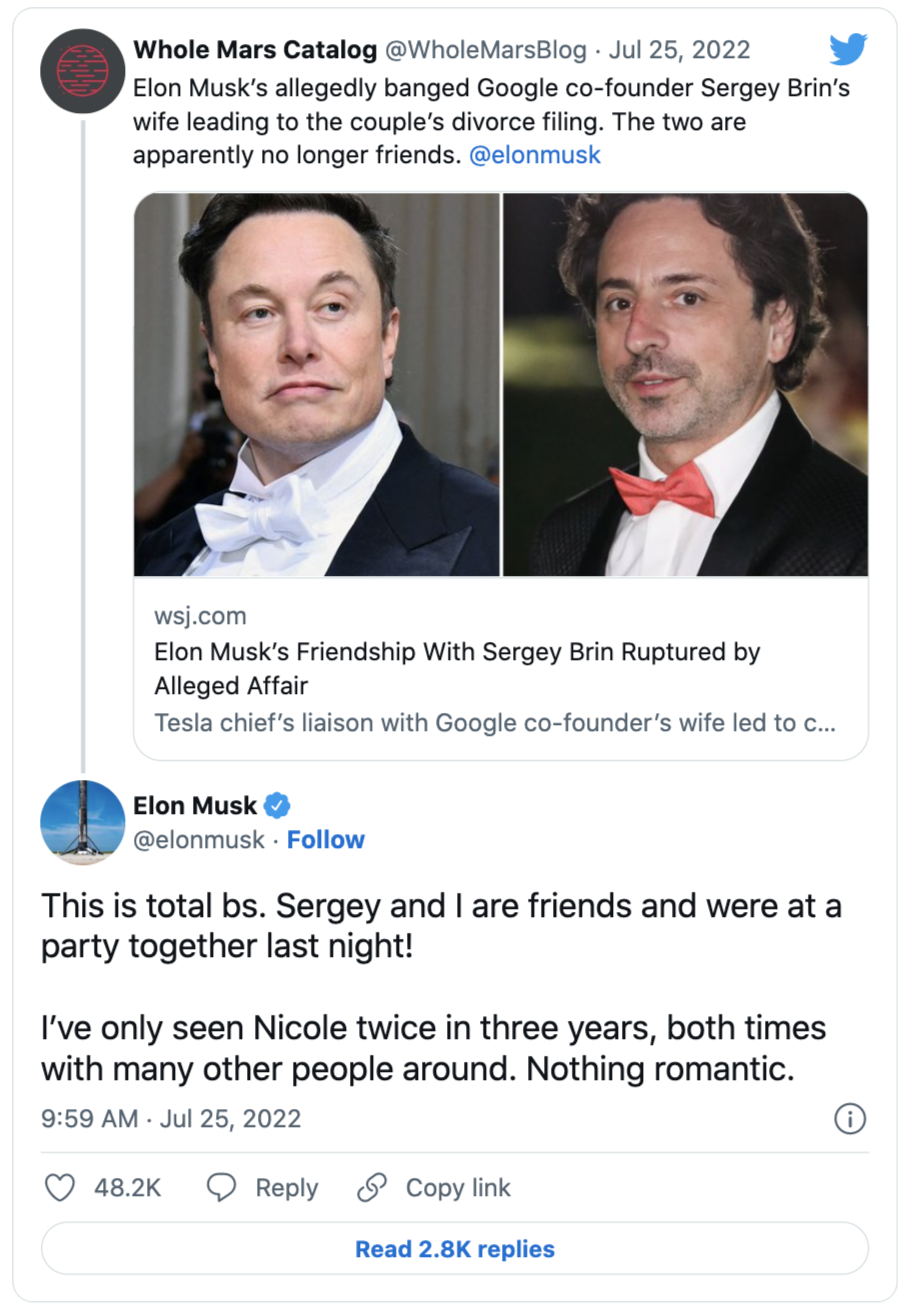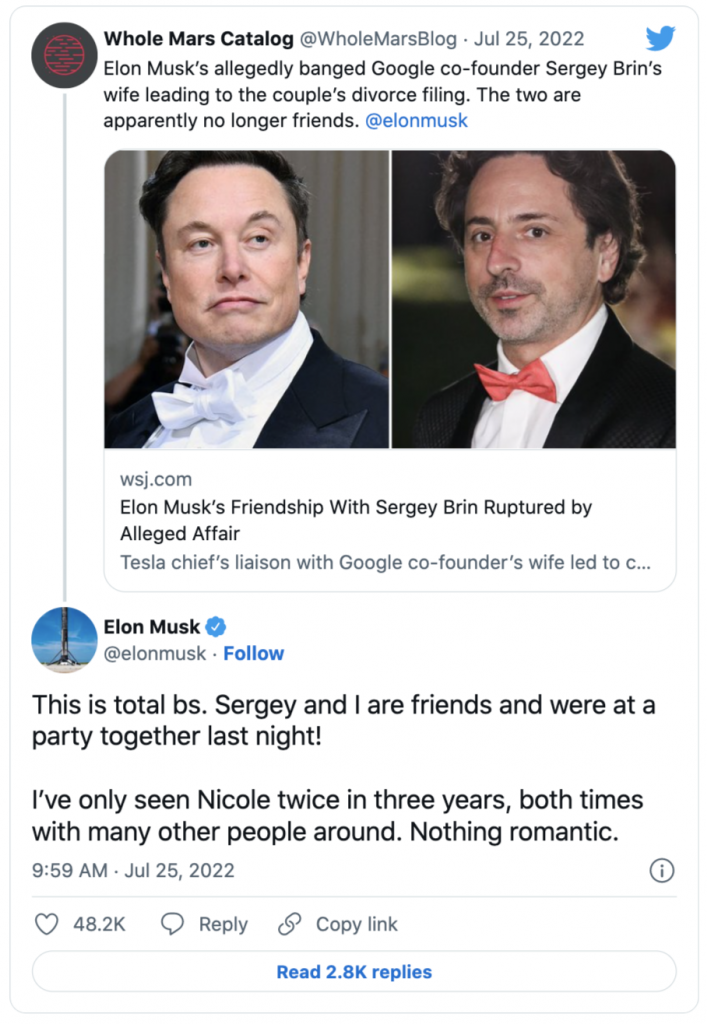 In the tweet, Elon Musk reinstated his friendship with Brin, and said that in fact, they attended a party together just the night before. He also clarified that he was not remotely close to Brin's ex-wife, and that there was nothing romantic going on.
A Friendship through Economic Highs and Lows
As of 2021, Elon Musk is the richest man in the world, with a net worth of USD$215.6 billion. Sergey Brin is the eighth wealthiest man, with a similarly impressive net worth of USD$94.6 billion.
Their friendship goes way back, with Musk reported to have often slept in Brin's Silicon Valley home during a period.
Since Tesla's inception in 2003, Brin has made several investments in the multinational automotive and clean energy company. In 2006, Brin also contributed $40 million during a round of funding.
---
Advertisements

---
During the 2008 global subprime crisis, Tesla faced a cash crunch, and so Musk had to reach out to several friends, pleading for investments. Brin put in $500,000, helping the business tide through the trying period.
Returning the favour, Musk made Brin one of the first customers to own Tesla's fourth model X.
Just Another in Musk's Latest String of Business and Personal Affairs
One thing's for sure: his ongoing legal battle with Twitter is definitely not hearsay.
The business mangate is currently locked in a legal battle with Twitter, as the microblogging company is suing Musk for backing out of a $44 billion acquisition deal. The court has ordered a trial that could run for five days, to be held in October this year.
Twitter's lead counsel, William Saviit had this to say regarding the once-anticipated acquisition: "Musk has been and remains contractually obligated to use his best efforts to close this deal. What he's doing is the exact opposite; it's sabotage."
Back in May, a SpaceX employee has also come forth with the statement that she was paid US$250,000 to settle a claim over an alleged sexual harassment episode she had with Musk back in 2016. The SpaceX founder has also disputed this accusation, claiming they were "utterly untrue".
Earlier this year, it was ALSO reported that Musk had twins with current Neuralink executive, and former Tesla employee, Shivon Zilis. This brings the number of children he has fathered to 8.
Seemingly in responses to this event which had surfaced in the news, Musk tweeted, "Doing my best to help the underpopulation crisis. A collapsing birth rate is the biggest danger civilization faces by far," and "Mark my words, they are sadly true."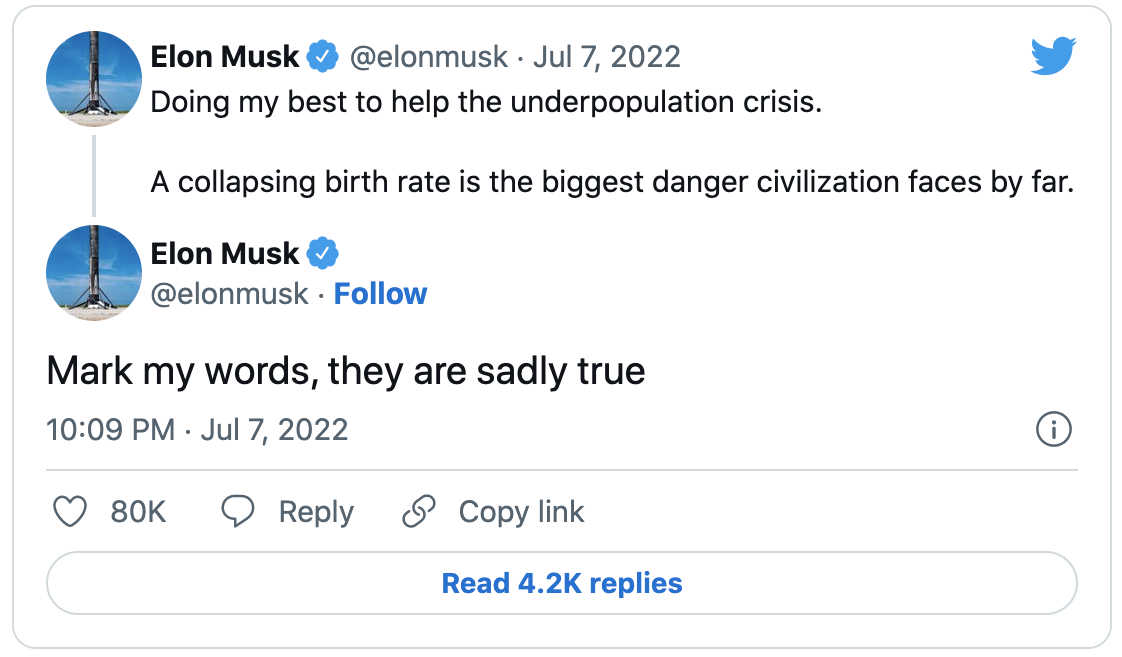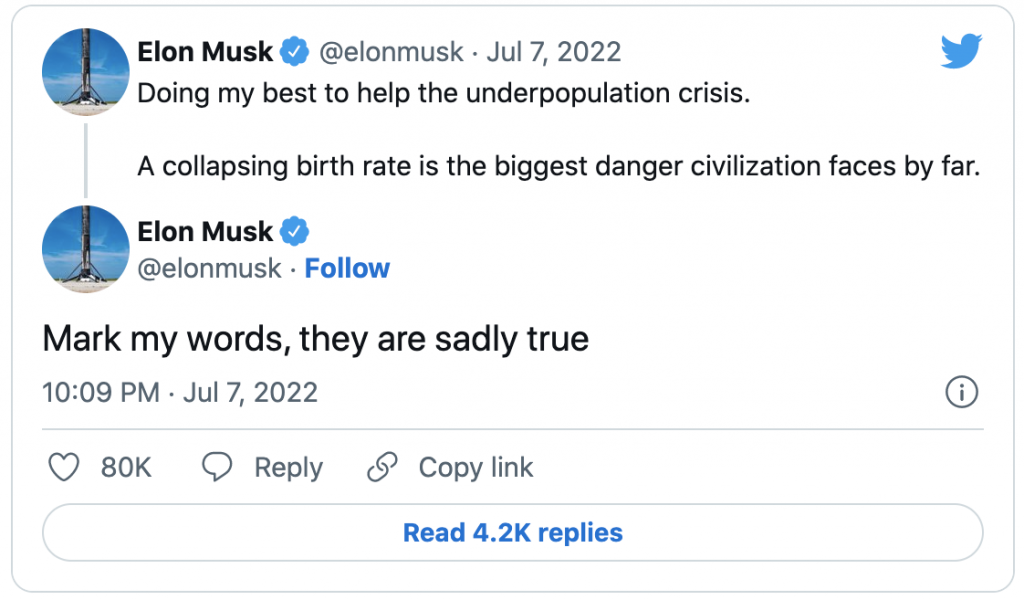 Well, for one, the Singapore government can certainly relate to what you are saying, Mr Musk.
Featured Image: Kathy Hutchins / shutterstock.com, LinkedIn (Nicole Shanahan), Wikipedia
---
Advertisements

---

Here's why a 4-day workweek might finally really be possible in Singapore soon:
Read Also: