---
Advertisements

---
How much are you willing to pay for a cup of coffee?
If your answer is up to $10 for a Starbucks coffee, get out. We're talking serious business here.
A Eunos coffee shop sells kopi peng for $2.10 per cup, and many Singaporeans think it's a problem.
Multiple Complaints Lodged Against Eunos Coffee Shop for Ridiculous Beverage Prices 
The coffee shop coming under scrutiny today is located at Block 7 Eunos Crescent and is known as Hong Lee coffee shop.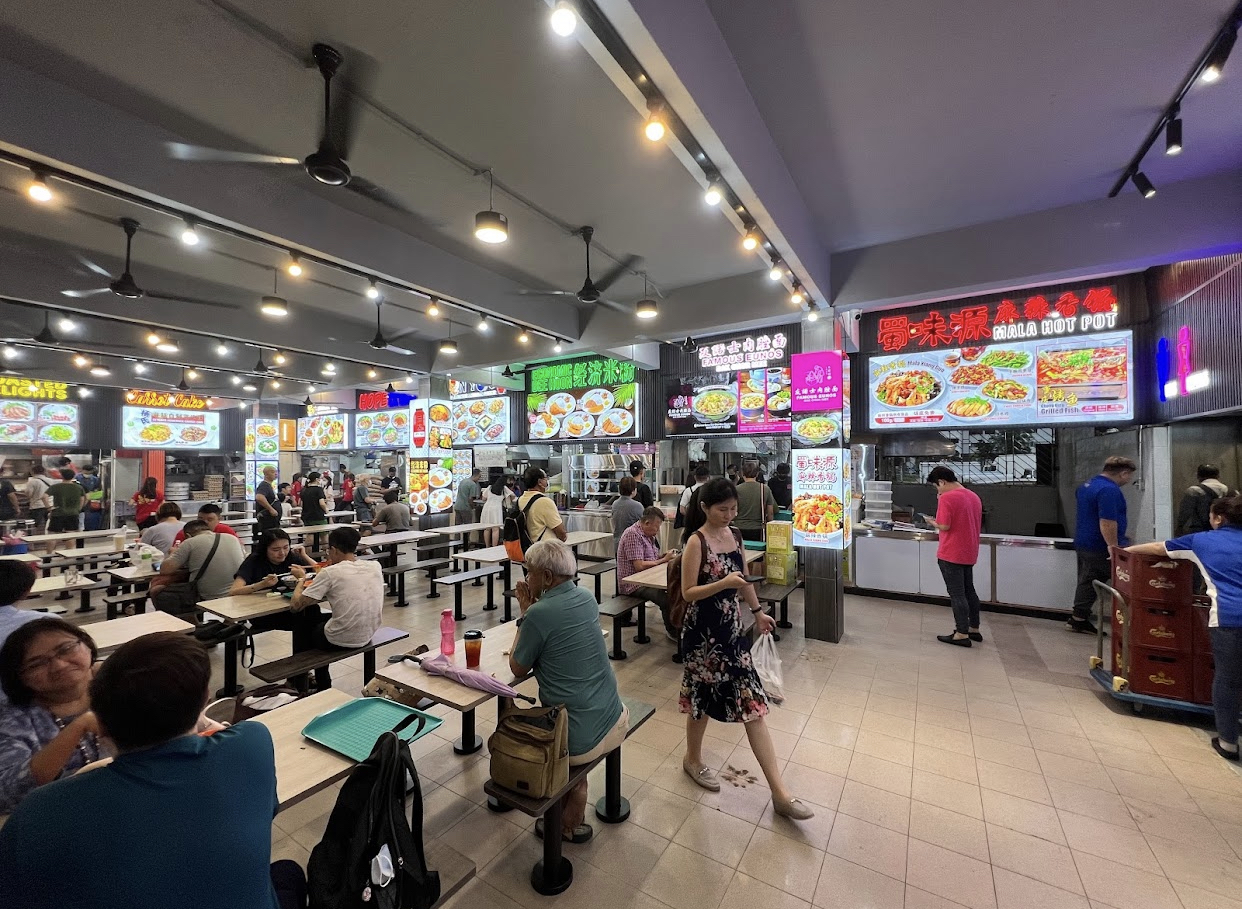 It's just like any other coffee shop, except its drinks are priced ridiculously, according to complaints raised by multiple diners.
Let's break down the prices of the drinks at the coffee shop.
| | |
| --- | --- |
| Beverage | Price |
| Warm Water | $0.50 |
| Iced Water | $0.70 |
| Teh 'O' / Kopi 'O' | $1.10 |
| Teh 'O' (Iced) / Kopi 'O' (Iced) | $2 |
| Teh / Kopi | $1.40 |
| Teh (Iced) / Kopi (Iced) | $2.10 |
Looking at the prices, one should notice that ordering an iced beverage can increase the price of your drink by up to $0.90.
For instance, while a kopi 'o' costs $1.10, a kopi 'o' peng costs $2—a price difference of $0.90.
Strangely, a kopi costs $1.40 while a kopi peng costs $2.10—a price difference of $0.70.
Whoever came up with this price list might have failed primary school maths.
---
Advertisements

---
As a result of the exorbitant beverage prices at the coffee shop, the beverage store has recently come under fire online.
Is An Additional $0.90 For Ice Too Much? 
You can find these complaints everywhere.
Someone even ranted about the beverage prices on the Google Maps review of the coffee shop, sharing that the hiked prices only came after the coffee shop underwent upgrading works.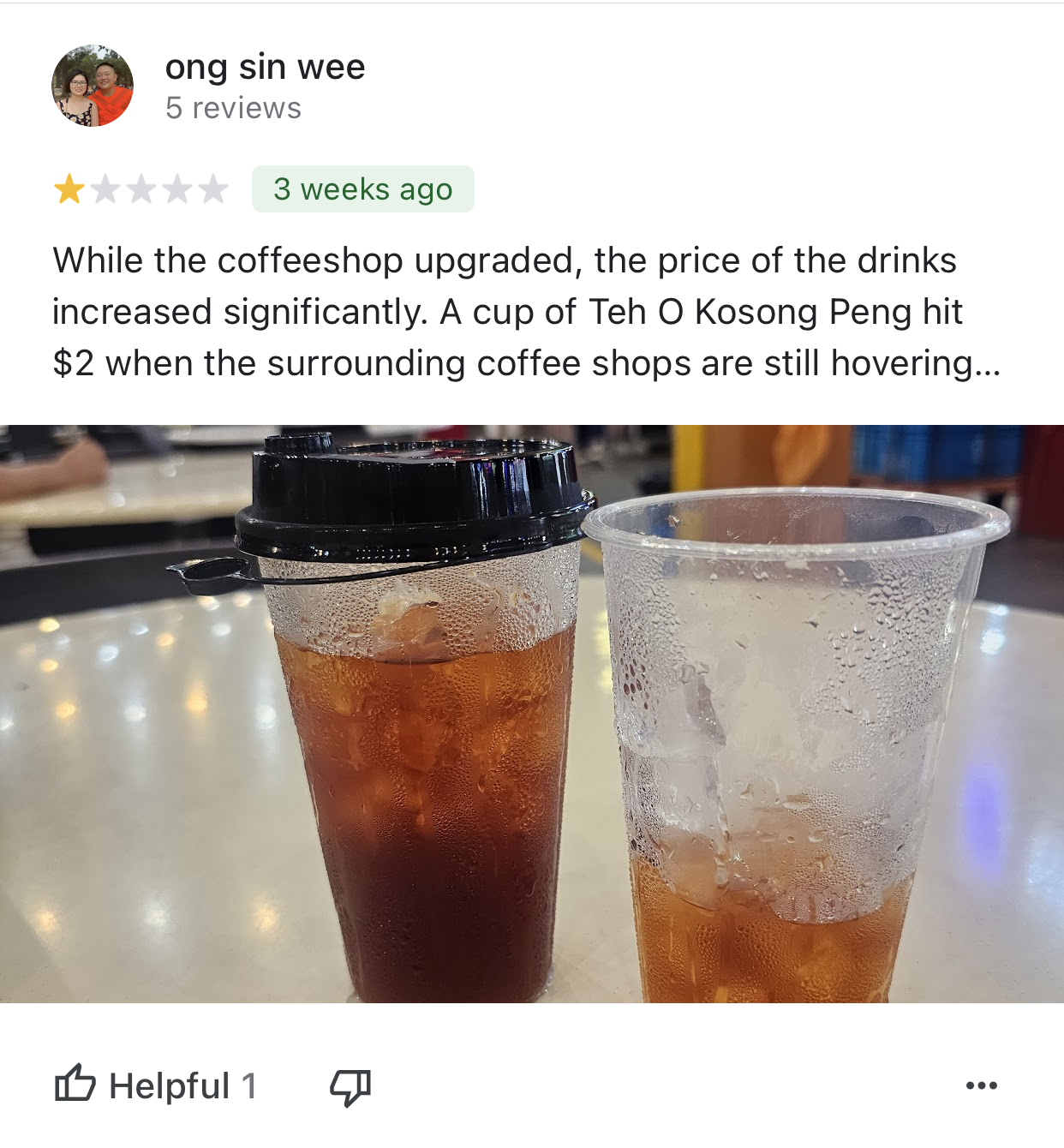 GST hike, S&CC hike, teh 'o' kosong peng price also hike. Sian. 
Join our Telegram channel for more entertaining and informative articles at https://t.me/goodyfeedsg or follow us on Twitter : https://twitter.com/goodyfeed
Interviews conducted by Lianhe Zaobao with diners at the coffee shop on Friday (2 June) also surfaced the same sentiments about the beverage prices, especially regarding the price difference between hot and cold drinks.
Top 10 mysteries of Singapore. The answer to this is even more elusive than the Ridout Road saga.
A 55-year-old diner surnamed Zhou shared that two years ago, a cup of teh 'o' peng at the same coffee shop cost a mere $1.60. However, the teh 'o' peng now costs $2.
He also adds that other coffee shops usually charge an additional $0.30 to $0.50 for adding ice to a drink—the $0.90 charged at the Eunos coffee shop is too much.
Other diners Lianhe Zaobao interviewed also expressed dissatisfaction with the coffee shop's mind-boggling price of iced water—$0.70.
A diner surnamed Lu compared the price of iced water at the coffee shop to that in restaurants, which usually hovers around $0.50. Further, iced water in restaurants can be refilled while that in coffee shops cannot.
---
Advertisements

---
Compare until like that, win liao lor. Kiasu Singaporeans will always take the cake. 
Another 70-year-old diner surnamed Su shares that, for comparison, a cup of soya bean milk in other coffee shops and hawker centres costs a mere $0.60, which is less than a cup of iced water in the Eunos coffee shop.
So, what's your take on the prices of the beverages at the Eunos coffee shop?

Here's a rather unexpected timeline of the $2.8 billion money laundering case in Singapore as revealed by Minister Josephine Teo during a parliament sitting on 3 October 2023:
Read Also: