---
Advertisements

---
Released last year, the multiversal drama-comedy Everything Everywhere All At Once (EEAAO) has returned to the headlines again with its feature in The 95th Academy Awards (The Oscars). The film swooped up a total of seven Academy Awards, out of the 11 it was nominated for, coming out on top over other notable films such as Netflix's All Quiet on the Western Front, and The Whale.
Its seven awards include Best Picture, Best Director, Best Editing and Best Original Screenplay for the directing duo Daniel Kwan and Daniel Scheinert, Best Actress for Michelle Yeoh, Best Supporting Actor for Ke Huy Quan, and Best Supporting Actress for Jamie Lee Curtis.
So far, the show has accumulated a whopping 264 wins and totalled 404 nominations. That is over twice the number of awards the next highest film, The Whale, has achieved, which won only 42 out of its 112 nominations.
Given its success, here are ten things you need to know about Everything Everywhere All At Once.
Jackie Chan Was Originally Meant to Play Its Main Character
When Michelle Yeoh was nominated for Best Actress award at the Oscars, Jackie Chan texted her to "congratulate" her, asking her if she knew the directors had offered him the lead role first.
It is no secret that the director-duo Daniels tailored the lead role to Jackie Chan, while Yeoh would act alongside him as his wife. It was revealed that Chan was initially offered a position as the lead character, written to be a man.
However, because Chan was unavailable, the directors realised that the story would be better with the wife as the protagonist. It is suspected by Chinese netizens that he may have turned down the role because it is eerily similar to his real-life situation— his daughter is a lesbian, much like the character Joy Wang. In the film, the main character fights evil forces to "protect" her daughter, parallel to Chan's relationship with his daughter.
"We were having trouble figuring out the casting for the father figure, and one of us started wondering what happens if we take Michelle's character and flop it and she becomes the protagonist. And the film just opened up in a completely different way," said director Daniel Kwan.
The Hot Dog Hands Were Not CGI
The hot dog hands were created and moulded for Jamie Lee Curtis and Michelle Yeoh by designer Jason Hamer. Hamer and his team also acted as the lead prosthetic designer in the 2022 film Bones and All.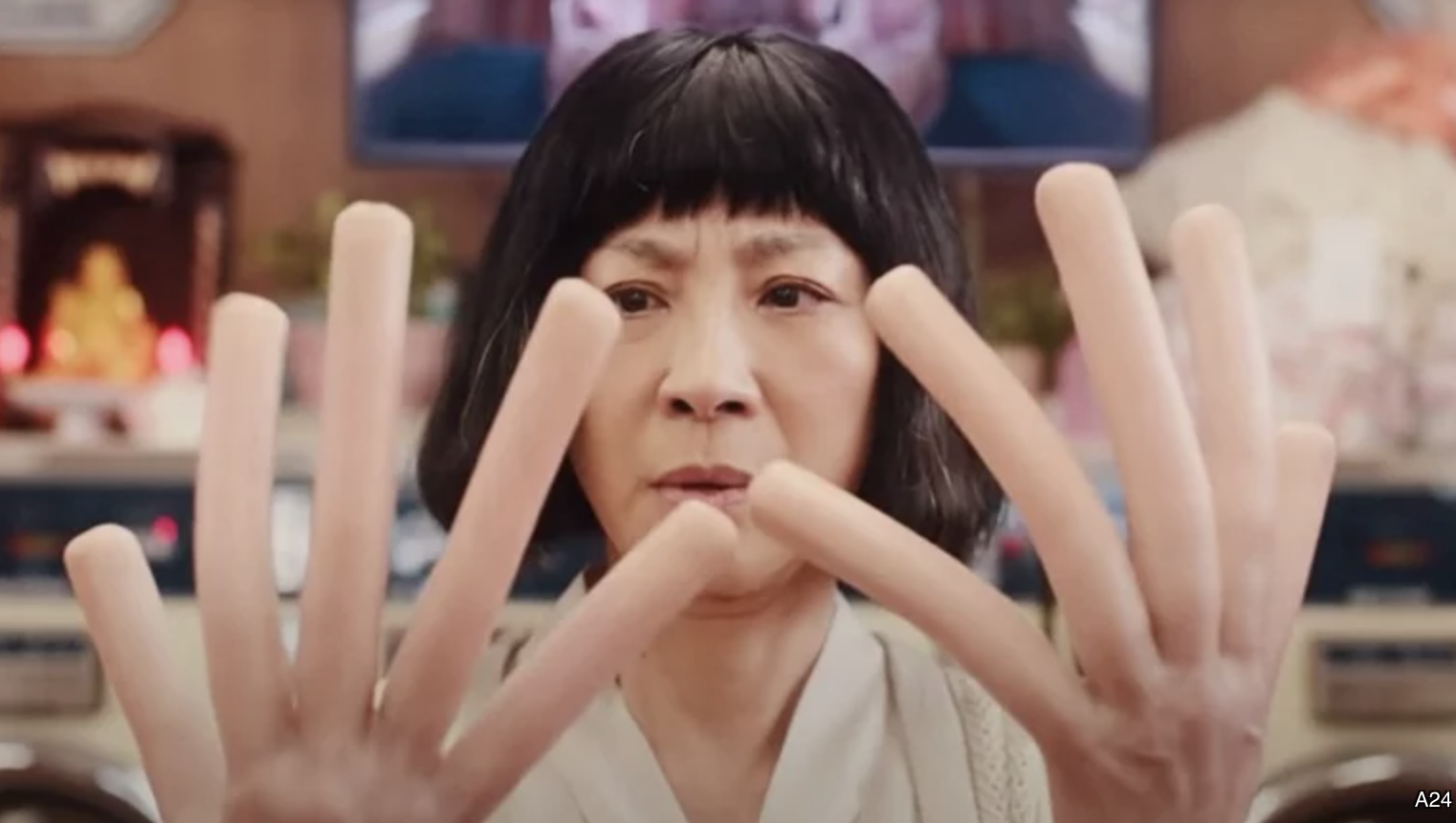 According to director Daniel Scheinart, "Things like that being 100% practical makes shooting it so fun and so much easier because the actors know exactly what they're reacting to. They can play and we didn't have to have someone act opposite a tennis ball for the raccoon or act like they had weird fingers. They just had them."
In The Kung Fu Universe, They Used A Movie in Which Michelle Yeoh Had Starred (Crazy Rich Asians) In a Sign Behind Her
Michelle Yeoh, the lead actress of Everything Everywhere All At Once, is a highly accomplished Malaysian actress known for her diverse range of roles in various films and TV shows. Some of her most notable performances include Crazy Rich Asians and Shang-Chi and the Legend of the Ten Rings.
In the small screen, she is so impressive in a role in Star Trek: Discovery that a spin-off series featuring her character is in the works.
In Everything Everywhere All At Once, a cut from Crazy Rich Asians was spotted on a sign behind Michelle Yeo, a nod to her previous works.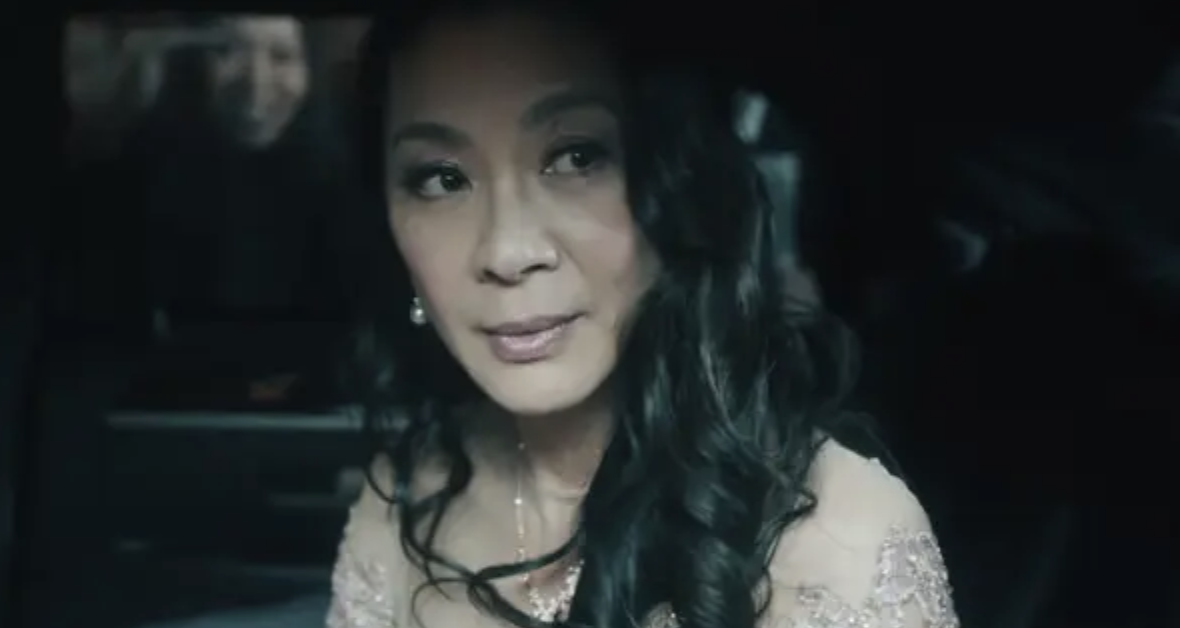 The Pandemic Halted Shooting With Just One Day Left
The show was filmed between January and March 2020, but because of the COVID-19 pandemic, its theatrical release was postponed until March 2022. When COVID-19 struck, the show had only one day of filming left, but it had to be delayed. 
During this time, Ke Huay Quan, who played Waymond Wang, did not receive any other acting offers and, as a result, lost his health insurance.
The film was meant to be Quan's return to acting since his days in Indiana Jones, but being unable to audition for anything else due to social distancing placed his acting comeback in jeopardy.
Awkwafina Was Originally Considered For The Role Of Joy
Many fans may be unaware that the role of Joy, one of the main characters in the film, was originally offered to Awkwafina.
Awkwafina, whose real name is Nora Lum, has recently been making waves in the entertainment industry. She has become a fan favourite with her roles in hit movies like Crazy Rich Asians and Ocean's Eight, and has even won a Golden Globe for her performance in The Farewell.
Unsurprisingly, the filmmakers behind Everything Everywhere All At Once had initially considered her for a role. However, she had no choice but to exit the project due to scheduling conflicts.
The Film Draws Inspiration From Classics Like

The Matrix

, 

Kill Bill

, and 

It's a Wonderful Life 
Director Kwan calls Groundhog Day and It's a Wonderful Life "existential but comedic" movies. Japanese animated films such as Paprika and Masaaki Yasa's Mind Game also influenced the filmmakers. 
Hong Kong action movies and martial arts played their part too, with Stephen Chow and Jackie Chan's work being focal points of inspiration.
---
Advertisements

---
From its dynamic fight scenes to its visually-stunning style, the movie displays the directors' affection for Hong Kong cinema and the Matrix film series. Slow-motion flying kicks and powerful one-finger punches are one of the many elements drawn from these films.
ADHD (Attention-deficit Hyperactivity Disorder) And Its Significance
Originally, in the Film, ADHD was one of the reasons why Evelyn could tap into other universes.
The directing duo fiddled around with this idea for a while, but ended up dropping it due to possible insensitivity. Coincidentally, during the filming and brainstorming process, director Dan Kwan discovered that he actually had undiagnosed ADHD.
The idea was instead changed to have the chaos in Evelyn's life and mind represent ADHD.
The film portrays neurodiversity with nuance, showcasing Evelyn as someone much like the title, feeling everything, everywhere, all at once.
Just Five People Worked On the Film's Eye-popping Visual Effects
The film stood out for its trippy multiversal concept and stunning visual effects, but in an interview with WIRED, the directing duo revealed that their VFX team only consisted of five people.
---
Advertisements

---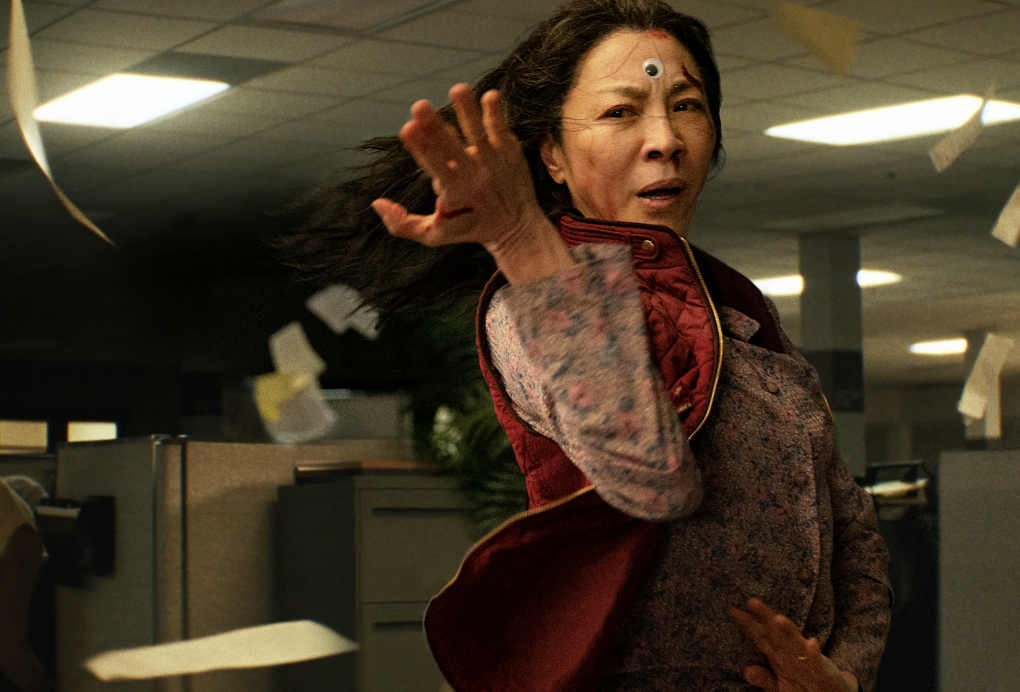 Impressive efficiency and work, indeed. 
The Stunts In The Movie Were Performed By YouTubers MartialClub
The two main stuntmen who acted in the film are actually brothers Brian and Andy Le from the Youtube channel MartialClub.
The fight scenes in Everything Everywhere All At Once were choreographed and performed by the brother duo.
You can visit their YouTube channel to see more of their content.
Actor Ke Huay Kuan Was Formerly A Child Actor Before His Hiatus
In the movie Indiana Jones, Kuan played the character Short Round, an eleven-year-old orphan who worked as a taxi driver in Shanghai. 
---
Advertisements

---
Everything Everywhere All At Once was actor Ke Huay Kuan's first involvement in a major project in his return as an actor, thanks to the success of Crazy Rich Asians, which inspired him to re-enter the film industry
At the awards show, Kuan reunites with former Indiana Jones actor, Harrison Ford, ending it with a hug. Netizens online were struck by the similarity to a scene in Indiana Jones, where Kuan hugs Ford as a younger child.
You can watch the video below to compare the two scenes:

Fresh grads, you don't need any experience to earn up to $4,200 with this "secret":
Read Also: