Recently, Ang Mo Kio came into the spotlight when homeowners decide to express their dissatisfaction with the Sers project they were offered.
What exactly were they unhappy about and what is being done about it?
Here are 8 facts about the Ang Mo Kio Sers saga you need to know so you can look smart when talking about it.
1. What is Sers?
For the uninformed, Sers stands for Selective En-bloc Redevelopment Scheme. It's meant to redevelop old public housing by getting homeowners to new and better flats.
For residents under Sers, they'll be given:
Compensation for their flat based on market value
Rehousing options (typically, a new project set aside for Sers residents)
Rehousing benefits (Up to S$30,000 Sers grant, capping of the resale levy at S$30,000)
2. The Ang Mo Kio Sers Exercise
On 7 Apr 2022, it was announced that the latest round of Sers will affect over 600 households.
The affected households are from Blocks 562 to 565 Ang Mo Kio Avenue 3, and they will be invited to purchase new flats at subsidised prices at Ang Mo Kio Drive.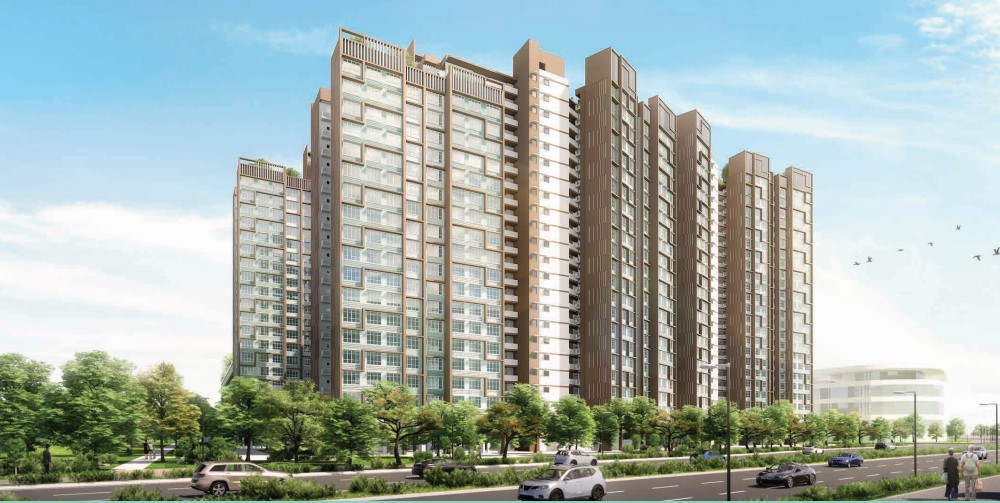 The prices of the new flats are frozen and the affected residents will be given the first pick of the project.
Surplus flats will be released to the public after the initial selection is over.
3. First Sers Project After Nearly 4 Years
This is the first time in nearly four years since a Sers project was announced.
Back in May 2018, Blocks 81 to 83 MacPherson Lane were announced as a Sers project.
The affected residents were moved to MacPherson Blossom (Blocks 75A, 75B and 76A Circuit Road).
4. The Process
According to the timeline posted by HDB, residents affected by the 2022 Ang Mo Kio Sers project will be attending SERS sharing sessions shortly after the announcement.
Thereafter, their flat's value will be evaluated in the third quarter of this year and make their rehousing choice by the 2023 Q1.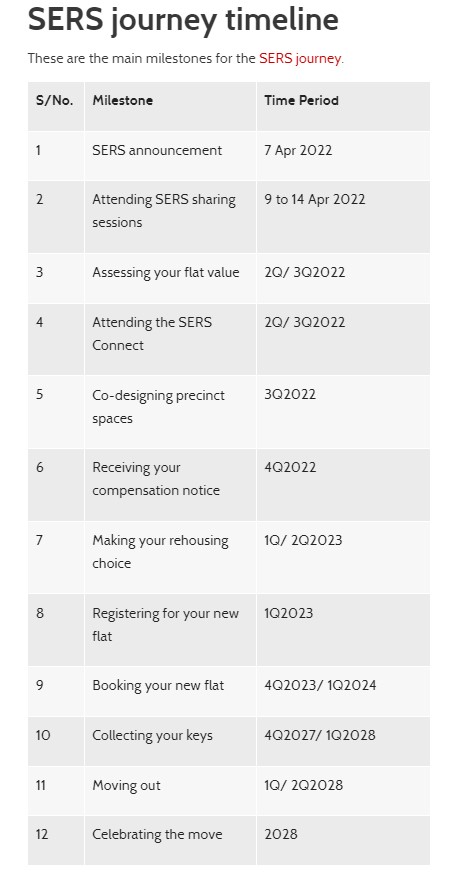 Residents are estimated to receive the keys to their new flats by the end of 2027 or the first quarter of 2028.
Unfortunately, not everyone was happy with the terms offered.
---
Advertisements
---
5. Top Up For Similar-Sized Homes
According to CNA, there are homeowners who would have to top up for a replacement flat from the government even under the Sers project.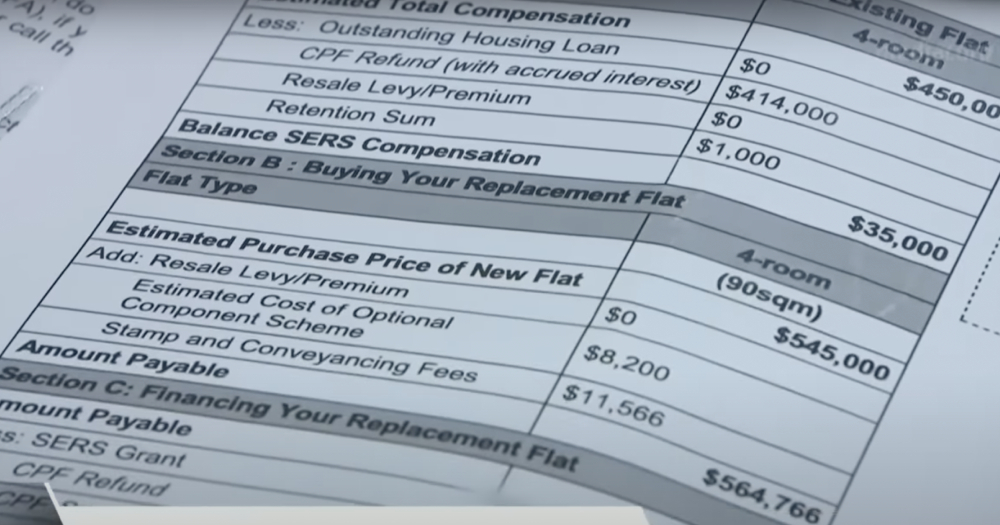 According to the financial guide a couple received:
The estimated total compensation for a four-room flat is S$450,000
The estimated cost of a replacement four-room flat would come out to S$564,766
This means that they will need to fork out an additional S$114,000 for the flat.
The elderly couple who received the guide wondered how they'll fork out the extra cash:
"We can't have a one-for-one exchange, which makes it tough for us. My husband is old so how can he still be working after five years? How would we pay for the house?"

CNA
Another homeowner's daughter whom CNA spoke to said her father would have to top up another S$70,000 or so because he doesn't have enough in his retirement account.
6. Did Not Expect Sers To Happen To Them
One of the financial guides made its way to blogger Leong Sze Hian who shared it online:
---
Advertisements
---
The guide showed that the homeowner, after deducting his existing loan, a S$30,000 resale levy, balanced Sers compensation, Sers grant and CPF savings, there is still an estimated cash payment of S$187,766 to be paid.
It was also shared that most of the homeowners in the blocks affected are elderly; most of them are semi- or fully retired.
They've already fully paid back their home loans and did not expect Sers to happen to them.
One thing to note, however, is that these are just the estimated costs and the real valuation will only take place in the third quarter of this year.
7. Downsize?
According to experts, residents in the affected blocks might be retired and unable to afford a loan to top-up for the replacement homes.
---
Advertisements
---
That is probably why most would prefer a 1-to-1 exchange instead of digging into their savings or retirement funds.
Property agent Jay Tan pointed out that in order not to carry any debts, the best way for such homeowners is to downsize.
8. Heated Debates Online
If you were to take a jaunt through Today's article, you'll quickly realise that there are three sides to the debate on whether it's fair to ask elderly homeowners to top-up for replacement flats.
The first group felt that as it was a "forced transaction", a 1-for-1 exchange for replacement flats should be considered:
They are being forced to leave their homes. They should get a new home with no extra charges. There are still renovation charges that they will have to pay and the inconvenience of a move.

PADMINI NAIDU
There are others, however, who understand why a premium has to be paid.
---
Advertisements
---
After all, the affected homeowners are effectively changing a 43-year-old unit for a brand new unit with a 99-year-lease.
I think it is fair to top up a reasonable amount on a 43-year-old flat (92-93 sqm) to get a new flat (90 sqm) with a 99-year lease.

Ryan Chng
There are some, however, who felt that options should be given; this is because some, especially those in their seventies to eighties, wouldn't know what to do with the extra years of lease anyway.
A user suggested that a 1-for-1 exchange can be facilitated for houses with the same amount of lease, and an option for homeowners to top up if they want a unit with a 99-year-lease.
The owners should be offered some options, perhaps something like…

1. THE CURRENT OFFER, WHERE THEY MAY HAVE TO TOP-UP FOR A SIMILAR-SIZED UNIT WITH A FRESH 99-YEAR LEASE

2. A REPLACEMENT FLAT SIMILAR TO CURRENT FLAT SIZE, WITH NO TOP-UP, BUT WITH THE CURRENT LEASE BALANCE

3. A SMALLER NEW UNIT, WITH NO TOP-UP, BUT WITH A FRESH 99-YEAR LEASE

FAZLIN JAYA INDRA
This opinion is similarly echoed by Straits Times Associate Editor, Chua Mui Hoong, who suggested that selling Sers replacement flats to seniors would be a viable option.
This option, she says, is already available for seniors for two-room flats.
---
Advertisements
---
What do you think of the entire situation?
Read Also:
Feature
---
After 8 months, NOC's Food King is back, but it's very weird and it might not be on YouTube. Here's why: