---
Advertisements

---
In a Facebook post on 11 April 2023, FairPrice warned customers that they had been notified of several pages and posts circulating on social media which offered a "birthday giveaway". They emphasised that this was a scam as they neither ran nor endorsed said giveaway.
The page circulating these fake giveaways, named "NTUC FairPrice Fans", claimed to be giving out 500 gift bags to celebrate FairPrice's 50th birthday. 
Posted on the morning of 10 April 2023, they encouraged users to write "Happy Birthday" in the comments section for a chance to win and directed them to click on a link to "register" for the fake giveaway.
It was reported that by 6 pm of the same day, more than 1,300 people had already commented on the post. 
FairPrice Urges Customers to Be Vigilant
After being notified of the fraudulent pages, FairPrice immediately took to Facebook to warn customers about the scam.
They implore customers to verify any information they receive online before sharing their personal information. This can be done by checking the source or the URL of the links typically included in these fraudulent posts.
They added that information regarding promotions or events would only be hosted on their official website or social media pages on Instagram and Facebook.
To help prevent other customers from falling prey to fraudulent social media accounts or scams, they encourage users to report any fake Facebook pages and scam posts they may encounter.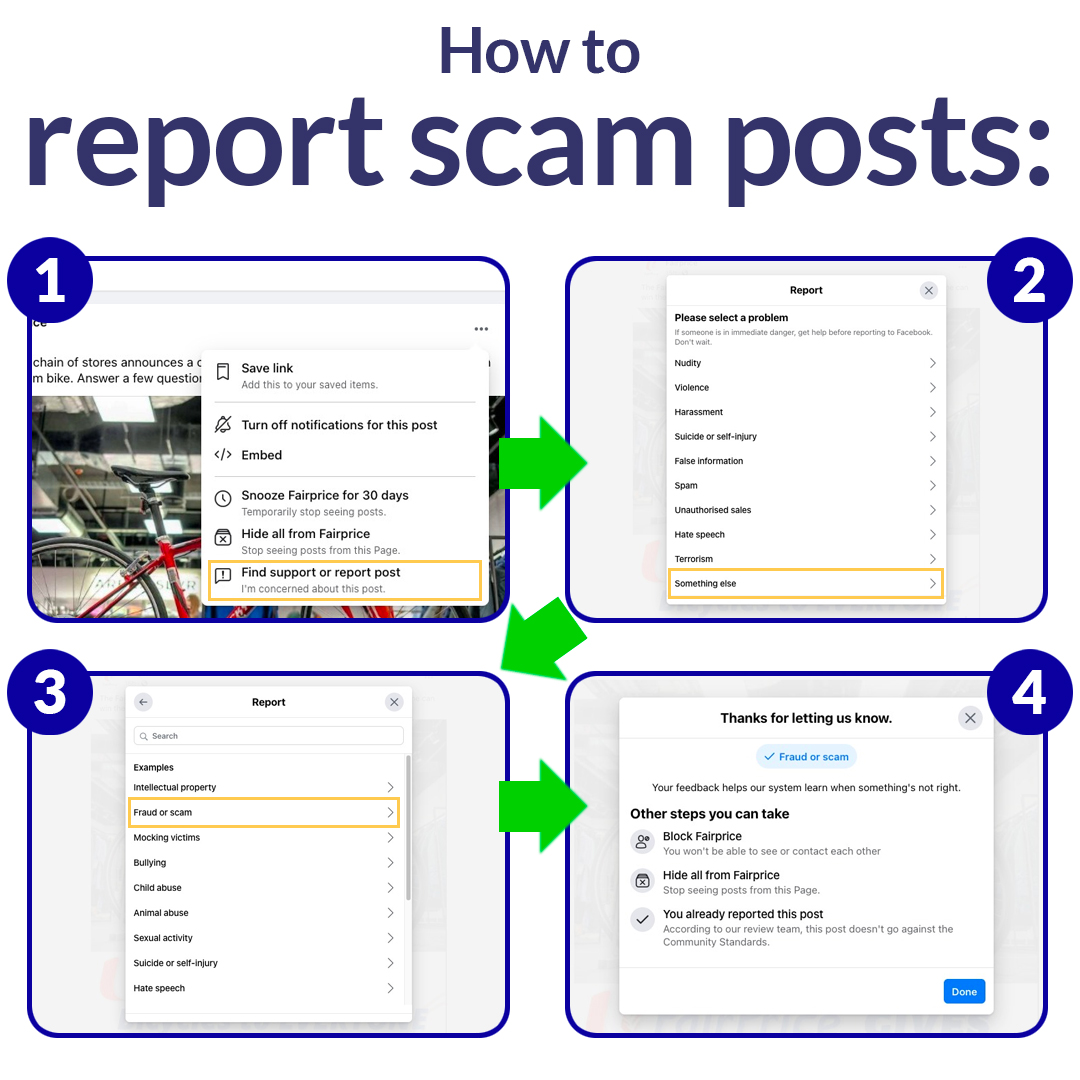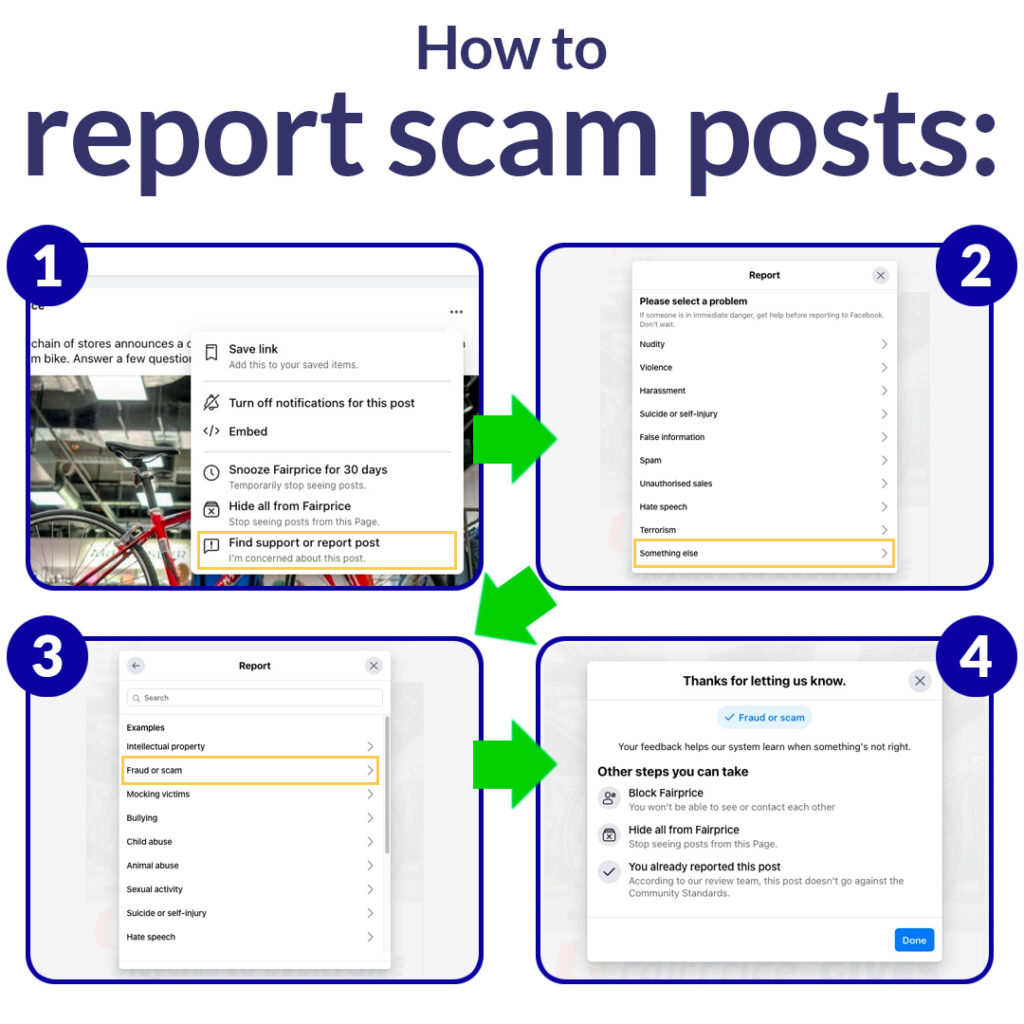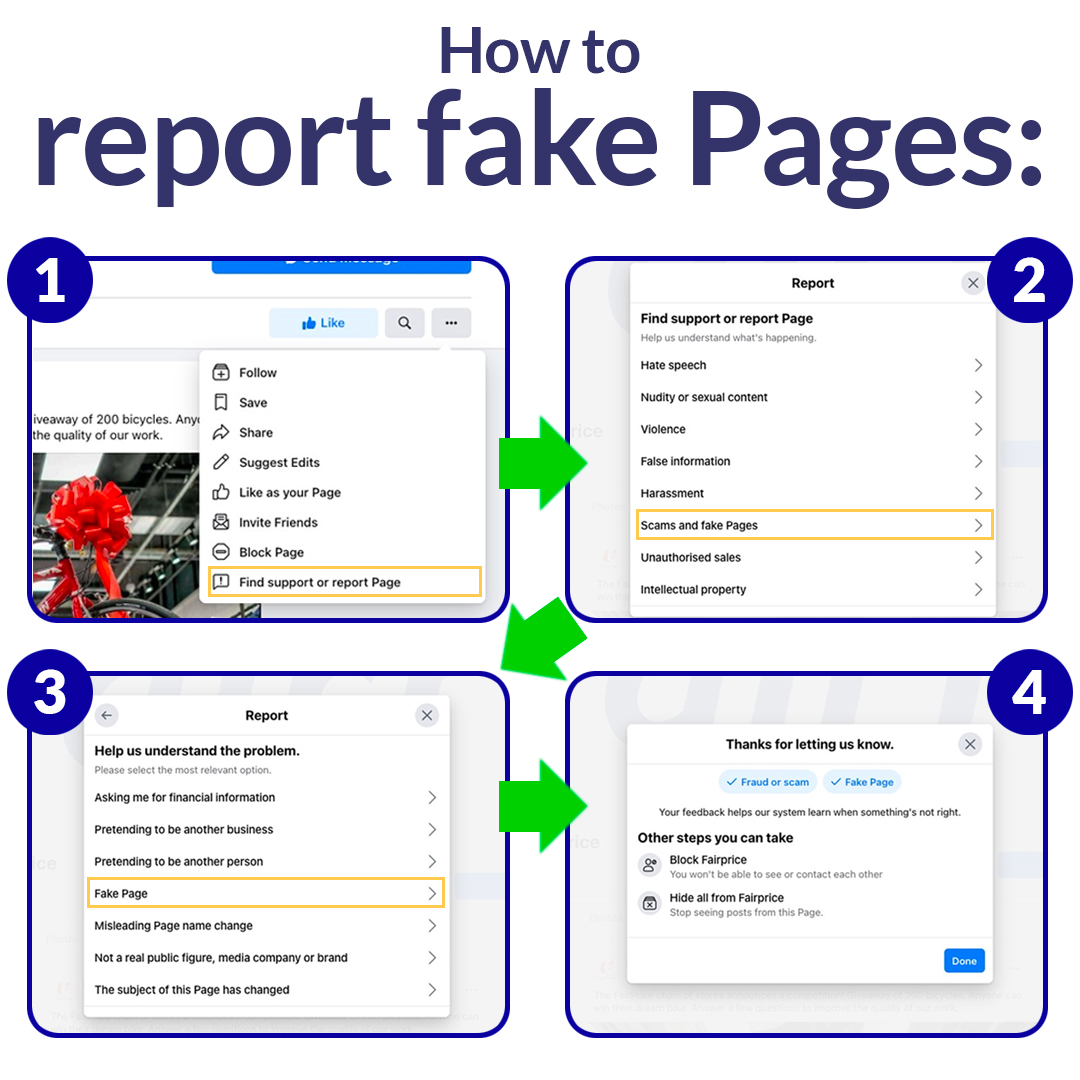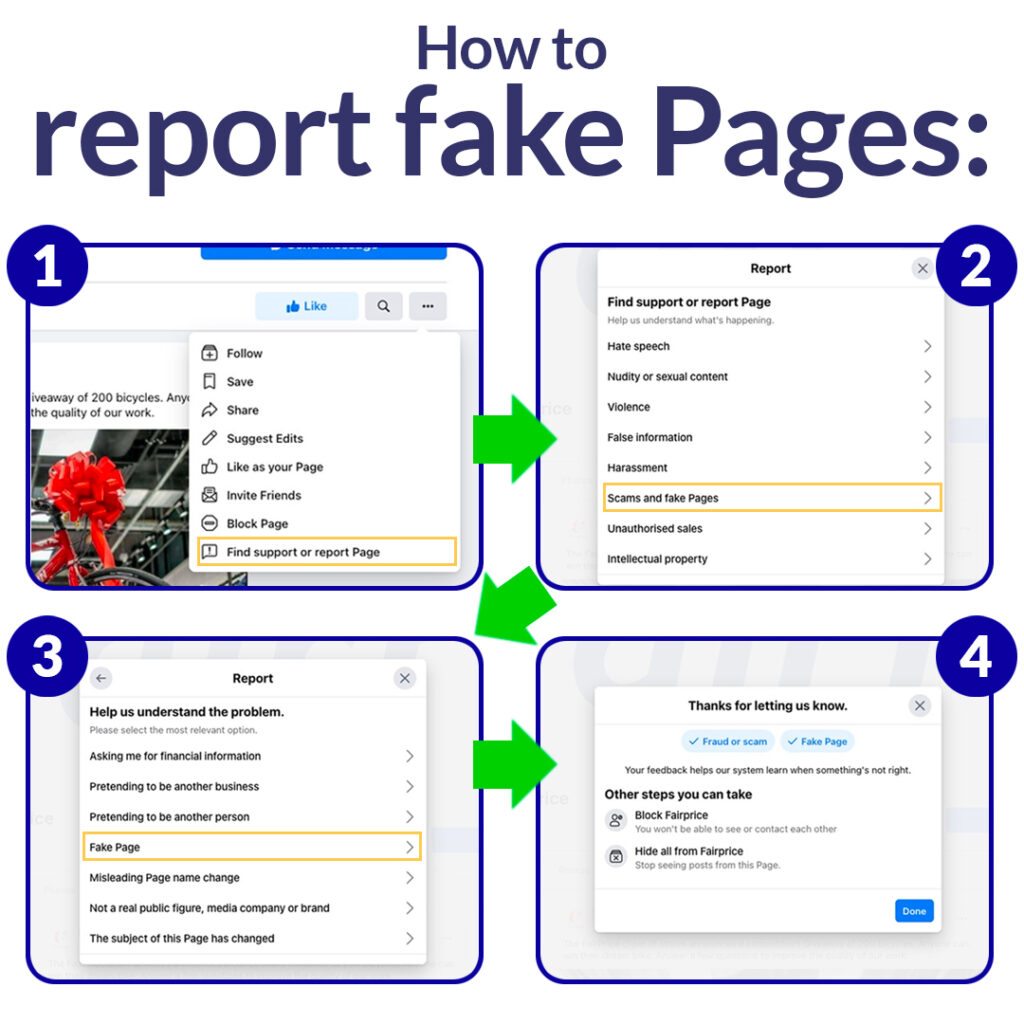 This can be done following the steps highlighted in a previous post which addressed another FairPrice-related scam in August 2021.
Not The First Case of FairPrice-Related Scams
Just last year, in 2022, a similar scam circulated on Facebook, again using FairPrice's name and reputation to scam customers.  
This time the fraudulent page promised appliances or cash in the scam giveaways circulating online. In the post, the page claimed to be giving away 42 to 85-inch Samsung TV sets for just $2.95 to celebrate FairPrice's 50th anniversary.
Scammers didn't seem to stop at just circulating fake Facebook giveaways as just between 15 and 24 November 2022, the police had received multiple reports of NTUC FairPrice and Zalora customer accounts being compromised. 
They were informed of seven NTUC FairPrice, and 53 Zalora customer accounts being compromised, which led to fraudulent purchases amounting to $12,340. 
Six men, aged between 19 and 32, have since been arrested for their suspected involvement in the series of compromised customer accounts.
Scams Targeted at Older Adults
The prevalence of Facebook scams utilising FairPrice's name could be attributed to the target audience that frequently patronises FairPrice, typically older adults such as our parents or grandparents.
According to a police report in 2022, seniors aged 60 and above are the primary victims of phishing, social media impersonation, and investment scams. 
Although social media impersonation scams decreased from 248 in 2020 to 212 in 2021, phishing and investment scams increased. The number of phishing scams involving seniors tripled from 153 in 2020 to 561 in 2021.
Mr Koh Juay Meng, the chairman of RSVP Singapore, a non-profit organisation that promotes volunteerism among seniors, highlighted that the COVID-19 pandemic has made seniors more susceptible to scams. 
He pointed out that many seniors live alone and may feel isolated, which makes them more excited to click on links that offer "nice things".
---
Advertisements

---
To address this issue, cybersecurity and scam workshops have been organised at The Majestic Smart Seniors Applied Learning Centre in Chinatown since 22 March 2022, with the aim of assisting up to 500 seniors. 
Social service agency Lions Befrienders has also partnered with technology firm NTT to conduct hybrid English, Mandarin, Malay, and Tamil workshops to educate seniors on identifying common scams and red flags online.
As of May 2022, almost 1,000 seniors would have attended these workshops.
Need For Vigilance Against Rising Scams
Although we might assume that older adults are the only targets of online scams, a 2022 study by the Institute for the Public Understanding of Risk (IPUR) discovered that individuals under 25 years old were 10% more susceptible to scams than those aged 65 and above. 
Over the past two years, more than $1.3 billion was lost to scams in Singapore, with 53% of victims aged between 20 and 39 years old.
It is essential to educate the elderly about tech-powered scams. Still, as more digitally savvy users, we must remain vigilant and not let our knowledge of technology make us complacent about online dangers. 
---
Advertisements

---
Whether young or old, there are multiple steps individuals can take to protect themselves from scams.
One of the steps individuals can take is to download the ScamShield mobile application, which can detect scam messages and block calls from blacklisted scam numbers. 
Alternatively, they can join the Scam Alert Telegram channel established by the National Crime Prevention Council to receive alerts about scams. 
Those requiring scam-related advice can call the Scam Alert hotline at 1800-722-6688 from 9 am to 5 pm on Mondays to Fridays, excluding public holidays.
More information and tips on how to identify and prevent falling victim to scams can be accessed on Scam Alert's website.
---
Advertisements

---

Fresh grads, you don't need any experience to earn up to $4,200 with this "secret":
Read Also: