---
Advertisements

---
Unless something serious goes wrong, there are a few things you can expect to see every year:
the Prosperity Burger at McDonald's
PM Lee giving a speech in a pink shirt
fireworks at the New Year Countdown
As you know, though, something serious has indeed gone wrong this year, and it's changing the way we live our life.
While we did stuff our faces with an alarming number of Prosperity Burgers and saw PM Lee give several speeches in pink shirts, there won't be any fireworks at the New Year Countdown for 2020.
Instead, fireworks will be set off closer to home.
There Won't Be Any Fireworks in New Year's Countdown Celebration to Avoid Crowds
But not too close, of course. 
Since 2005, fireworks have been a trademark of the New Year's celebrations at Marina Bay.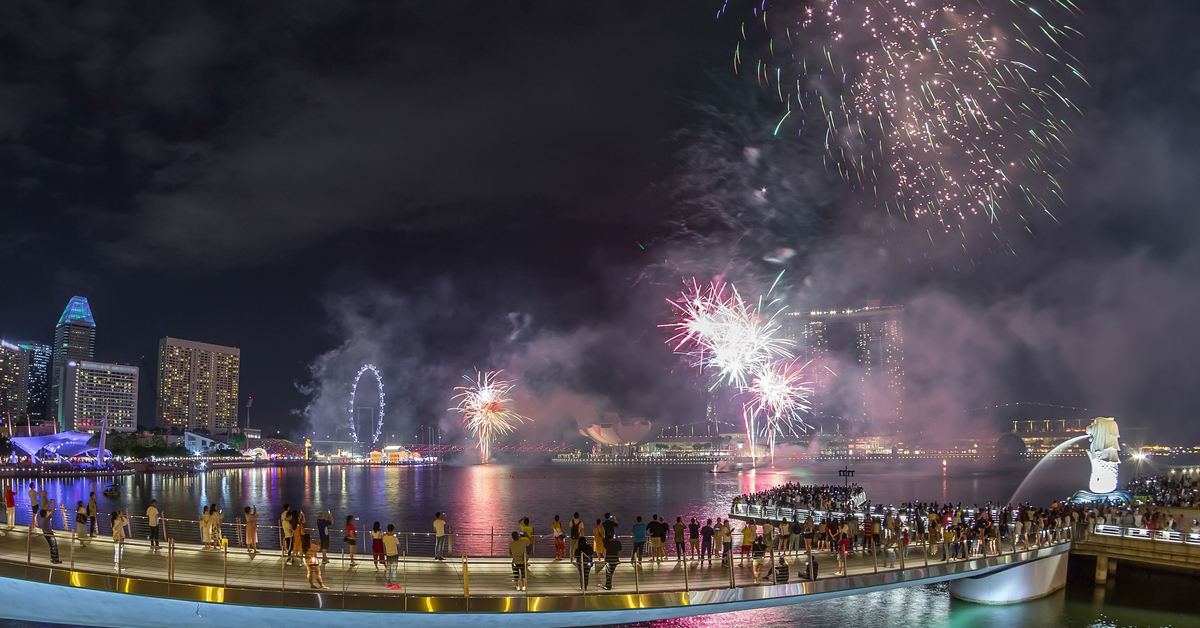 But thanks to the coronavirus, this will not happen in 2020.
In an effort to minimise crowds, fireworks will instead be set off at different heartland locations across Singapore, the Urban Redevelopment Authority (URA) said on Thursday (5 Nov).
Besides being a safety precaution, this will also bring the Countdown experience closer to Singaporeans at home.
The authorities are still working out the details, though.
"As health and safety remain a priority, we have adopted a different format to ensure that the public can celebrate safely and meaningfully," said Lim Eng Hwee, chief executive of URA.
---
Advertisements

---
Two Light Shows
There will instead be two light shows at Marina Bay to celebrate arrival of 2021.
For the first display, called "Share the Moment", student artworks from various institutions will be projected on the facades of three landmarks in Marina Bay – The Fullerton Hotel Singapore, ArtScience Museum, and the Merlion.
These stunning projections will be on show nightly from 25 Dec to 31 Dec.
Organised in partnership with the National Volunteer and Philanthropy Centre, it will depict Singaporeans coming together to help those in need.
The second light show, "Shine a Light", will be visible for the entire month of December. It features a light-up of the Marina Bay skyline with 60 light beams shining from The Promontory.
Music Programme Streamed Online
You can't have a good new year's celebration without good music, of course.
This year, residents can also look forward to a special New Year's Eve music programme presented by Mediacorp called "Let's Celebrate 2021".
The show will be broadcast on Channel 5 and streamed online.
Both international and local talents will feature in the programme, presenting good music, dance routines, and fashion shows to usher in the new year.
It may be our first New Year celebration during a pandemic, but that doesn't mean we can't celebrate it in style.
---
Advertisements

---
Just don't invite too many people to your house. 
As you know, the current group size limit for social gatherings is 5 people. Even if we shift to Phase 3 before the end of the year, this will only go up to 8. 
So, while the end of the year is usually a time to have a large celebration with your family and friends, you should plan a more modest affair this time.

Here's why a 4-day workweek might finally really be possible in Singapore soon:
Read Also: