What do you do when you don't know the meaning of the word "obscurantism", or want to learn more about the French Revolution?
If you were asked this question in 1990, you'd probably furrow your brows and say: "Well, I'd head to the library, of course."
These days, we have a much simpler solution: Google it.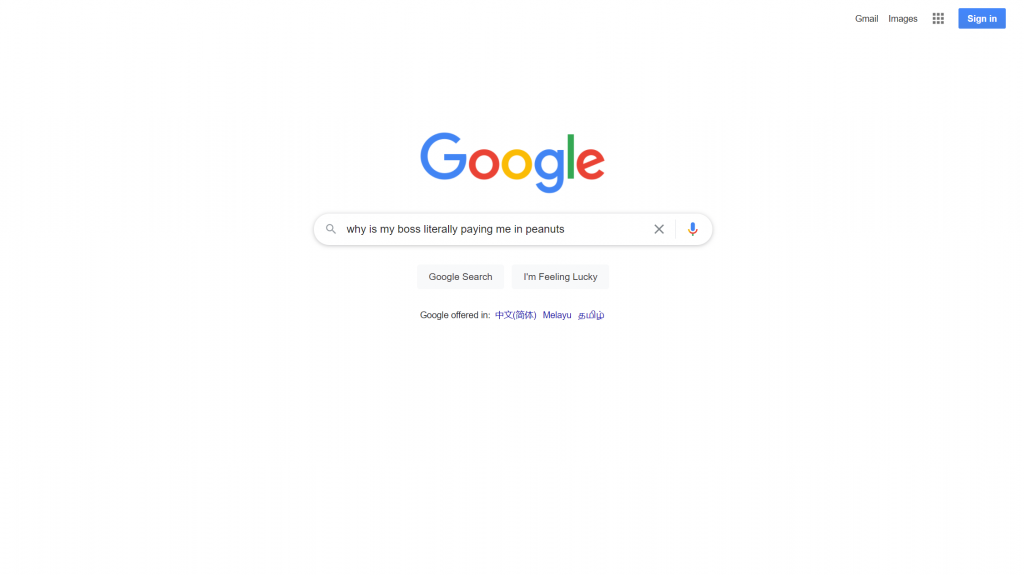 The search engine has become an integral part of our everyday life, infiltrating nearly every aspect of it.
Whether we want to check timings for a movie, where the nearest A&W is, or whether waking up with a completely orange face is normal, we google it.
So, what'll happen if Google is taken away from us?
We'd have to Yahoo things, or DuckDuckGo things, and that just sounds weird.
But that's exactly what some Australians may be forced to do soon.
Google: Bye, Felicia
Google has threatened to remove its search engine from Australia if a proposed law which would force the tech giant to pay royalties for news content is passed.
The law, which also targets Facebook, would compel these tech giants to compensate media outlets for their news content.
If passed, internet users in Australia would have to use alternatives such as Microsoft's Bing, DuckDuckGo and Yahoo!
In response, the tech giants threatened to remove their services from the country.
Australian PM Scott Morrison said lawmakers, however, would not yield to "threats".
So, why is Australia proposing this law?
Compensation for Journalism
Now, let's say you spent a few days writing a 10,000-word article on how the McSpicy is a national treasure, and shared it on your blog.
---
Advertisements
---
It received critical acclaim, mostly from your parents, but because your blog isn't exactly well-known, it didn't get many clicks.
Then you discover that your boss has shared the lengthy article on his news website, which has tens of thousands of readers, without your permission.
Wouldn't you want some compensation? Well, that's what this law is all about.
See, most of us don't realise it, but unless you still read newspapers, you likely get all your news from Google or Facebook.
And since these tech giants gain more customers who want to read the news, the Australian government believes they should pay media outlets a "fair" amount for their journalism.
After all, much of that lost advertising revenue is going to these tech giants, forcing some newsrooms to close as a result.
According to the BBC, of every A$100 spent on digital advertising, A$81 goes to Google and Facebook.
Consequently, newsrooms have to cut down on their digital advertising expenses, while others have to close for good.
According to CNN, more than 200 newsrooms across Australia have shuttered temporarily, closed down permanently, or reduced its service since Jan 2019.
---
Advertisements
---
Meanwhile, Google's profits continue to grow, with the tech giant making almost $4bn from Australia last year, paying $45m in tax.
The government also argued that financially supporting the dying news industry in Australia is necessary, as a strong media is vital to democracy.
So, How Much Would Google & Facebook Have to Pay?
The short answer is that no one knows.
In July, the Australian Competition and Consumer Commission developed a draft of the News Media Bargaining Code.
The code allows newsrooms to request compensation for the inclusion of their news on platforms like Google and Facebook.
---
Advertisements
---
Both sides would have to involve an independent arbitrator if they can't reach an agreement on compensation.
Google: Code is "Unworkable"
According to the Indian Express, Google said it believes the financial future of publishers should be supported, but said the code is "unworkable" as it would disrupt how the search engine operates.
Last Friday (22 Jan), Google Australia managing director Mel Silva told a Senate hearing that the new law would set "an untenable precedent for our businesses and the digital economy".
This would disrupt the free-flowing share of information online, she said.
"We do not see a way, with the financial and operational risks, that we could continue to offer a service in Australia," she added.
---
Advertisements
---
Last week, the tech giant confirmed it was blocking Australian news sites from its search results for about 1% of users in the country.
Scared It Would Set a Precedent?
Some believe, however, that this threat by Google to remove its search engine shows that the company is worried.
Australia isn't exactly Google's biggest market, but the fear is that the law, if passed, would set a precedent for other countries.
And if more countries follow suit, Google could lose a lot of money indeed.
This is why the Trump administration urged Australia not to pass the code, warning it is "extraordinary" and may have "long-lasting negative consequences".
---
Advertisements
---
Law Will Likely Be Passed
While the threat of removal could indeed have far-reaching consequences, the Australian government isn't backing down.
Last year, when Facebook threatened to stop Australian users from sharing news stories on their platform if the law was passed, Australian treasurer Josh Frydenberg said: "We don't respond to coercion or heavy-handed threats wherever they come from."
And the country's prime minister, Scott Morrison, asserted that the government will not yield to "threats."
So, What's Next For Australians?
If the law is passed, Australians will be forced to use a different search engine.
Popular ones include Microsoft's Bing, Yahoo, and DuckDuckGo.
---
Advertisements
---
They could use a Virtual Private Network (VPN) to access Google, but as VPN users would know, it's slower, and you'd have to pay a monthly fee if you want a reputable service provider.
While some Australians support the new law, others are concerned it could lead to the removal of other services like Gmail, Google Maps, and Google Home.
Whether this will actually happen remains unclear.
But with the Australian government looking dead set on passing the proposed law, all eyes will be on Google to see if they actually follow through on their threat.
Featured Image: PK Studio / Shutterstock.com
---
Advertisements
---
Like writing? Goody Feed is looking for writers! Click here for more info!