---
Advertisements

---
The Lesbian, Gay, Bisexual, Queer, Transgender, and more (LGBTQ+) exists.
That's a fact, not a rhetorical statement.
With Singapore's ethnic make-up belonging to an Asian majority, our outward values tend to lean more towards the conservative, and that has remained the status quo thus far, even as more Western countries have begun to recognise and legalise gay marriage.
Sure, we have the Pink Dot movement that celebrates and encourages the acceptance of the LGBTQ+ community, but there's the White Dot movement at the other end of the spectrum.
The government has chosen not to give much opinion to the matter, preferring to keep one eye closed; silently accepting but never overtly supporting the cause or community.
A Window Opens
On 3 March 2022, the Minister for Law and Home Affairs K Shanmugam delivered a parliamentary speech during the Committee of Supply debate, pushing the government to genuinely consider the matter for once.
It mostly revolved around the controversial Section 377A on the Penal Code—a law that prohibits any sexual intercourse or "gross indecency" between men, whether in private or public—and questioned its relevancy in the current day and age.
The oddness of Section 377A in the Penal Code is that while the law still exists in the books, it is scarcely ever invoked. Just last month, the apex court even made a judgement that the law cannot be used to prosecute men for having gay sex.
Shanmugam stated that polices need to evolve to keep pace with the gradual shift in societal attitude towards homosexuality, and legislation needs to be changed to support the updated polices.
"We must respect the different viewpoints, consider them carefully, talk to different groups," Shanmugam said. "If and when we decide to move, we will do so in a way that continues to balance these different viewpoints and avoids causing a sudden, destabilising chance in social norms and public expectations."
And Section 337A seems like the perfect place to start, to at least not criminalise people for their sexual orientation and their actions. 
---
Advertisements

---
A week later, Shanmugam said that his parliament statement was carefully considered and delivered on behalf of the parliament.
However, individual ministers are bound by Cabinet's decisions on government policy, so they were told to refrain from airing their own personal views on the topic.
Join our Telegram channel for more entertaining and informative articles at https://t.me/goodyfeedsg or download the Goody Feed app here: https://goodyfeed.com/app/
REACH Launches a Survey to Gather Views
Instead, REACH, the Government feedback unit, launched a public survey concerning LGBTQ+ community and 337A of the Penal Code earlier in March.
The poll has officially closed, as of 23 March.
This is one of the first time REACH has conducted a survey regarding sentiments on this topic.
The survey was composed of questions and statements with open-ended and multiple-choice questions.
Among the statements are "I feel that the LGBT+ Community is accepted in Singapore" and "I am supportive of the LGBT+ community in Singapore", and their choices range from "Strongly Agree" to "Strongly Disagree".
There were two questions that touched on Section 377A, one which asked the respondents if the law should be "repealed", "maintained", "modified", or "I am indifferent about it".
Honestly speaking, I'm surprised that we've managed to progress to the point where we're talking about it in an official and public capacity.
REACH: The Survey is Open to Everyone
"The survey is open to everyone regardless of your sexual orientation and/or gender identity. Your feedback will be shared with the relevant agencies and could be used within the Government for policy updates and changes," REACH wrote in the survey.
---
Advertisements

---
To reflect that, one of the initial questions asked if the respondent was male, female, or others.
After the survey closed, REACH said on its site that there has been an "overwhelming response", boasting numbers that were far greater than the usual number of responses that they would receive on their e-Listening Points.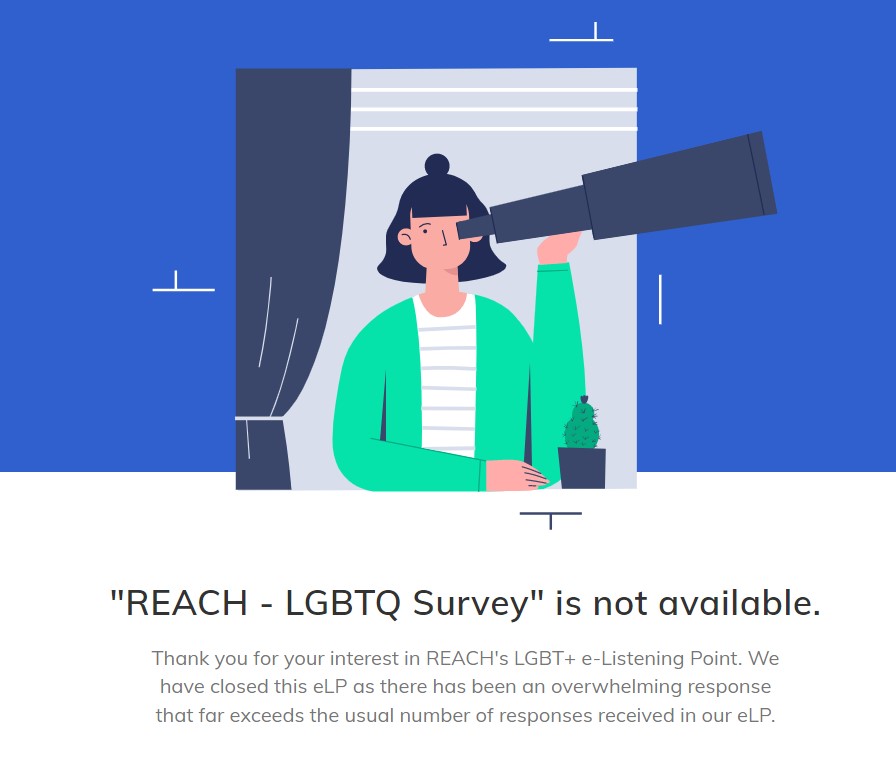 An e-Listening Point is a virtual feedback form.
Perhaps that alone shows that the tides of societal attitudes are changing, because we seldom do surveys unless we're forced to, or we genuinely want to.
Read Also:
Featured Image: REACH Survey & Facebook (Pink Dot SG)

Your parents are wrong: MSG (Monosodium Glutamate) is good for you (sort of). Here's the truth:
Read Also: