---
Advertisements

---
As the famous quote from the movie, Forrest Gump, goes, "Life is like a box of chocolates, you'll never know what you're gonna get."
For me, I always hope that I can get a box of Ferrero Rocher. The chocolate just melts in my mou-
Ok sorry, I digress.
Let's go back to the GrabFood rider's story.
In Ms Amanda Choi's case, not only did she get her meal delivered by the GrabFood rider, she also received a dose of kindness from a responsible person.
Her friend, Ms Heidy Imt, who was also touched by the story, shared Ms Choi's encounter on Facebook.
GrabFood Rider in M'sia So Dedicated to His Job, He Continued Sending Food Even When His Phone Was Stolen
Ms Amanda Choi, made an order from GrabFood on 27 October. The delivery was slated to arrive between 9.45 to 10pm.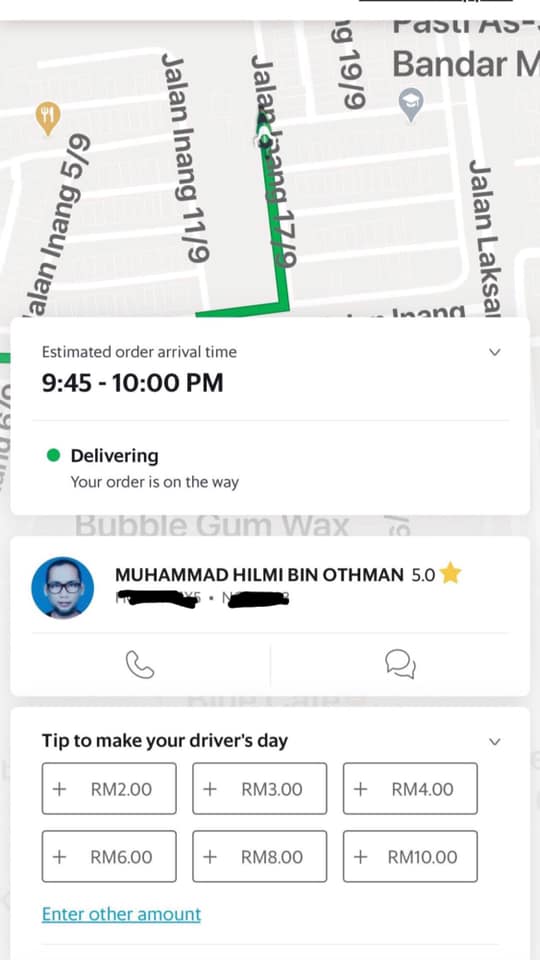 Upon noticing on her app that her food will be delivered soon, Ms Choi headed down to wait for the rider, Mr Muhamad Hilmi bin Othman, to arrive.
Instead of stopping at her place, Ms Choi noticed that the rider took a U-turn and headed back towards the restaurant area.
Thinking that the rider either took the wrong order or made a mistake with it, Ms Choi then headed back.
Thereafter, Ms Choi realised that the app indicated that the rider was moving further away from both the restaurant and her home.
While the map indicated that Mr Muhamad Hilmi was nowhere near Ms Choi's home, he soon arrived at the doorstep with her order.
So, the rider teleported himself?
Nope.
Mr Muhamad Hilmi's phone was actually stolen when he was about to reach Ms Choi's place.
That was why though the app indicated that Mr Muhamad Hilmi was around Makhota area (a location in Malaysia), he was able to appear at Ms Choi's home at the same time.
What impressed Ms Choi was the fact that Mr Muhamad Hilmi chose to continue delivering the food, instead of heading straight to the police station to lodge a report about his stolen phone.
Mr Muhamad Hilmi went a step further and borrowed the phone of the security guard, so as to call Grab to retrieve Ms Choi's address.
All these were done to deliver Ms Choi's food.
GrabFood Malaysia's Response
GrabFood Malaysia got wind of Mr Muhamad Hilmi's selfless act.
In their response to Ms Amanda Choi, GradFood Malaysia mentioned that the story warmed their hearts, and that they will be reaching out to Mr Muhamad Hilmi very soon.
---
Advertisements

---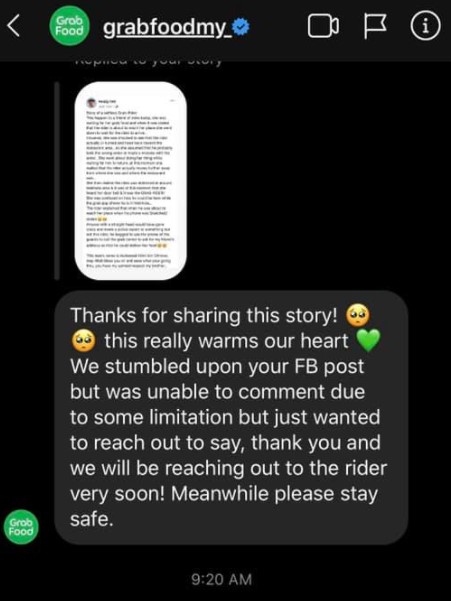 In the meantime, rumours have it that the phone is still moving further away from the restaurant and Ms Choi's home.

Fresh grads, you don't need any experience to earn up to $4,200 with this "secret":
Read Also: