When it comes to groceries, people in Singapore turn to supermarkets.
But what about everyday health and personal essentials? That's when Guardian comes into play.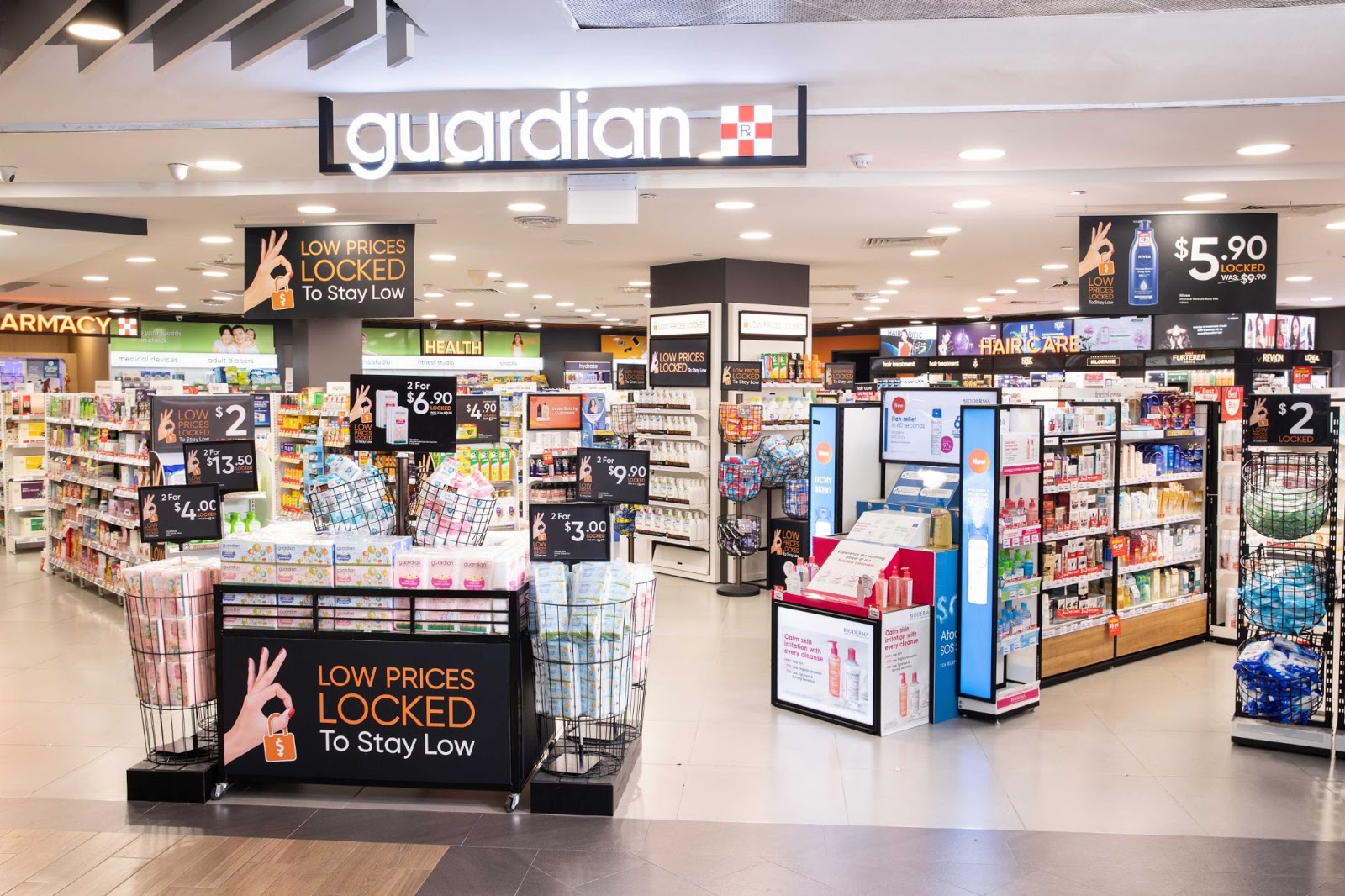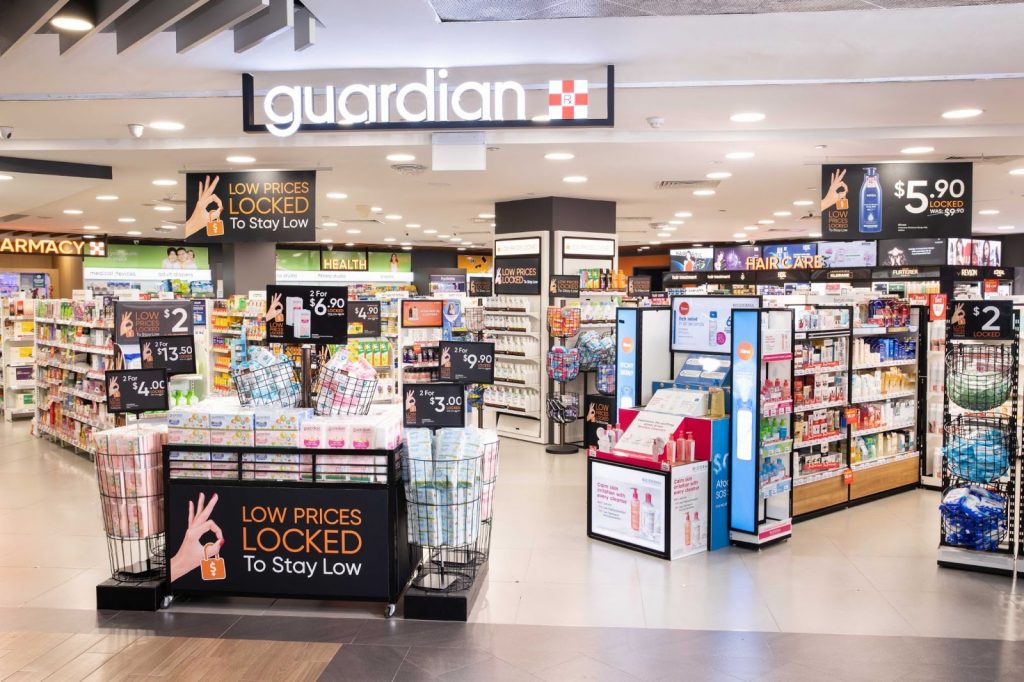 Other than allowing customers to save up to 25% across 500 health and beauty essentials, the products are also available in all Guardian stores – both online and offline. It's the first of its kind initiative for any health and beauty retailer in Singapore!
No matter whether you're an avid shopper of Guardian, or an occasional one, you'll be psyched to know what they have in store for you.
Low Prices Locked For Greater Savings
With the COVID-19 pandemic, one undeniable fact (other than people still insisting on not wearing masks), is that people now have tighter wallets.
To help Singaporeans tide over the pandemic and achieve greater savings, Guardian Singapore is looking towards a huge undertaking: locking prices on everyday essentials including customers' most-purchased products.
By the way, we're not talking in tens or twenties.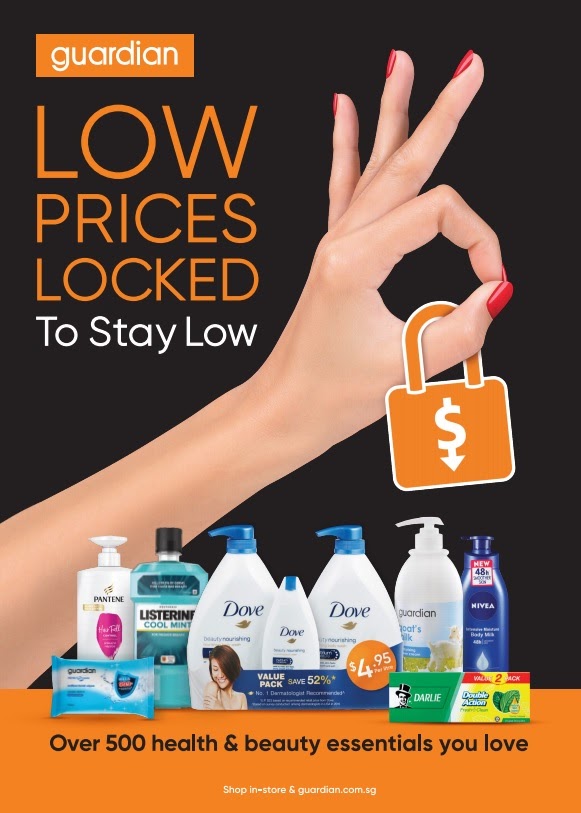 We're talking over 500 essential products across the following categories:
Hair and bath care

Oral care

Personal care

Health supplements
The best part? They're prepared to lock it down for the rest of the year across the entire nation.
Yes, you heard that right. For the rest of the year.
A Meticulous Selection
By the way, don't think that these items are anyhowly selected by Guardian Singapore.
These items were meticulously picked by Guardian Singapore after its intensive research into customer's buying behaviour and preferences.
Because it's Goody Feed, you know we're not going to stop at telling you about a general price decrease.
We want to know exactly what and how much; and tell you all about it.
After all, we're all cats in the office, and curiosity kills the cats and whatnot, right?
We sent our most skilled felines to beg for more information from Guardian Singapore.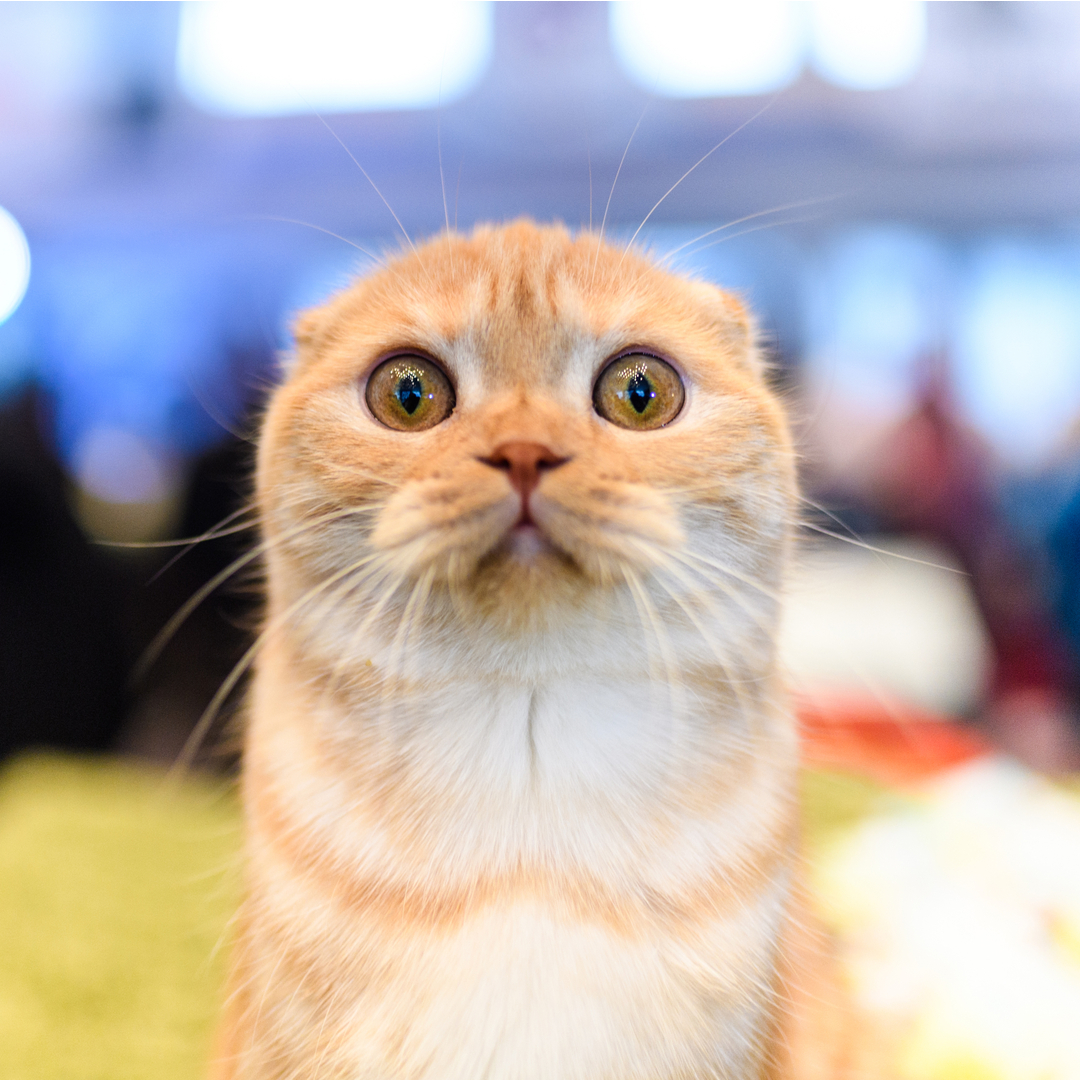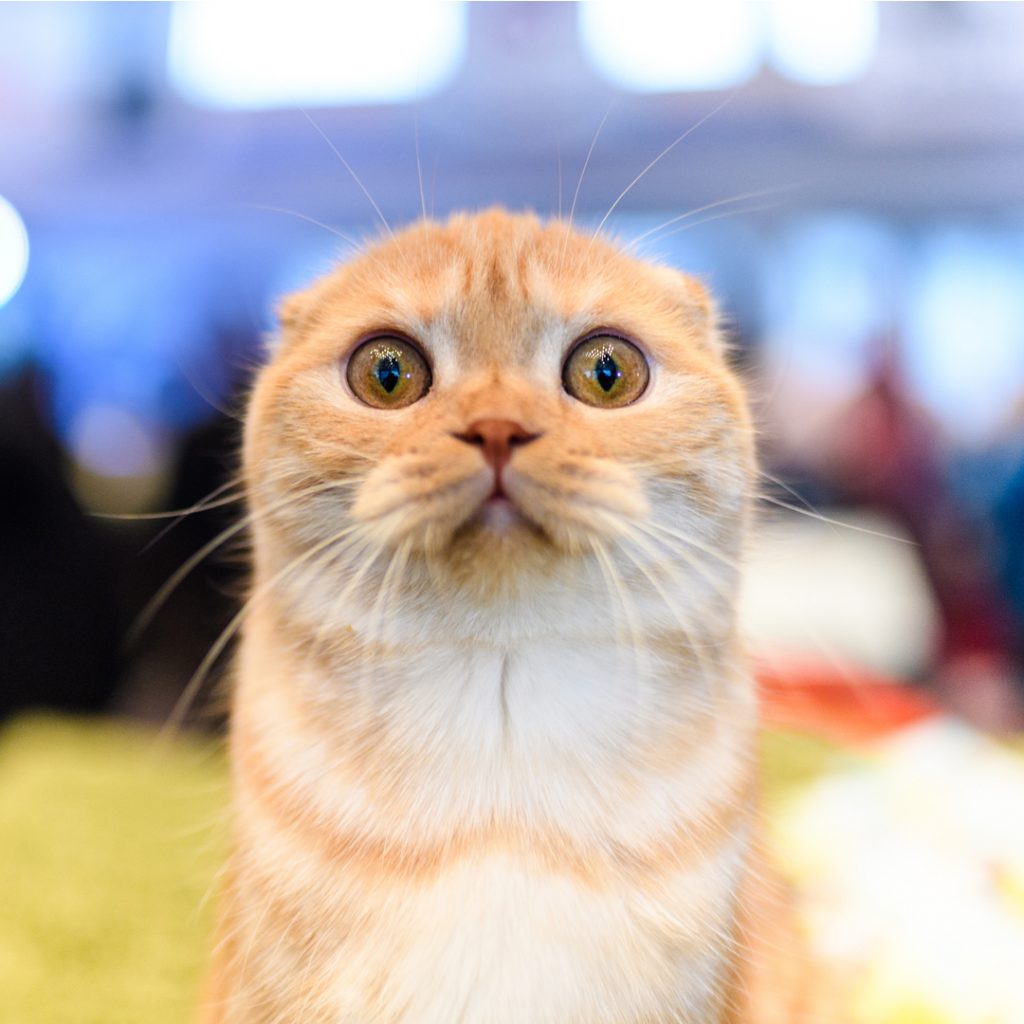 Here's What We Found Out
Products with their prices locked and kept low include Guardian Brand products:
Everything S$2: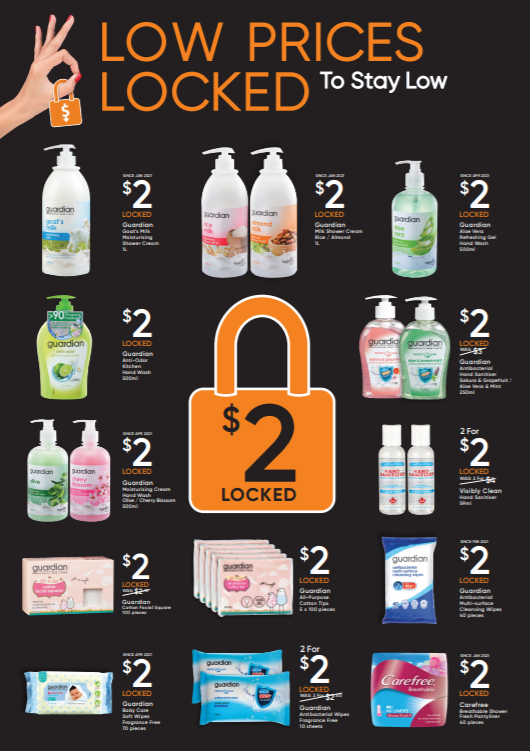 Guardian Goat's Milk Moisturising Shower Cream (1L)

Antibacterial Hand Sanitiser (Sakura & Grapefruit / Aloe Vera & Mint)

Various handwashes

Antibacterial multi-surface cleansing wipes
More Guardian Brand Products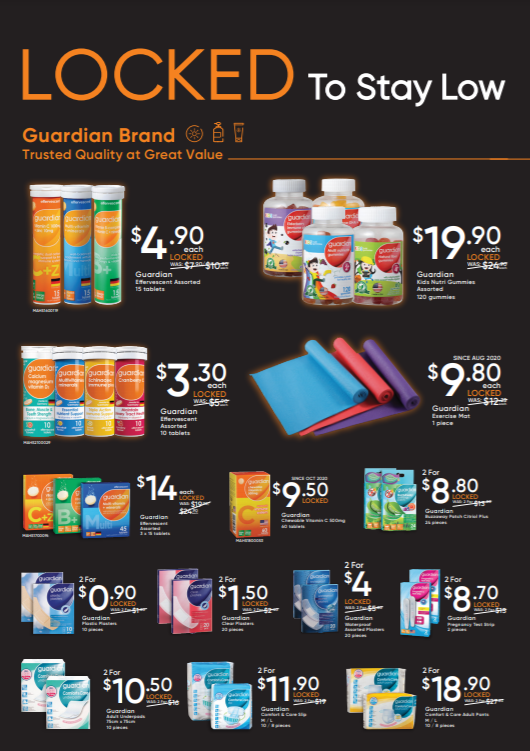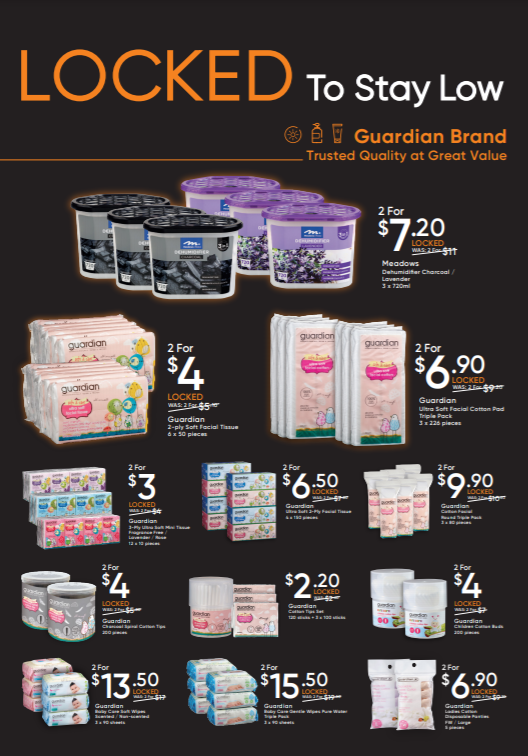 Baby Care Soft Wipes: 2 for S$13.50 (was 2 for S$17)

Effervescent Assorted 3 x 15 tablets: S$14 (was S$19.90 / S$24.90)

Ultra-soft 2-ply Facial Tissue: 2 for S$6.50 (was 2 for S$7.80)
It's not just Guardian Brand products being locked down during this period.
Even well-known brands like Dove, Darlie and Listerine among others have joined in the fun as well across various categories: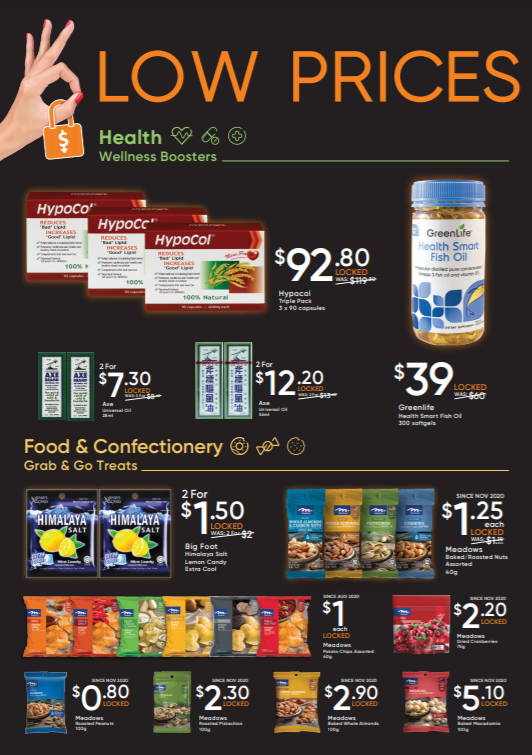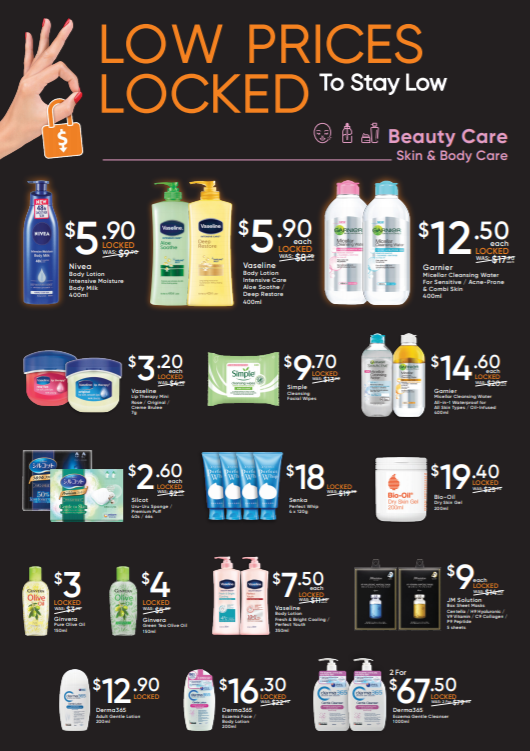 Greenlife Health Smart Fish Oil: S$39 (Was S$60)

Meadows Baked/Roasted Nuts (Assorted) at $1.25 (Was $1.35) 

Vaseline Body Lotion Intensive Care: S$5.90 (Was S$8.95)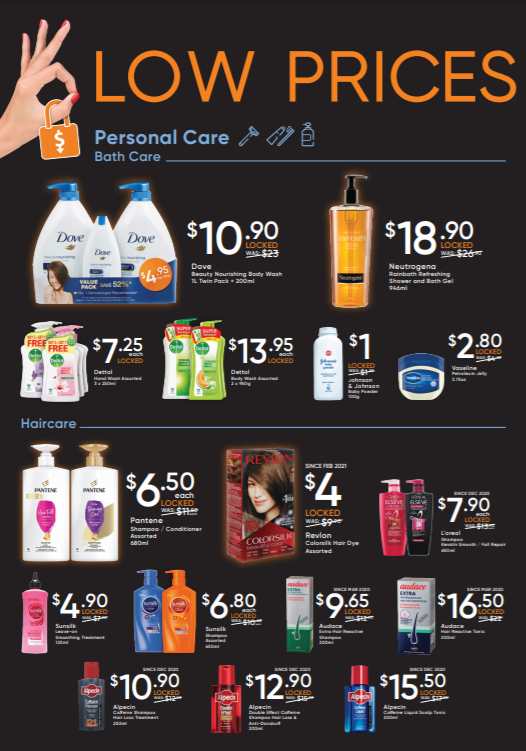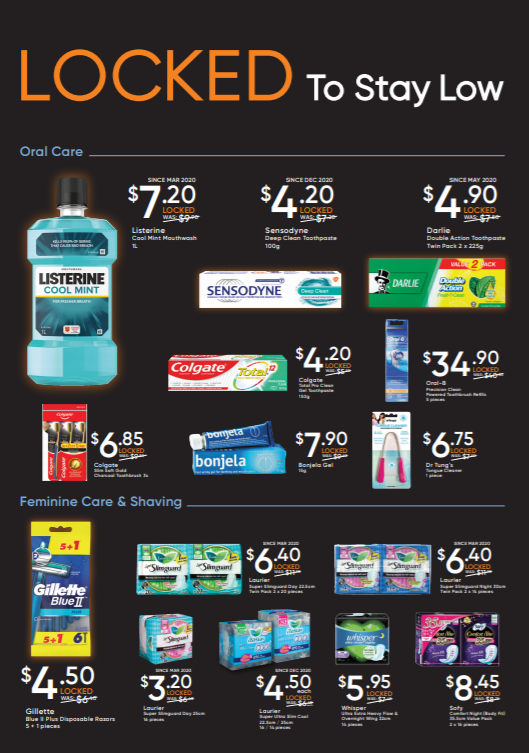 Pantene Shampoo and Conditioner: S$6.50 each (Was S$11.50 each)

Sensodyne Deep Clean Toothpaste (100g): S$4.20 (Was S$7.20)

Gillette Blue II Plus Disposable Razors 5 + 1 pieces: S$4.50 (Was S$6.40)

Laurier Super Slimguard Day 22.5cm Twinpack 2 x 20S

: S$6.40 (U.P S$11.95)

(That's almost 50% off!)
And so much more, including Guardian Brand products.
To support customers even further, Guardian has also introduced new and improved formulation across its popular range of Guardian Own Brand Personal Care products including shower care, hand wash and hand sanitizer.
The range features improved formulation and are dermatologically tested and proven to provide enhanced quality for customers at affordable prices.
Here, take a look: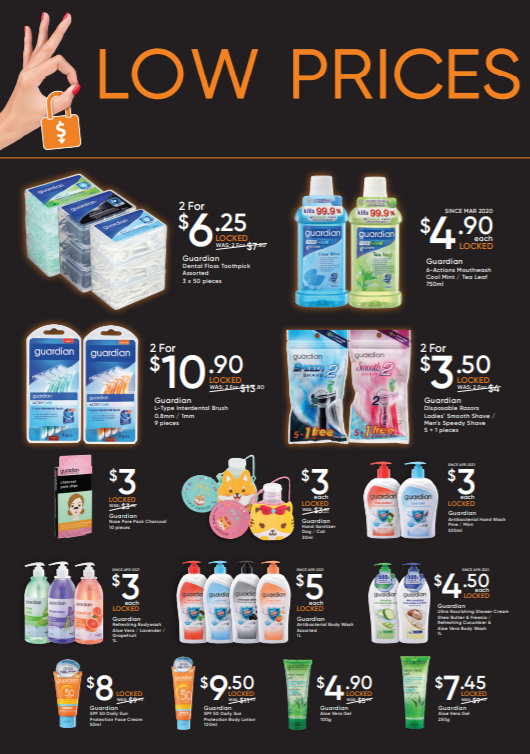 Guardian Hand Sanitizer Dog / Cat (30ml): S$3.00 each (Was S$3.50 each)

Guardian Antibacterial Body Wash (1L): S$5 (Locked since April 2021)

Guardian Antibacterial Hand Wash (500ml): S$3 (Locked since April 2021)
How much can you actually save?
We did a test to find out how much we can actually save under Guardian Low Prices Locked to Stay Low and this is what we found: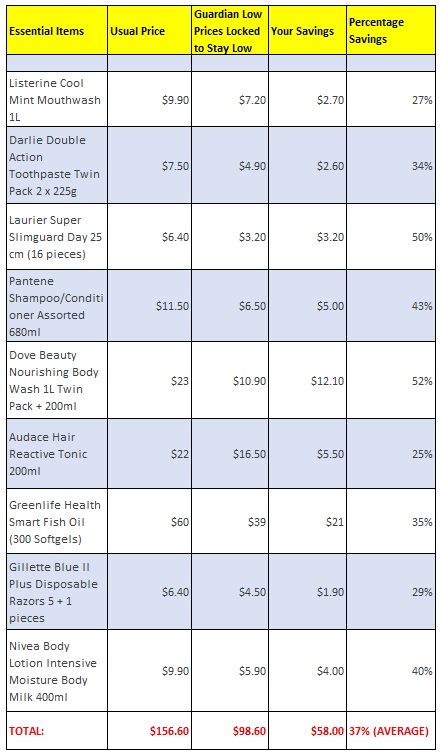 What Are You Waiting For?
You can click here to view Guardian's entire catalogue.
No matter whether you're looking to stock up on daily essentials, or trying out new regimes without hurting your wallet (much), Guardian is the place you need to be at.
They're available now in all Guardian stores, including Giant Shop-in-Shop and online. Click here to find your nearest Guardian outlet now.
You're welcome~
This article was first published on Goody Feed and written in collaboration with Guardian Singapore.