---
Advertisements

---
Last Updated on 2023-08-29 , 11:50 am
Remember that one Yishun "café" that resulted in many noise complaints?
It has since been ordered to shut down.
The café allegedly breached the terms of its tenancy by operating as a pub.
Only in Yishun, am I right?
Café Ordered to Shut Down
Hood Vibes, the supposed café located at Block 468A Yishun Street 43, has been ordered to shut down by 31 August.
Speaking to TODAY, a Housing Development Board (HDB) spokesperson said that Hood Vibes' tenant has not been cooperative even after several warnings.
HDB added that the premises were rented to the tenant to be used as a café, not a pub.
Hood Vibes operated from 4.30 pm to 10 pm and sold mainly alcoholic beverages.
I don't know about you, but that doesn't sound like a café.
The establishment didn't even have a food menu.
When HDB visited the premises, no food was being served to the patrons.
HDB first received complaints regarding noise nuisance, littering and rowdy behaviour in June.
It said, "Arising from the feedback, HDB's investigations over several visits found that the tenant had breached the terms of the tenancy."
In July, HDB served a notice to quit on the tenant.
This means the tenant must stop operations and return the premises to HDB by 31 August.
On 15 August, Mr Derrick Goh, Member of Parliament for Nee Soon Group Representation Constituency (GRC), wrote a Facebook post detailing his visit to Hood Vibes.
He wrote, "Recently, I heard rumblings that a pub had started at Block 468A @ Meadow Spring. I did not believe that such a licence would be granted and hence decided to personally check this out."
Needless to say, he was appalled at the sight before him.
He was surprised to see a pub set up and added, "Beer and hard liquor were available for sale, and there were patrons, most of whom I did not recognise as Nee Soon Link residents."
---
Advertisements

---
Hood Vibes' Instagram Updates
Mr Goh told The Straits Times that residents had sent him screenshots of Hood Vibes' earlier Instagram posts that advertised its sale of alcohol.
The first post on the establishment's page, dated 24 June, described Hood Vibes as "the newest bar in the hood".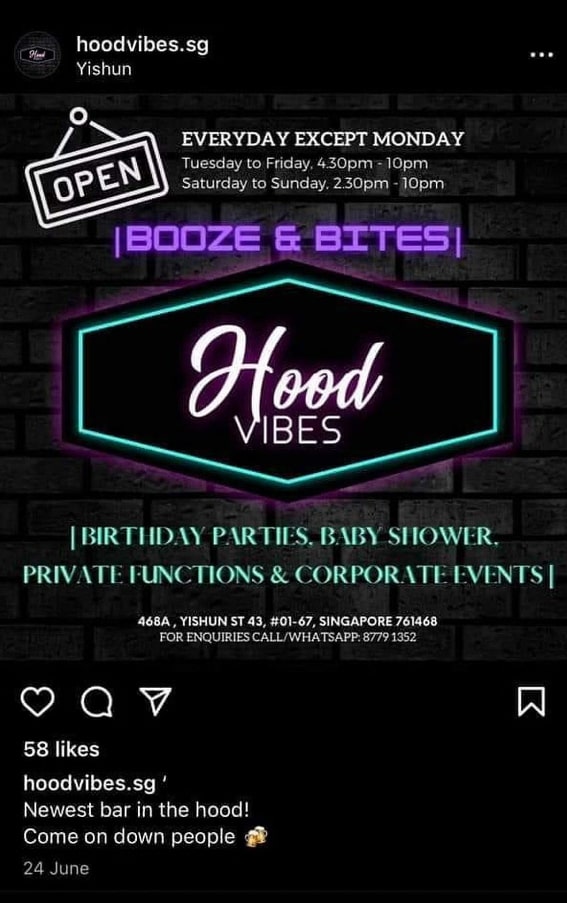 If you didn't know, "the hood" does not refer to hoodies.
It's slang for a neighbourhood that sees rowdy activity.
(This may be why Hood Vibes opened in Yishun.)
However, the post has been edited to say "newest café in the hood" instead.
---
Advertisements

---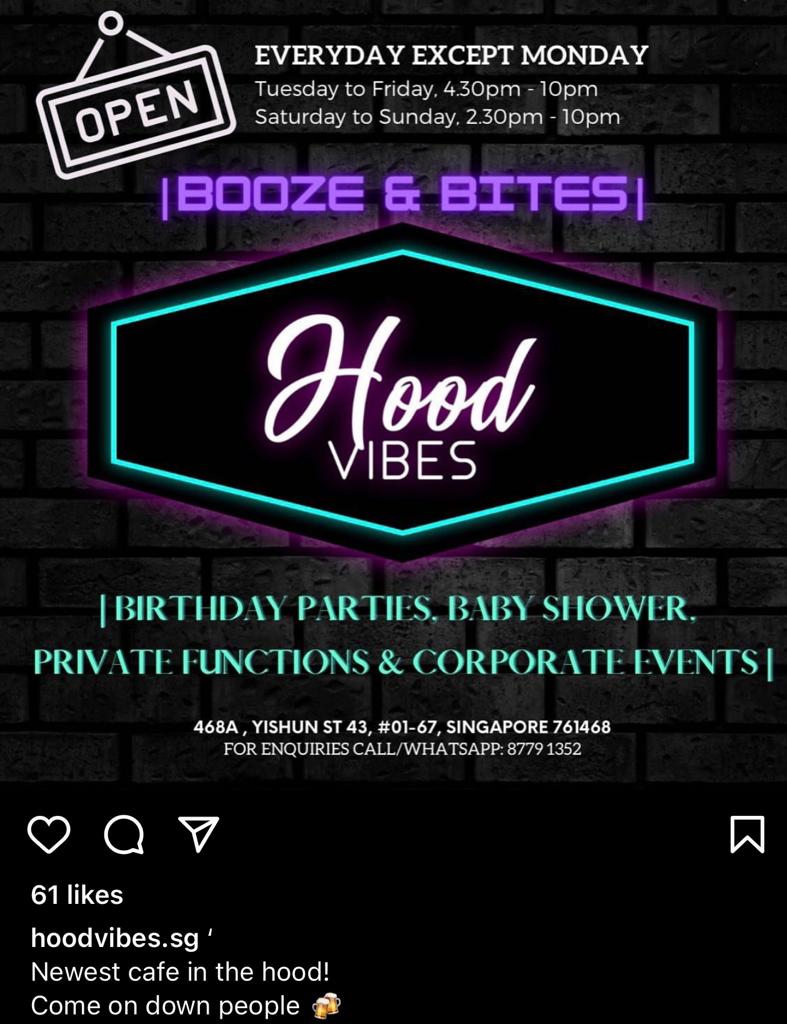 One week ago, Hood Vibes posted an Instagram post with a picture that said, "Sorry, we're closed until further notice. See you soon!"
View this post on Instagram
Notably, comments on the post have been limited.

Café or Pub?
Previously, according to Shin Min Daily News, a woman claiming to be the owner of Hood Vibes gave a few reasons as to whether the establishment is a café.
She claimed that the café only plays "low background music", which doesn't explain all the noise complaints that have been made against the establishment.
---
Advertisements

---
She also claimed that the café only operates from 11 am to 10 pm.
However, the establishment's Instagram post says it operates from 4.30 pm to 10 pm on Tuesday to Friday.
On weekends, it is open from 2.30 to 10 pm.
Both operating hours are nowhere near the one she talked about.
The maths is not mathing.
Besides the most recent Instagram post on its account, the establishment has yet to make an official statement on its closing.
How HDB Determines Action to Take Against Tenants Who Breach Tenancy Conditions
According to HDB, it considers the facts of each case carefully.
It determines the appropriate action to take against tenants who breach tenancy conditions on a case-by-case basis.
---
Advertisements

---
Some considerations it considers include whether public safety is compromised, the tenant's willingness to fix the infringement and whether there are complaints against the tenant.
In this case, there were many complaints against the tenant.
Furthermore, the tenant was reportedly unwilling to compromise even after several warnings.
Is anyone surprised that Hood Vibes has been asked to cease operations?
HDB added that if the tenant does not take the necessary action to rectify the infringements, it may then terminate the tenancy agreement.
HDB said, "Tenants who rent commercial properties from HDB must comply with HDB's tenancy terms for the premises."
Another Similar Incident
In January 2023, residents lodged a police report because of the loud noise from a Serangoon coffee shop.
The coffee shop at Block 261 Serangoon Central Drive was hosting a Lunar New Year event.
The event was brightly lit, and there was even a beer vendor.
Singers were also invited.
An HDB coffee shop may not be the best place to have loud events.
Shin Min Daily News reported that at around 8 pm, police officers were spotted at the coffee shop talking to staff,
The police later confirmed that two men were assisting with investigations for allegedly providing public entertainment without a licence.