How are you reading this article? On your phone or computer, right?
Have you ever wondered how the words pop up on your screen, how this article is selected for you?
It's all because of AI.
Behind every screen is a coder masterfully pulling the strings so we can enjoy the performance on our phones.
With our increasingly tech-oriented world, we need more puppet masters, and that's why upskilling ourselves is integral.
AI and The World
In our society today, Artificial Intelligence, or AI, has become a huge part of our lives. We practically can't live without it.
If you've noticed, the highest-paying jobs are primarily in the tech sector, and for good reason. Tech skills are difficult to learn. Super difficult.
But that doesn't mean it's impossible, especially not with Heicoders Academy.
Heicoders Academy
At Heicoders Academy, you need not worry about getting replaced by a robot because you're the robot.
Okay, that's a joke: it's because you'll keep up to date with the newest cutting-edge tech skills like python programming and data visualisation. 
Falling under the umbrella of Machine Learning, these skills are increasingly sought after.
I could go on and on about complicated tech jargon, but that'll only bore you. So, here's why you should upskill yourself at Heicoders Academy:
Beginner-friendly: No Experience, No Shame
When faced with a full page of codes and chim terminology, we can't help but feel intimidated, to say the least. This is why many of us don't dare stick our toes into the deep pool of Machine Learning. 
Don't worry, Heicoders Academy has a kiddy pool for us to test the waters. 
For those with zero programming background, you can sign up for the AI100 course. Go into this course with no clue and come out eight weeks later with:
A strong foundation in Python programming

Intuition on how to harness actionable insights from real-world data

Python development skills to build beautiful tabular, graphical and geospatial visualisations
No, you're not going to be touching any snakes. Python is a programming language, kinda like English, but for computers.
Not only will you develop a background in coding in Python, but you'll also learn to apply it in creating data visualisations.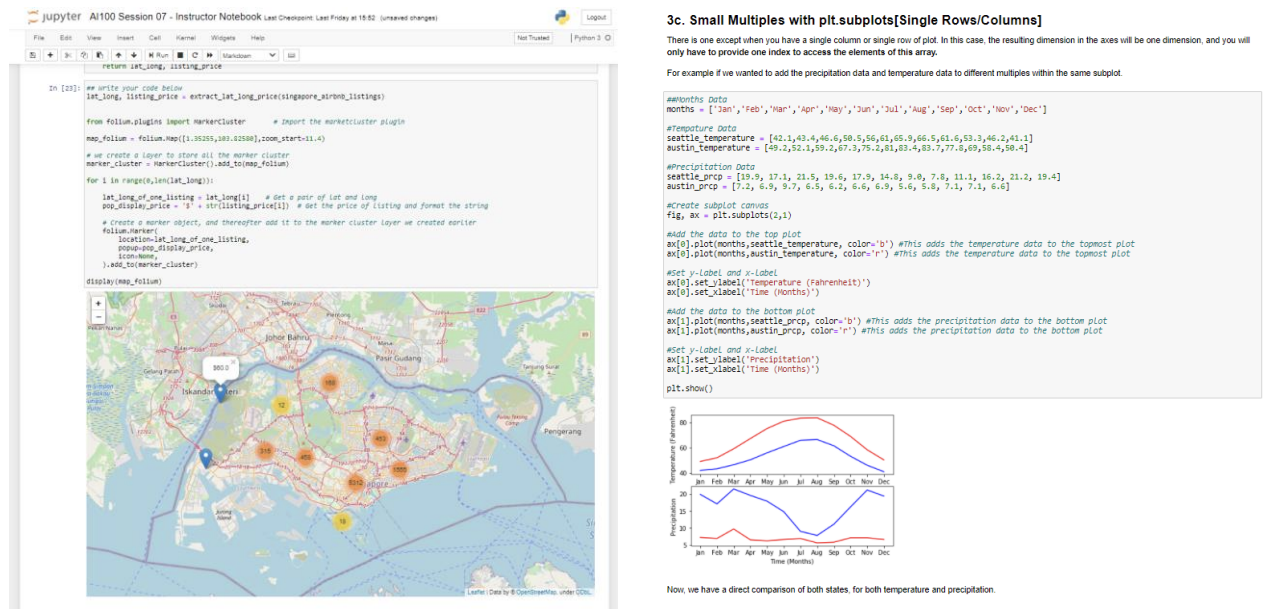 Said data visualisations help in analysing the space we live in. From there, you can deduce things like where to set your business up or where the greatest demand for a particular product is.
Why depend on a property agent's words when you can use real data to make the correct decision?
Next Level: AI200
Now that you're done with AI100, it's time to take the second step and go for the AI200 course. 
I know, it sounds like a university module, and aptly so because since you've already laid the foundation for Python, you're ready to build an industry-level Machine Learning model. 
In this course, you can:
Develop interactive graphical visualisations

Train and evaluate Machine Learning models for classification, regression, and clustering problems

Grasp the intuition and differences across supervised and unsupervised Machine Learning algorithms. 
Going through a series of lectures and in-class exercises, you can further build upon the strong base that you developed from the AI100 course. 
Also, after this course, you'll have access to Heicoders Academy's career advisor, which provides one-on-one guidance sessions to direct your future path.
Last Step: AI300 
By this point, you've already come so far. To put it simply, here's an analogy about Lego: 
The AI100 course teaches you what the blocks do and how to piece them together. Afterwards, the AI200 course guides you in building your Lego figurine. 
Now, the AI300 course will help you showcase your work at the exhibition. 
This course equips learners with the technical skills required to build and deploy Machine Learning models to the cloud.
In the AI300 course, you learn to: 
Develop Machine Learning codes using techniques and tools that are widely used in the industry

Query databases and wrangle datasets with Structured Query Language

Deploy your trained Machine Learning models to the cloud
Upon completing AI100, AI200, and AI300, you will receive an additional Artificial Intelligence Nanodegree certificate from Heicoders Academy.
The certificate is recognised throughout the industry and you can embed it in your LinkedIn profile. 
I won't need to tell you how LinkedIn use AI to decide how to match you and potential employers, so yes, AI is everywhere.
Learning from Industry Experts
With such a rigorous course, your teachers would definitely be professional. 
At Heicoders, the instructors and teaching assistants are picked from the best tech companies in the world like Google and Microsoft. 
Under their guidance, you will be exposed to cutting-edge content and the best industry practices. 
Career Support
After you're done with all their courses, you might be feeling lost. Even at this juncture, Heicoders has got you covered. 
As previously mentioned, you can receive one-to-one interaction with industry practitioners who will provide you with practical and insightful career advice. Additionally, they can guide you in improving your digital portfolio and career profile. 
As if that's not enough, they also have a Job Placement Assistance Programme to match you up with their network of career partners. 
If you think you'd be deployed to some random ulu company, you'd be wrong. In fact, Heicoders has worked with companies like Shopee and Singtel before, as well as government organisations like the MOE and MINDEF. 
Subsidies
When it comes to taking lessons, pricing is definitely a factor we consider.
With a wide array of subsidies available to you, you can get up to 70% off your lessons.
Subsidy options include:
IBF-STS Subsidy
UTAP Subsidy Grant
iPREP Subsidy Grant
SkillsFuture Subsidy Grant
To read up more on the many subsidy schemes they have available, you can visit their website.
Learning for the Future
In additional, companies can also book Heicoders' classes to train their employees. Also, Heicoders helps companies to hire their graduates.
Located at 1 Kaki Buki Rd 1, #01-33, they can be contacted via email at [email protected] or telephone at +65 8801 7933.
Alternatively, you can check out their website for more information. 
In the meantime, know this: this article has been vetted through by an AI, and this isn't a joke.
This article was first published on Goody Feed and written in collaboration with Heicoders Academy.