Lest you've forgotten, exactly a year ago, on 14 May 2020, there were 752 cases, and most of them were dorm cases: only 2 were local cases. And back then, the number of average community cases per day was merely 6.
As you probably know by now, Singapore reported a whopping 24 community cases today (14 May 2021), and COVID-19 press conferences have now become dreaded events again as the task force tackling COVID-19 announced a new set of measures today that felt relatively similar to Circuit Breaker.
But take a walk outdoors and you'd realise it does look like Circuit Breaker 2.0, because the hoarders are back.
People in S'pore Hoarding Daily Essentials from Supermarkets Again After Announcement of New Measures
I should've bought my bottle of peanut butter yesterday, because it's not going to be easy getting into a supermarket tonight.
Immediately after the announcement, images like these were shared widely on social media:
Why am I not surprised?
The authorities have been going on social media to pacify us, telling us to calm down and not hoard items like what we did last year.
Minister for Trade and Industry (for the next few hours before he became Education Minister) Chan Chun Sing said this in a Facebook post: "All retail outlets, including supermarkets, will remain open during this period. Our stocks are adequate. Our supply lines are intact. Let us continue to remember to buy only what we need and look out for the more vulnerable among us."
The head of NTUC, Ng Chee Meng, even used a meme to spread the message:
And the CEO of NTUC FairPrice, Seah Kian Peng, assured us that they are now more prepared, so there's no need to "rush".
Various media outlets have reported long queues in many supermarkets, so it seems like their pleas have fallen on deaf ears as the hoarding has started even before peak hours.
Supermarket chains, however, continued to appeal to the public, urging us not to hoard, but so far, there hasn't been any restriction imposed on daily essentials. Yet.
To know more on why people hoard toilet paper during this period, watch this video to the end:
---
Advertisements
---
Sheng Siong Huat Again
When it comes to hoarding, you can't miss Sheng Siong.
Upon the announcement of the new measures, the company's stocks went bullish; it had opened at $1.51 this morning, and after lunch, it soared all the way to a high $1.67.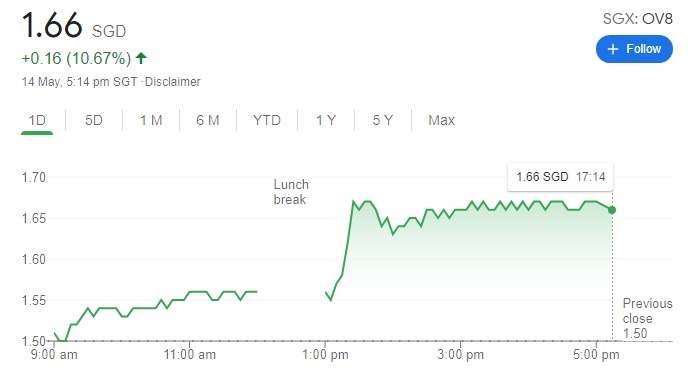 It seems like people aren't just hoarding daily essentials in supermarkets; they're also hoarding a piece of the supermarkets.
Let's just hope that tomorrow, we won't be seeing baskets of products scattered in those supermarkets.
Featured Image: Facebook (Calvin Yang)
Like writing? Goody Feed is looking for writers! Click here for more info!