---
Advertisements

---
With how popular the Korean girl group Blackpink is, it seems like the odds of getting struck by lightning are higher than successfully getting tickets to their concerts.
So when you get your hands on the tickets that are more precious than gold, you shouldn't let them go. Ever.
However, in a betrayal of the highest order, a woman with the surname Zhang told Zaobao that her housemate had stolen and resold her Blackpink concert tickets.
On 6 February, she had purchased one ticket for herself and one for her boyfriend, paying a total of S$666.
However, more than a month had passed, and she still hadn't received the tickets, which she had opted to receive by postage.
She asked her housemate, who had the only key to unlock the mailbox, but he feigned ignorance. Pinocchio said he had been too busy to check the mailbox recently.
She then contacted the seller on 13 March, who told her that it may have been that she had incorrectly filled in her mailing address.
Zhang asked the seller for e-tickets on 15 March, and the issue was resolved, so her dreams of seeing the band weren't Shut Down.
However, her housemate's criminal offences only came to light on the day of the concert itself.
While Blackpink was performing, a couple approached Zhang and shared that they had been deceived into purchasing invalid tickets for her seats. According to Zhang, the woman was pregnant as well.
The couple paid $670 for the tickets but couldn't enter the concert venue, forcing them to buy new tickets on the spot.
---
Advertisements

---
The couple's chat history with Zhang's housemate showed he had asked for payment by cash.
Zhang confronted her housemate via text as he had gone back to China. She shared a screenshot of their conversation with Zaobao: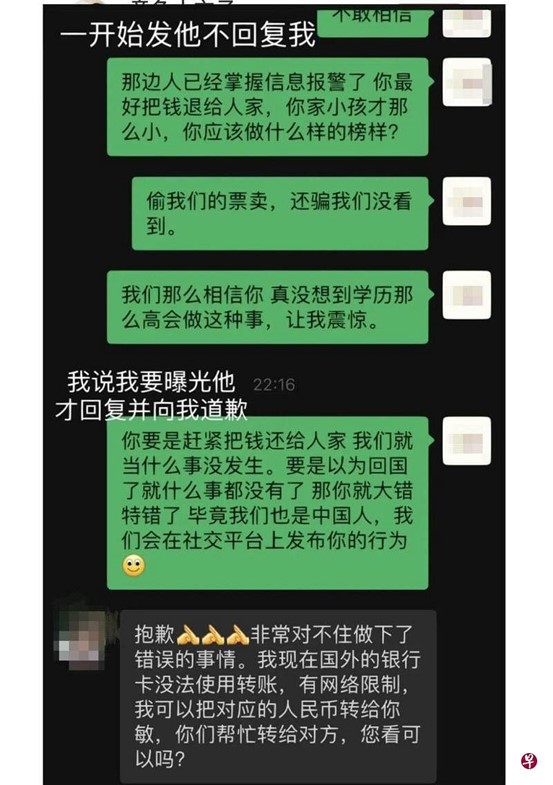 According to the screenshot, the housemate did not reply to her string of messages at first.
She threatened him by saying that the couple has his information and can turn him over to the police, and he had better return them the money.
"Your children are so young; what kind of example are you setting for them?"
Zhang also said to her housemate, who is a PhD candidate, "I really didn't expect such a highly educated person to do such a thing."
Well, news flash. Educated people can be criminals too.
She also added, "You'd better hurry up and return the money, then we're willing to act like this never happened."
She also threatened: "If you think everything will be fine after returning to China, you're very wrong. We're also Chinese, and we'll expose your behaviour on social media platforms."
She ends it off with a passive-aggressive smiley face, which is Pretty Savage.
---
Advertisements

---
But only after her threats did the housemate respond with, "I'm very sorry for having done something wrong."
He also said he couldn't transfer money to the couple directly through his foreign bank card, and asked Zhang to be the middlewoman for the refund.
He has apparently returned $690 to the couple and apologised to them.
But she did, in fact, not pretend like nothing happened, and his actions were indeed exposed to the media. Furthermore, police have confirmed that a report had been filed against him.
Zhang explained her decision: "I told him I wouldn't accept his apology because the crime was pre-planned, and he thought he wouldn't be exposed if he'd left Singapore."

How much cash are you getting in December 2023 from the Government? Here are the facts simplified for you:
Read Also: