Just a few days back, Johorean Chin Yee Chong's winning design for the Johor Bahru-Singapore Rapid Transit System (RTS) was revealed to the public.
The architect bagged a quarter of a million ringgit (that's about S$82,241) at the Façade Design Ideas Competition. His design that is innovative has a one-of-a-kind roof, which looks like two hands are holding each other in support at the wrists.
Now, how cool does it look?
---
Advertisements

---
This cool.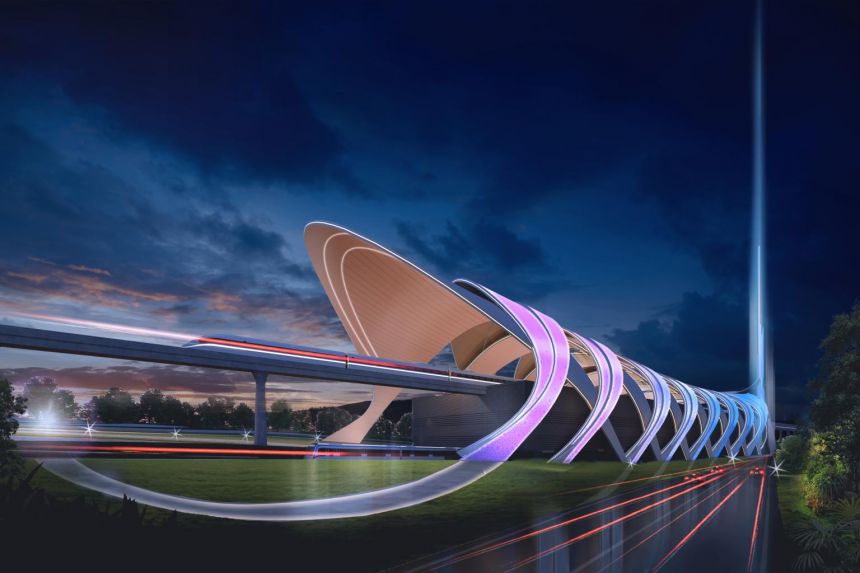 More About the Upcoming Landmark Station's Design
The design's roof has very apt significance: Called "the Integration of Two", it gives a nod to Singapore and the state of Johor's collaborative history and relationship.
The CEO of Malaysia's Mass Rapid Transport Corporation (MRT Corp), Datuk Mohd Zarif Hashim, said its design was truly futuristic and modern, and will be featured in Johor once it has reached completion.
Located in a prime spot at Bukit Chagar in JB, the station will also have a link to the Woodlands North station here. It should take a commuter no more than 5 minutes to clear between stations non-inclusive of the usual immigration checks that can take 50 hours #justsaying. The railway line should be able to cope with up to 10,000 commuters on either way.
---
Advertisements

---
As a passenger, expect to be linked to other local transport destinations in JB as well as Woodlands.
Datuk Zarif also shared that the immigration clearances will be done for both sides at the same building, but at different floors. Once the immigration clearances are complete, passengers can hop onto a train and head to Malaysia or Singapore.
I don't know why writing these seem so sad, because words like "immigration clearances" seem like phrases from a history textbook.
The Selection of the Best by the Johor Sultan Himself
Now here's a couple of fun facts: The competition was jointly organized by Pertubuhan Arkitek Malaysia (PBM) and MRT Corp. It was the idea of Sultan Ibrahim Sultan Iskandar of Johor. The ruler also served as the competition's patron and headed the panel of juries.
Out of 91 entries from Malaysia between 23 November last year to 25 January this year, Chin's submission from SM Architects Sdn Bhd was picked by the Sultan himself and the rest of the judges for its potent symbolism.
The design has its roots in Islamic architecture, and has the incorporation of the Malay keris, Jalur Gemilang and Johor's royal crown in the mix.
Now, you can go cry one corner if this article reminds you of JB's Bak Kut Teh.
Featured Image: MRT Corp
---
Advertisements

---