I Not Stupid actor, Joshua Ang, dropped a bomb on his social media account on 14 Dec 2020.
He has split up with his wife, air stewardess Shannon Low.
Here's what happened.
I Not Stupid Actor Announces Divorces
On 14 Dec 2020, Ang uploaded a picture of his interview with a Chinese paper to promote Jack Neo's latest movie, Diam Diam Era.
The interview carried the headline "Joshua Ang Refuses To Comment On Relationship Matters", on which he placed a "Happily Divorced" sticker censored Low's face.
View this post on Instagram
In the description of the post, he also quoted Oscar Wilde: Divorces are made in heaven.
He asks people not to tell him how sorry they are over his divorce, but to congratulate him instead.
He has also reportedly deleted all traces of Low from his Instagram feed, leaving only those which has his two-year-old son, Jedaiah Leonhart.
Ex-Wife Claims Domestic Abuse
While the reason for the split isn't revealed on Ang's side, Low has something to say about the state of their affairs.
She alleges that her ex-husband was abusive, violent and irresponsible.
The final straw was when he hit her while she was carrying their son and claimed to have kicked him out of her home.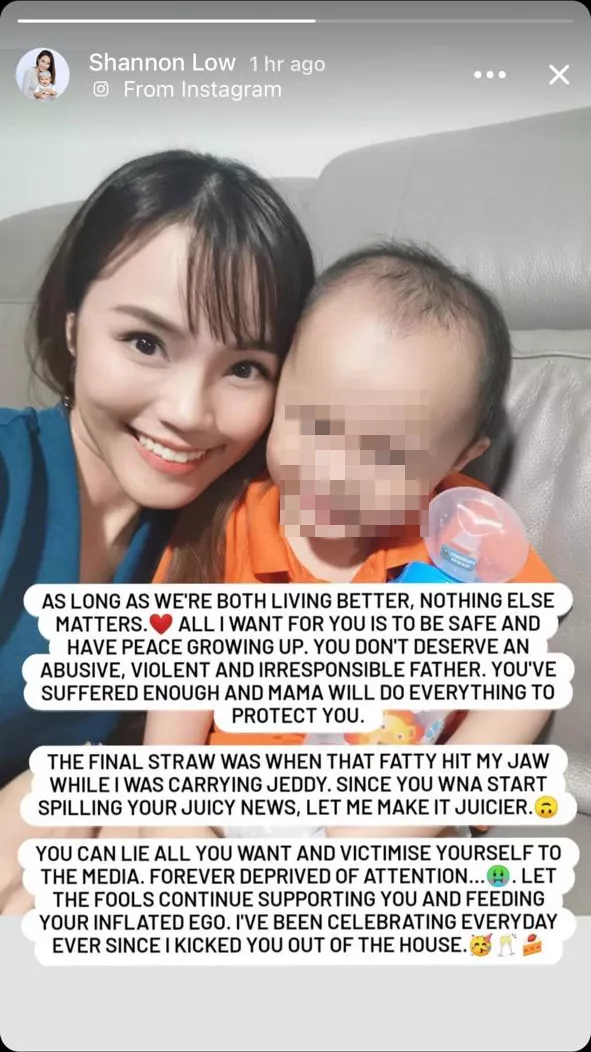 Low went on to elaborate on Ang's behaviour during their two years of marriage in several IG stories.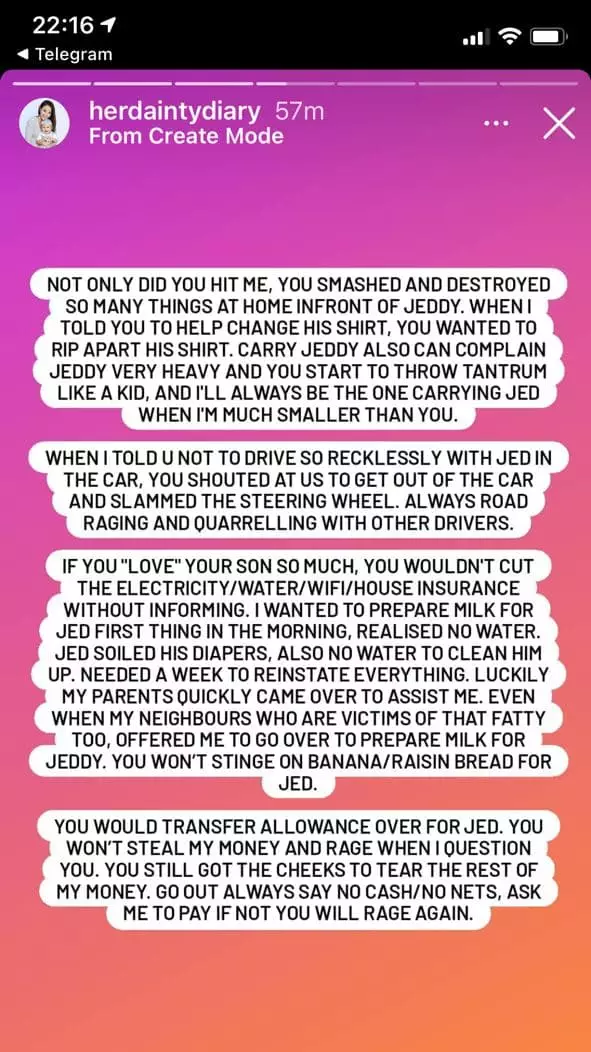 Other than his temper, he allegedly stole her money and cut the home's utilities without warning.
---
Advertisements
---
She added his ways weren't confined to her and her son only.
Their neighbours had also suffered from Ang's temper tantrums.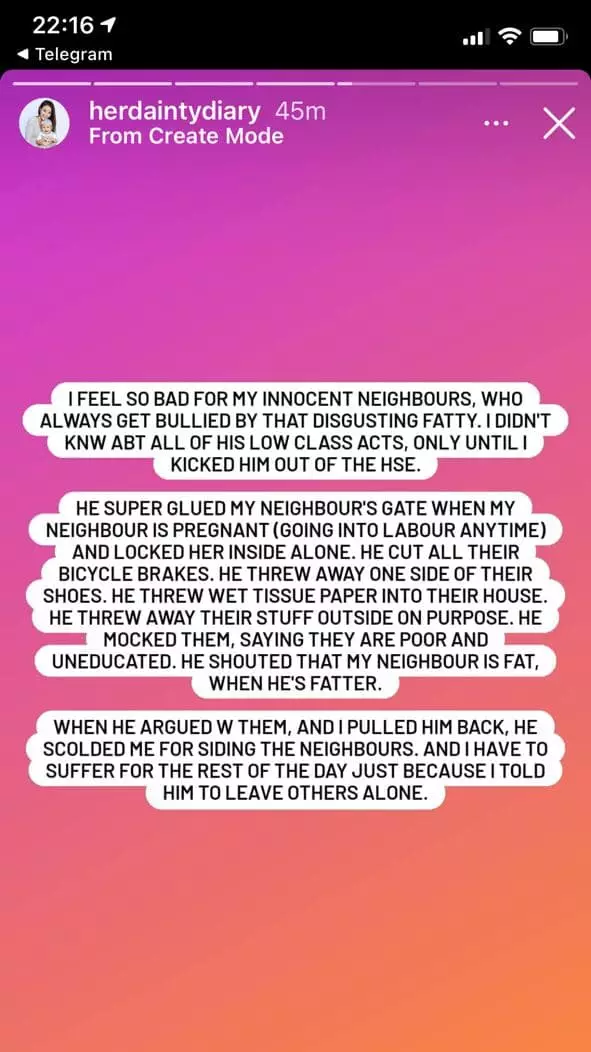 Once, he had allegedly locked a pregnant neighbour in her home with superglue and laughed at them for being poor.
Apparently, there were also eyewitnesses who saw how Ang treated his family in public.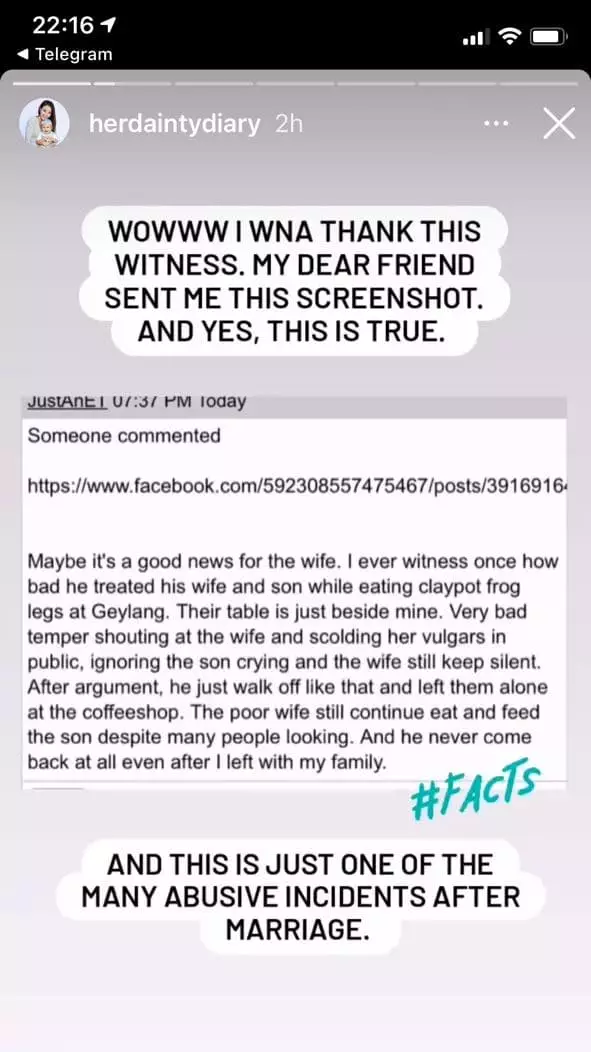 ---
Advertisements
---
Ang's Response
On 15 Dec 2020, Ang took to his Instagram account to respond to his ex-wife's allegations.
Quoting Donald Rumsfeld about known unknowns, Ang says that there are always two sides to a story.
He added that he is not responding to his ex-wife's allegations because he doesn't want "these to be blown out of proportion".
Clarifying that his previous post about his divorce was to show that he is now in a happier place, he revealed that they are still going through "multiple court cases".
He is willing to publish his affidavit for all to see "when the time is right" and hopes that people don't believe everything they see and hear on the internet.
---
Advertisements
---
He ended off his post by wishing the readers a Merry Christmas, saying that he can't please everyone.
You can read his full post below: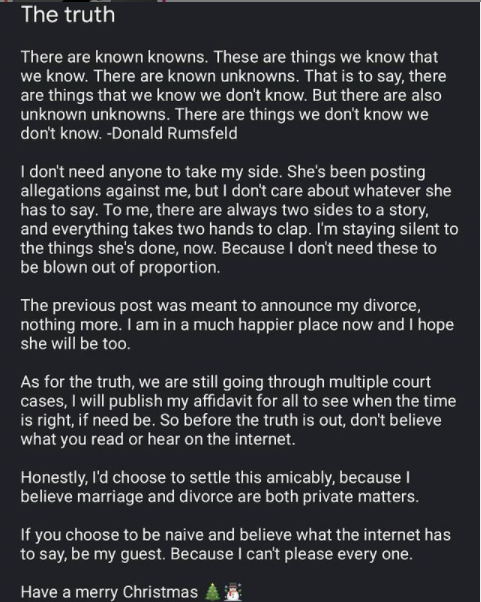 Featured Image: Instagram (nutzhen) / Facebook (Joshua Ang)
Like writing? Goody Feed is looking for writers! Click here for more info!