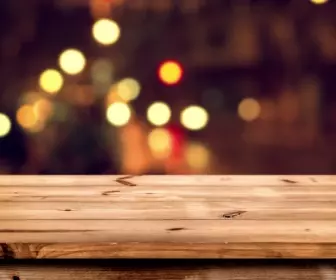 Are you a foodie?
If you are, you probably love bazaars.
Here's some exciting news.
---
Advertisements

---
Kampong Gelam Ramadan Bazaar
The annual Kampong Gelam Ramadan Bazaar (Raikan Cahaya Ramadan) has returned for 2023.
Organised by One Kampong Gelam in partnership with Singapore Tourism Board, this year sees the bazaar's most extensive line-up of booths to date, including a 10-day charity drive.
There's bound to be something for everyone.
A spectacular lead-up to Hari Raya Puasa, the bazaar will be held across key districts for 33 days from 15 March to 16 April 2023, so mark your calendars.
---
Advertisements

---
Kampong Gelam is a historic precinct, with native Malay roots tracing back to the 1820s when the area was allocated for Malay, Arab and Bugis communities.
With the national monument of Masjid Sultan as the focal point, the bazaar has a rich history dating back to the 1960s.
Here's what you can expect.
Food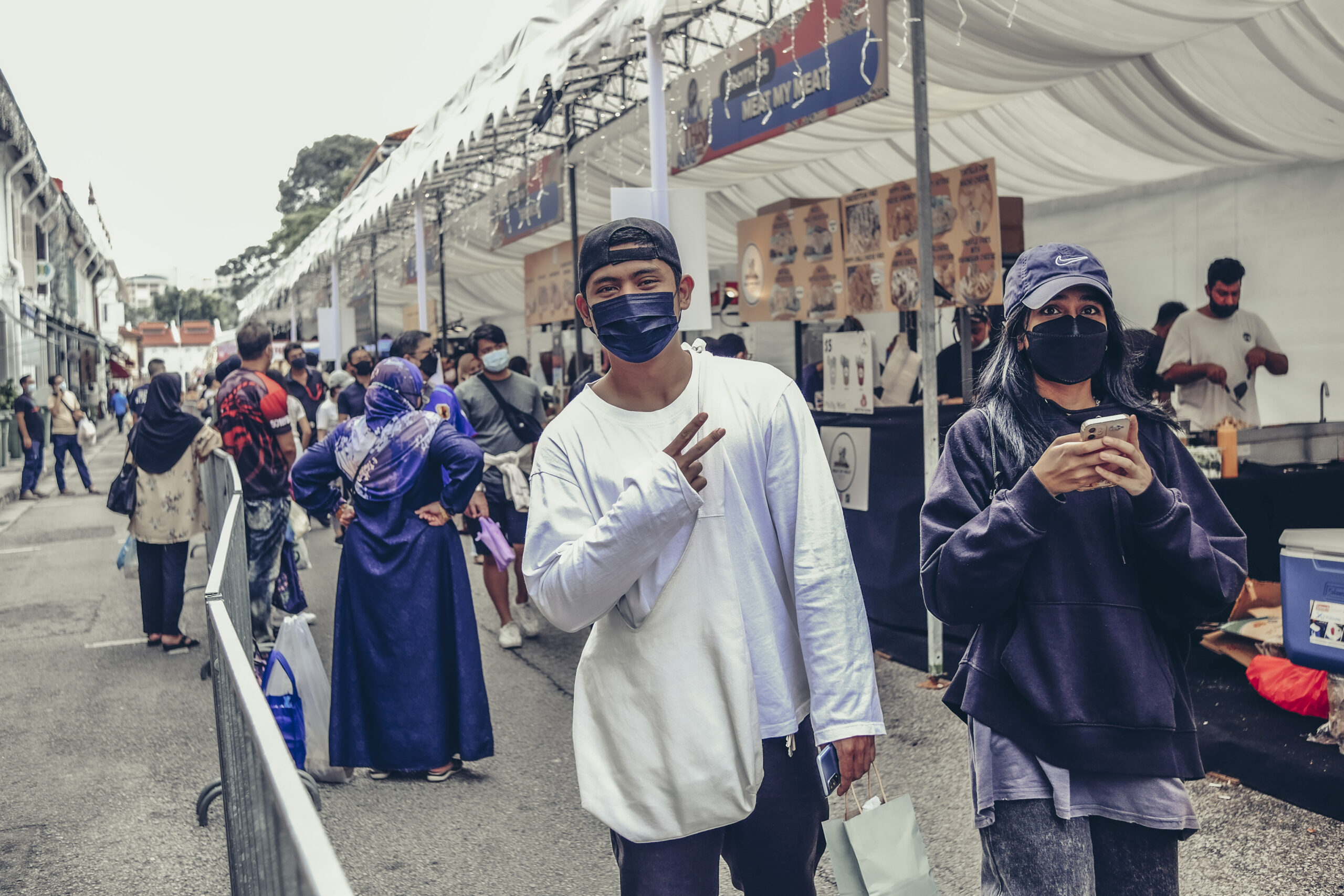 What's a bazaar without food?
Food stalls will be lined up along Baghdad Street, Kandahar Street, and outside Sultan Gate.
Furthermore, this year's bazaar boasts a whopping food line-up with up to 86 stalls.
You'll certainly be spoilt for choice.
Featuring a mix of vibrant food trucks, outdoor grills and a two-storey mezzanine for dining on the top floor, you can satisfy your food cravings and take the perfect Instagram picture.
---
Advertisements

---
Besides trendy foods, you can expect an array of traditional favourites like Kuih Raya, satay, local seafood and deep-fried snacks.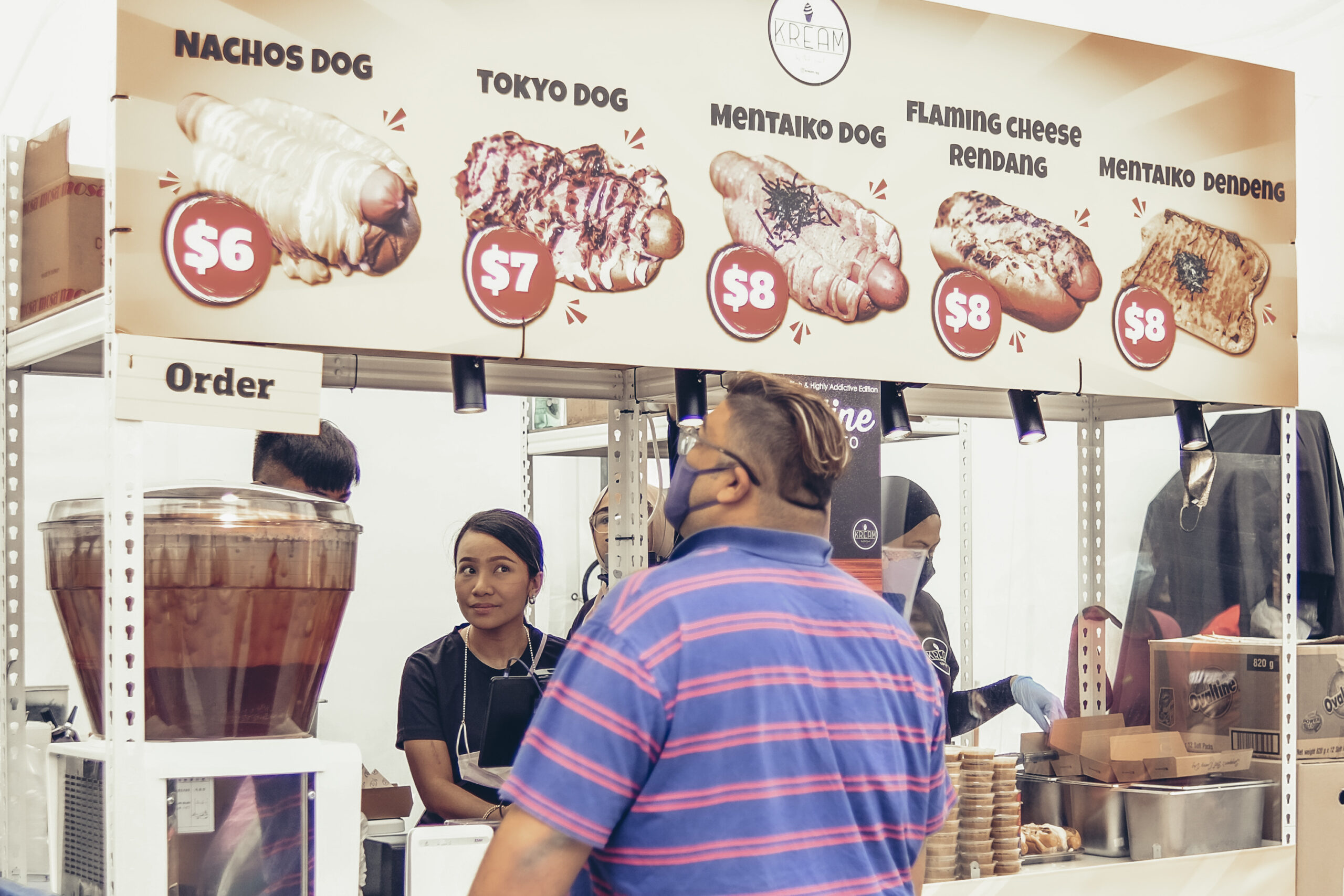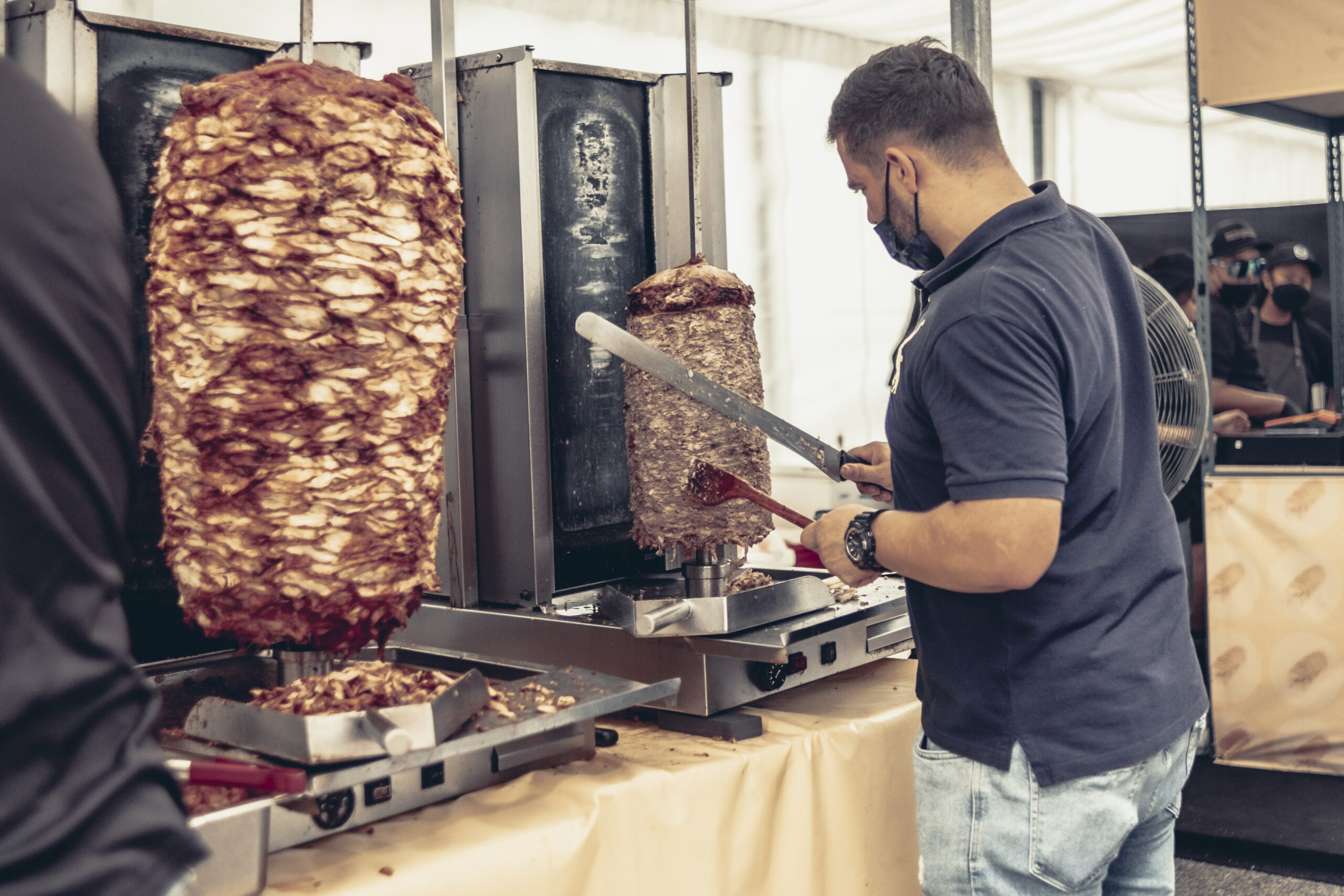 You can even choose between sitting outdoors or at the mezzanine.
Look out for the food line-up here, which will be announced closer to date. 
Retail
This year's bazaar is set to have 23 retail booths.
Strategically located between various F&B zones, you can take some time to admire wares like modern arts, traditional crafts and clothes by independent artists or artisans as you hunt for food.
They'll also be in operation every day, so don't worry about missing the chance to find something cool.
The retail line-up will be announced closer to date here.
---
Advertisements

---
Moment Projection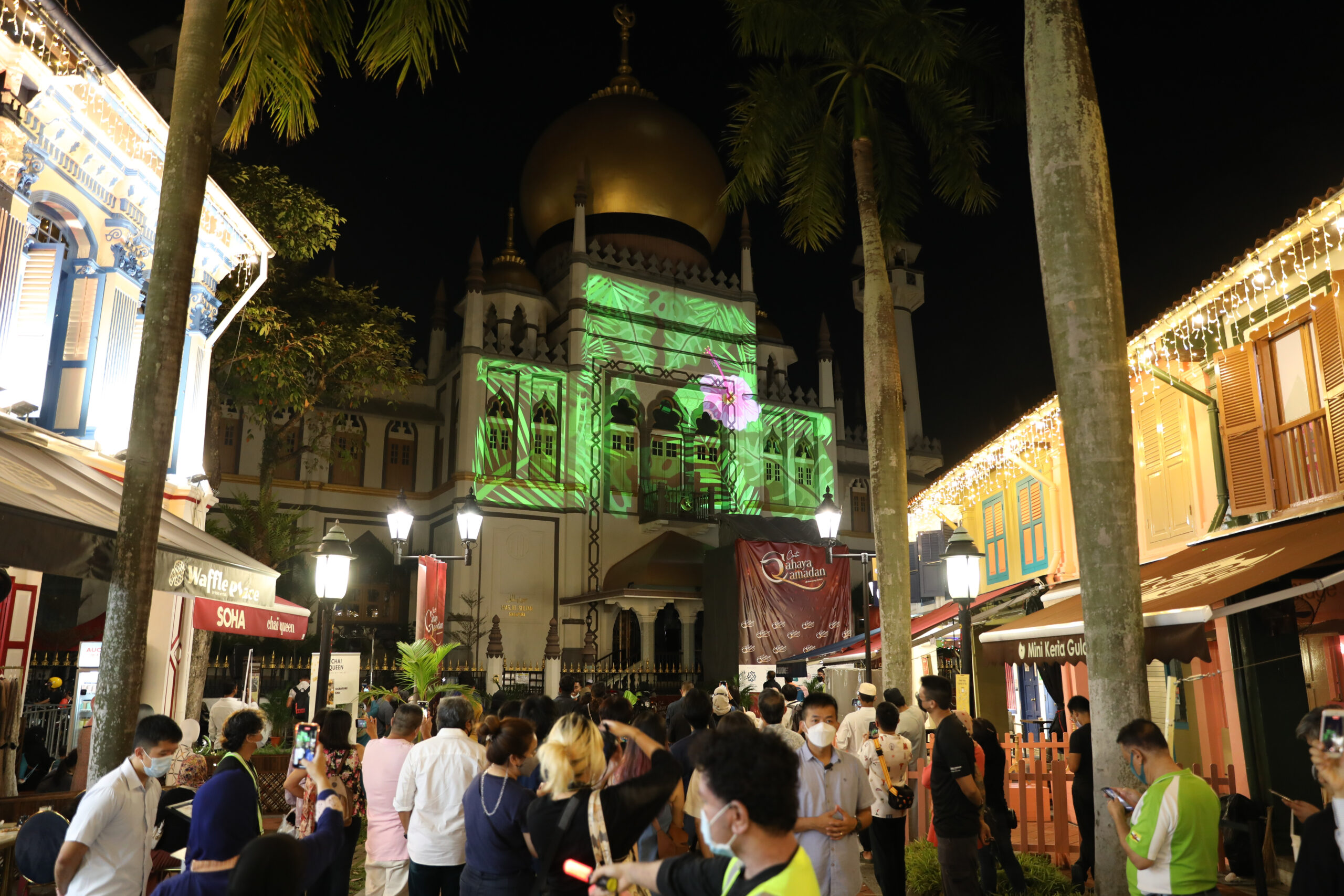 Held from Fridays to Sundays, the bazaar's projection lighting is bound to make the bazaar even more beautiful.
You can look forward to an immersive projection depicting the evolving arts and culture of Kampong Gelam as the projection lighting illuminates the iconic facade of Masjid Sultan.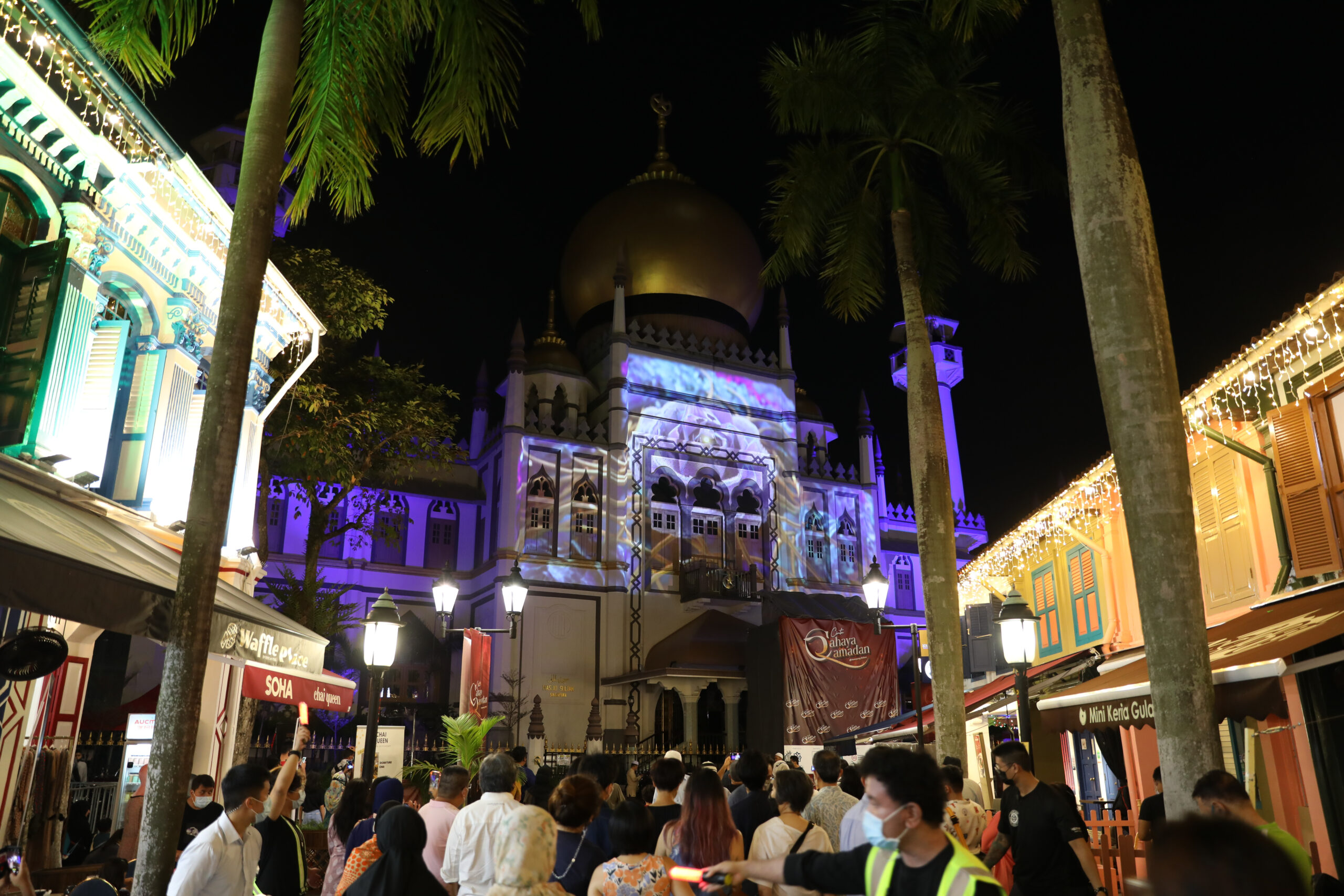 The best part? The projection lighting can be seen and photographed from afar for those who hate crowds but still want to see the lights.
Aerial Light Show
Yes, the bazaar has more up its sleeves.
On Fridays and Saturdays, you can find aerial light showcases hovering over the event ground (Sultan Gate).
---
Advertisements

---
The lights utilise drone-controlled LED kites and brightly colour lighting to wow onlookers.
Furthermore, micro-light installations will brighten the atmosphere.
Besides being pretty, these lights symbolise the ever-deepening connection between people and Ramadan.
Entertainment
Featuring a mainstage right by the Baghdad Street carpark, you can vibe to the backdrop of live music performances with a roster of singers, traditional and modern dances and enriching live dialogues.
More details of the performance line-up will be announced closer to date.
---
Advertisements
---
Mass Iftar at Arab Street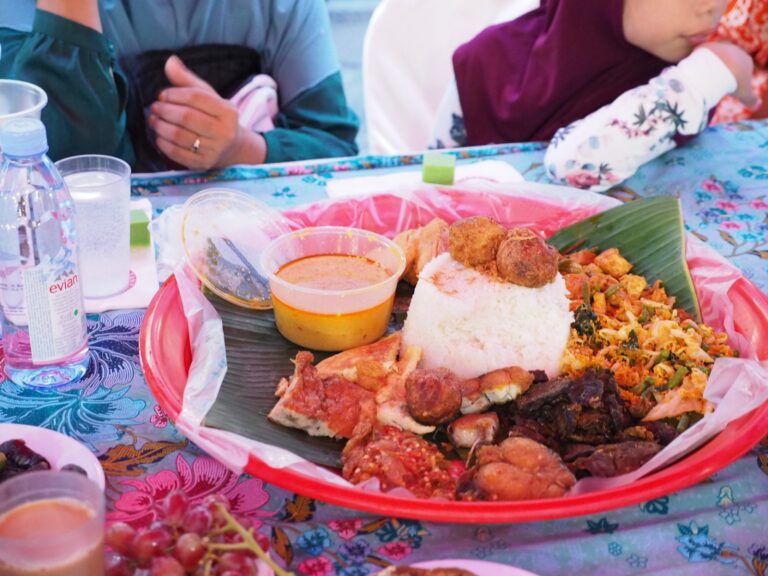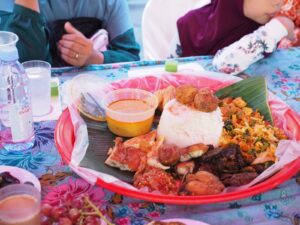 Iftar is the evening meal that Muslims end their daily fast with during the holy month of Ramadan.
The religious observation combines having food with spiritual fulfilment.
It's often conducted in a communal setting to share Ramadan's blessings.
Thus, on 1 April, One Kampong Gelam will be holding a Mass Iftar along Arab Street.
Attendees can purchase tables in advance for their own Iftar.
---
Advertisements

---
They can also pay it forward to beneficiaries of the Mosque Sultan Community Chest and Jalan Besar GRC.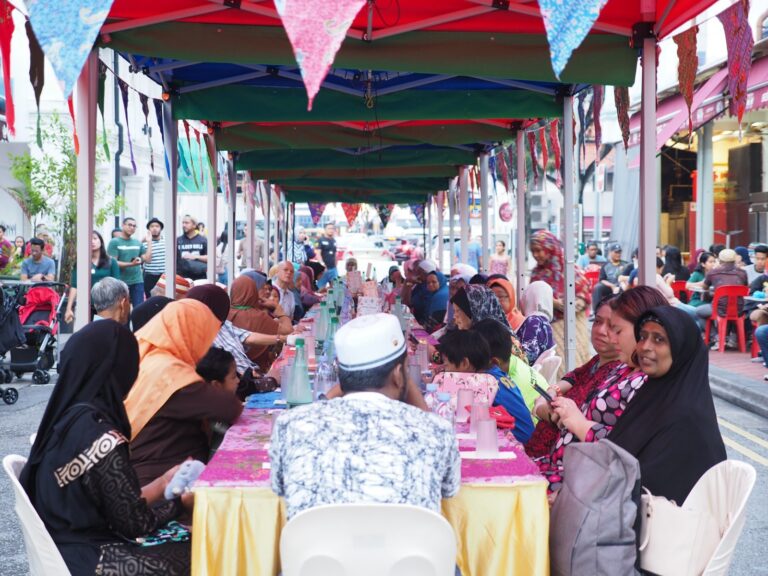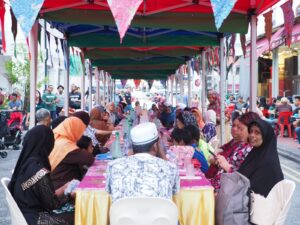 Join our Telegram channel for more entertaining and informative articles at https://t.me/goodyfeedsg or follow us on Twitter : https://twitter.com/goodyfeed
Charity Drive
Coinciding with Qiyamullail (night prayers) over the last ten days of Ramadan, the One Kampong Gelam team will be roping in partners from Helwa's Gourmet and Enniche to hold a charity drive from 7 to 16 April.
The charity drive will be held from 4 pm to 8 pm, taking over collection spots at 45 Sultan Gate.
If you have pre-loved clothes, non-perishable foods and home essentials, consider donating them to the charity drive.
All items will be consolidated and distributed to less fortunate beneficiaries at the end of Ramadan so they may enjoy the joyous celebrations too.
---
Advertisements
---
Where to Find More Details
If you're excited by the bazaar, visit anytime from 15 March to 16 April 2023.
In addition, visit the official One Kampong Gelam socials here to find out the latest updates about the bazaar.
Don't say bojio.