Dates like 10.10, 11.11, and 12.12 were once only seen as dates with double numbers, thought to bring about good luck on those days and used as a day for weddings, celebrations and the like.
Now, these matching dates have new meaning given to them – a day where everyone's instincts awaken in search of cheap deals while unable to get those catchy Shopee and Lazada jingles out of our heads.
Besides online shopping platforms, other establishments have also jumped onto the trend and are offering special deals for the last double number day of 2020.
KFC's one such fast food joint joining the table with a super good deal – don't say we bojio.
12.12 KFC Deal
If you're looking for a quick and cheap meal to fill your tummy while you're busy rushing to checkout items in your cart tomorrow, maybe this will help satisfy you.
For only one day tomorrow on 12 December, KFC is offering up a deal for a meal of three, going at only $12, a 60% discount from the original price of such a set for $30.25. Sounds too good to be true, right?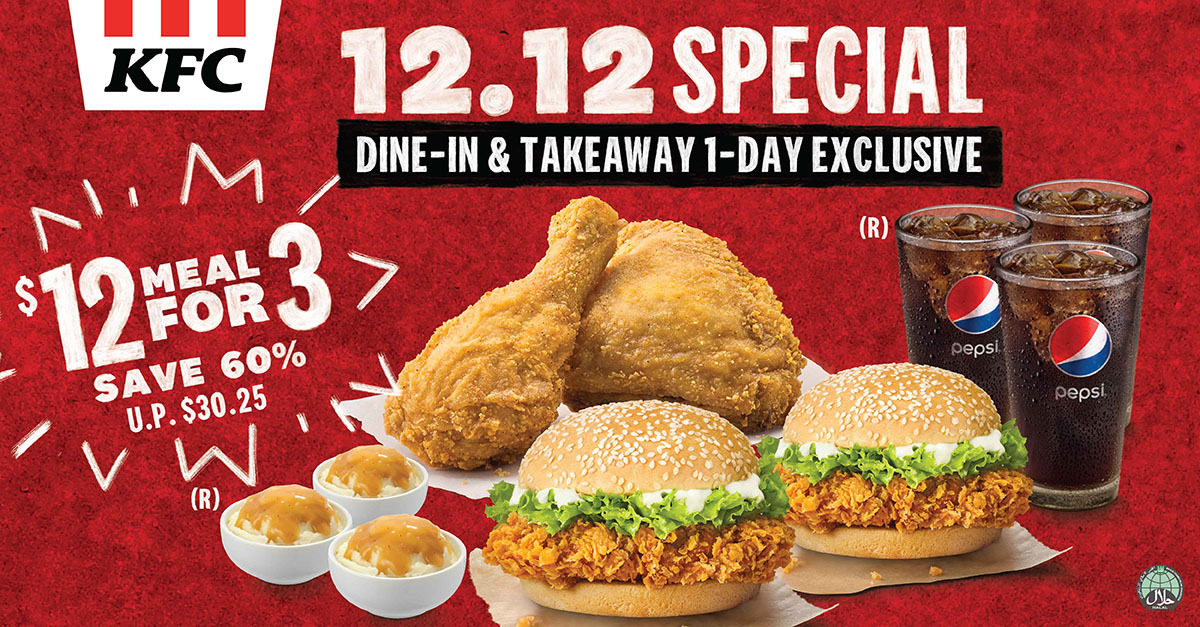 The special set meal will include two Zinger burgers, two pieces of fried chicken, three regular mashed potato sides, and three regular drinks, made for sharing between you and your friends.
Of course, it's not that simple – unlike the other deals you'll be fighting for online that can be delivered directly to your doorstep, this deal requires you to actually take the effort to step out of the house, for it is only available for dine-in and takeaway.
However, you'll still be able to pre-order the set for takeaway through KFC's app or website ordering system.
Here are the other terms and conditions:
Valid only on 12 Dec 2020 or while stocks last.
Valid for Dine-in and Takeaway orders over-the-counter, or via Kiosks, KFC App & Web
Limited to 1 set per transaction.
Meal bundle includes 2 pieces Original Recipe / Hot & Crispy Chicken, 2 Zinger, 3 regular Whipped Potato and 3 regular Pepsi. Choice of chicken parts are fixed at 1 drumstick / wing and 1 other chicken part.
Not valid with other promotions, discounts and special offers.
Not valid during breakfast hours.
Not valid at KFC NTU, Singapore Poly, Singapore Zoo.
Just be careful to not get greasy fingers from the chicken on your laptops and phones while eating.
Featured Image: KFC
Like writing? Goody Feed is looking for writers! Click here for more info!